1931: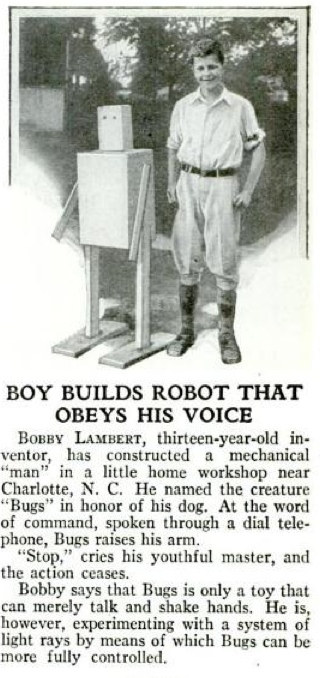 "Bugs the Mechanical Man" by Bobby Lambert, Charlotte, N.C. USA.
1948:
1949: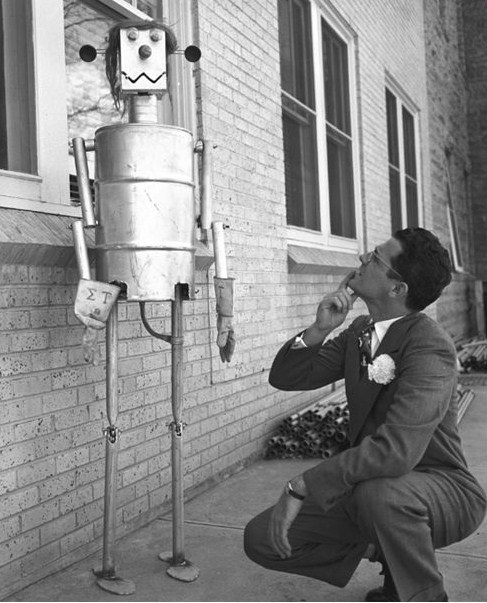 Elmer the robot, Colorado.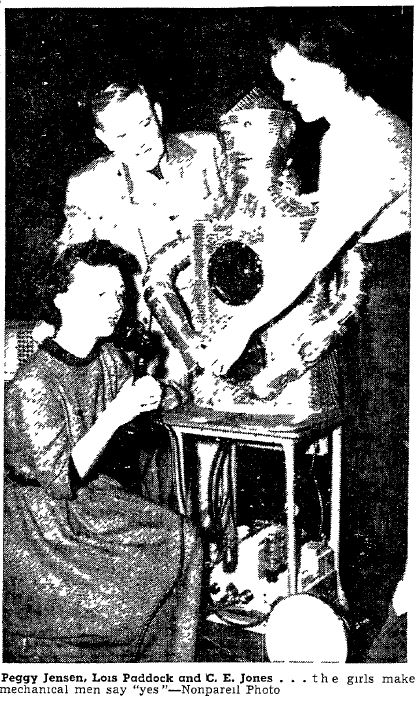 Jimmie the Demonstration Robot responds to single words via the telephone.
1950:
1951:
1952:
1953:
1954:
1955: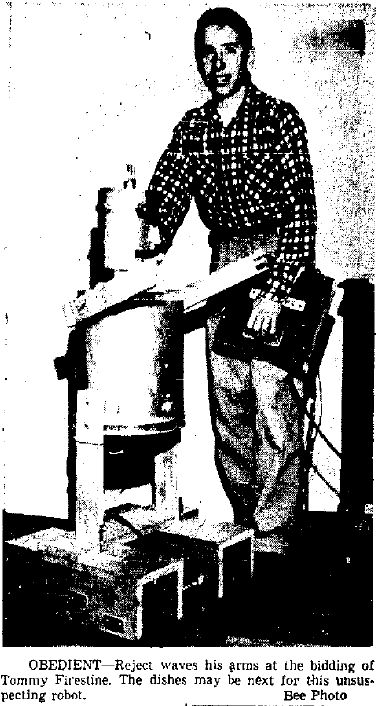 "Reject the Robot" by Tommy Firestine. USA.
1956: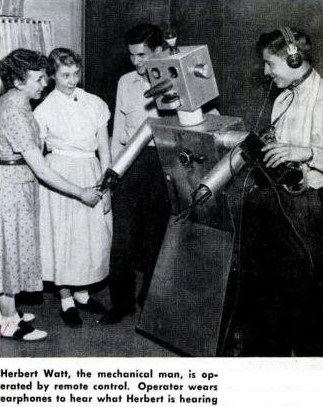 "Herbert Watt" the robot.
1957: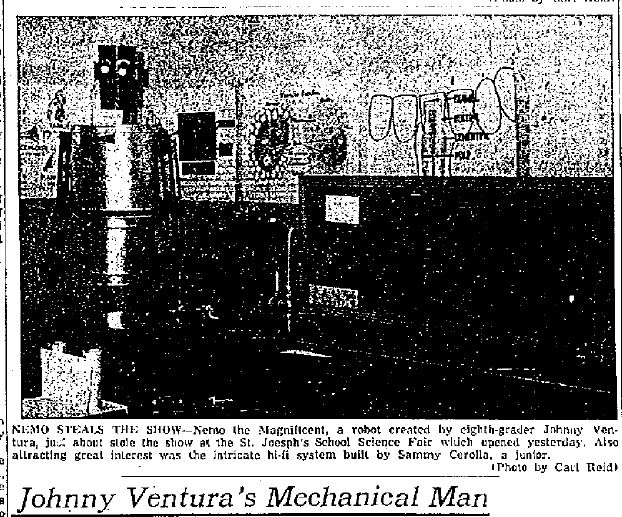 "Nemo the Magnificant" Robot by Johnny Ventura. USA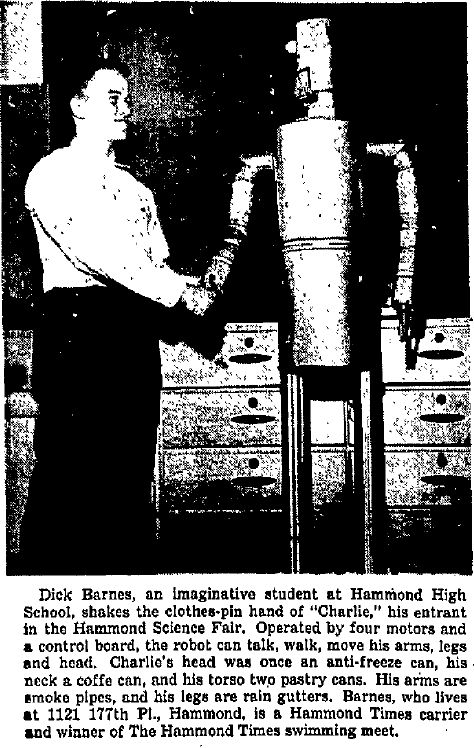 "Charlie the Robot" by Dick Barnes of Hammond High School. USA.
1957c Don Glut and home-made robot.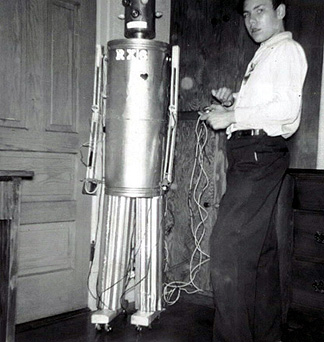 Don F. Glut ca. 1957 with one of his homemade robots. This model later made a "cameo" appearance in Dinosaur Destroyer.
---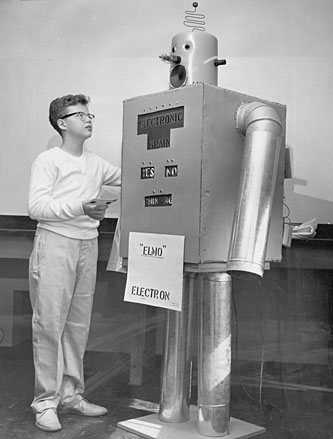 1958 Robot – Michael Cook
Thirteen-year-old Michael Cook, an eighth-grader at Eastwood Junior High School in Washington Township (now Eastwood Middle School), showed off his robot, "Elmo," during the Central Indiana Science Fair at Butler University's College of Pharmacy on April 11, 1958. Michael spent two months building Elmo out of $25 worth of wire, switches, stovepipe, old TV tubes, cardboard and anything else he could get his hands on. Cook still lives in Central Indiana and works as a claims adjuster for Safeco Claims in Indianapolis. He is married, with two children and three grandchildren. Cook says Elmo was more of a "stage robot" than anything scientific. He didn't win a prize from the science fair, but he did win a crowd appreciation award. (Bob Doeppers / The News)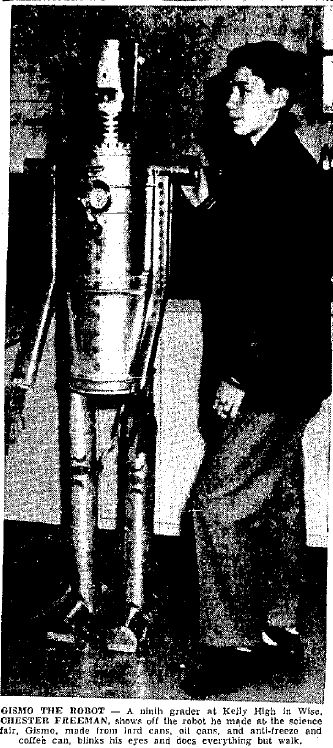 "Gismo the Robot" by Chester Freeman.
---
1958: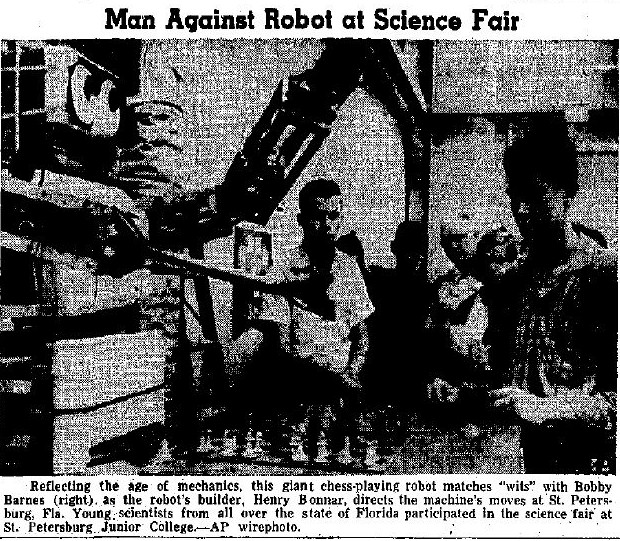 Giant chess-playing robot by Henry Bonnar, St. Petersburg, Florida. USA.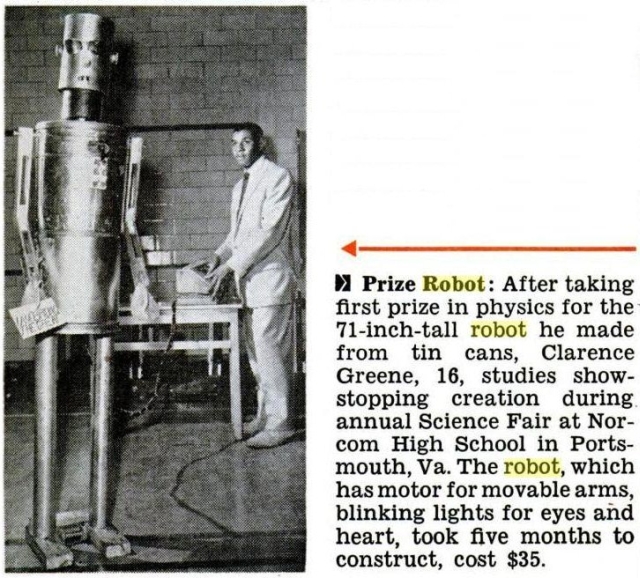 Robot by Clarence Greene, Portsmouth, Va. USA.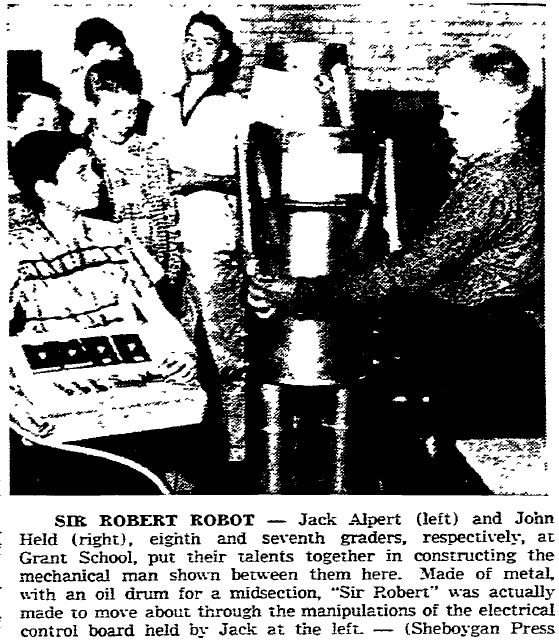 "Sir Robert Robot" by Jack Alpert and John Held.
1959: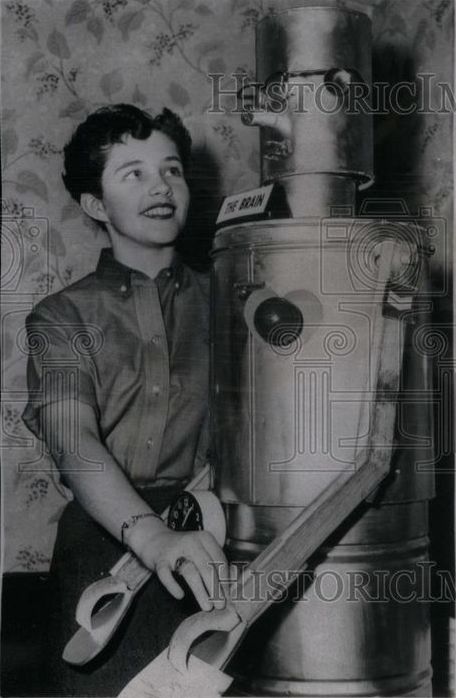 Robot by Mary Ann Cunningham. USA.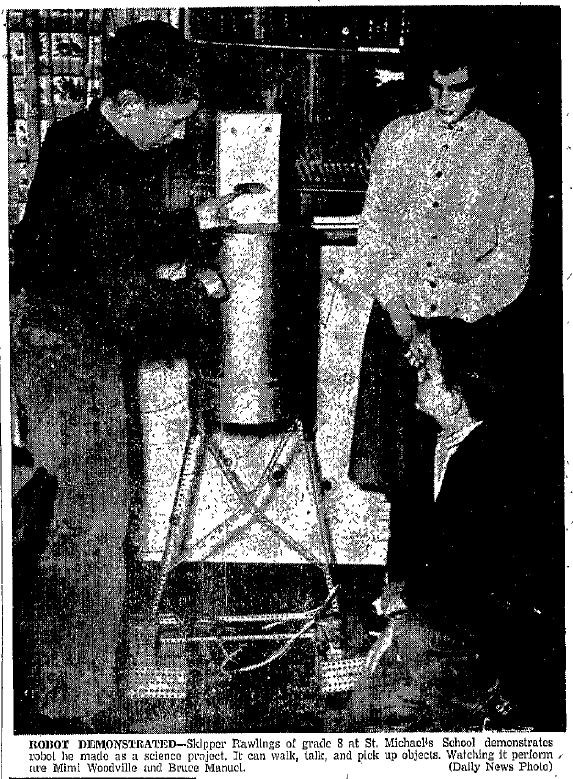 Walking robot by Skipper Rawlings.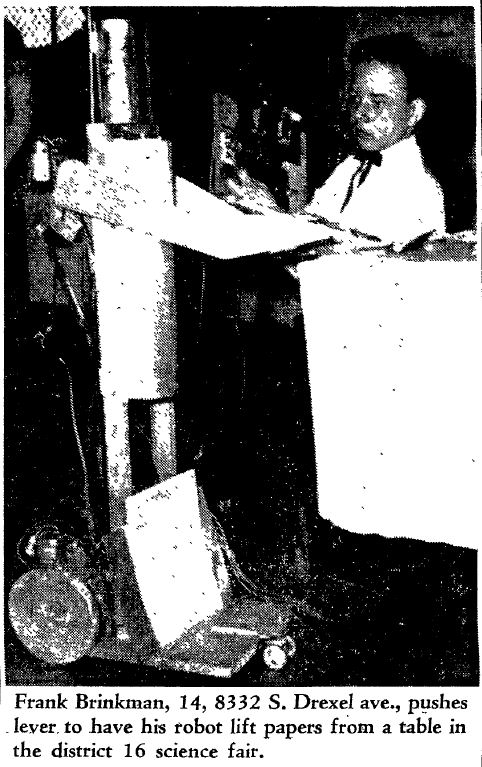 Robot by Frank Brinkman. USA.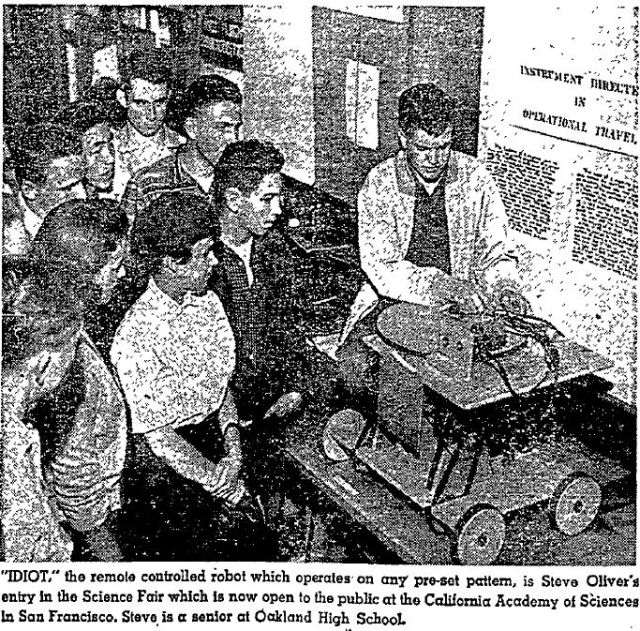 "Idiot" the remote-controlled robot by Steve Oliver, San Francisco . USA.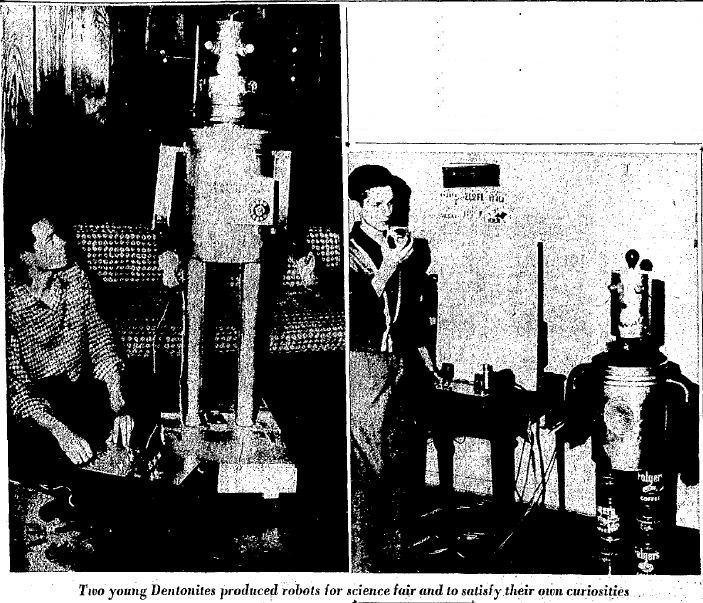 Robots by Ernest Clifton (left) and Dan Dudley Jr. (right) of Denton, USA.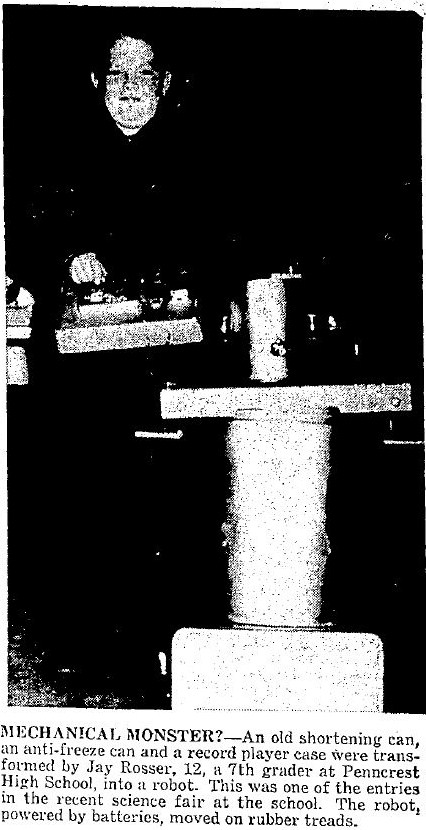 Robot by Jay Rosser, Penncrest High School. USA.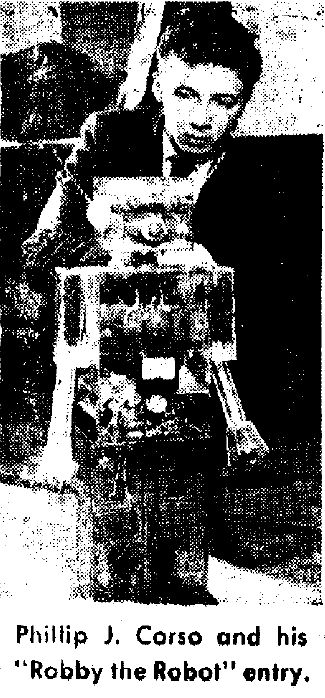 "Robby the Robot" by Phillip J. Corso.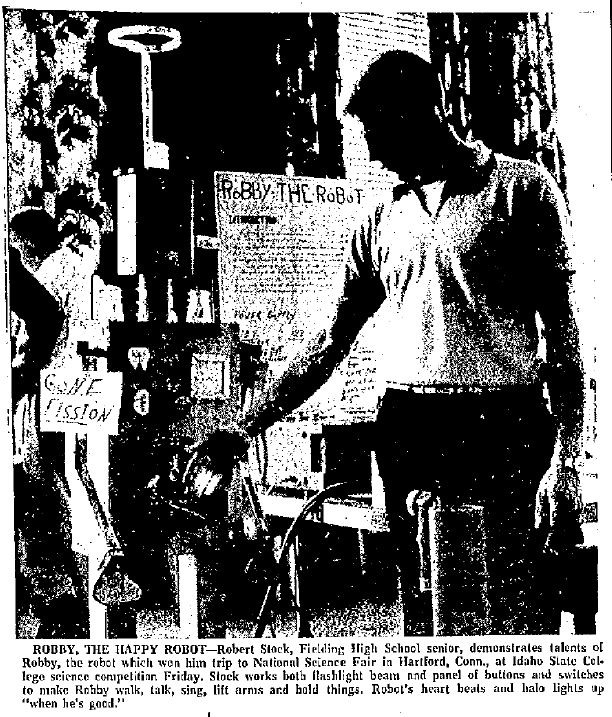 Another "Robby the Robot", this time by Robert Stock.
1960: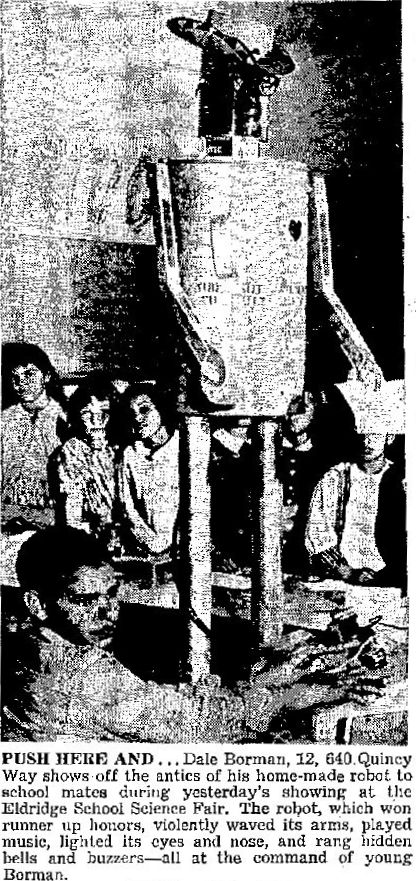 Robot by Dale Borman at Eldridge School. USA.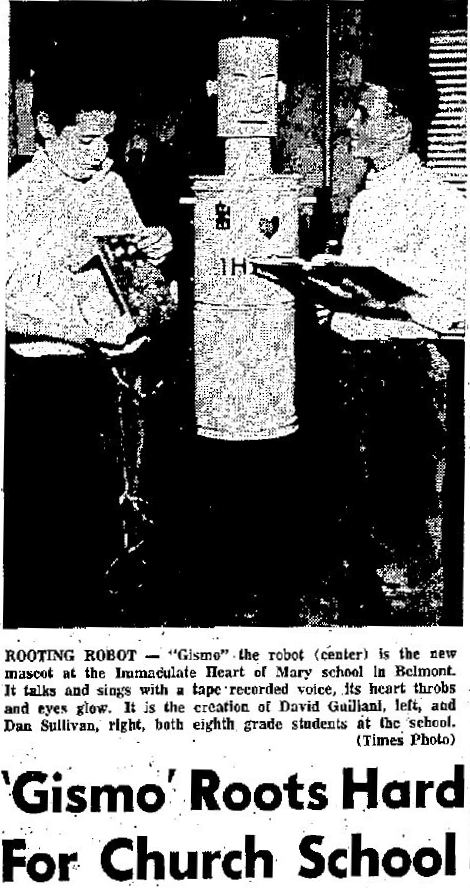 "Gismo the Robot" rooting hard for the Church School.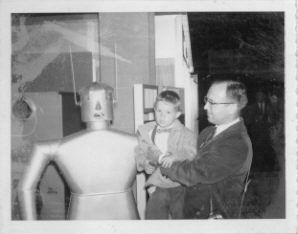 Unknown Science fair robot – probably c1960's.
1961: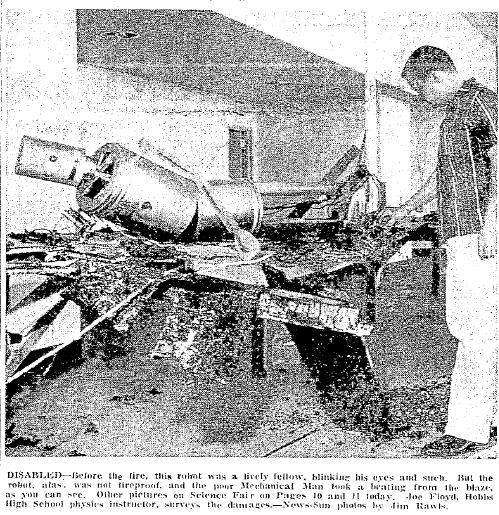 1962: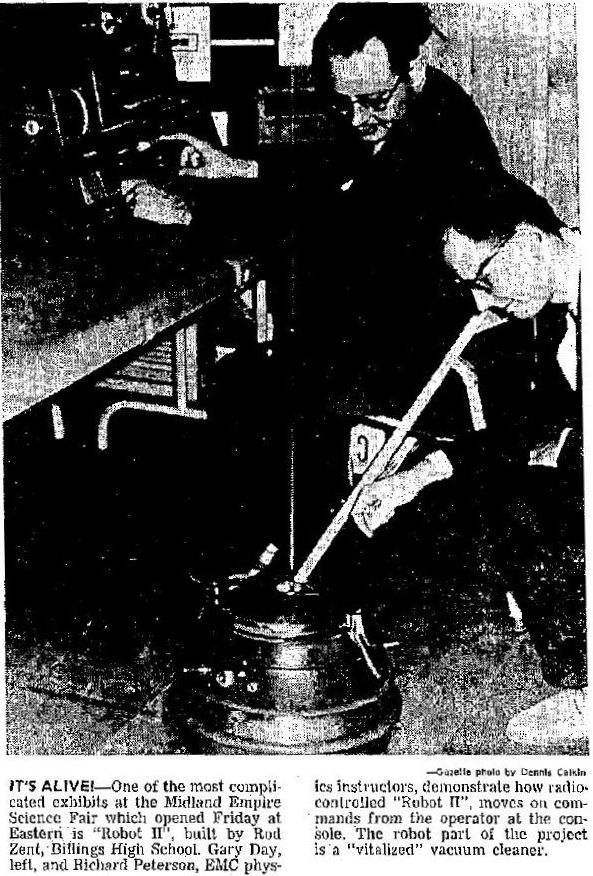 "Robot II" by Rod Zent. Billings High School, Montana. USA.
1963:
1964:
1965: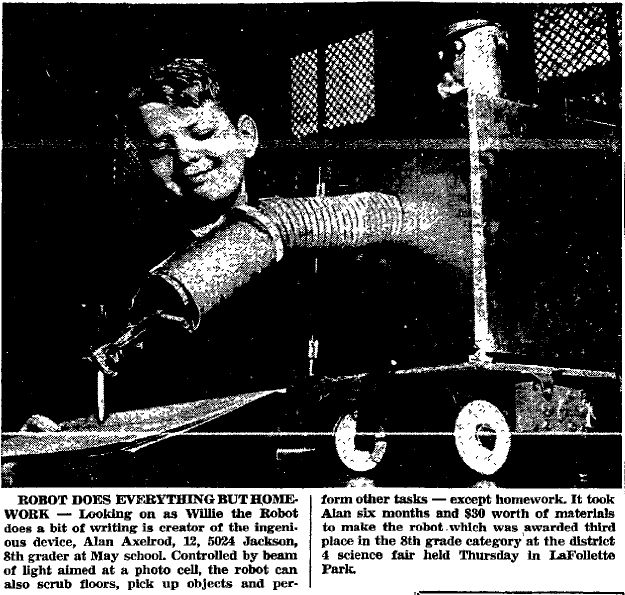 "Willie the Robot" by Alan Axelrod. USA.
1966:
1967: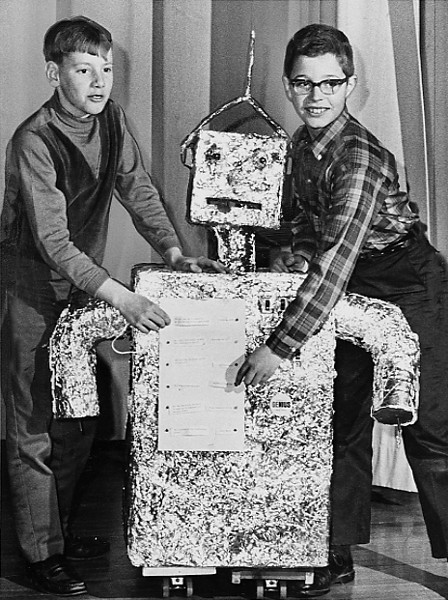 Robot in Sussex.
1968: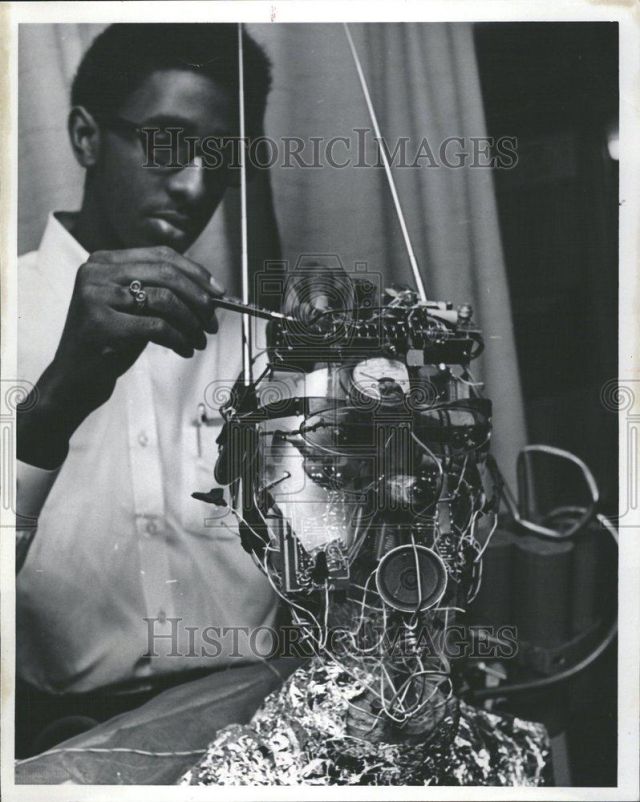 "Cybernaut the Robot" by Lonnie Sutton. USA.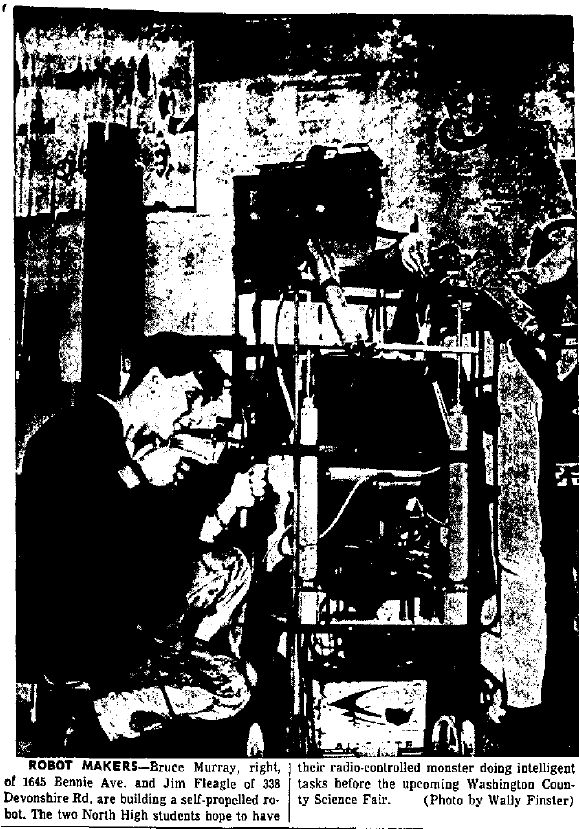 Two robots built by Bruce Murray and Jim Fleagle, Washington. USA.
1969: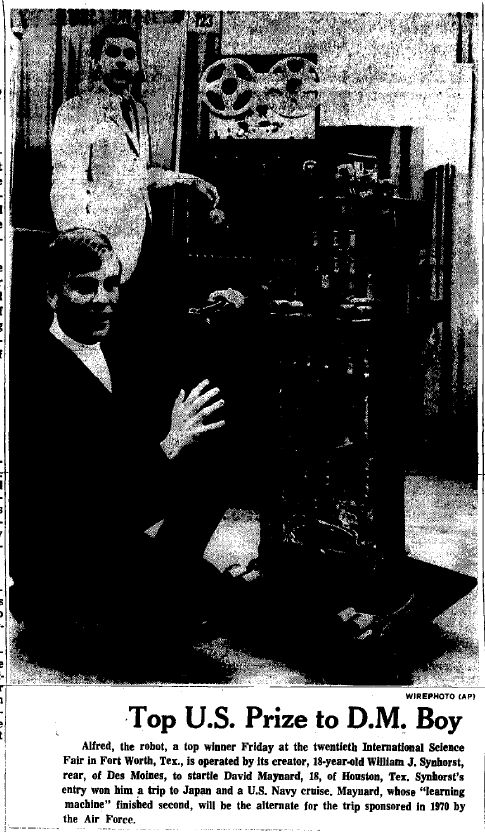 "Alfred the Robot" by William J. Synhorst. Iowa. USA.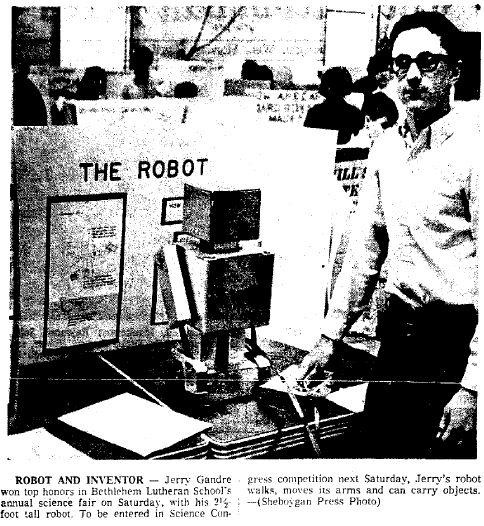 "The Robot" by Jerry Gandre. USA.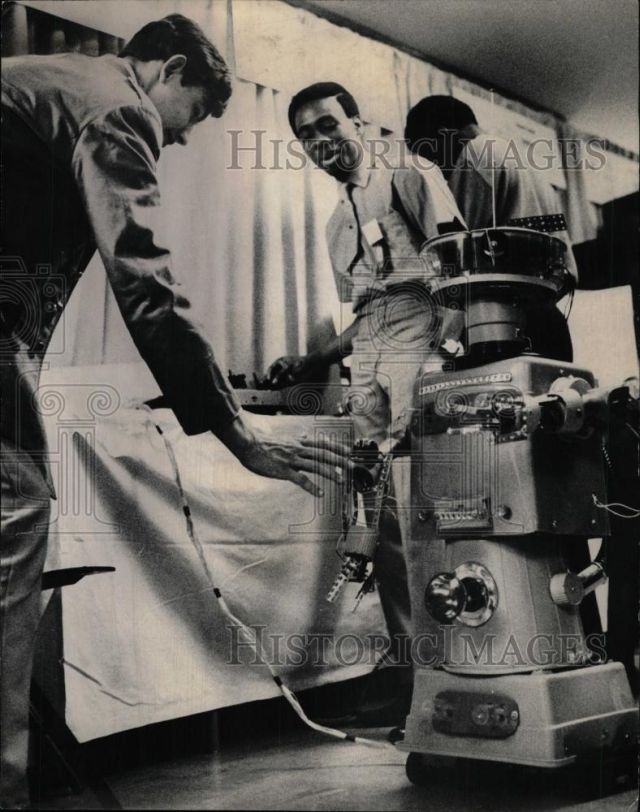 Robot built by Carl Powers (centre). USA.
1970: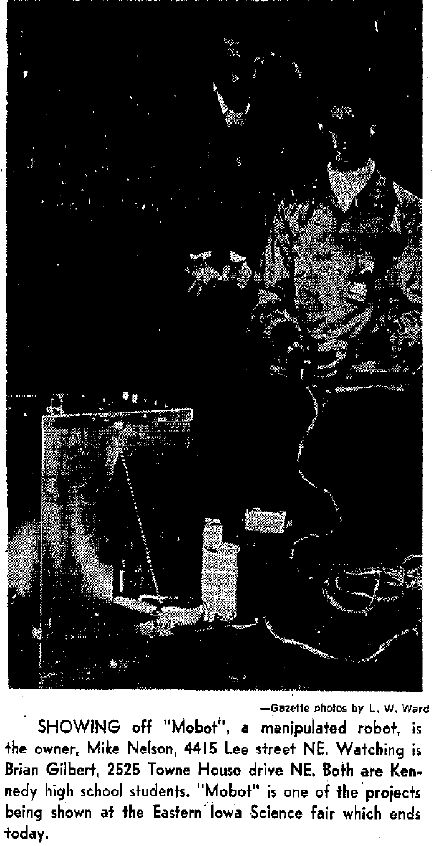 "Mobot" by Mike Nelson, Iowa. USA
1971:
1972:
1973:
1974:
1975:
1976:
1977: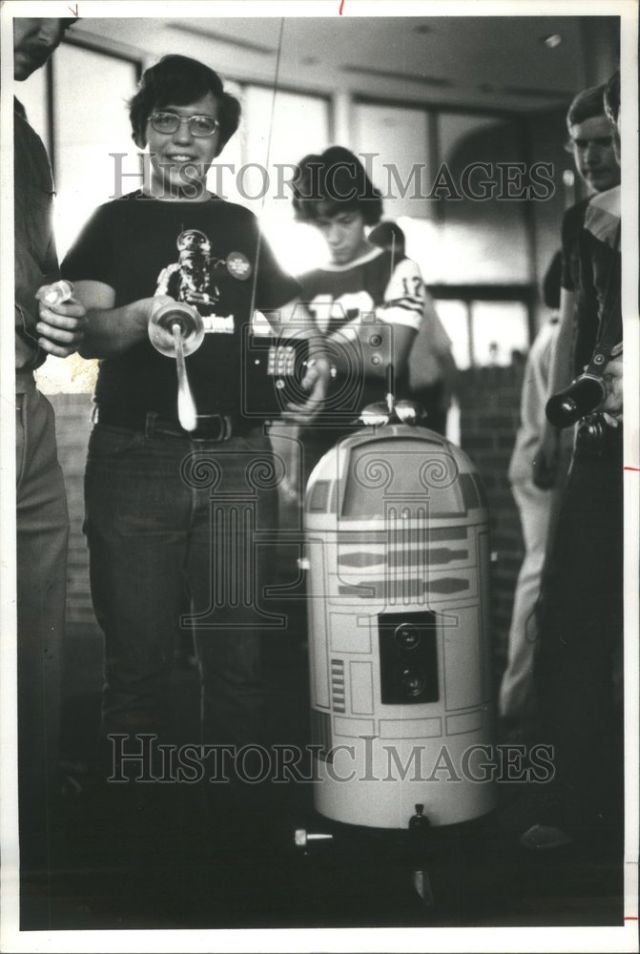 1978:
1979:
1980:
1981:
1982: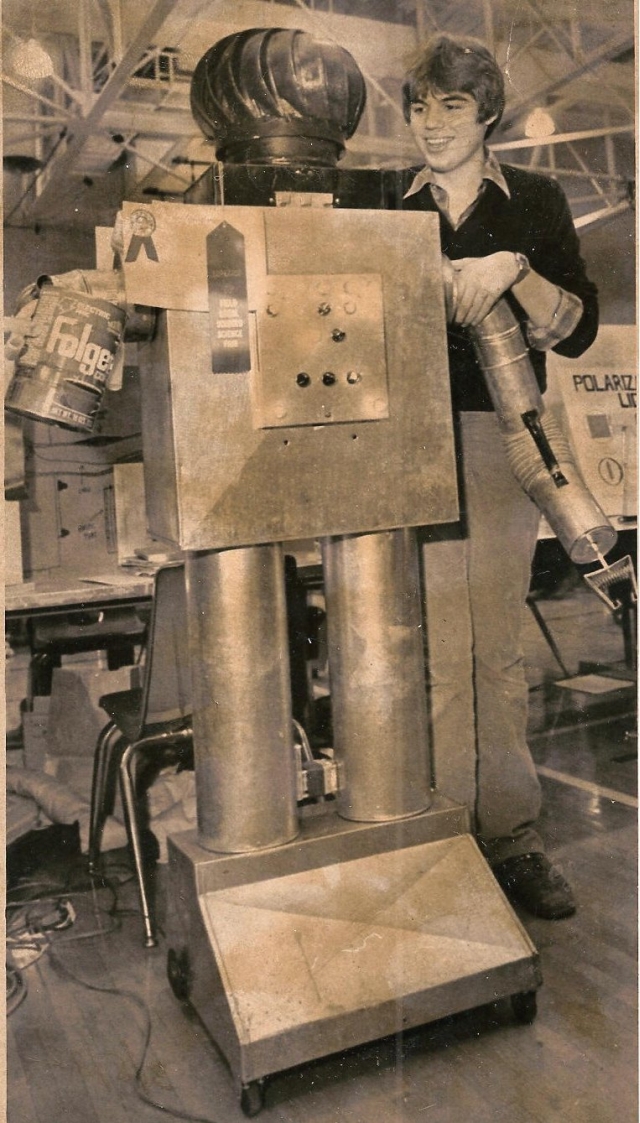 Robot Brian.
1992: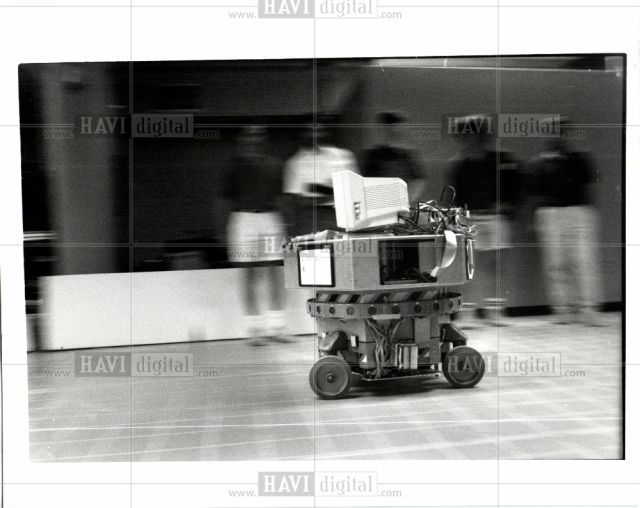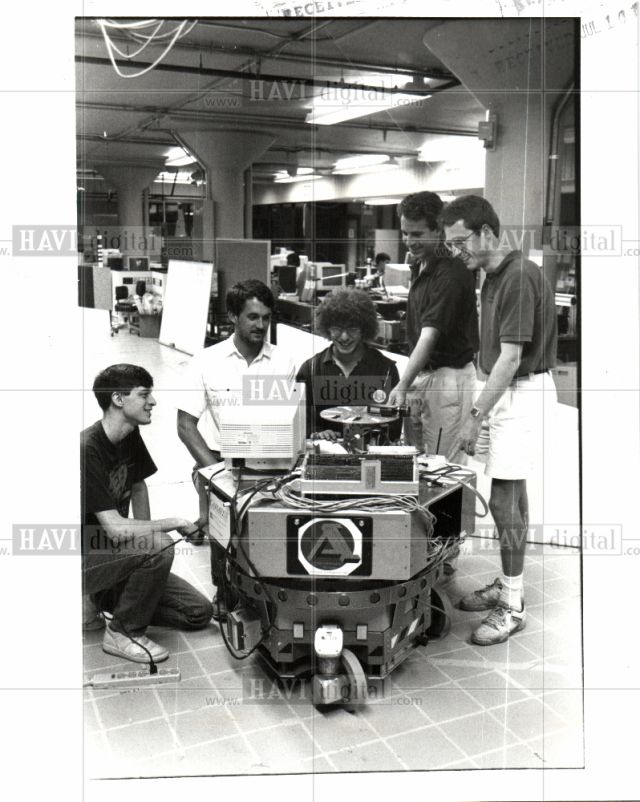 "Carmel the Robot". Carmel's chief builders Frank Koss, Marc Huber, Charles Cohen, David Kortenkamp and Ulrich Raschke enjoy their creation.
---