HXP-022351-2/23/66-CHICAGO:One of features at Auto Show here is the robot at the Ford display. Appropriately named "Freddie Ford," mechanical man answers questions fed to it by curious visitors Robot was formed from Ford car parts & stands 12-feet tall. Model Mary Ann Laurel poses with"Freddie." UPI TELEPHOTO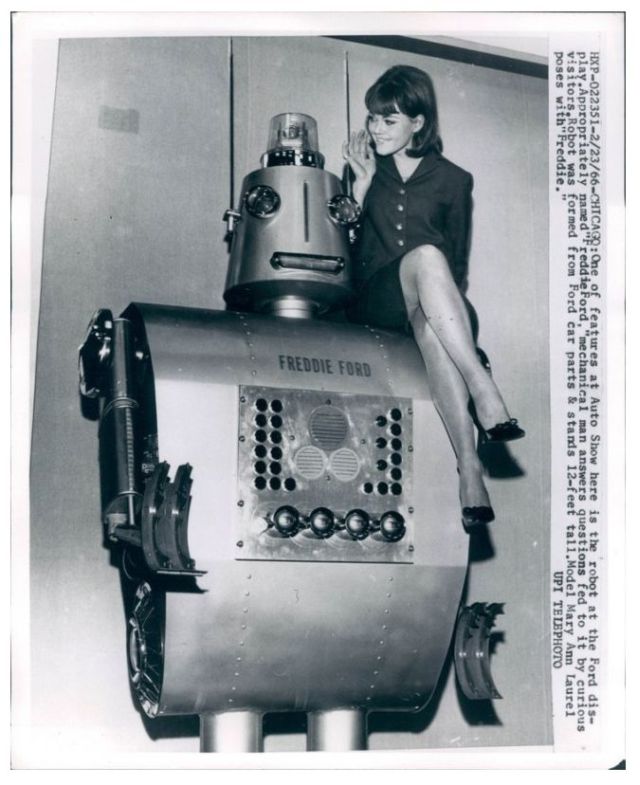 The earliest version of Freddie Ford, a robot employed by Ford Division's Show Exhibit Department, that I can find is from 1965, although article above suggests 1964 was Freddie's first year.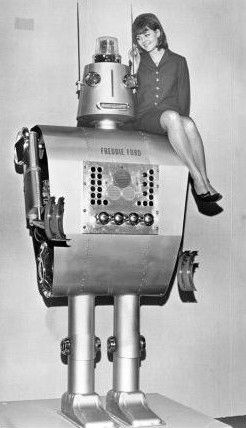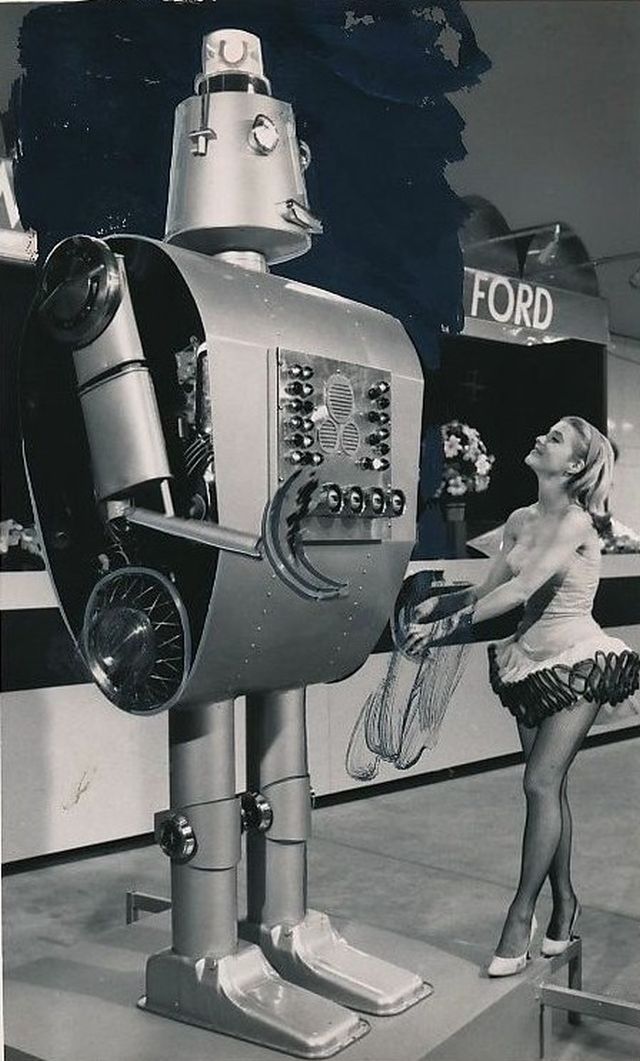 Freddie Ford from 1965.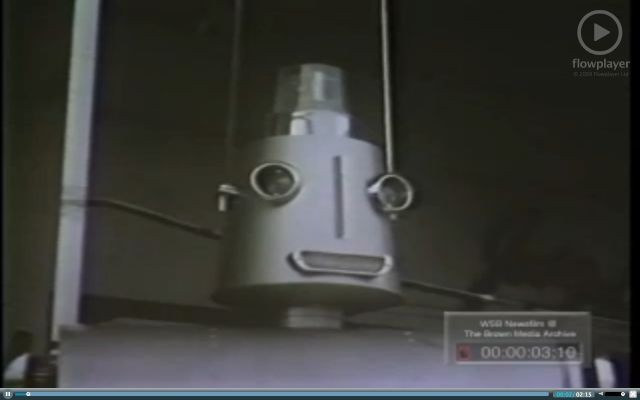 Video clip from 1965.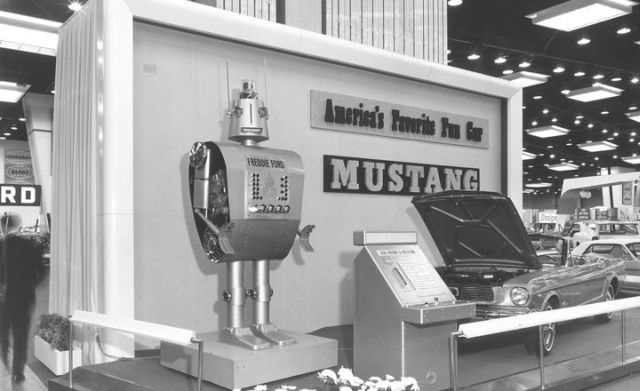 1970 – A robot, Freddie Ford, on the Mustang stand, repeats endlessly: people love Mustangs, Mustangs love people, make a date with a Mustang, put romance in your life."
Freddie Ford returns for National Robotics Week by Ron Ford.
This promotional Ford Robot is Freddie's great-grand-automoton. We are coming to the end of Robotics Week [April 2012]. That's right, a week dedicated to all things robot. To celebrate, Ford has dug up some old pictures and press releases about an old friend. Freddie Ford was a talking promotional robot used at events in the late 1960s.
Made almost entirely out of auto parts. Towering above the crowds at nine feet high and weighing in at 800 pounds, Freddie was built almost entirely out of auto parts. He had oil pans for feet and brake shoes for hands. His ears were made of radiator caps with car antennas attached. His eyes were parking lights from a Mustang, and the backup light from a Thunderbird was his mouth. His arms were mufflers and his legs were shock absorbers. His chest was 126 inches around and his waist was 120 inches.
A tin pitchman for Ford
Freddie once was used to help Ford sell cars at state fair exhibits and at auto shows in 1967. He was no C3PO, but he could answer a dozen questions in front of an audience. Somehow, most of his answers contained corny jokes and spoke glowingly of Ford products.
Canned corn
Here are a few of Freddie's exchanges with fair goers in the late Vietnam era, as recorded in Ford's press release:
Fair goer: "What does it mean to 'Walk softly and carry a big stick'?'"
Freddie: "The quotation is really, 'Drive softly and carry a big six'."
Fair goer: "Why do you have disc brakes for hands?"
Freddie: "They grip faster and better and 55 percent easier than manual brakes. For 1970, power front disc brakes are available on all models and standard on some."
Want to read one more? Sure you do.
Fair goer: "Are those oil pans really your feet?"
Freddie: "Yes, sir, these are 390 V-8 oil pans from the biggest V-8 that uses only regular gas. And remember …. oil changes are only needed every six months or 6,000 miles."
Good to know, Freddie.
---
Next gen corn-talking bot
The Freddie from 1967 was a second generation of the robot. His namesake predecessor was used for three earlier years, promoting Ford products until he got an upgrade.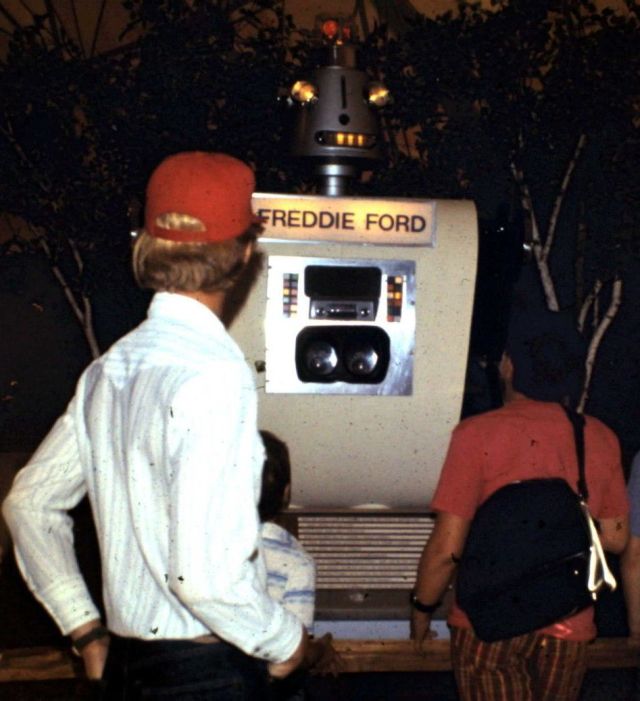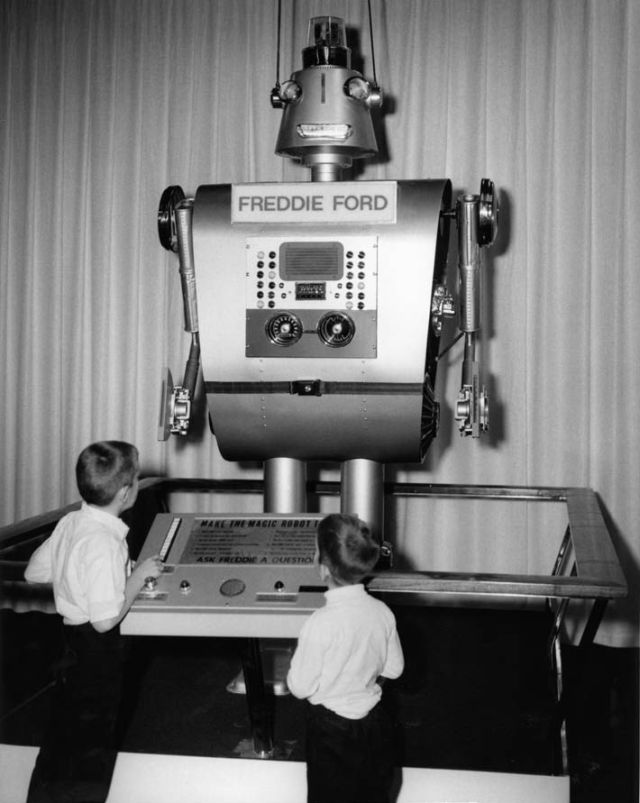 The abover version of Freddie (2nd Generation) appeared from 1967. Note the hands upgrade from Drum Brakes to Disc.
Freddie at an auto show [Chicago?/Detroit?] 1974.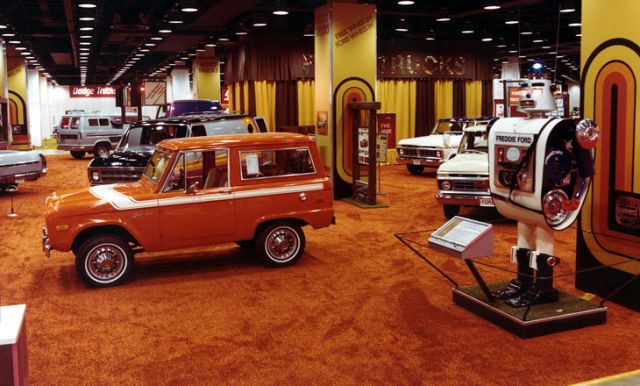 Freddie at an auto show [Chicago?/Detroit?] 1976.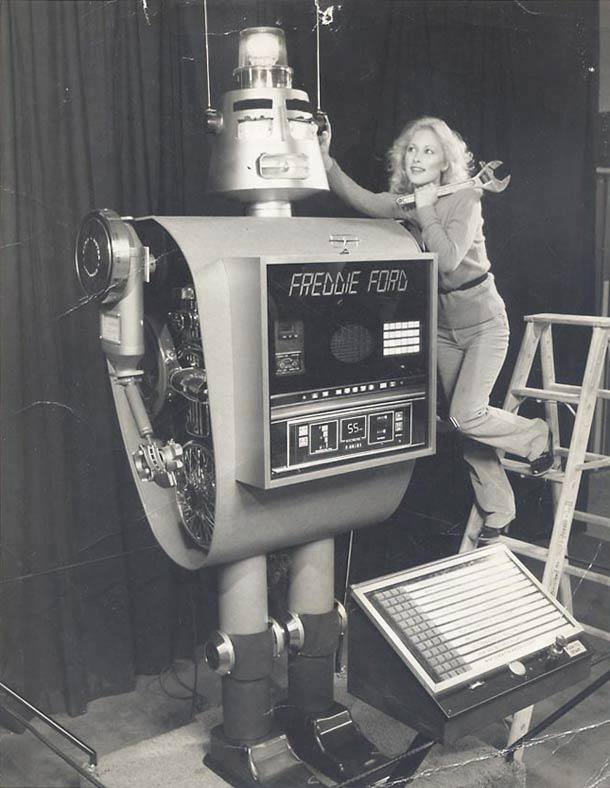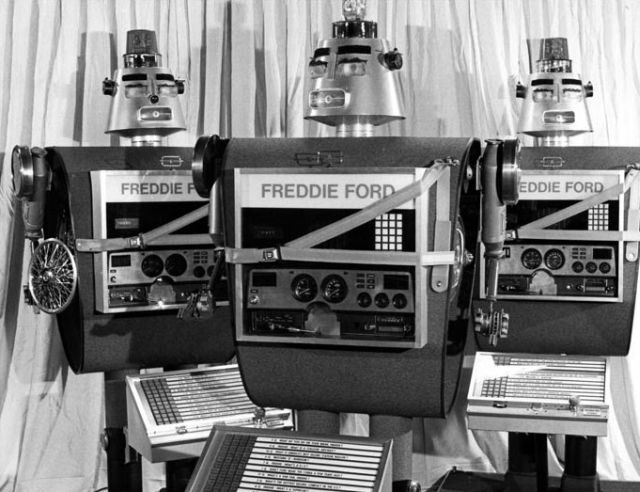 Yet another technological upgrade for Freddie and his cloned brothers.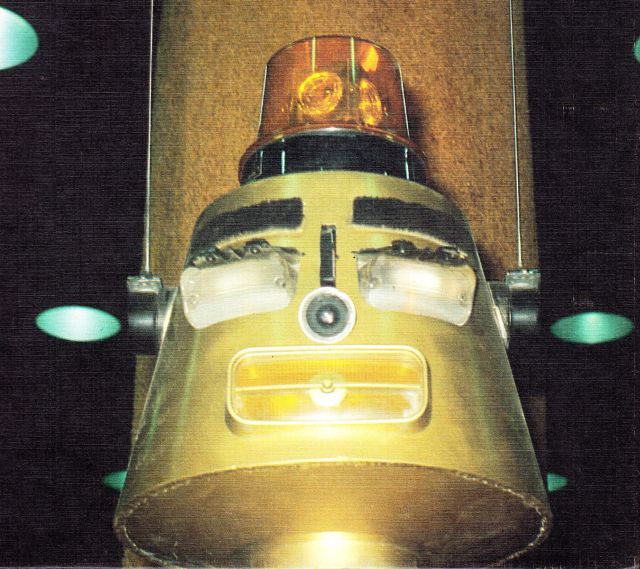 Freddie as he appeared on the cover of a child's book on robots.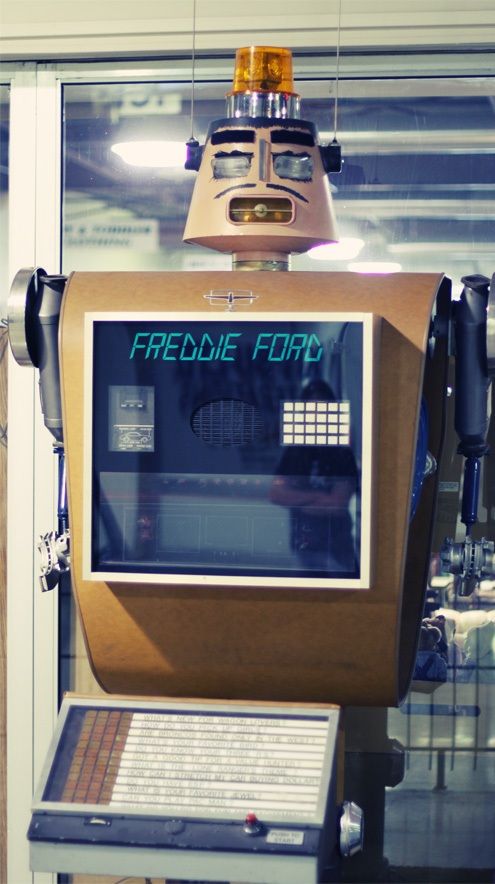 A later version of Freddie Ford. He was for auction back in 2006. Image and info below from Robotnut in Alphadrome Toy Robot blog.
Freddie Ford isn't very old, but he can see, hear and answer questions.

He is also an awfully big fellow, standing eight feet six inches tall in his bare feet and tipping the scales at almost 500 pounds. His chest measures 126 inches and his waist 120 inches.

Freddie, a second-generation mechanical robot, is one of the highlights or the Ford Division exhibit at auto shows around the country.
Freddie is almost a replica of his popular predecessor who delighted spectators for three years.

Like the earlier model, the new Freddie Ford is made up largely of parts from Ford Division products. He even has a television camera in his nose so he can see whom he is "talking" to.

Car parts comprising Freddie include oil filter caps and radio antennas for ears; Mustang parking lights for eyes, and a Thunderbird backup light for a mouth. His upper arms are Ford muffler resonators and the lower portions are formed by Mustang shock absorbers and disc brake assemblies. Wheel caps serve for Shoulders and elbows.

Embedded in Freddie's chest are such items as a Mustang speedometer with an odometer that registers miles as he talks; a Ford stereo AM/FM radio; Mustang convenience panel lights, and a seat belt. Mustang gas caps are used for knees, and a pair of engine oil pans give Freddie the biggest feet in town.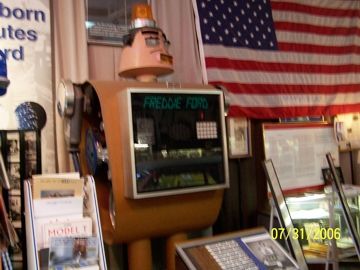 ---
wired -04/2012
Ford Rolls Out the OG Droid for Robotics Week
By Damon Lavrinc 12, 2012

Photos: Ford Motor Company

Imagine it's 1967 and you've walked onto the floor of the Texas State Fair. Among the throngs of show-goers admiring the all-new Mercury Cougar, Chrysler New Yorker and AMC Ambassador stands Freddie Ford, towering over you like an jacked up version of B9 from Lost In Space. Except… are those oil pans for feet?

They are, and if you were to throw a pair of oversized kicks on Freddie, he'd need classic Cons sized 22D.

Coming in at 9-feet tall and tipping the scales at 800 pounds, Freddie was state-of-the-art for the time, made up of the bits and pieces found lying on the floor of Ford's production lines. And he's gen-2, the second version of Ford's talking, animated robot, complete with brake pads for hands and a dozen toggle switches that allow Texas Fair attendees to ask Freddie a series of questions.

What kind of questions?

"What does it mean to 'Walk softly and carry a big stick?'" Freddie responds, "The quotation is really, 'Drive softly and carry a big six." Budum-bum.

Ford's re-release of Freddie from the archives coincides nicely with Robotics Week and the automaker's announcement that it's completed installation of some 700 robots at its Louisville Assembly Plant to build the new Ford Escape. But if we had to bring anything back from 1967, it would've been the "Cougar Corner" showing off Mercury's newest muscle car. Too bad the brand's been dead for over a year…
---
For the 1979 Detroit Auto Show, Freddie Ford, a 9-ft.-tall talking robot, attracted visitors and answered questions about the 40 Ford cars and trucks on display.

The 1981 version had Pinto parking lights as eyes.
---
Hank the Ford Robot – Freddie's modern day replacement. A Sarcos show robot with a remote operator in a SenSuit®.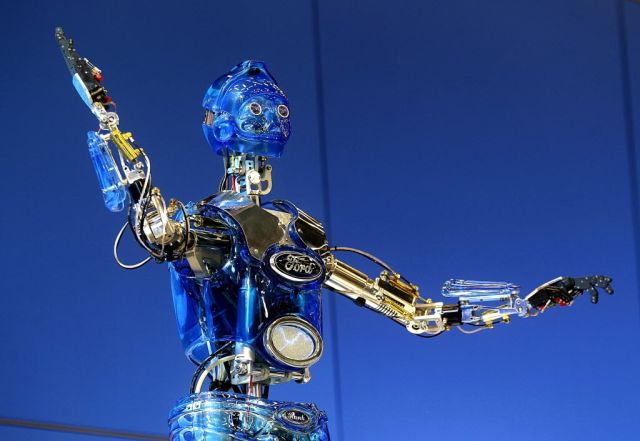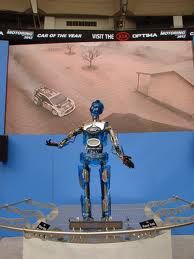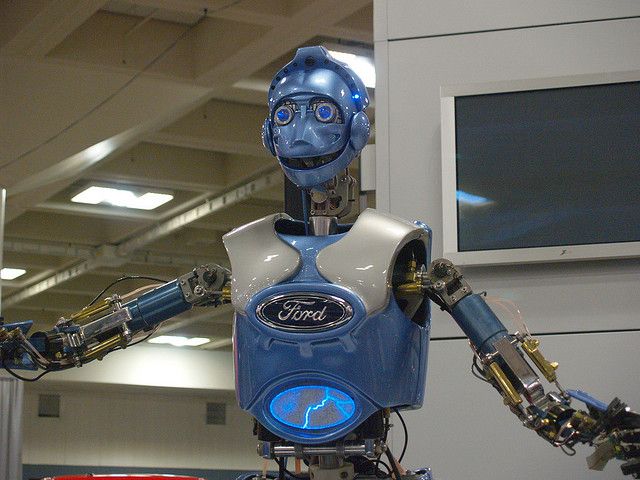 Sarcos' humanoid robots are the most advanced and life-like anthropomorphic robotic figures in the world. Sarcos' involvement with humanoid robots began in the 1980's when Disney wanted to improve upon their Audio-Animatronic robots by making the motions more graceful and realistic.
SRC (Sarcos Robot Corporation) has supplied its humanoid robot to numerous other customers. For instance, to introduce their newly redesigned Taurus in 1995, the Ford Motor Company sought an innovative way to attract and educate customers using high technology. "Sarcos", as the robot was named, traveled North America and Europe for the major car shows from 1995 to 1997. "Sarcos" was operated by two methods: live, real-time teleoperator control, and the playback of pre-programmed skits. During interactive segments, a stand-up comedian in a Sarcos SenSuit® controlled the robot. The SenSuit® and the exhibit area were equipped with a series of cameras, monitors, microphones, and speakers that allowed the robot perceive and actively interact with Ford spokes-models and visitors to the Ford display. The SenSuit® was fitted with special helmet-mounted displays, headphones, and a microphone to provide the operator with a "robot view" and facilitate communication and interactive body movements.
SRC humanoid robots can be programmed to recreate smooth, graceful, fast human actions so effectively that they are frequently mistaken for human actors.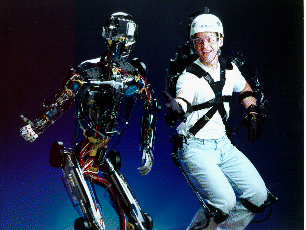 ---