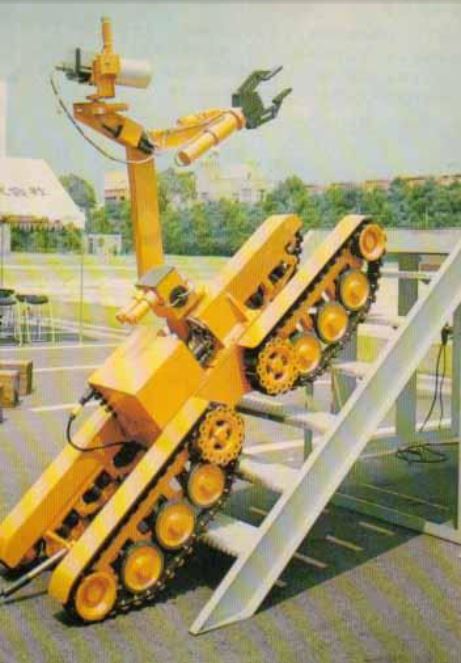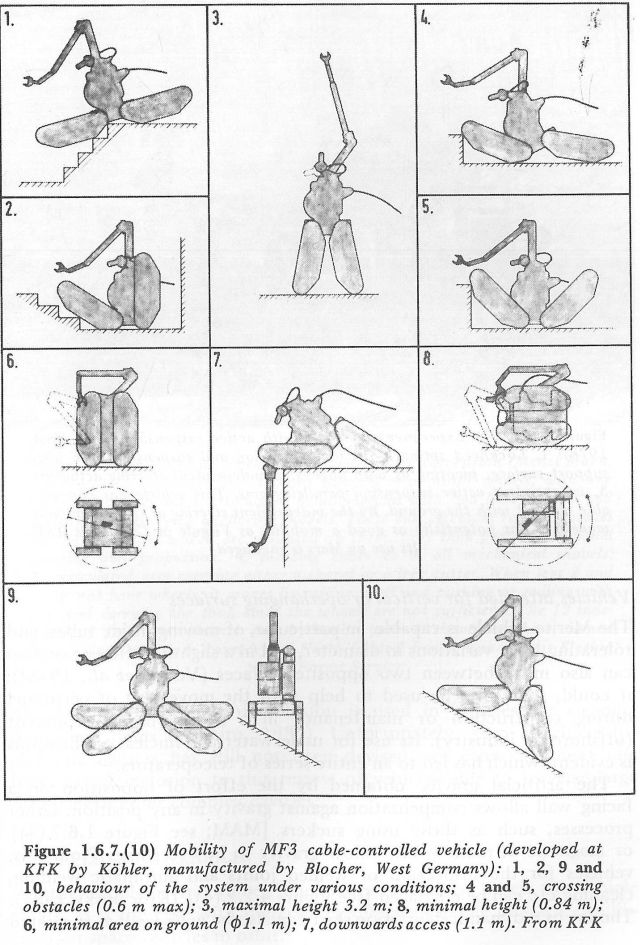 MF3
Blocher-Motor GmbH & Co. KG, Metzingen, West Germany CMS Technologies, Inc., Ft. Lee, N.J., U.S. Distributor
This device is a remotely controlled, tethered 4-tracked vehicle which is used in the nuclear industry and other hazardous environments. It was initially conceived and developed at the KFA Julich Research Laboratory in West Germany. Its single, light-duty, electric-powered manipulator arm can lift up to 20 kg (44 lb); the heavy-duty arm can lift up to 80 kg (176 lb). Both arms have 6 axes of movement and possess infinitely rotating long openings. Optional 7-axes electric lightweight master-slave arms (single or dual) which can perform extremely delicate operations by means of power feedback can carry 12 kg (26 lb) In a sustained operation or up to 24 kg (53 lb) in a temporary capacity. The MF3 is remote controlled from a portable control desk located up to 100 m (328 ft) from the 408-kg (900 lb) device. The MF3 dimensions are: 2264 x 720 x 400mm (1 x w x h) (89.1 x 28.3 x 15.7 in.); with track adjustment, the length and height are, respectively, 940 and 1080 mm (37.0 and 42.5 in.). It can climb stairs with a gradient of up to 45 degrees, turn on a 1200 mm (47.2 in.) radius, and can surmount 600 mm (23.6 in.) high obstacles, and traverse 1 m (3 ft) wide chasms (gaps). Its maximum speed is 30 m/min (99 ft/min), optional accessories are video cameras, TV monitor at the control desk, headlights, noise transmission system, X-ray unit with mounting arm, and alternate grippers. Power (220V, 50 Hz) and communications are made through an umbilical cord (cable). On-board electrical tools are powered through on-board sockets. An alternate model can operate with four on-board 12V batteries.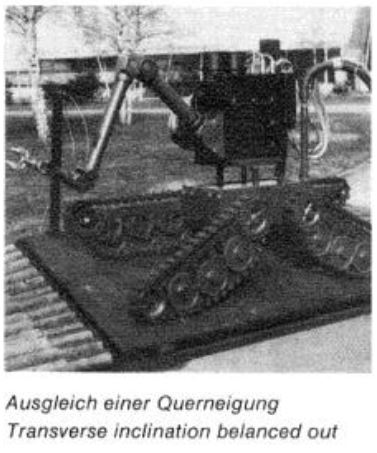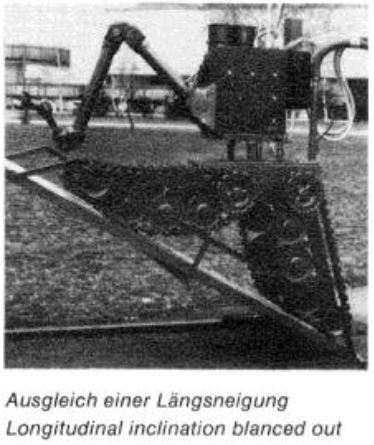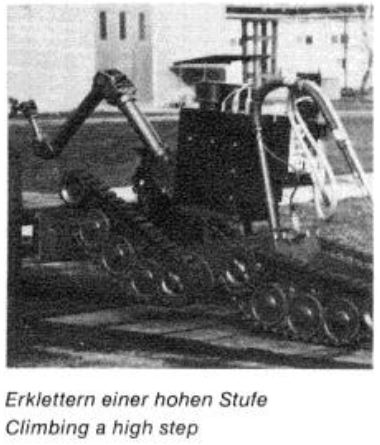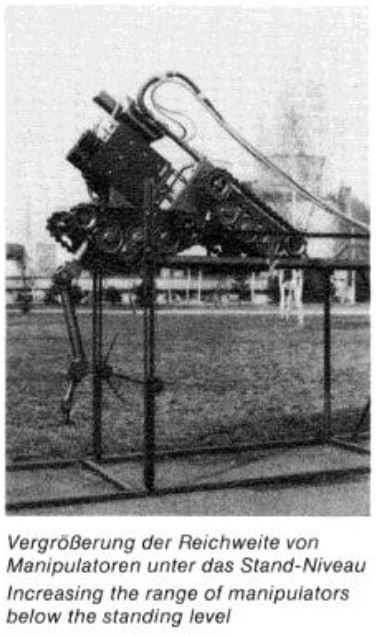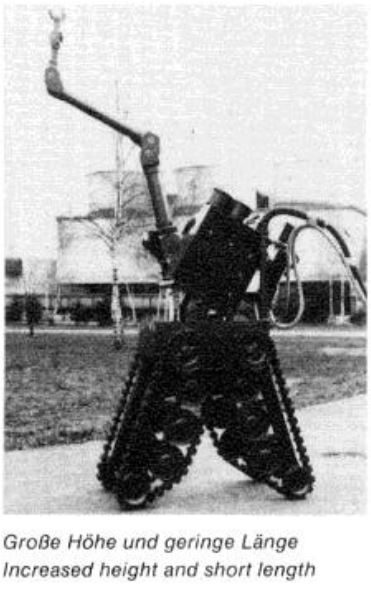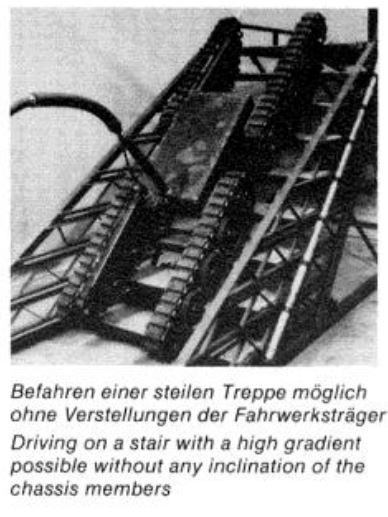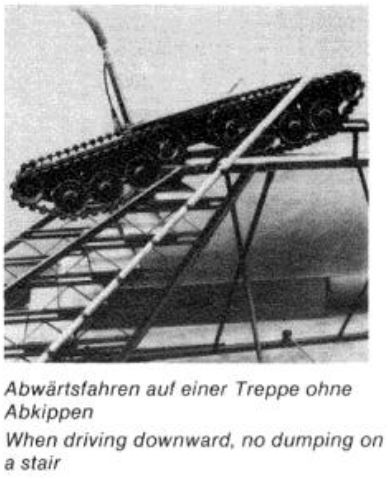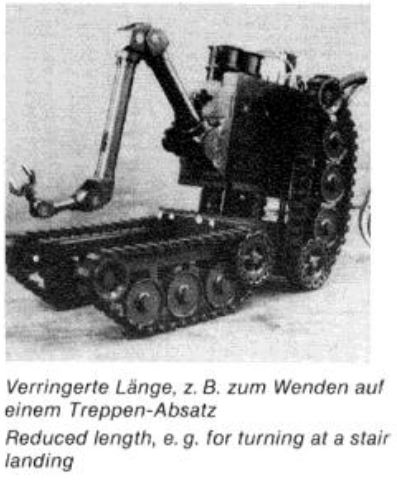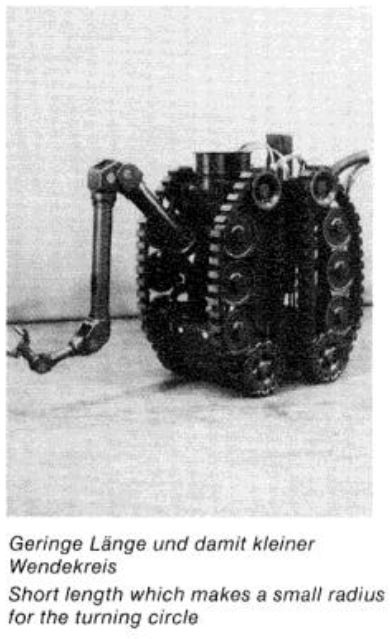 ---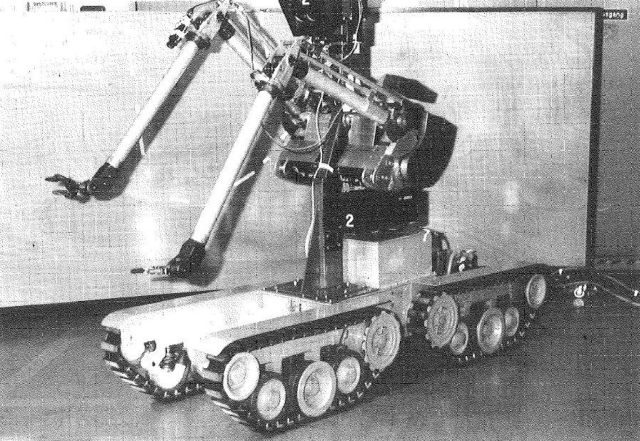 A mobile base with optional manipulator arms. The EMSM 2 arms by the same developers are shown above.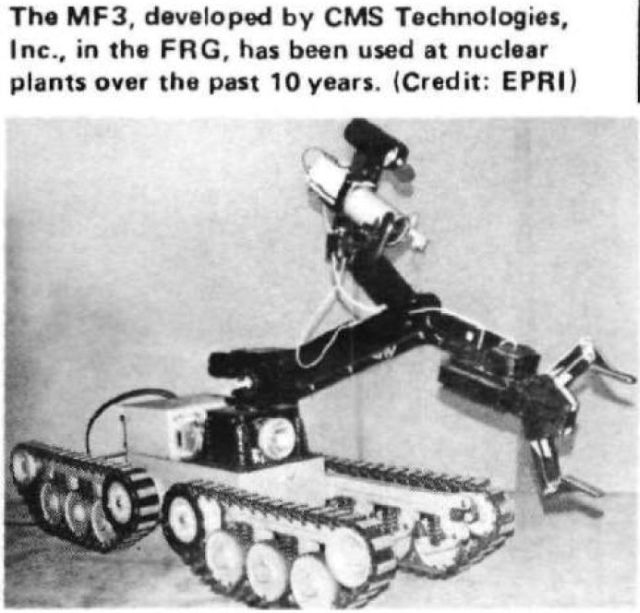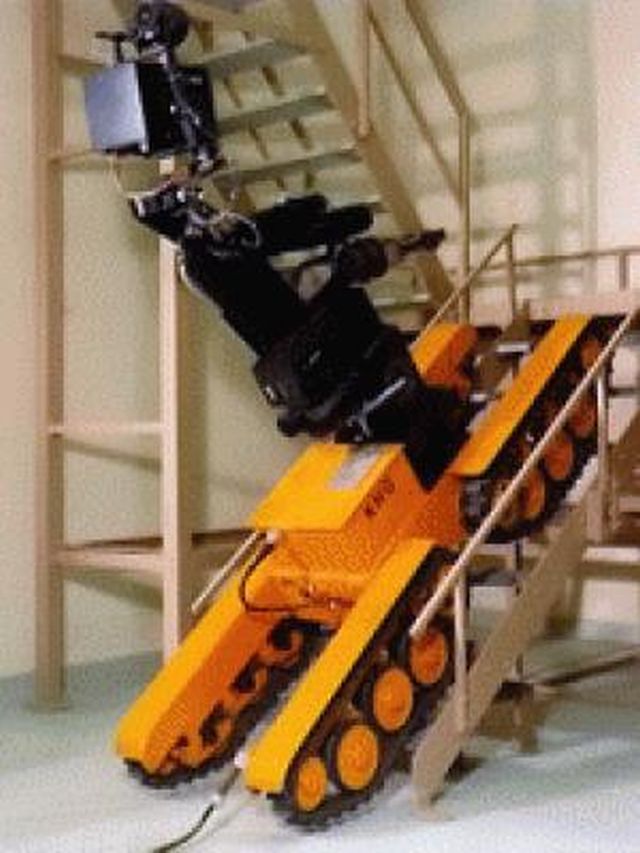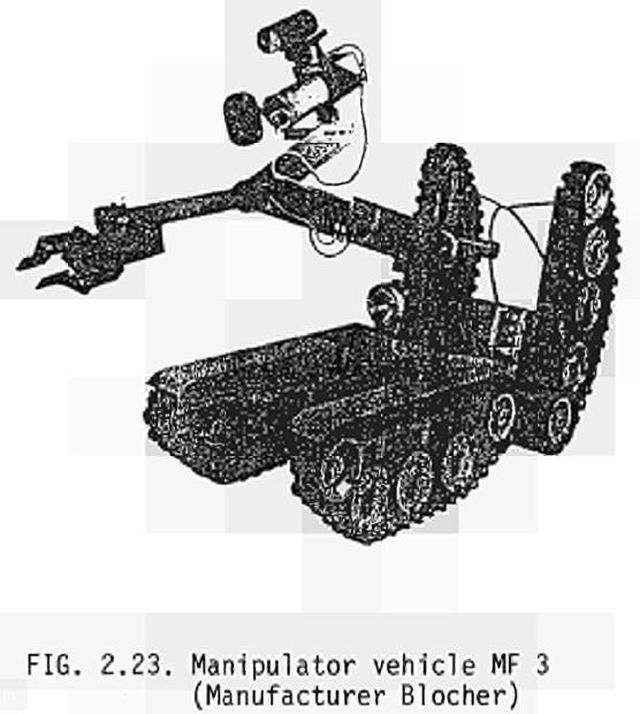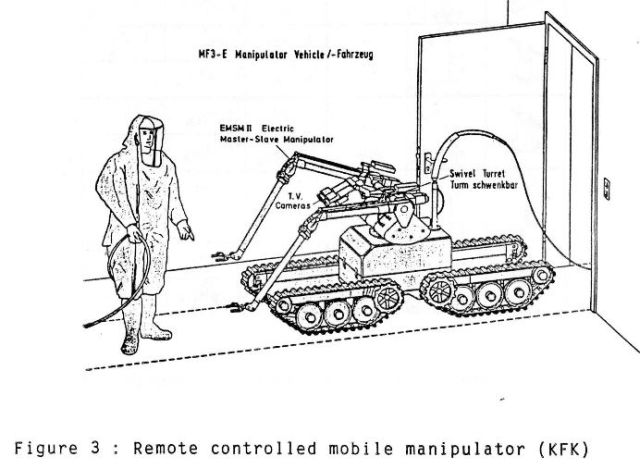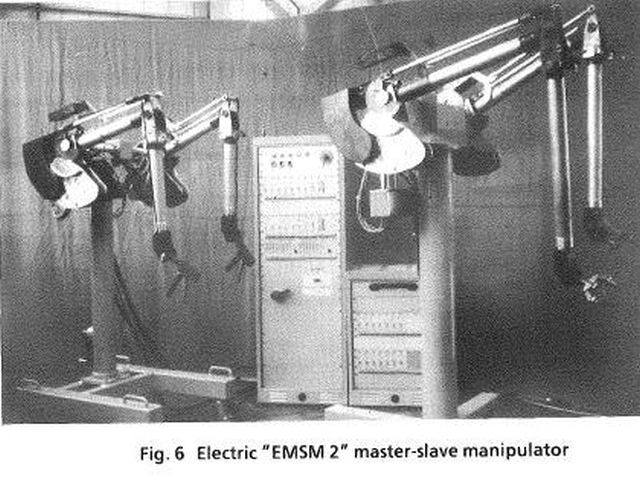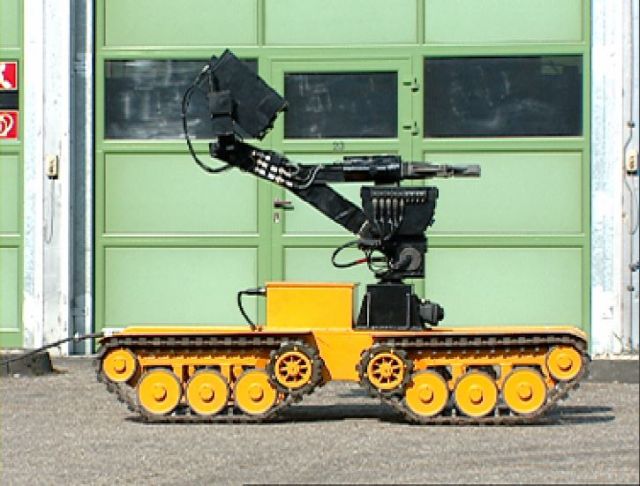 Above and below – Current MF3 offerings by KHG.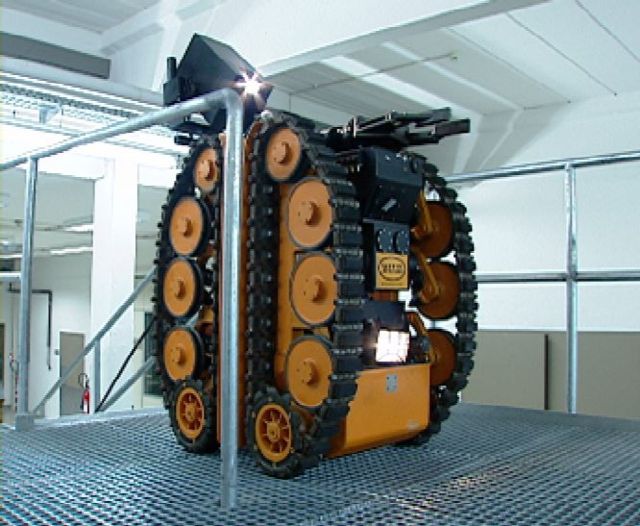 ---
See other early Teleoperators and Industrial Robots here.
---