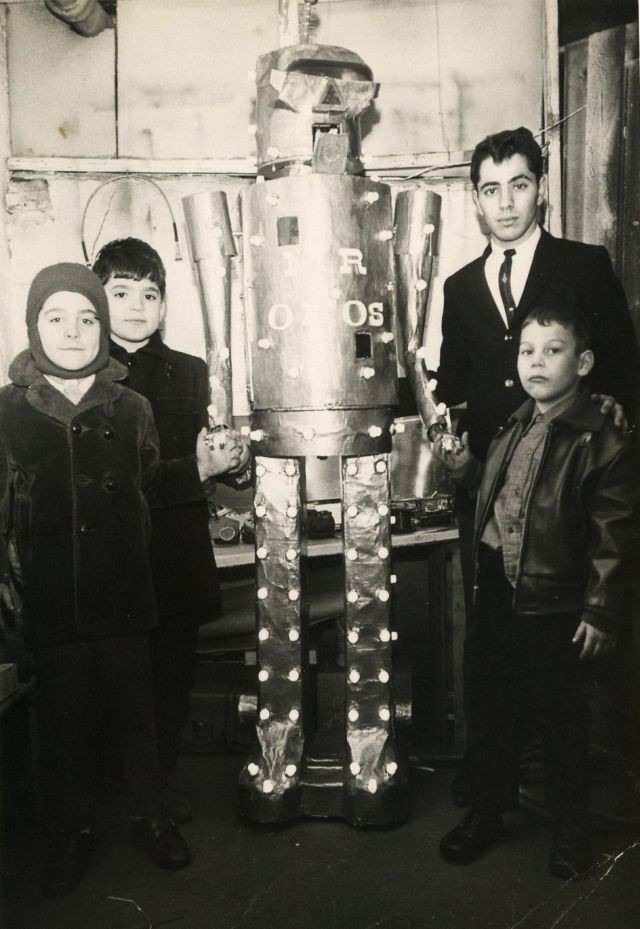 1965 – "Mr. Obos" the Robot by Lou Nasti (upper right).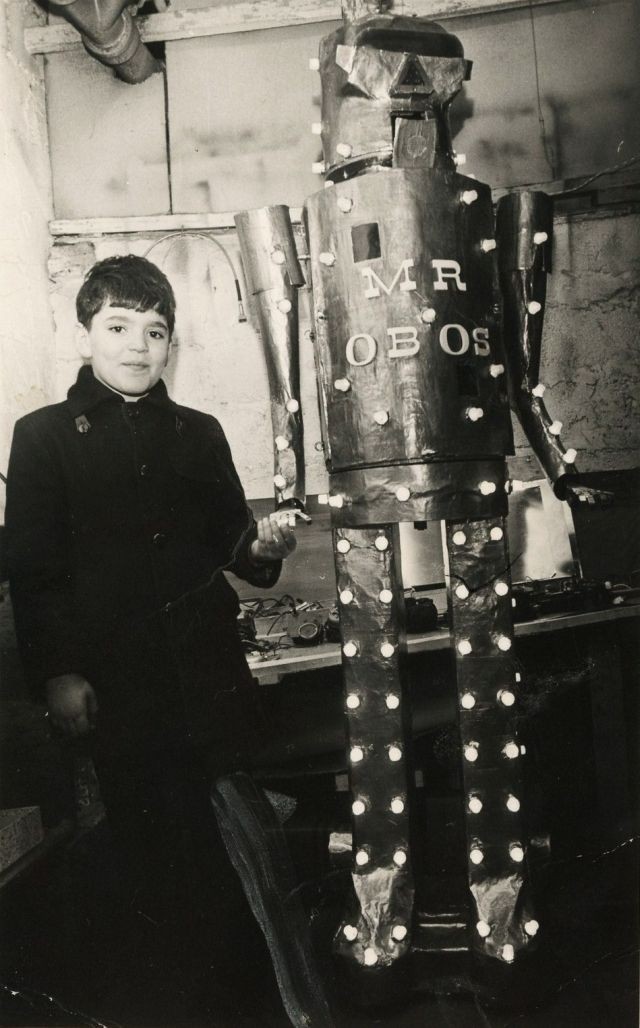 ---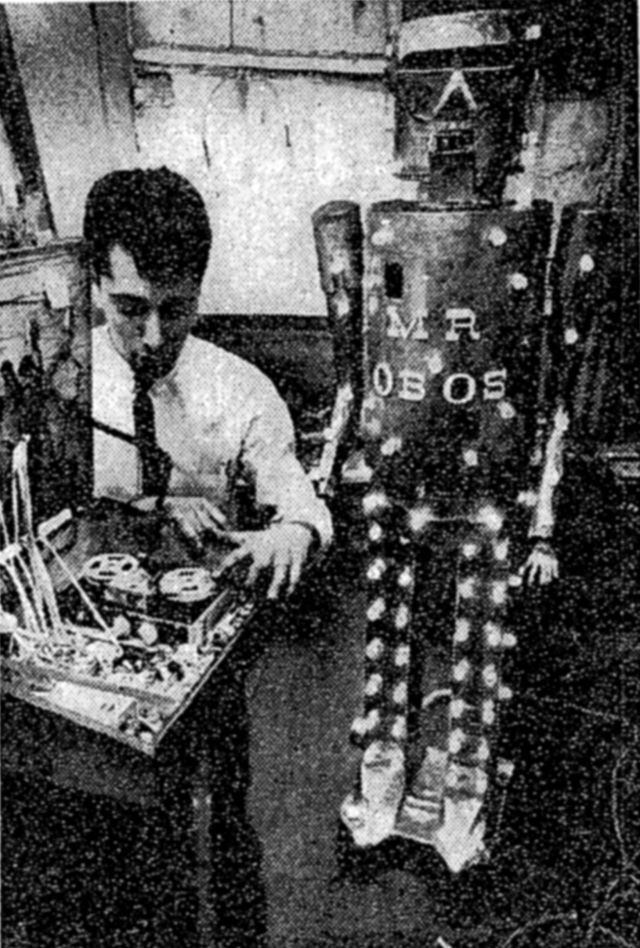 New York Times, March 20, 1965 – By PHILIP H. DOUGHERTY – Print Headline: "So What Else Is New? A Robot Makes Debut on Flatbush Ave."
So What Else Is New? A Robot Makes Debut on Flatbush Ave.
ROBOT IN RESIDENCE: Mr. Obos blinks his many lights at the electronic direction of his inventor, Louis Nasti, in the basement of the Nasti apartment house in Flatbush. Besides blinking, robot walks, talks and moves arms.
The other fellows around East 38th Street and Flatbush Avenue have had a pretty busy winter, what with shooting pool at Cannon's, going to dances and all that.
But where has Louis Nasti been? He's been in the basement of the Styling by Silhouette beauty parlor every free minute, and what he's been doing has really become a neighborhood topic. No wonder, for how many fellows are building 6-foot 5-inch, copper-colored robots around Flatbush Avenue these days?
Mr. Obos (he's the robot) was showing off the other night in the basement of 1866 Flatbush Avenue that he shares with a furnace. Nineteen-year-old, 5-foot 4-inch Louis was at the lecternlike, 23-switch control panel as Mr. Obos, in a deep, taped voice, ticked off his physical assets.
"I can do 11 different things." bragged Mr. Obos, antenna twirling as blue eyes and red nose blinked.
"He's great," interrupted Mrs. Marie Nasti, her plump 5-foot frame unable to hold all of her pride. It was not clear whether she was speaking of her son, the inventor, or the invention.
"There are 100 lights outlining my body and 475 feet of running wire from the back of my leg to my controls," continued Mr. Obos with some satisfaction.
Mr. Obos's chin flapped and torso spun in half circles on its marble-mounted waistline as nine little electric motors whirred silently.
"It comes apart in five pieces," young Louis said, leaping to open Mr. Obos's right ankle where a 21-foot power-bearing cable enters the body. The wires are connected to a cable, the cable is connected to a switch panel, the panel is connected to an outlet — oh hear the word of Con Ed.
"It looks sharp in the dark." said young Louis, a thin, well-dressed young man with wavy black hair, interrupting both his mother and Mr. Obos.
Louis explained that he built the robot for the employees' hobby show at Abraham & Straus, where he is in home furnishings display. "They really like me there." he said. Louis has also built a coffinlike box for Mr. Obos and plans to move him to the store today.
Upstairs in the Nastis' three-room apartment (father Attilion was still at work), Louis talked of some of the other thing's he has built, including a robot who did the twist.
"When I was at Midwood High School (he was graduated in 1963) I built a rocket and a radar interceptor—had two airplanes take off and actually collide in the classroom." he said.
Now that Mr. Obos, who got his name from Sobos glue, is finished and all the papier-mache in place and painted on its body of five-gallon oil cans, Louis feels let down. "I went down to the cellar and just sat and looked at him last night." he said.
But he has future plans. "I think," Louis said, "I'll build a family of robots-remote controlled with radio waves-that look like soldiers, not robots." There was a faraway look in his eyes.
Thanks to Lou Nasti and colleague Bob Kovacs in providing the New York Times article.
---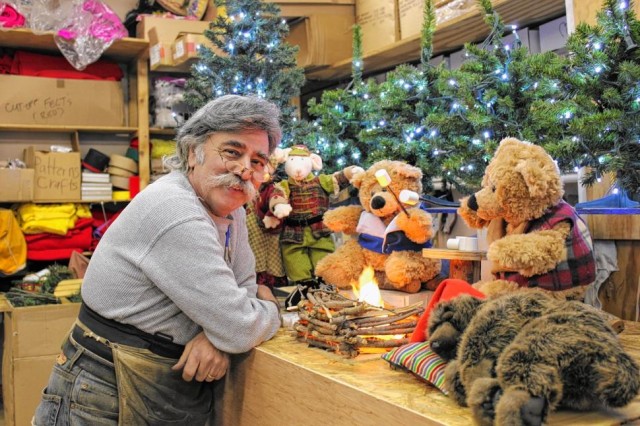 Lou Nasti, looking rather like Disney's Geppetto, set up his animated display's business in 1969 and is still going strong. See Animated Displays Inc.
He has a robot called Rodney.
Comment source: here. c2013.
Lou Nasti is famous for his animated window displays. His work is very amiable and seems like it appeals to the younger audience, however can be a fun experience for all ages. Enjoyment and entertainment is found everywhere in his displays. His "Santa's workshop" can be found in Brooklyn commonly known as Lou Nasti's Brooklyn company, Mechanical Displays Inc. He is well known for creating displays that have holiday themes and bring out the fantasy in every holiday, such as Santa Claus and his elves. These famous displays can mainly be found in department stores such as Macy's.

His famous career started as a teenager when he started as a window dresser. His fame up roared when he created a talking and walking robot. His work is amazing and is viewed by many every year. However the main obstacle for Lou Nasti every year is putting up a Christmas tree in his own home. Despite this obstacle, he still creates the best displays filled with imagination. His displays circulate around the country, that's how good he is.

Another important obstacle that not only Lou Nasti faces but department stores face is online shopping and how it has affected businesses in stores. It's up to Lou Nasti to work night and day to change this and help boost up this line of work. His theme seems to be "bigger is better." Lou Nasti continues to work hard, recently creating a huge children's train ride through a sprawling peppermint forest for the Galt House Hotel in Louisville, Ky. However, his foremost project is to create a life sized theme park named Nasti Land.
---
See other early Humanoid Robots here.
---