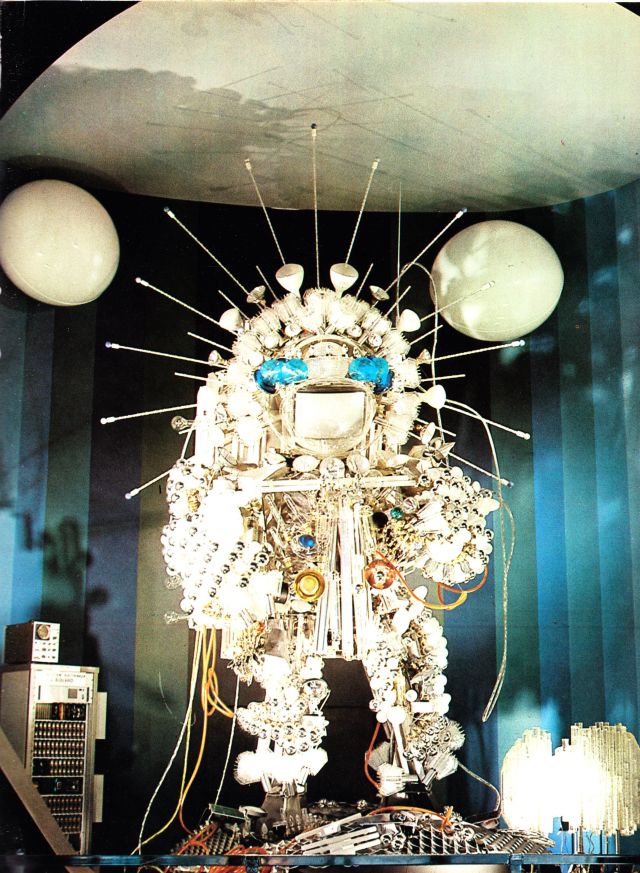 Cosme, le chevalier de lumière… est le dernier né et le géant des automates.
Nous voilà bien loin des premières poupées articulées. Cosme n'est pas seulement colossal (5 m. de haut, 1.350 kg), il a de l'ambition et veut synthétiser en lui l'humanité présente et future dans le contexte technique qui est le nôtre.
Animé par un ordinateur, sa démonstration est un spectacle audiovisuel impressionnant. Avec ses 2.000 lampes, ses 25 km de câble, Cosme nous transporte pendant 28 minutes dans une sorte de monde interplanétaire où la couleur et la lumière sont reines…
Cosme n'a pas de domicile fixe car il est extrêmement demandé, il circule beaucoup, malgré ses orgueilleuses proportions, et on peut le voir au hasard d'une exposition, d'une manifestation en France ou à l'étranger. Il s'est produit récemment à Orly, lors d'une exposition d'automates.
Entièrement conçu par Mme Jeanne Renucci-Convers, Cosme a été réalisé par PHILIPS.
Translation by Google
Cosme, the knight of light … is the latest and giant robots.
We are far from the first jointed dolls. Cosme is not only huge (5 m. High, 1350 kg), it has ambition and wants him to synthesize the present and future humanity in the context technique that is ours.
Powered by a computer, it is an audiovisual demonstration impressive. With its 2,000 lights, 25 km of cable, Cosme transports us for 28 minutes in a sort of interplanetary world where color and light are queens …
Cosme has no fixed abode because it is extremely required, it runs a lot, despite its proud proportions, and can be seen at random an exhibition, an event in France or abroad. He has recently Orly, during an exhibition of automata.
Entirely designed by Jeanne Renucci-Convers, Cosme was made by PHILIPS.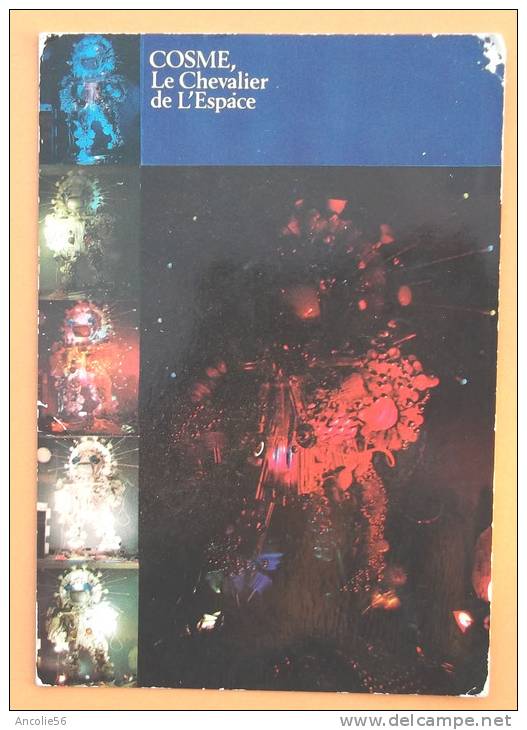 Exhibition Brochure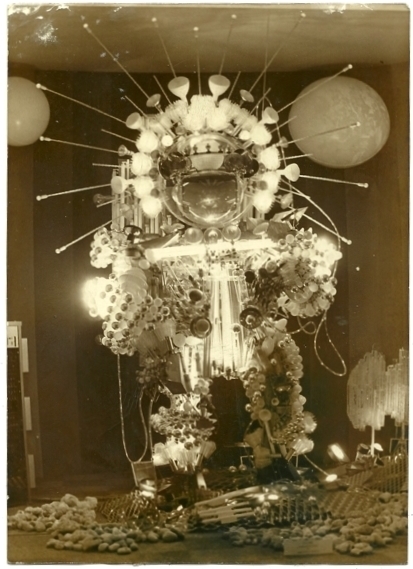 COSME Press photo
2000 LAMPES POUR LE "CHEVALIER DE L'ESPACE". L'OEUVRE DU SCULPTEUR JEANNE RENUCCI-CONVERS, "COSME", SYMBOLISANT LE CHEVALIER DE L'ESPACE, EST COMPOSES DE 2000 LAMPES DE PRES DE TROIS CENT SORTES.
HAUT DE CINQ METRES, CE MONSTRE DE LUMIÈRE PESE 1350 KG ET SA REALISATION A DEMANDE UN AN DE FABRICATION APRES TROIS MOIS DE CONCEPTION. 25 KM DE FILS ONT ETE NECESSAIRES POUR ASSURER L'ALIMENTATION EN COURANT ELECTRIQUE DE CETTE OEUVRE GIGANTESQUE EXPOSEE ACTUELLEMENT DANS LA VITRINE PHILIPS. A PARIS.
Google translation
2000 LAMPS FOR "KNIGHT OF SPACE." THE WORK OF SCULPTOR JEANNE RENUCCI-CONVERS, "Cosme" SYMBOLIZING THE KNIGHT OF SPACE IS THE COMPOUNDS OF LIGHTS 2000 NEARLY THREE HUNDRED AND KIND.
TOP FIVE METERS THIS MONSTER LIGHT WEIGH AND ITS REALIZATION 1350 KG ASKED ONE YEAR AFTER THREE MONTHS OF MANUFACTURING DESIGN. 25 KM FROM SON WAS NECESSARY TO ENSURE THE ELECTRICAL POWER SUPPLY THIS WORK CURRENTLY FACING HUGE IN DISPLAY PHILIPS. PARIS.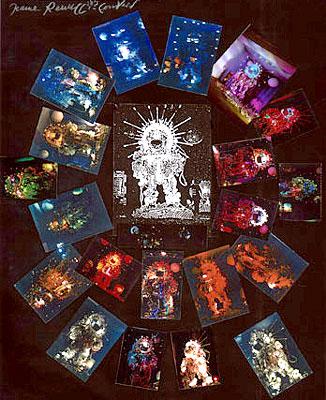 COSME , LE CHEVALIER DE L'ESPACE
http://www.sculpteurs-plasticiens.org/oeuvre-245-1265.html
par Jeanne Renucci-Convers
Matière : Lumiere & structure acier inox
Dimensions : 1200-1000-1000 cm
Poids : 1350 kg
Année : 1968 / 1971
Photographe : BLAISE-LELONG-ROY
Adresse d'exposition : Conservée depuis 1981 au Centre International du Futur, Salines Royale d'ARC-EN-SENANS .
Patrimoine mondial depuis 1982
Collection : publique
" Pionnière et théoricienne, elle invente cette première sculpture de lumière fonctionnant avec ordinateur, possédant sentiments, sensations, verbe et mémoire. Elle ouvre une voie nouvelle et certaine dans les domaines artistiques et poétiques en transposant sur le plan créatif de l'Art l'équation Energie / Matière". Citation de la médaille de Vermeil du progrès. Promotion Cdt J.Y COUSTEAU 1973. Dédiée à la conquête spatiale, aux citoyens du monde, microcosmes humains. Maillons des civilisations dans un condensé de notre humanisme
English translation by Google
COSME, THE KNIGHT OF SPACE
http://www.sculpteurs-plasticiens.org/oeuvre-245-1265.html
by Jeanne-Renucci Convers
Material: Lumiere & stainless steel structure
Dimensions: 1200-1000-1000 cm
Weight: 1350 kg
Year: 1968/1971
Photographer: BLAISE-Lelong-ROY
Exhibition address: Preserved since 1981 at the International Centre of the Future, Royal Saltworks RAINBOW SENANS.
World Heritage since 1982
Collection: Public
"A pioneer and theorist, she invented the first light sculpture running computer, with emotions, sensations, and word memory. It opens a new way and some in the artistic and poetic transposition of the creative art of the equation Energy / matter ". Quote of the Vermeil medal of progress. Promotion Cdt Cousteau J.Y 1973. Dedicated to the conquest of space, citizens of the world, human microcosms. Links of civilizations in our condensed humanism.
---
Philips Electronics worldwide has a history of supporting electronics in art. A similar idea to Cosme is PETE (Philips Electronics Telecommunications Equipment), built one year later in Australia by Stan Ostoja-Kotkowski .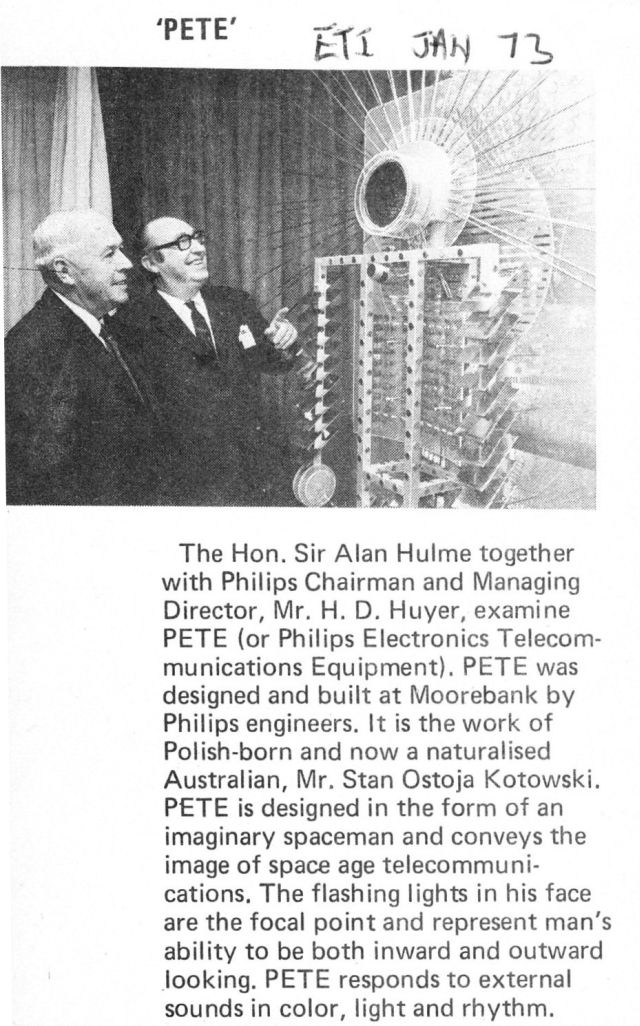 Source: Electronics Today International, January 1973 .
---