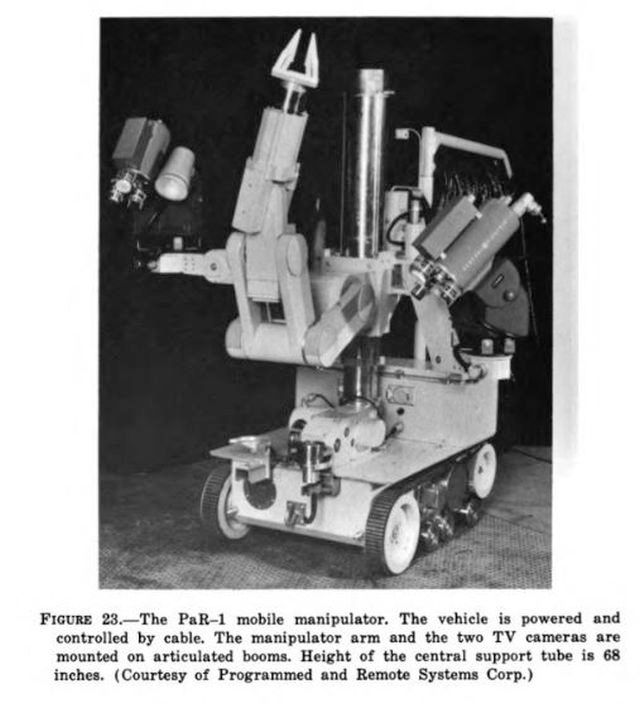 The PaR-1 mobile manipulator. The vehicle and manipulator are powered and controlled by cable. The manipulator arm and the two TV cameras are mounted on articulated booms. The height of the central support tube is 68 inches. PaR was a subsiduary of GCA when this model came out.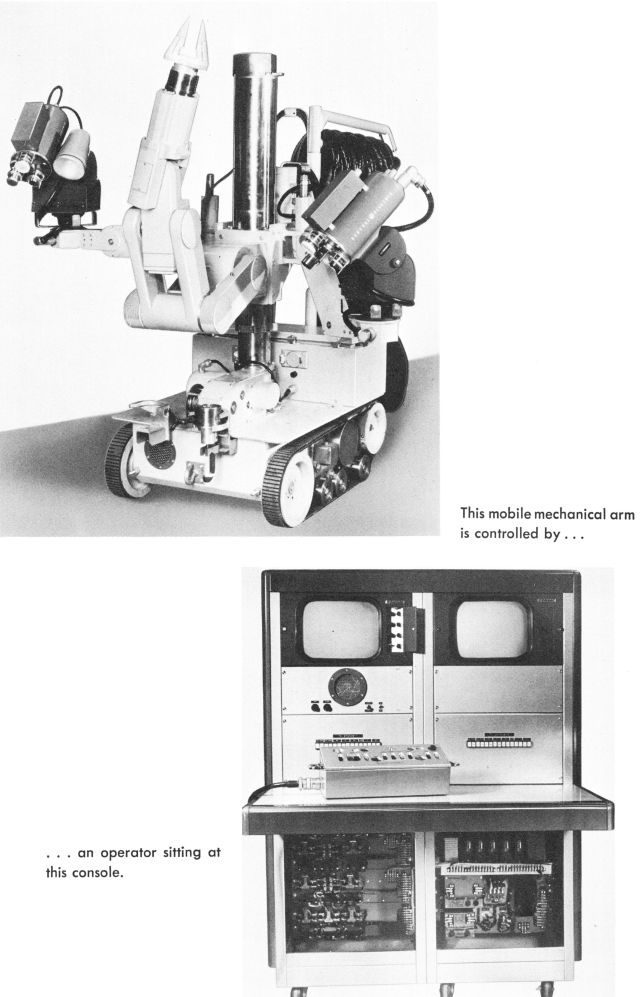 PaR-1 with its remote operating console. It is cable-connected.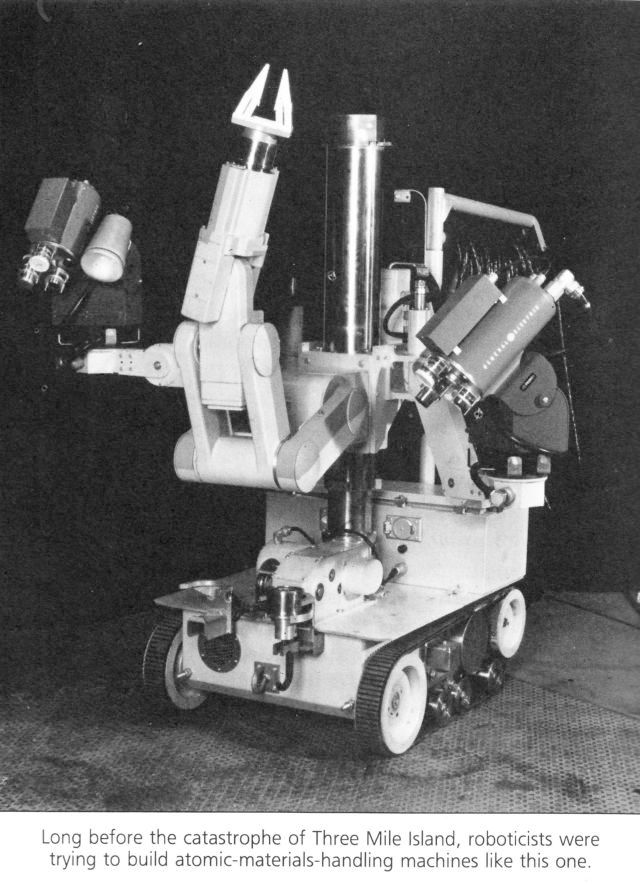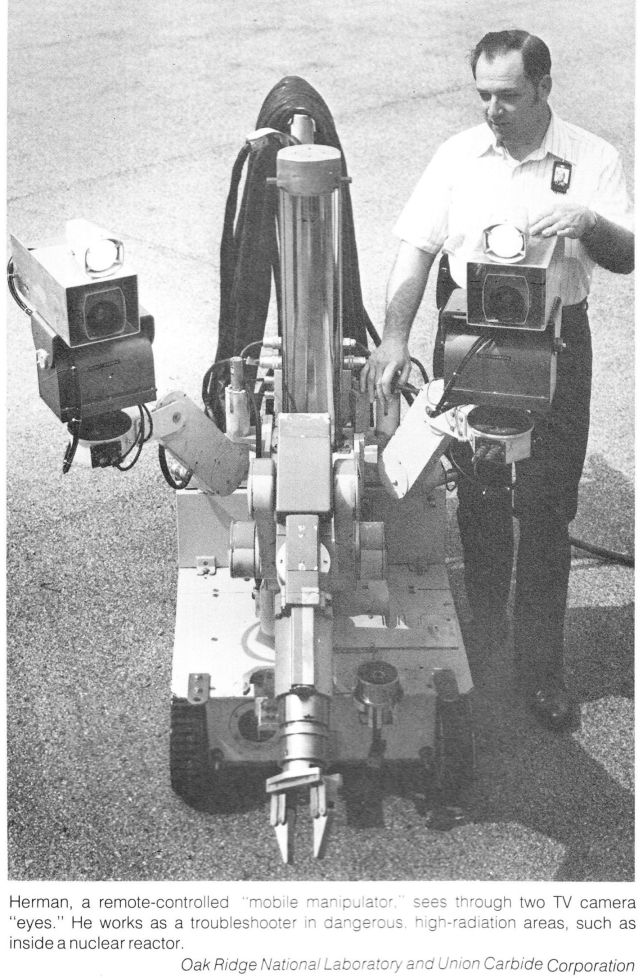 "Herman" Mobile Remote Manipulator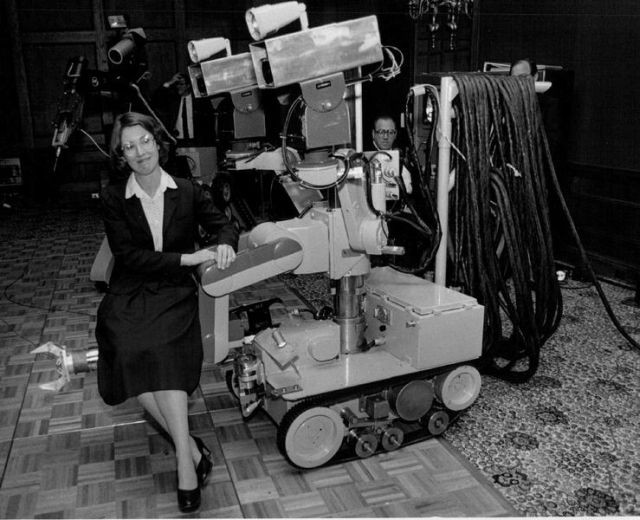 Sarah Demarest taking a ride on Herman c1984.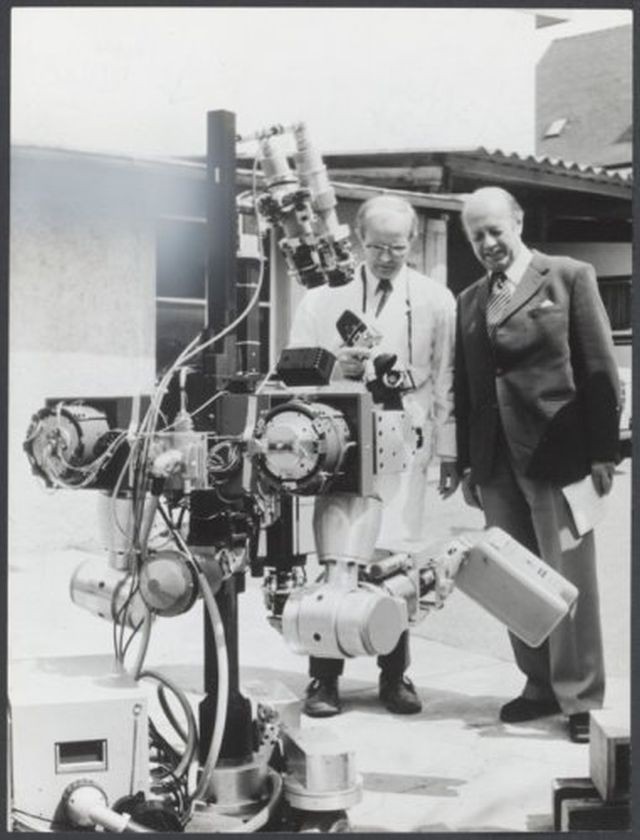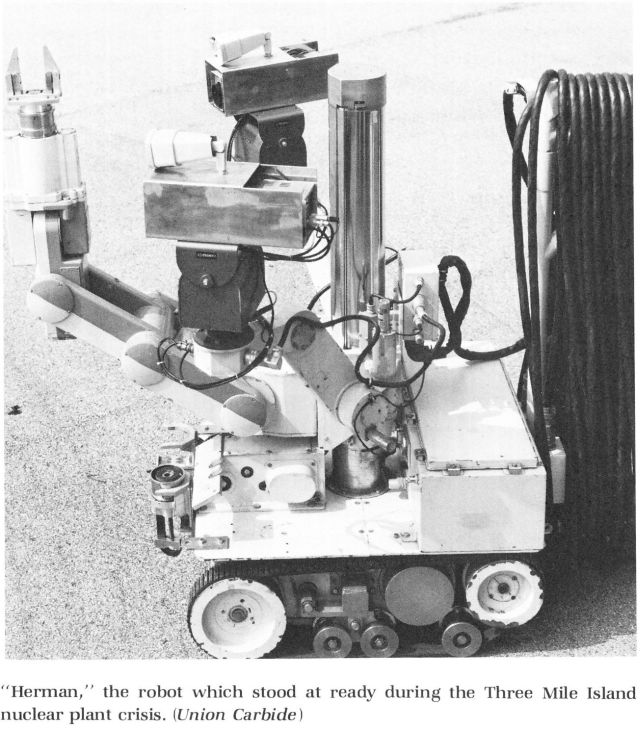 Nuclear Radiation Can't Scare Robot – Source:The Cornell Daily Sun, Volume 95, Number 122, 6 April 1979
Middletown , Pa . AP If the time comes to walk into a room hot with lethal doses of radiation at Three Mile Island, the first one in will be Herman — and he won't have a choice.
Herman is a robot.
As a nuclear life-saver , he has worked wonders. But as a robot, the 13-year old mechanical marvel probably would be a vast disappointment to science fiction fans weaned on R2D2.
Herman is mainly a large motorized box. He (she? it?) is 5 feet long, 6 feet tall and mounted on tank-like treads. He has one long arm and two strong fingers.
The robot's range extends to 400 feet, a limit set by his umbilical cord, a power control cable.
Harold Denton , operations chief for the Nuclear Regulatory Commission, told reporters Wednesday: "We haven't used Herman the Robot yet, but we hope to use him to take samples in high radiation areas and avoid unnecessary exposures of radiation to people."
Herman was created in 1966 when a fire at the government's Savannah River uraniun enrichment plant in South Carolina showed the need for remote-control, mobile equipment that was radiation resistant.
Two television cameras give Herman his sight . He can switch from performing delicate manuevers to lifting 160-pound loads or dragging 500 pounds , said James Alexander, an official of the Oak Ridge National Laboratory in Tennessee, where Herman is usually kept in the "Y-12 weapons plant."
"Herman has a very delicate touch. He can do many things as you can do with your two fingers," Alexander said. "He can turn valves. He can pick up very small objects … He can take a bucket in behind him, put it on the ground, reach over, pick up something, put it in bucket, the take the bucket, put it somewhere else."
This would be Herman's first tour of duty at a commercial nuclear power plant but he has shown his worth before in dealing with nuclear incidents.
A few years ago, Herman freed a container of radioactive Cobalt 60 that had gotten stuck in a pneumatic transfer tube in a lab at the University of Rochester.
Another time, Herman crawled into a physics lab at the University of the South in Sewanee, Tenn., to retrieve a radioactive source that had gotten loose. Using his single arm, he placed the source back into its protective container.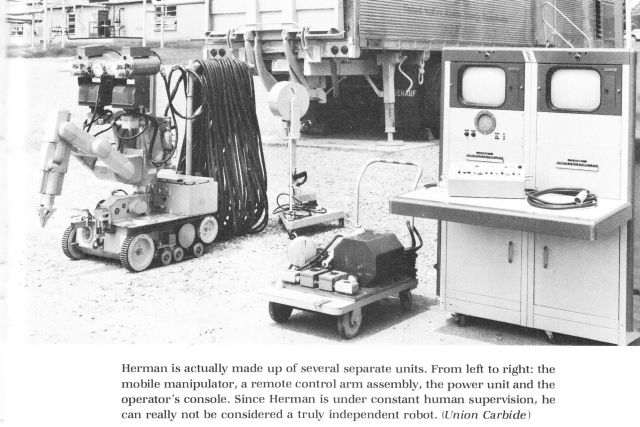 At the time [1984], with the Department of Energy's okay, the robot and operators are dispatched to the troubled site. Union Carbide receives what it terms a "full recovery" fee—money that covers the salaries of the robot's personnel, transportation, lodgings, and meals. Union Carbide does not sell the Y-12 plant mobile manipulator, as Herman is known. It paid $63,010 when it bought the robot several years ago. Vehicles like Herman could still be bought from Programs and Remote Systems Corporation.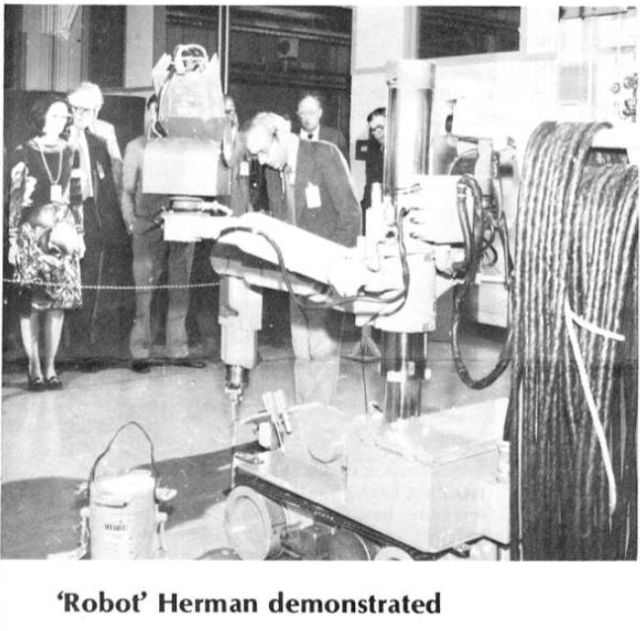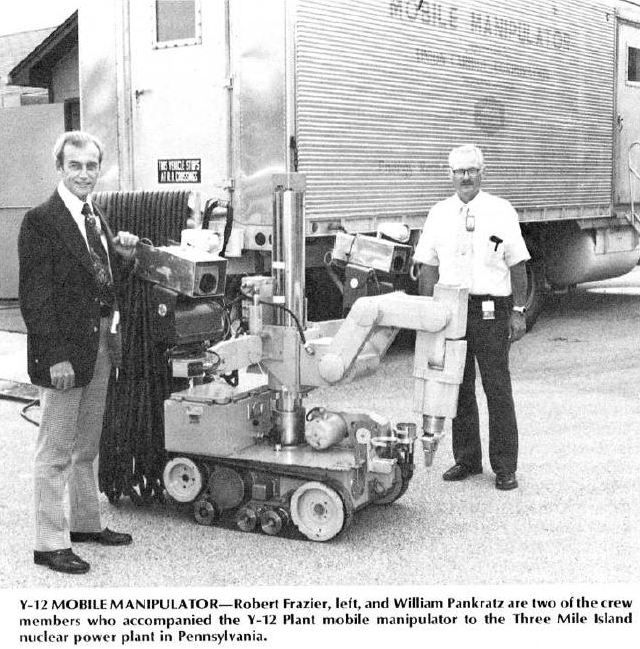 Y-12's Herman still on standby
Four Oak Ridge Y-12 Plant men who operate the plant's mobile manipulator or robot, nicknamed "Herman," have returned home after a week of standby duty at the Three Mile Island nuclear power plant, subject to 24-hour recall. The robot remains at Three Mile Island.
Robert W. Frazier, team leader, William Pankratz, Thomas E. Copeland and Richard Turner, all of Y-12 Maintenance Division, were summoned to the power plant site March 30 to operate the robot if its services were needed during the emergency. The manipulator system was transported to Pennsylvania in its travel van, driven by Department of Energy personnel.
One mission considered for the robot was that it enter a room which has a high radiation level and take samples of the primary coolant water for chemical and radiological analysis. During their week's stay at the power plant, the crew members rehearsed this mission, which would have involved about 35 separate operations and would have required 8 to 10 hours to complete.
Press interest
At week's end, Nuclear Regulatory Commission officials at the scene informed the Y-12 team that the operation had been postponed and that team members could return home, subject to possible recall at a later time. The manipulator system was reloaded into the travel van, but is being retained at the power plant site.
The robot apparently captured the imagination of news reporters covering the story. Wire services and newspapers across the nation requested file photographs of the maniuplator system, and all three national television networks requested file videotape scenes of the system in action (made in a Y-12 documentary video program in 1977). The robot provided the lead story for the "CBS Evening News" program on April 4 [1979].
The manipulator system, built to Nuclear Division design specifications by a commercial vendor [PaR Systems] in 1966, consists of the mobile manipulator, its control console and a workroom-laboratory. The manipulator is designed to operate at distances up to 700 feet from the control console, to which it is attached by a cable. The manipulator is about five feet long, six feet high and about two and one-half feet wide. It has a mechanical hand capable of lifting 160 pounds and dragging 500 pounds. Two television cameras mounted behind the arm transmit pictures to monitors on the control console.
The manipulator system was obtained by Y-12 as a safety support
backup in operations involving the handling of toxic or radioactive materials in the plant. It has been used outside Oak Ridge on two previous occasions to recover radioactive sources: at the University of Rochester in 1975 and the University of the South at Sewanee in 1976.
Source: Nuclear Division News [Union Carbide] April 19, 1979.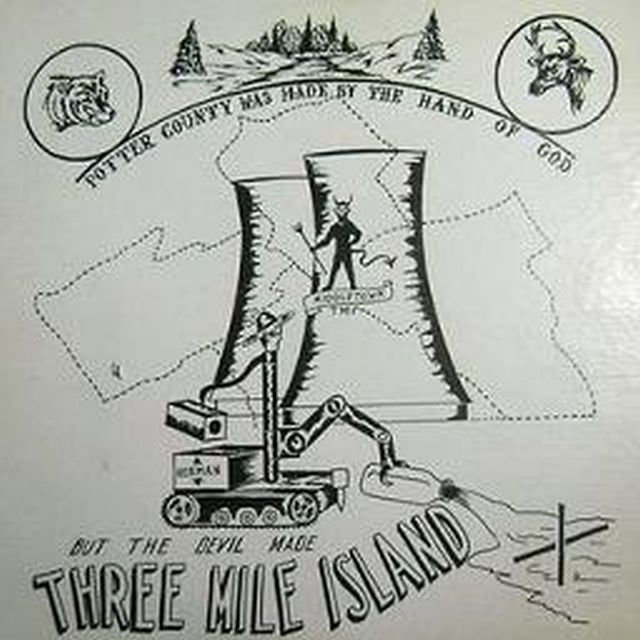 Record cover made soon after the Three Mile Island accident in 1979.
---
PaR is still in business and this is their current single-arm remote mobile manipulator.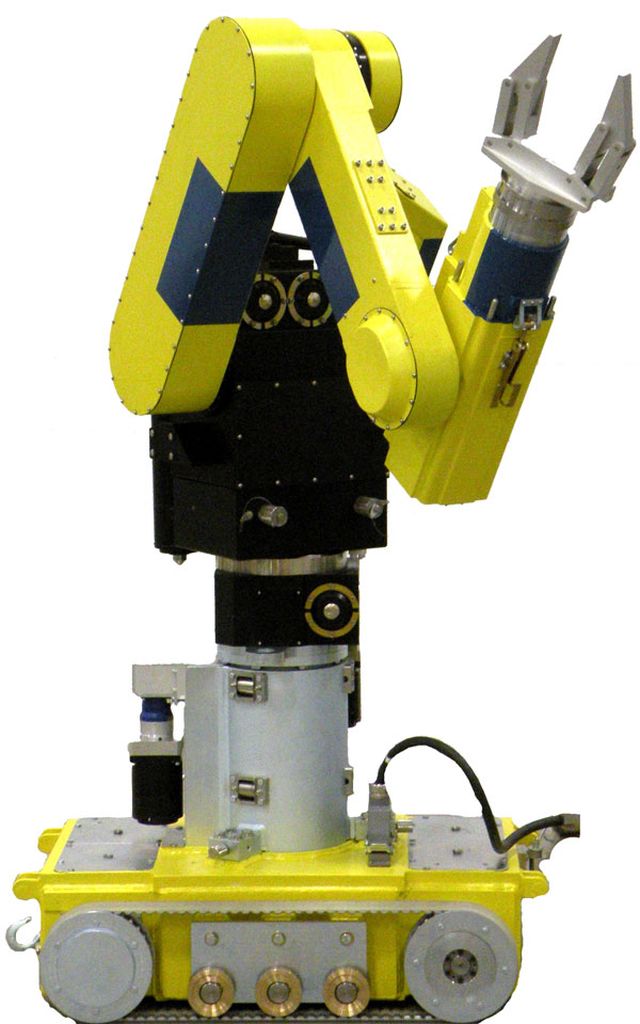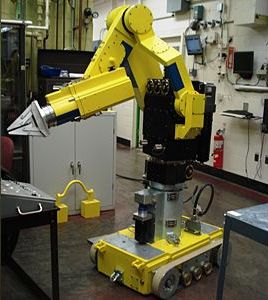 ---
See also post titled "1960 – Space Manipulators – General Mills" for description on General Mill's approach to manipulator design concepts.
See other early Teleoperators here.
---