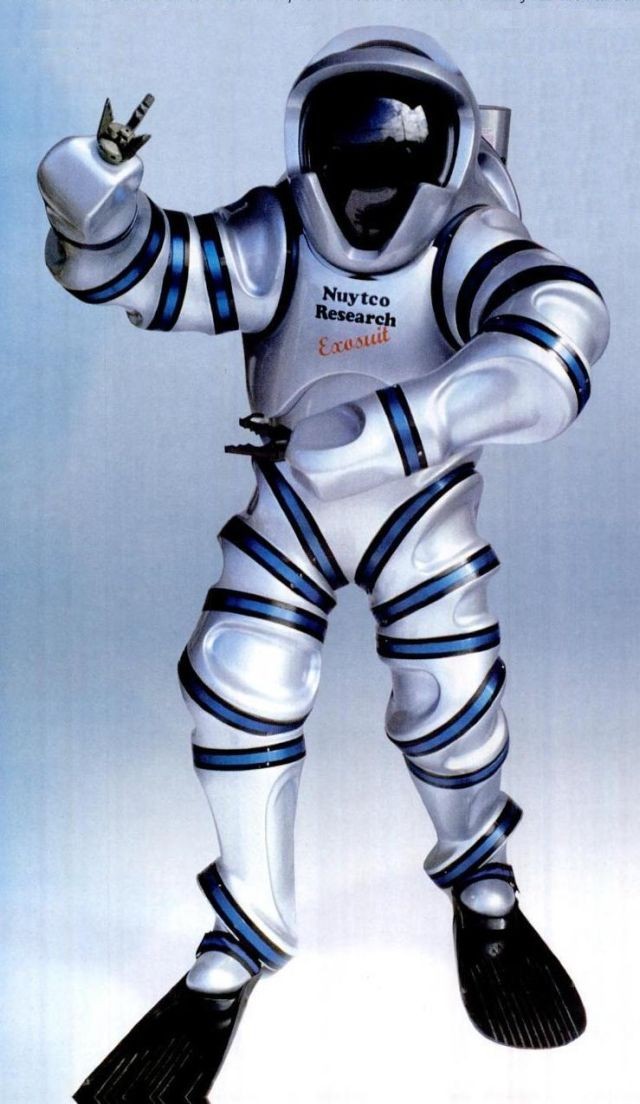 The EXOSUIT mock-up by R. T. "Phil" Nuytten from 1999.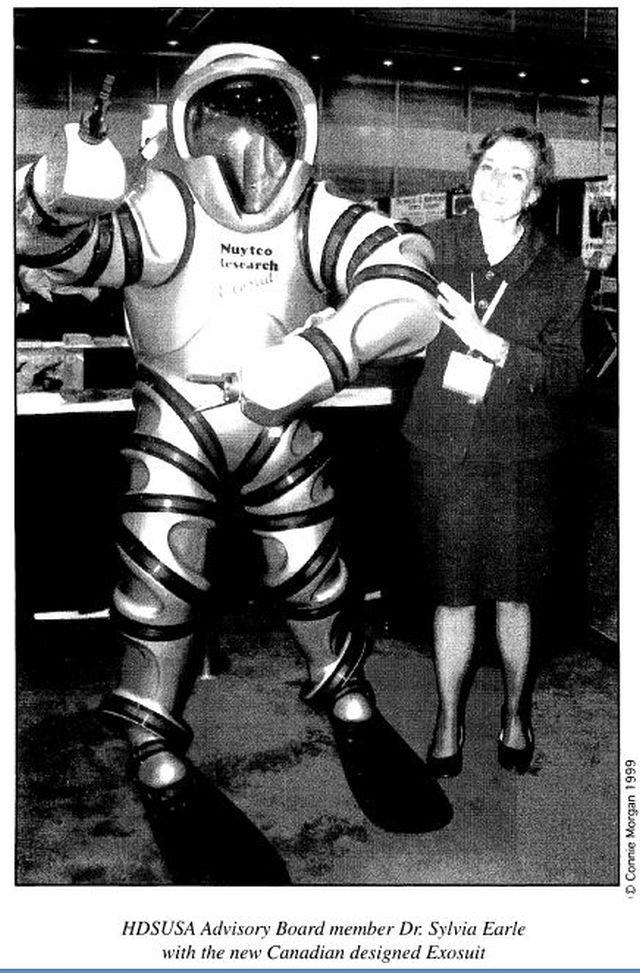 Sylvia Earle with the Exosuit mock-up in 1999.
The Exosuit is Phil Nuytten's next generation Atmospheric Diving System following from his successful Newtsuit.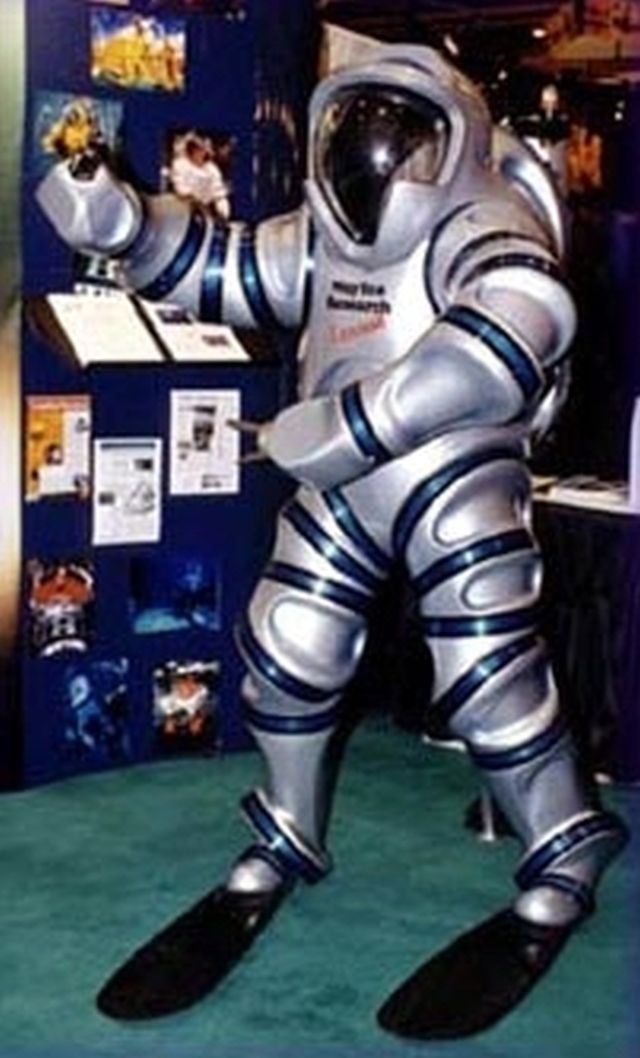 Sport Diver Nov-Dec 2005
Dr. Phil and the Amazing Exosuit by Daryl Carson.
EXOSUIT
If you haven't heard of diving's Dr. Phil, here's a tip: He's nothing like the one you might find on weekday television. His genius is in solving mechanical difficulties, and he's applied that genius to building fantastic machines for sub-sea use. In a career spanning four decades, he's produced numerous underwater vehicles worthy of science fiction.
Most sport divers know Dr. Phil Nuytten as the face peering from the clear mask of the Newtsuit, a one-atmosphere, hard-shell diving suit that looks like a yellow Michelin Man. Some know him, too, as the creator of the DeepWorker micro-submersibles used by Sylvia Earle during the Sustainable Seas Expeditions begun in the late '90s. However, in 2000 the diving world got another big shot of Nuytten when Dr. Phil unveiled the Exosuit. Since then divers have been salivating over the possibilities created by this pressure suit capable of free-swimming to depths of 600 feet. Even more tantalizing has been talk of a model aimed at the recreational market and priced this side of six figures.
After more than five years of beta testing, a production model is incredibly close. I had the chance to speak with Dr. Phil recently, and he happily admits he's "running out of excuses" not to put the Exosuit on the market. (Work on the suit was slowed due to resources poured into the DeepWorker project. It seems they can't build the little subs fast enough.)
Three issues have been hampering production, and two of them have recently been overcome. One was the cost of making the joints that give the Exosuit its flexibility, but a new approach has greatly reduced that expense. Another was developing a five-fingered hand (not shown) instead of the simple claw found on the Newtsuit. Dr. Phil says he now has a fully mechanical device that works in concert with the human hand. It's sensitive enough to allow the user to pick up a pen and sign his name. The last hurdle is performing swimming trials, which, if all goes well, could take place as early as next spring.
"I'm hoping to recover a lot of our engineering costs on the first 50 to 75 units," says Dr. Phil, who points out that military and underwater construction applications will be the most prominent. "But eventually I'd like to get the cost down to that of a couple of Volkswagens."
EXOSUIT
Materials: Composite fiber hull with metal inserts
Manipulator: Simple claw manipulator or optional multi-fingered prehensor "hand" [edited]
Models: Free-swimming, self-contained and surface-supplied
Height: Variable 5'6" to 6'4"
Beam: 20" torso, 30" elbow to elbow (average)
Weight in Air: 120 lb. bare; 160 lb. with tanks and scrubber pack
Operating Depth: 300/600 feet
Payload: 200 lb.
Life Support: Dual external cylinders (02, diluent — gas that's mixed with 02 to make it safer to breathe); 48 man-hours
---
The Exosuit has taken longer to get to market than expected. These images are some 10 or more years since the initial development.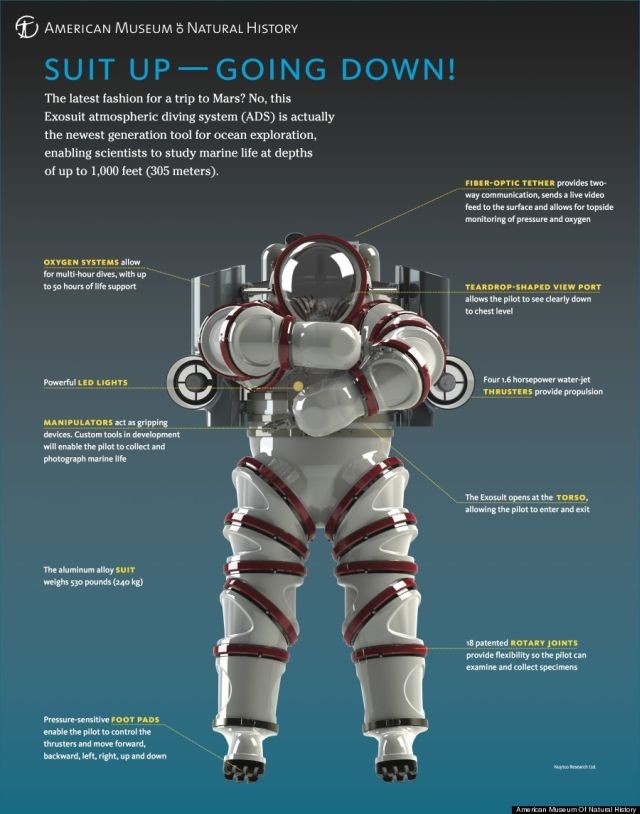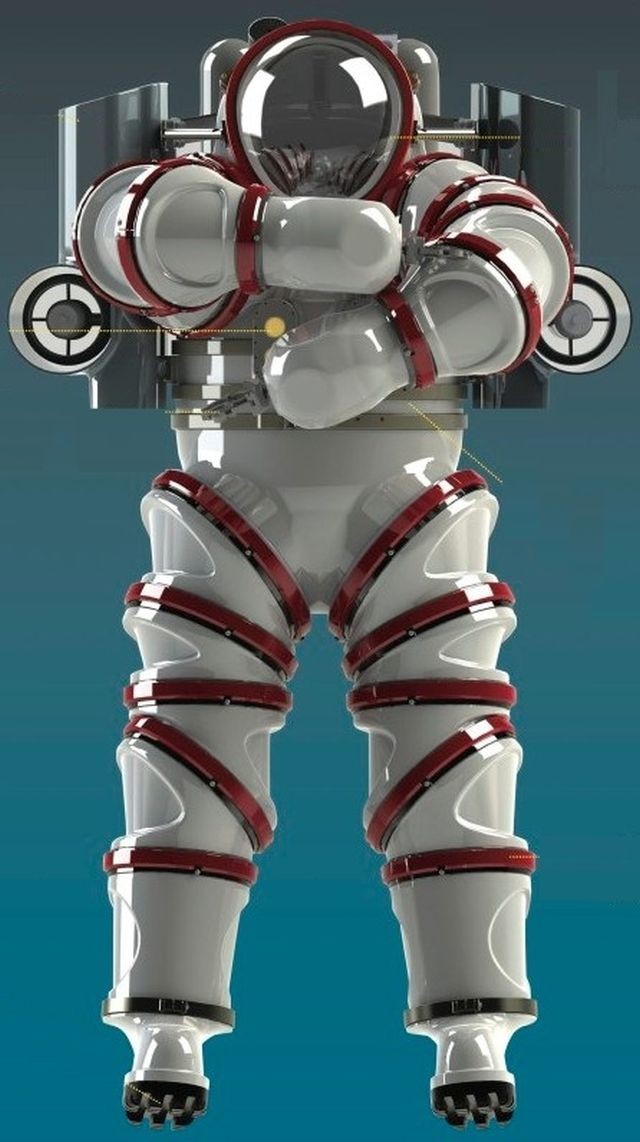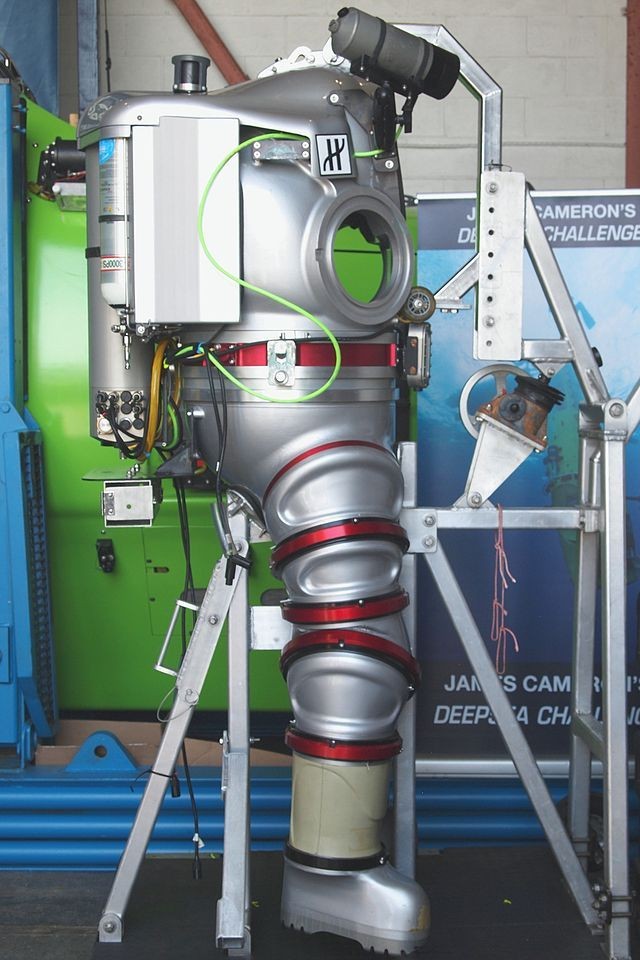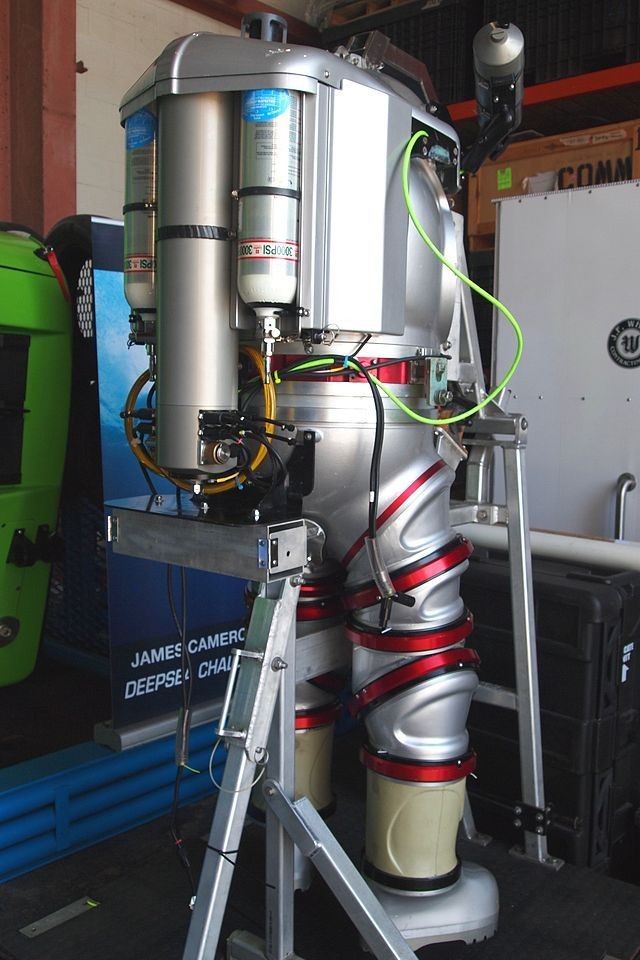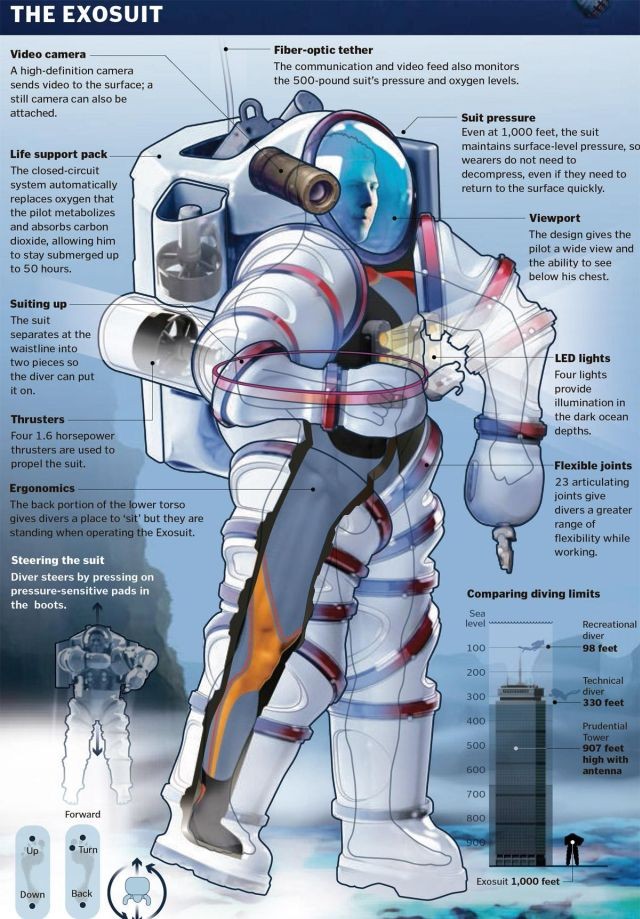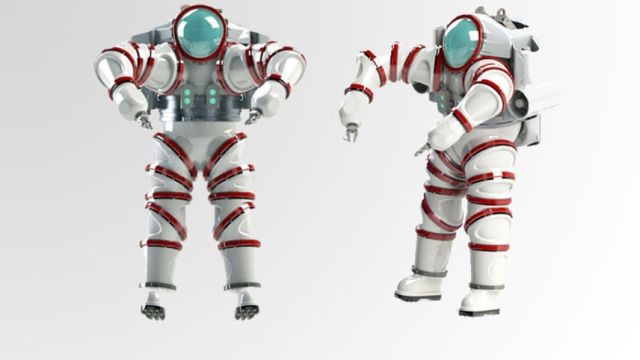 The well-proven pincer-styled gripper. A new prehensor is offered as an option.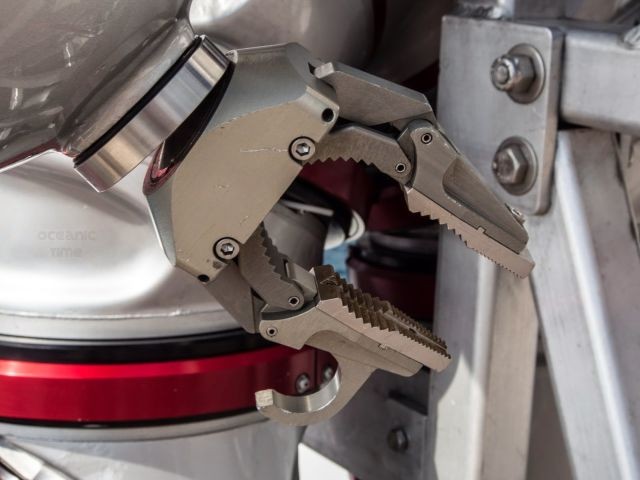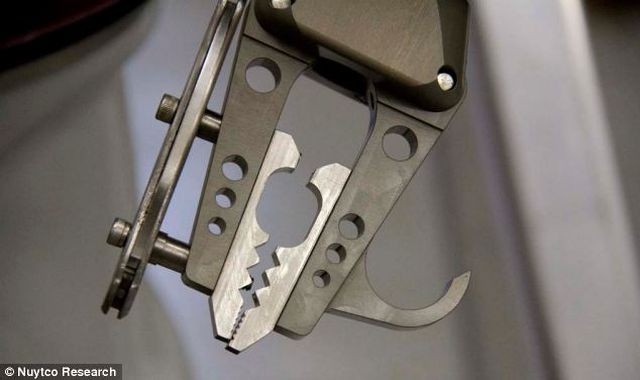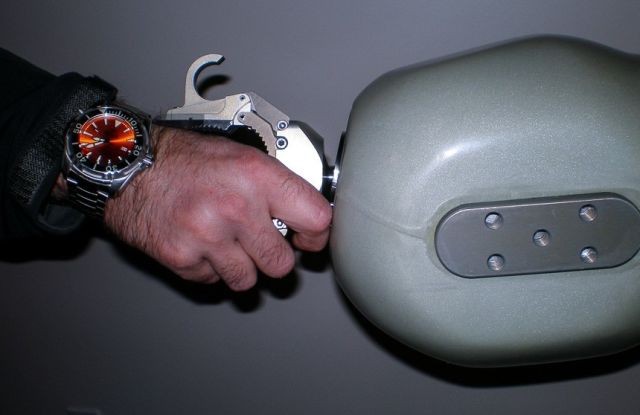 This image, promoting the HUBLOT wristwatch, highlights the size of the hand cowling of the Exosuit.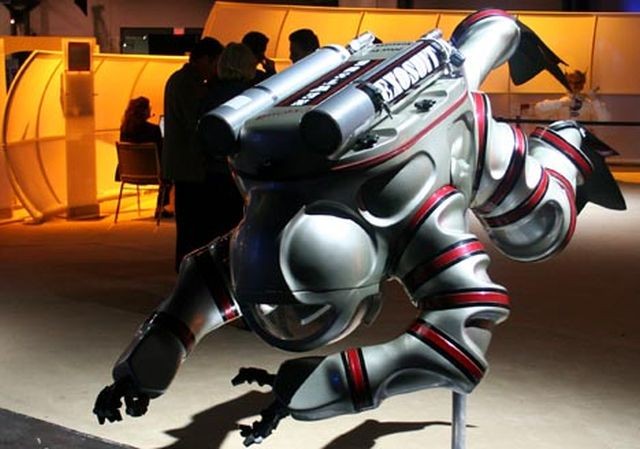 A later image still showing the 'swimmer' option still being promoted.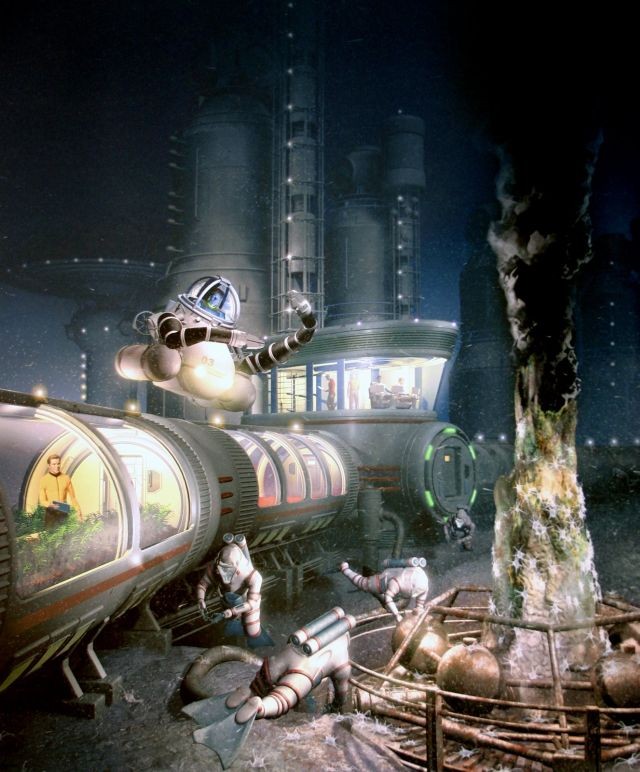 Phil Nuytten has proposed a project called "Vent Base Alpha". "I have a plan for an underwater Mars-like colony. It will essentially be powered by the heat vents on the ocean floor and will house people to work on an undersea mining operation out of the heat vents. I´ve spent the last couple of years talking to people all around the world about this concept, and I´m ready to see it happen. I call it Vent Base Alpha."
---
See other early Underwater Robots here.
---