Posts Tagged 'Hybrid walking vehicle'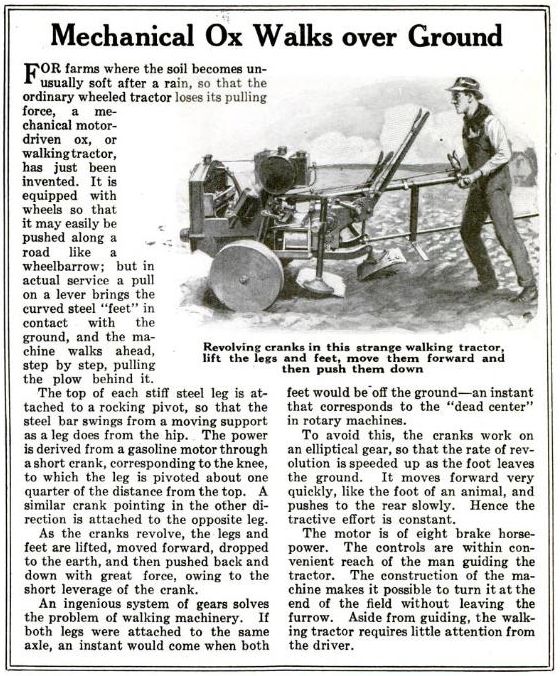 Source: Popular Science, September 1922
---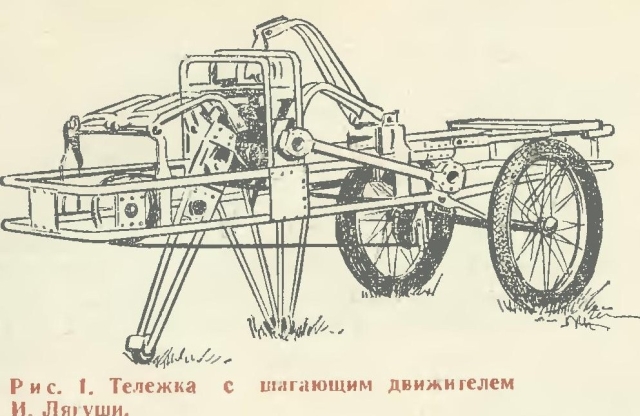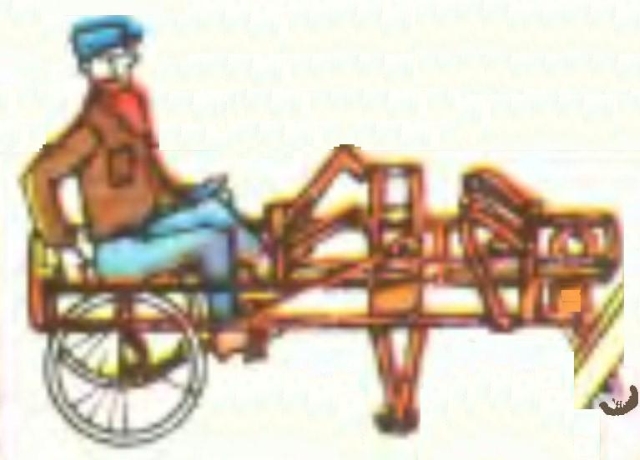 The construction of passenger carts walking beam engine of the Soviet inventor I. Lyagusha from Lysychansk (Fig. 1) is programmed more complex trajectory of the 'legs', which is based on t? kzhe is oval. These walking machine with a pre-laid in them the program of the movement "legs" go blind, not adapting to the conditions of the area, and can move only on smooth roads or under certain conditions.
I have very little information on this Russian HPV Walking Cart. Published in a 1972 Russian Hobby magazine "MK".
---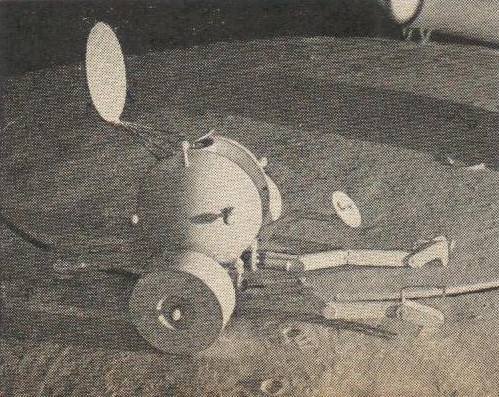 In the early '60s, as part of the preparations for the Apollo manned moon landing mission, the Jet Propulsion Lab planned a follow-on program to its very successful 'hard' landing 'Ranger' program, which gave the first close-up views of the moon's surface. The proposed 'soft' lander program was called 'Surveyor'. An initial concept was for it to disgorge a moon surface-traversing vehicle to conduct a neighborhood survey near its landing position. It was to be commanded by a TV – radio control guidance link. This link was to be relayed to and from the moon via the Surveyor's earth communication system. A lunar rover competition was opened and by end of 1961 there were responses from at least 10 leading space firms including Space-General Corp., Sperry Rand, and RCA.
When it was determined that the Atlas rockets could not lift the Surveyor with an added payload of a Lunar Rover, the project was discontinued.

One-ton globular chariot, designed by Sperry Rand, hauls itself along by claws on two joited arms. Light hollow rollers of spun wire support is weight, and a smaller roller behind them balances it. Besides propelling the vehicle, the claws can pick up samples of the moon's crust. These may be analysed automatically by a little lab inside the globe-or stuffed into a small rocket and shot back to earth, whence the launching command would come.
---