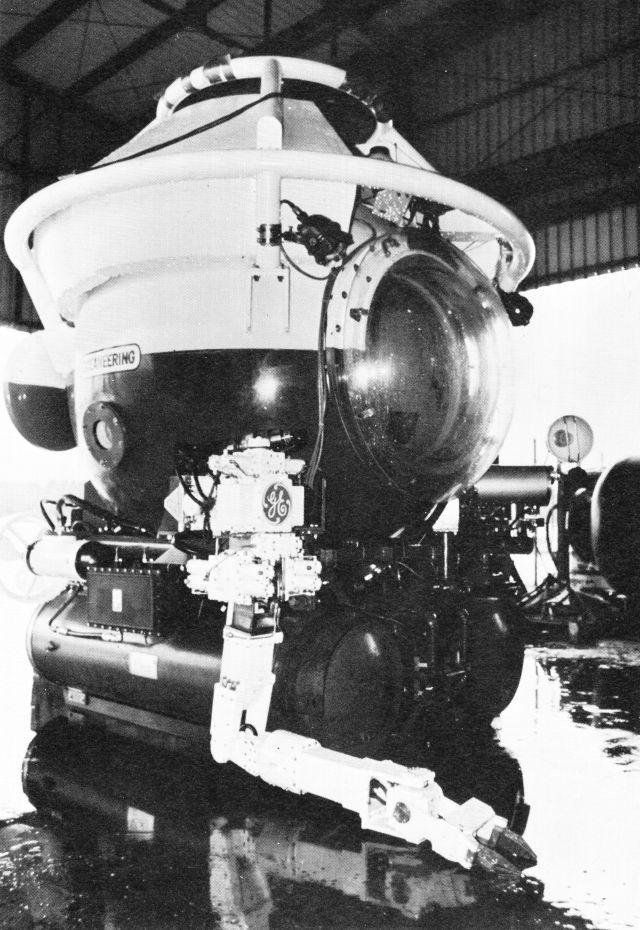 1978 – ARMS 1 (Atmospheric Roving Manipulator System)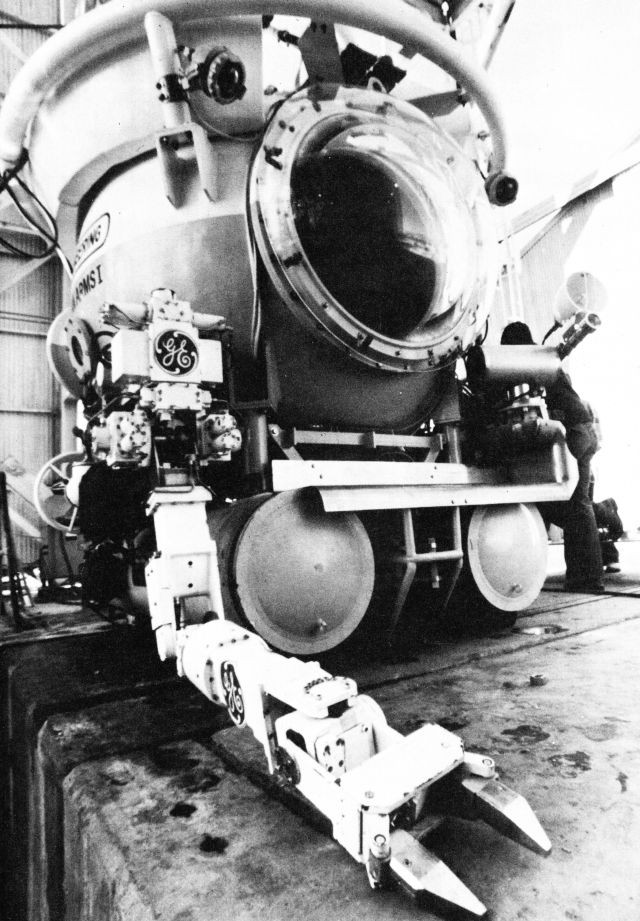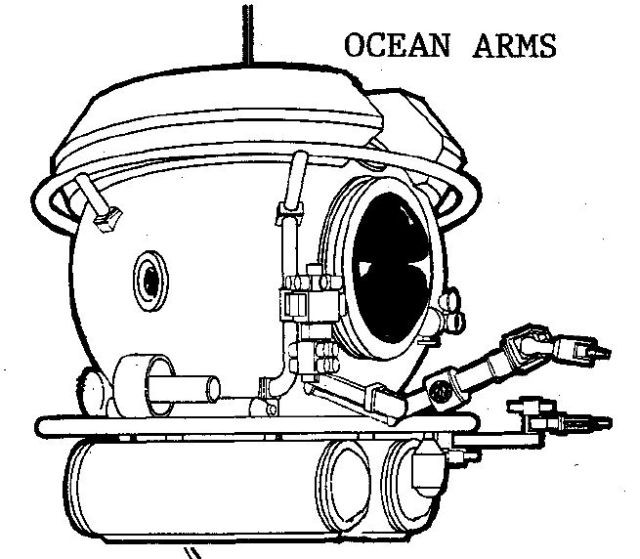 As early as 1971, Dr. Norman H. Wood, program engineer for General Electric's Cybernetic Automation & Mechanization Systems Section, described a new underwater manipulator system devised for use on a multi-well submerged platform. GE's activities in manipulators date back to the company's nuclear power development and space projects. It was a development based on the G.E. Model M-2 Manipulator Arm.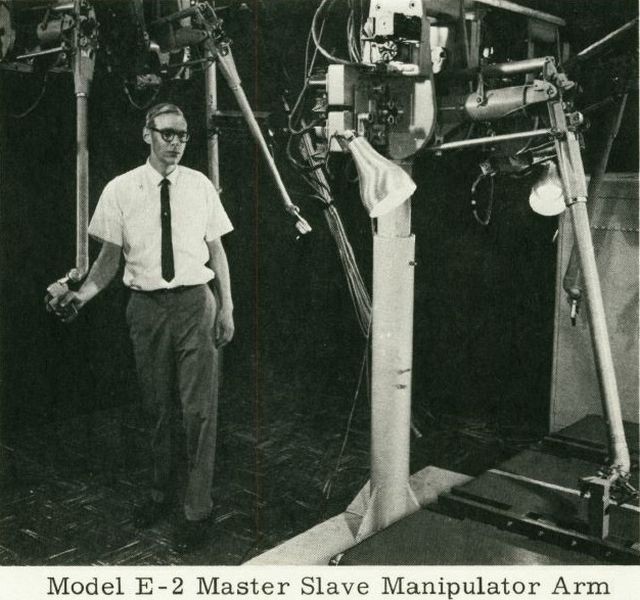 In 1974, Oceaneering International, Inc., of Houston started developing a 3,000 ft. two-man diving bell jointly developed by Perry Oceanographies, General Electric Company and Oceaneering themselves. Called the Atmospheric Roving Manipulator System (ARMS), which would use an advanced capability force-feedback manipulator featuring a seven function master arm inside a manned submersible and a slave working arm outside that provides "feel" to the operator, from the Re-entry & Environmental Systems Div., General Electric Co., Philadelphia. GE reports "With the G.E. underwater force-feedback manipulator, the operator no longer has to rely on the sometimes difficult decision making processes".
G.E. call their system the Diver Equivalent Manipulator System (DEMS), which can be operated from the inside or from the surface. The arm reaches over 5 ft and can handle 65 lb with only 5 lb of operator hand pressure. This manipulator system has six degrees of freedom plus a grip. If the slave holds a 65 pound weight the operator "feels" a smaller, 5 pound weight (DEMS has 13:1 force ratio). By responding to the force feedback, the operator allows the manipulator to comply to external forces.
The bell is a 72" sphere, designed to accommodate two people, with an emergency support capability of up to five days.
The GE arm system has a reach of 1.6 metres, 29.5 kg rated load and operates to a depth of 1829 m.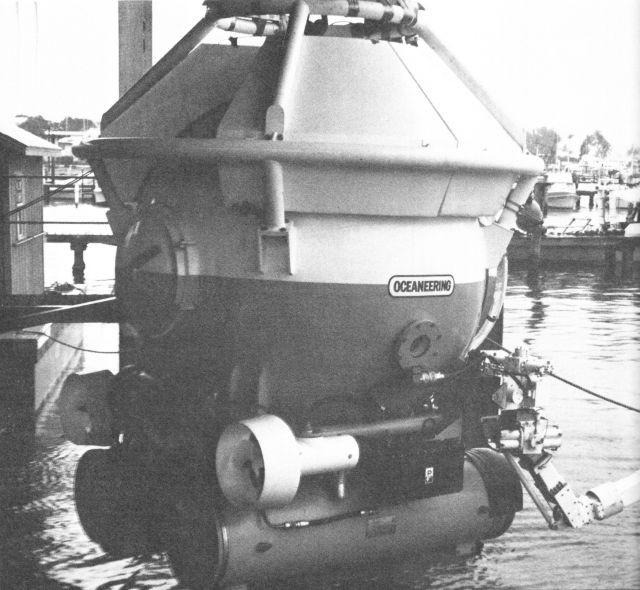 Oceaneering International took delivery on the Perry-built, one-atmosphere vehicle ARMS in late 1976 and was first demonstrated in March 1977.
In 1978, ARMS-I, mainly employed for deepwater drill rig support, was in service on the Ben Ocean Lancer drillship in the Gulf of Mexico.
In the 1980's, Oceaneering renamed ARMS and was now called Ocean-Arms Bells.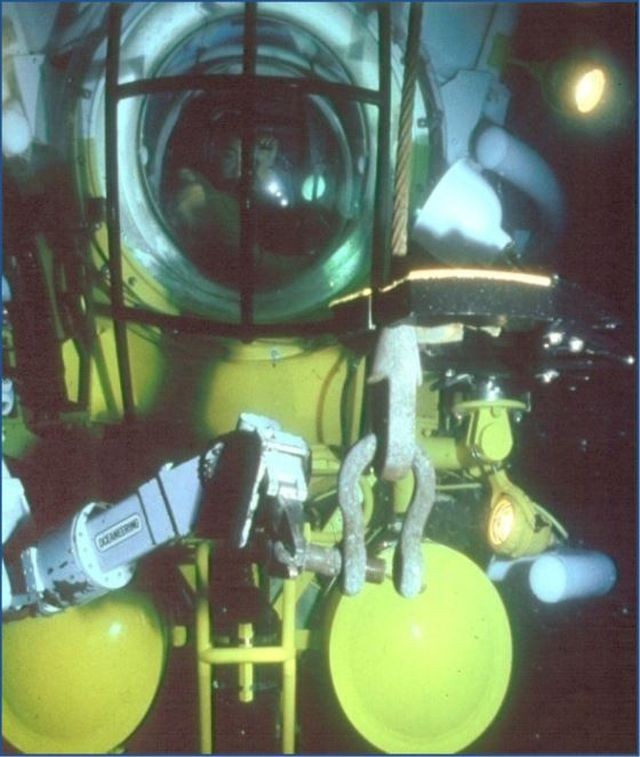 GE'S UNDERWATER MANIPULATOR SHIPPED TO OCEANEERING
Having completed final testing, General Electric's underwater force feedback manipulator is ready to be mated with a 3000-ft (914 m) one-atmosphere diving bell being developed by Oceaneering International, Inc. The diving bell, designated Atmospheric Roving Manipulator System (ARMS), will undergo wet tests in early 1977 in Houston.
The master-slave manipulator is sized to handle a 65 lb (29.5 kg) load at full rated speeds, with a stall capacity of 100 lb (45 kg). The 6df slave has 5.5 ft (1.7 m) full extension to the ends of the universal stub fingers. The hand grip provides the seventh motion. The stub fingers are designed for quick interchange with tooling.
As the operator in the bell moves the terminus of the master, the slave located outside the bell follows at a one-to-one ratio in speed and angular displacement. As a force or an object is encountered by the slave, a portion of the torque generated in a joint is fed back to the master to produce a proportional torque in the corresponding master joint.
The hydraulically powered rotary actuators are arranged at each joint to simulate the human arm, with two wrist motions and a forearm rotation mutually orthogonal, an elbow joint and two shoulder motions, elevation and azimuth. The electrically powered master is a small replica of the slave, with a hand grip at its terminus.
The key elements of this system, a product of GE's Re-entry & Environmental Systems Division, are spatial correspondence and force feedback. The accurate and responsive spatial correspondence of the slave motion, or position, to the master provides precise control.
"ARMS' manipulator can start a nut, stab guidewires, turn valve handles or feel a gap, even in poor visibility or current motion," states Norman H. Wood, GE's Underwater Manipulator Program Manager. "It can locate, grasp, and perform tasks with pins, cables or other hardware in zero visibility," he continued, "an almost impossible task for a rate manipulator because it doesn't have a sense of feel."
The underwater force feedback manipulator is based on years of experience gained from GE's MAN-MATES Industrial Manipulators currently in use in forging operations, foundries and manufacturing facilities.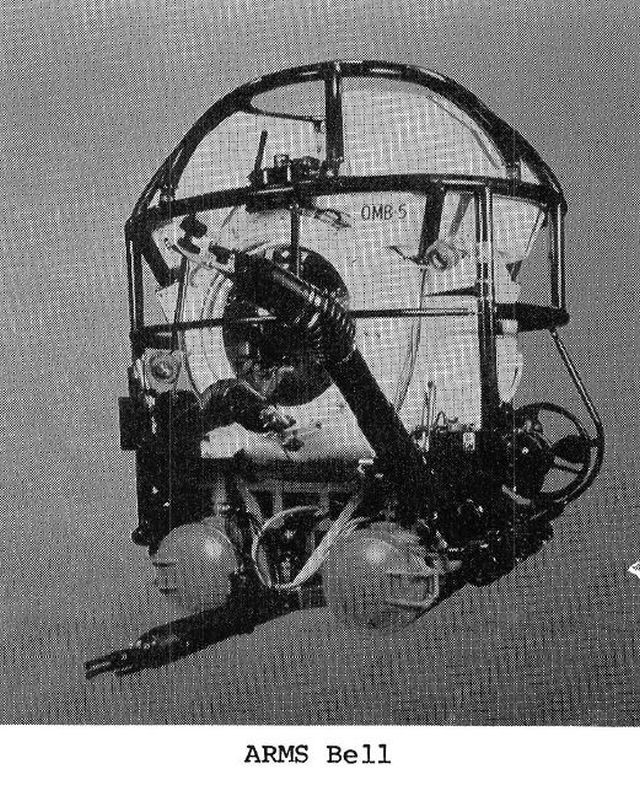 ---
The "Aluminaut" also employed G.E. force-feedback arms.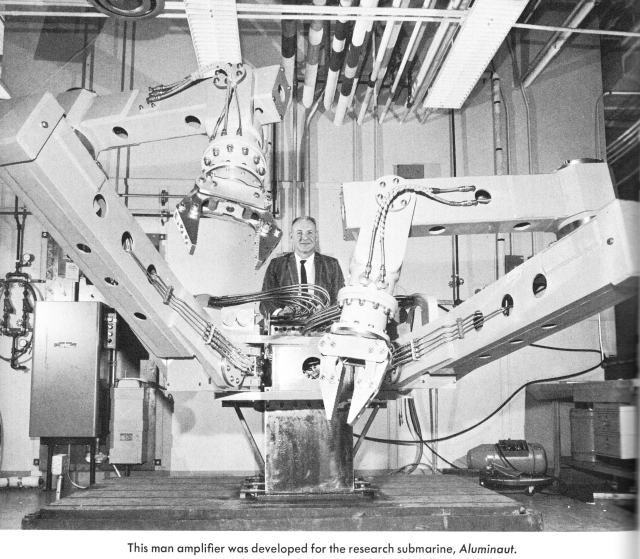 ---
From: Phil Nuytten : Source: here.
To: personal_submersibles
Sent: Fri, Nov 18, 2011 4:46 pm
Subject: Re: [PSUBS-MAILIST] Anyone Know Tom Pado or Total Marine Technology?

All: Yup, I know Tom Pado – he used to work for us at Oceaneering International Inc. He and John Fike were the lead pilots on a series of 3,000 foot rated thruster/manipulator bells designed for offshore oil related work – the series was called 'Ocean Arms' and Perry built Arms 1 through 3, We built 'Arms 4' here in B.C. and it's still here – out in the boneyard. The thruster bells were really only a piloted delivery system for the G.E. force-feedback, spatially compliant manipulator arm. (O.I.I. owned all rights to the G.E. arm – the rights were purchased from General Electric – it was used in their 'Man-mate' program.) The G.E. arm was, in my opinion, the best manipulator arm ever made – right up to current time. Biggest problem was cost – about $250,000 per arm and controllers. I used this system many times and it was superb!
Phil
---
General Electric's Re-entry & Environmental Systems Division later became Western Space and Marine.
---
See other early Underwater Robots here.
See other G.E. CAMS here:
---