"The Psychophonic Nurse", by David H. Keller. Published in Amazing Stories, 1928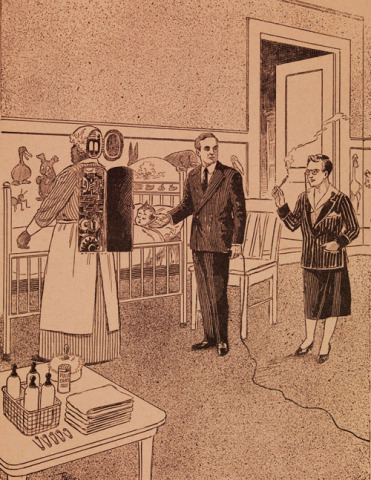 Illustration by Frank R. Paul.
The Psychophonic Nurse
A child-care robot – a nanny bot.
"I had her made by the Eastinghouse Electric Company. You see, she's just a machine nurse, but as she doesn't eat anything, is on duty twenty-four hours a day, and draws no salary, she's cheap at the price I paid."
"…let me show you how she works. She's made of a combination of springs, levers, acoustic intruments, and by means of tubes such as are used in the radio, she's very sensitive to sounds. She's connected to the house current by a long, flexible cord, which supplies her with the necessary energy. To simplify matters, I had the orders put into numbers instead of sentences. One means that the baby is to be fed; seven that she's to be changed…"
"…When I ordered this machine … I bought a phonograph with clock attachment. It will run for twenty-four hours without attention. Then I had a baby doctor work out a twenty-four hour programme of infant activity for different ages. Our baby is about two months old. You put this phonograph with the two-month record on it in the nursery… At definite periods of the twenty-four hours the phonograph will call out a number and the nurse will do what is necessary…
Article sourced from here.
[RH – one wonders how long baby would be in soiled daipers before the appropriate 'number' came up?]
The above fictional robot was inspired by the then new and wonderful Westinghouse Televox of 1927, which operated in s similar fashion.
---
See other early Domestic Service Robots here.
---