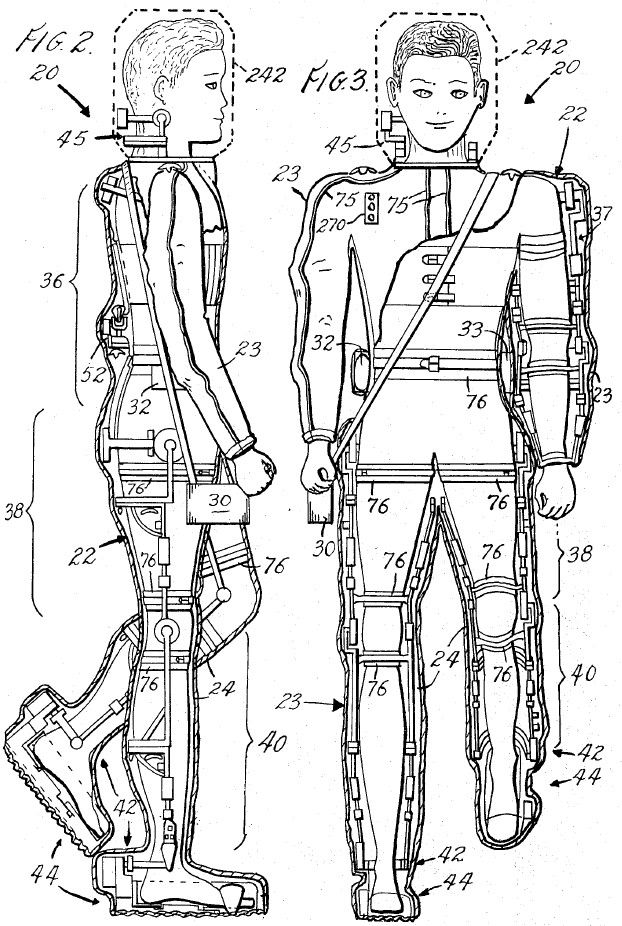 An early patent describing current exoskeletons was filed in 1964 (and issued in 1967) in the United States. Without using the specific term of exoskeleton, Emery Kultsar, the inventor, describes a "system of support and traction for 'body', designed to protect workers from extreme conditions (fire, explosions, fallen wreckage …). A design feature was that if the wearer became incapacitated, the exoskeleton would be able to walk itself out of the hazardous environment. This capability has only been achieved recently, and certainly required the advent of microcomputing which was non-existant in 1964. There is no record of this apparatus being built.
MOVING AND SUPPORT SYSTEM FOR THE HUMAN BODY by Emery Kultsar
See fully patent here.
Patent number: 3358678
Filing date: Jul 29, 1964
Issue date: Dec 19, 1967
Abstract:
Self-contained, self-powered personal support systems providing upright structural support, upright equilibrium, and enhanced or supplemtal powered actuation of the wearer's limbs and extremities to aid his locomotion, with an outer suit enclosing an articulated structural framework supporting all parts of the wearer's body, having powered actuators providing articulated motion thereof, controlled by programed memory storage circuits through control circuitry governed by local or remote selective controls augmented by balance and proximity sensing systems to ensure the wearer's equilibrium, safety, and effective movement regardless of his physical condition.
---