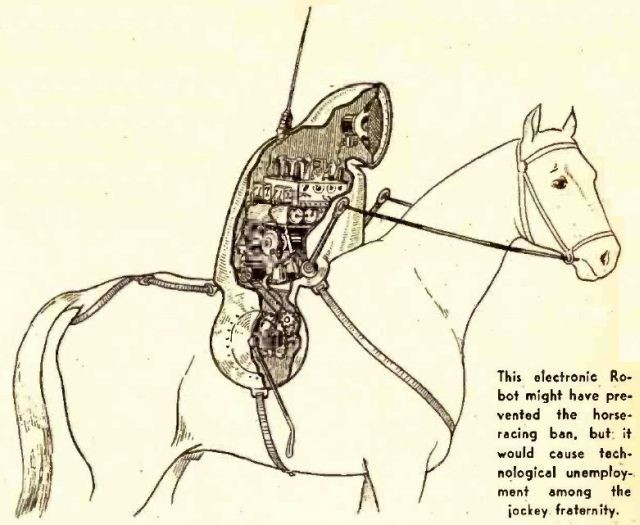 Caption: This electronic Robot might have prevented the horse-racing ban, but it would cause technological unemployment among the jockey fraternity.
Source: Radio-Craft for March, 1945.
RADIO JOCKEY – Electronically-Controlled Robot Rider By ERIC LESLIE
HORSE-RACING—the game of kings—has one great weakness. The suspicion of "fixed" races, of "pulled" horses and of dishonest jockeys, has prevented this sport from taking its place with such American national institutions as baseball or football. Even where track officials make every effort to keep their races "clean," an unsavory aura still attaches to the practice of racing horses.
A freak race in the early days of radio broadcasting gave rise to suggestions for a type of horse-race in which the jockey would be eliminated. The event referred to took place at the Cook County Fair, Chicago, in 1922. A horse—appropriately named Radio—raced with no jockey other than a radio receiving set and a horn loudspeaker on his back. His jockey, or more properly trainer, remained in the stands at the microphone of a small transmitter, giving directions and shouting encouragement. According to reports, as the horse came into the home stretch the trainer shouted, "Come on, Radio! Come on, boy !" and the horse responded nobly, just as if the trainer had been sitting on his back and was urging him on toward the finish line.
Spectacular as the stunt was at that stage of the development of radio, it proved only that the speaker was no substitute for a jockey, who not only with voice, but with hand and heel, urges his mount on to victory.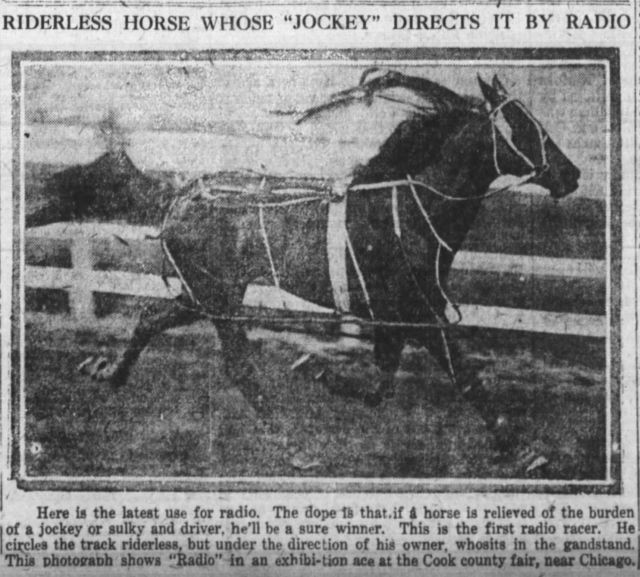 Some years ago [CZ: prior to 1945], H. Gernsback proposed a device which uses equipment and methods not available in 1922 to supply all these. The loud-speaker works as in the older setup, the reins and crop are controlled front transmitters in the stands, at which the trainers can sit comfortably while watching the progress of their "mounts" at any part of the track. The "jockey" would consist of a modern radio receiver, with outputs fitted both to a speaker and to relays which would set into action motors which control the arms to which the reins are attached, or operate the crop. Additional motors can be provided—or attachments made to those used-which would permit changing the posture of the "jockey", causing it to lean further forward or rise upright, to sway to the left or the right, as may be required during the race. It is well-known that a jockey uses his body as well as his voice and the reins in guiding his horse.
Should there be any suggestion of "pulling" or other unfair action, it would not be necessary to depend on the opposed statements of a pair of jockeys, neither of whom might have been in the best condition—either physically or emotionally—to note actually what had happened during the portion of a second in which many of these incidents occur. A complete record of all the jockey's actions can be kept on a tape which would form a part of the transmitting apparatus, so that there could be no dispute as to how any incident had occurred or how much restraint was applied to a horse at any given period during a race.
Old-time sports may believe that such a system would take the "kick" out of racing, but they do flock to the dog-races to watch the electric rabbit !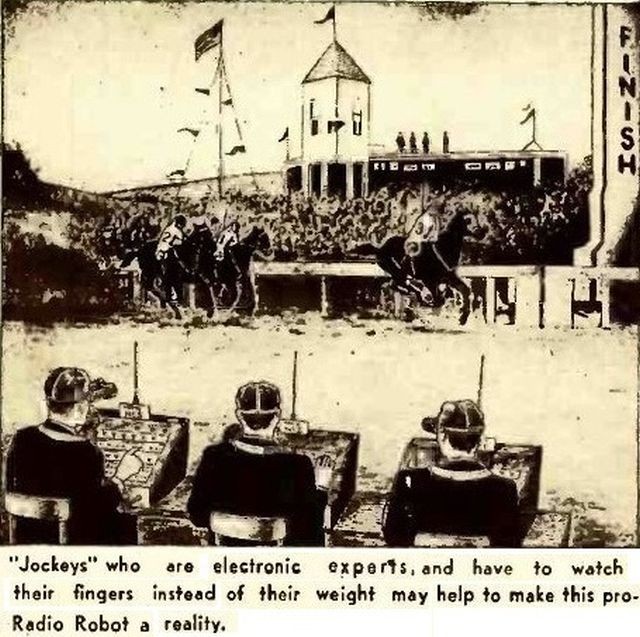 Caption: "Jockeys" who are electronic experts, and have to watch their fingers instead of their weight may help to make this proposed Radio Robot a reality.
---
Gernsback resurrects the idea in his annual publication "Forecast" (distributed late 1961).
Source: The Deseret News, 27 Dec 1961.
If Robots Replace Jockeys What Happens to Racing? Forecast Of Future Finds 'Robots' Replacing Jockeys….
INEZ ROBB The holiday season always brings to my door a pair of publications that brighten life considerably. The first is the Farmers' Almanac, without which I would never know quite when to put on my long underwear, plant potatoes, or mothproof the woolen closet……………
The second publication to spread knowledge and happiness through the household is the annual "Forecast" of Hugo Gernsback, widely acclaimed as "the father of science fiction" and the editor and publisher of Radio-Electronics Magazine. Gernsback is a man on rapport with the future, to say the least. And while I am overjoyed to know that if I can live until 1986, the threat of atomic, hydrogen, cobalt or any other missile is kaput (the submarine demises two years earlier), nonetheless, the most sensational prediction in "1962 Forecast" is of concern to The Society for Improvement of the Breed of Bookies. Sometimes in the future – Gernsback doesn't pinpoint the date electronics will replace the jockey. Or rather the jockey won't be up. The future Sande or Hartack or Arcaro will be in a remote control tower that can do anything the jockey does, including whipping." Instead of saddle and rider, the horse will carry a power pack weighing 35 to 50 pounds that will be capable of "reining" any future Native Dancer.
Presumably the power packs will be painted in the colors or the respective stables of owners, although this is a fanciful thought of my own that I hand on to Gernsback. From his control tower the jockey will be able to sweet-talk; his horse home, since the steed will be wired for sound.
Gernsback believes his system, already feasible in his opinion, will make "for faster and more scientific races."
There are only two problems here: (1) Can you "fix a power pack? (2) Will the future jockey, manipulating in his control tower a panel that looks as complicated as that of a jet plane, have to show a degree from M.l.T. or Cal Tech? Since I am not a horse player, I don't know whether Gernsback's prediction will kill or cure racing. But there it is, for tote board and bookie alike to ponder. ……………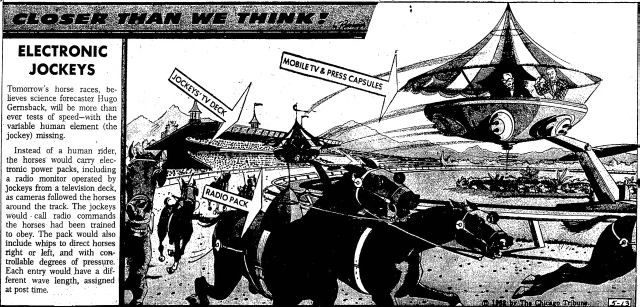 Arthur Radebaugh's interpretation of Gernsback's Electronic Jockey. 1962.
---
Camel Jockey
A robot jockey is commonly used on camels in camel racing as a replacement for human jockeys. Developed since 2004, the robotic jockeys are slowly phasing out the use of human jockeys, which in the case of camel racing in Saudi Arabia, Bahrain, United Arab Emirates, and Qatar, often employs small children who reportedly suffer repeated systemic human rights abuses. In response to international condemnation of such abuses, the nations of Qatar and the UAE have banned the use of human jockeys in favor of robots. See more in Wikipedia here.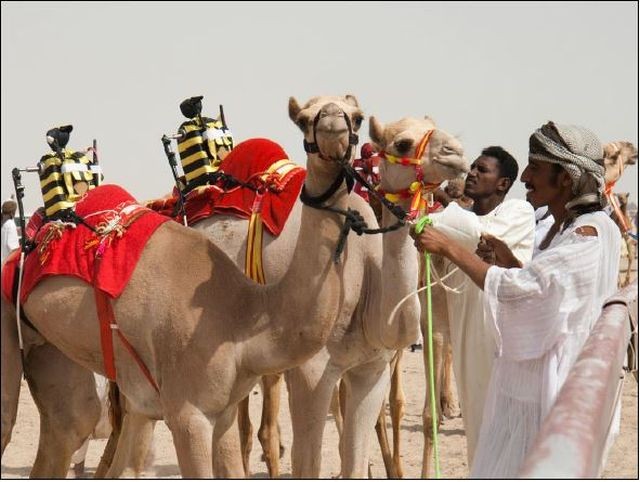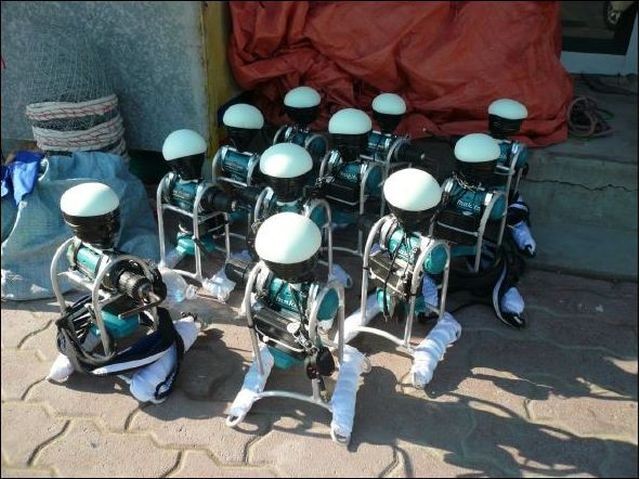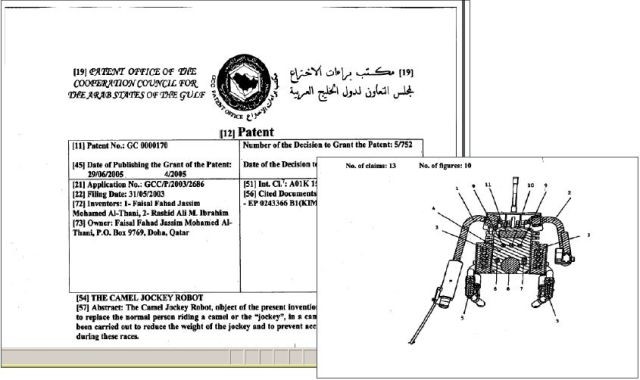 Patent info.
---
See also Syd Mead's Racimals here.
See the timeline on other Animal Control here.
---