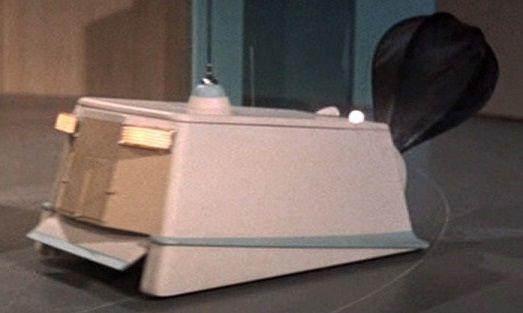 In the film 'The Glass Bottom Boat', the inventor Bruce Templeton (Rod Taylor) tries to impress Jennifer (Doris Day) with his "Automatic floor-cleaning" robot after dropping banana peel on the kitchen floor. It only manages to pop out of its door to arc towards the dropped banana peel and through reversed footage, arc right back into its home under the kitchen end cupboard.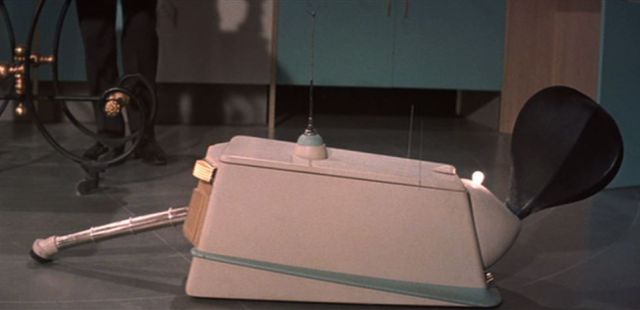 Bruce then sprinkles flour onto the floor, and the robot again pops out of its door, but this time, a telescopic tube 'nose' extends and sucks up the mess.
"We call it 'The Bug' ", says Bruce, "there'll be one in every home some day."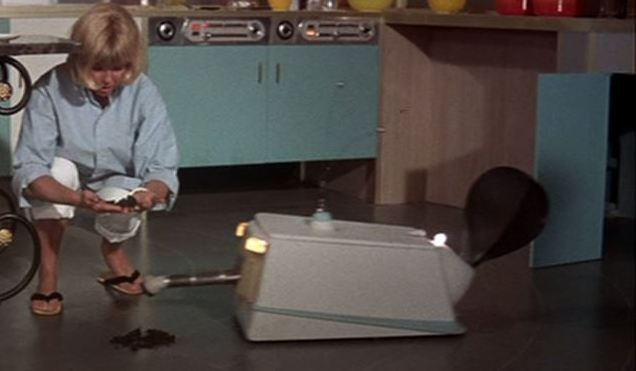 Jennifer accidentally burns the cooking, and the oven ejects the remains onto the floor, which activates 'The Bug'.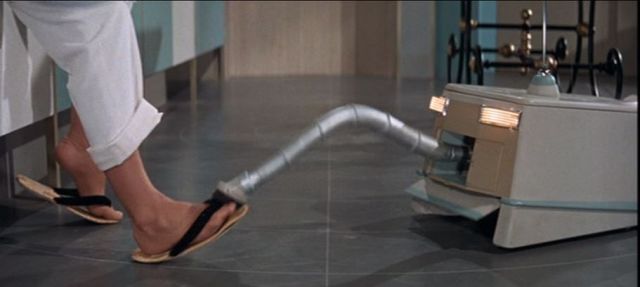 The rigid telescopic 'nose' transforms into a flexible tube for this scene.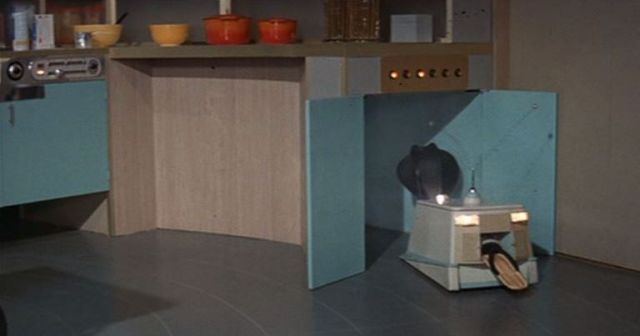 'The Bug' returning to its 'house' with Jennifer's thong.
The Visual and Special-effects for this movie were done by J. McMillan Johnson and Carroll L. Shepphird.
---
This kitchen and robot appears to be inspired by RCA's Automatic Kitchen from 1959.
Note: I first became aware of this robot when researching my post on the Silent Running movie Drones where, from The Making of 'Silent Running', Bruce Dern said,
"One of the keys to the film is the fact that are that they are not mechanical. The fact that here's a guy all by himself. He's looking at a box…… has no eyes, no mouth, no ears and yet it's alive, and there's something that I respond to as an actor, as a human being, and as a character in the film and that's what's its really all about. Somehow the fact that any little box or machine I've always been scared of machines anyway, that can move around the floor and stuff. I saw a movie once, "The Glass-Bottom Boat", it was terrible movie but Rod Taylor and it had a little machine that cleaned up his kitchen, you know, that he pressed a button it came… [new part 2 from Youtube missing transition] …packing everything there and it scared the shit out of me, man. But I respected it, you know and I thought, that, well, he should talk to it, you know."
---
See other early remote-controlled and robotic vacuum cleaners and floor scrubbers here.
---