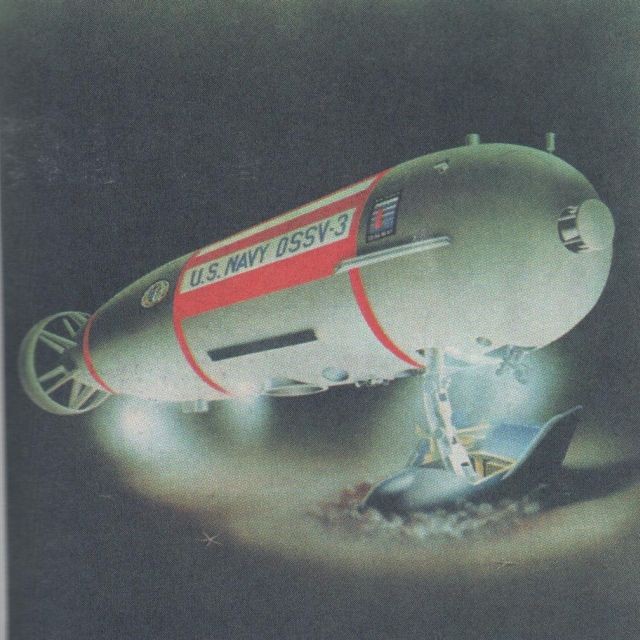 1967 – DSSV Deep Submergence Search Vehicle Concept by Westinghouse Electric Co.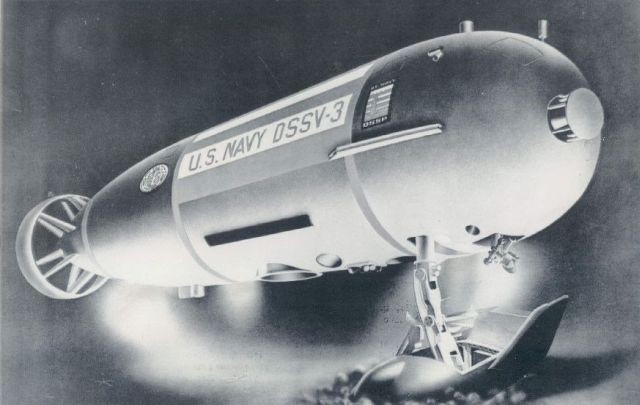 PRESS RELEASE 7/25/67 WASHINGTON: Artist's drawing of the U. S. Navy's deep submergence search vehicle (DSSV). When completed in the early 1970's, the unique vehicle will be the first of a maneuverable class of vehicles capable of descending to depths of 20,000 feet to perform search and recovery operations. This drawing was produced by Westinghouse Electric Co., one of the two contractors selected to develop prototype vehicles. The drawing illustrates how the DSSV might be used to search for lost spacecraft that have landed in the sea. UPl TELEPHOTO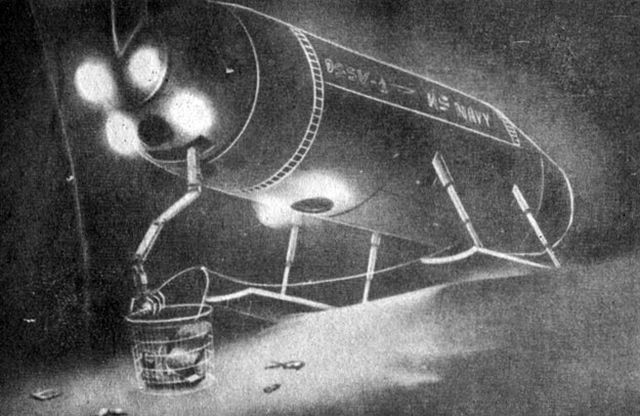 Lockheed gets DSSV contract.
Source: Oceanol. Int. 3:14; Nov./Dec.1968.
The Navy hopes to receive its Deep Submergence Search Vehicle (DSSV) from Lockheed and have it in the water by late 1973. Lockheed is also building the Navy's Deep Submergence Rescue Vehicle (DSRV). The vehicles are similar, though the DSSV has an operating depth of 6.000 m. compared to 1,050 m. for the DSRV. DSSV, therefore, has a hull material of higher yield strength. However, both have ducted propulsion, a single 2.7-meter-diameter pressure sphere, similar integrated control and display systems and external sensors, though DSSV has a unique side-looking sonar. The two craft will be air-transportable via the Air Force's C-5 jet transport and carry 4-man crews.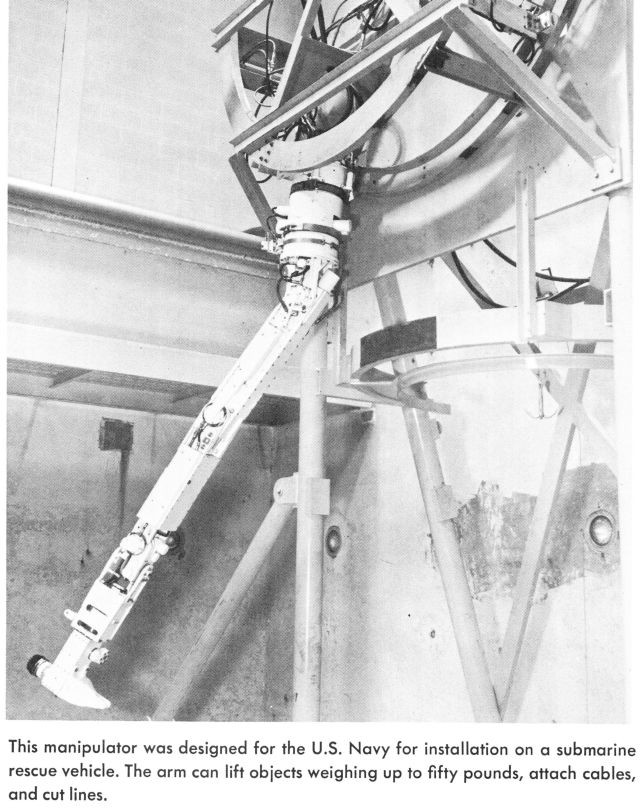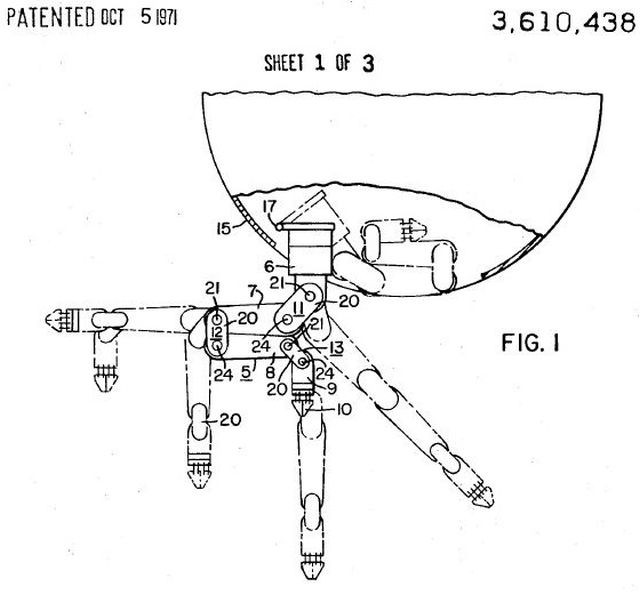 This patent by Everett W. Opdahl of Westinghouse could be that of a DSSV-type undersea vehicle.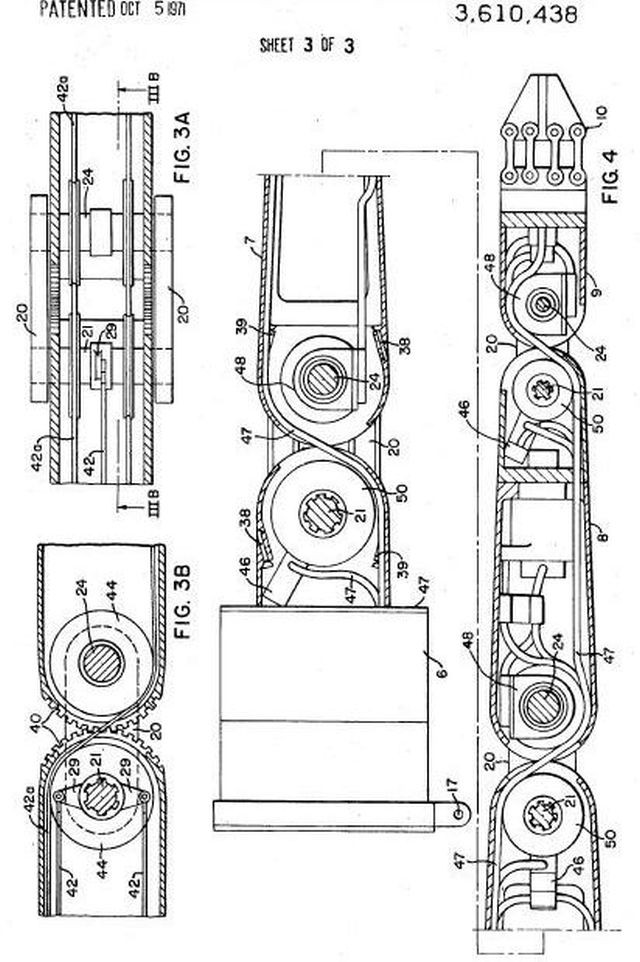 Publication number US3610438 A
Publication type Grant
Publication date 5 Oct 1971
Filing date 16 Mar 1970
Inventors Everett W. Opdahl
Original Assignee Westinghouse Electric Corp
ABSTRACT: A manipulator arm is exemplified which employs externally at its joint 21 pair of parallel actuator links extending longitudinally between pivotal connections on adjacent rounded arm section ends that are coupled together for rolling motion of one of such ends on the other. Rotary actuation of the links about the pivotal connection on one arm section causes a greater rotary movement of the other ann section about such connection. Control and/or actuator lines extend longitudinally inside the arm; interconnected at the arm section joints via flexible sections snaked between the actuating links for constant length at all angular joint positions.
---
The DSSV was shelved due to lack of funding, but two DSRV's were built.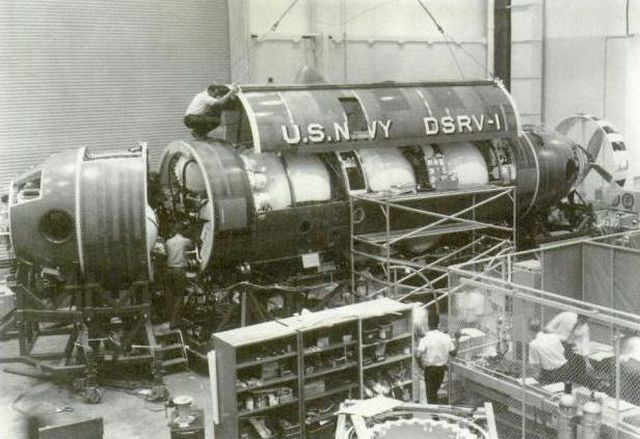 ---
See other early Underwater Robots here.
---