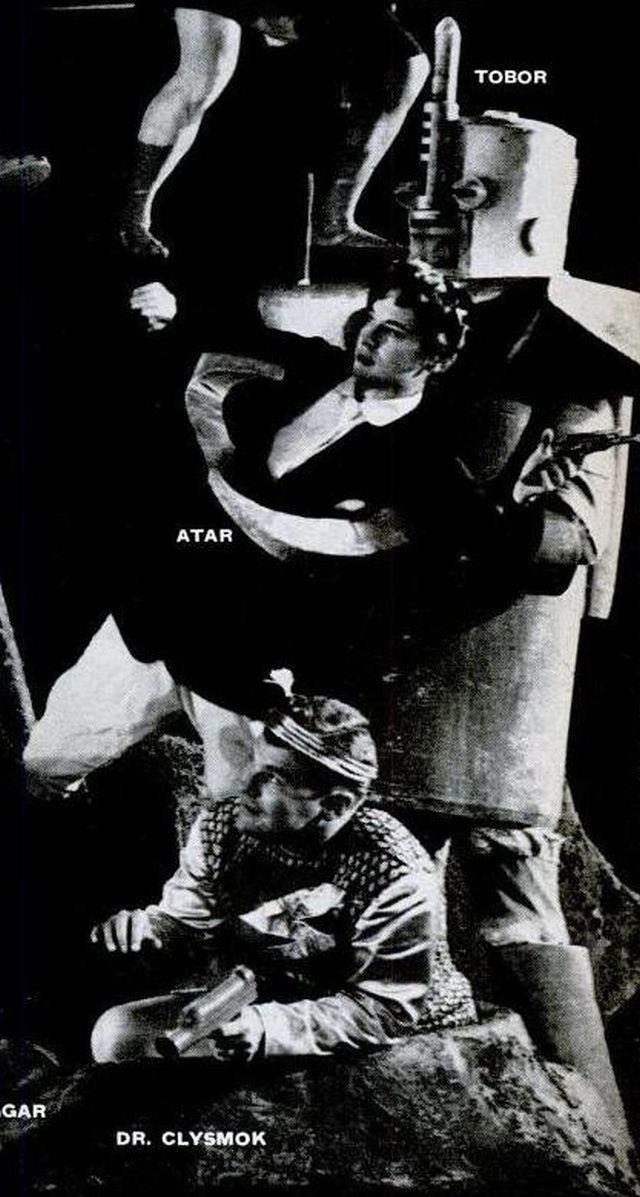 From the "Captain Video" TV serial, the "I, Tobor" episodes starting the week of November 2, 1953.
Tobor (played by 7′ 6″ Dave Ballard) was a prototype robot designed to be a tireless worker and indestructible soldier. It bore the inscription "I-TOBOR" (a reversed image of ROBOT-I) on its chest plate.
Tobor's body featured a cylindrical manlike form, rockets mounted on its back; an antenna sprouting skywards from each shoulder; a triangular flap of metal on its chest containing a lens which shot a death ray; and activation by voice commands via a pocket-sized device attuned to the vocal frequency of its controller. Tobor also had giant claw pincers as hands.
Tobor was originally designed as a force for good in the universe, until Atar, a villainous female reset the robot's voice circuits to obey only her commands. Now in control of the powerful robot, Atar set out to conquer the solar system.
Tobor was finally rendered harmless when Captain Video, matching Atar's vocal frequency, sent conflicting commands to Tobor and disrupted its circuitry.
Months later (due to popular demand) Tobor was reactivated but this time under the guidance of Captain Video's voice. A video monitor was built into his metallic naval for closed circuit communication.
In a later episode, an evil scientist stole Tobor's blueprints and created a duplicate Tobor. A colossal battle of good vs. evil ensued with Tobor fighting his evil twin.
Tobor the robot was prominently featured in serial episodes: "I, Tobor" (1953);  "The Return of Tobor the Robot (1954); and "Dr. Pauli's Planet" (1955).
Sources: TVAcres and Danefield.com/alpha.
---
The Merkin Marvel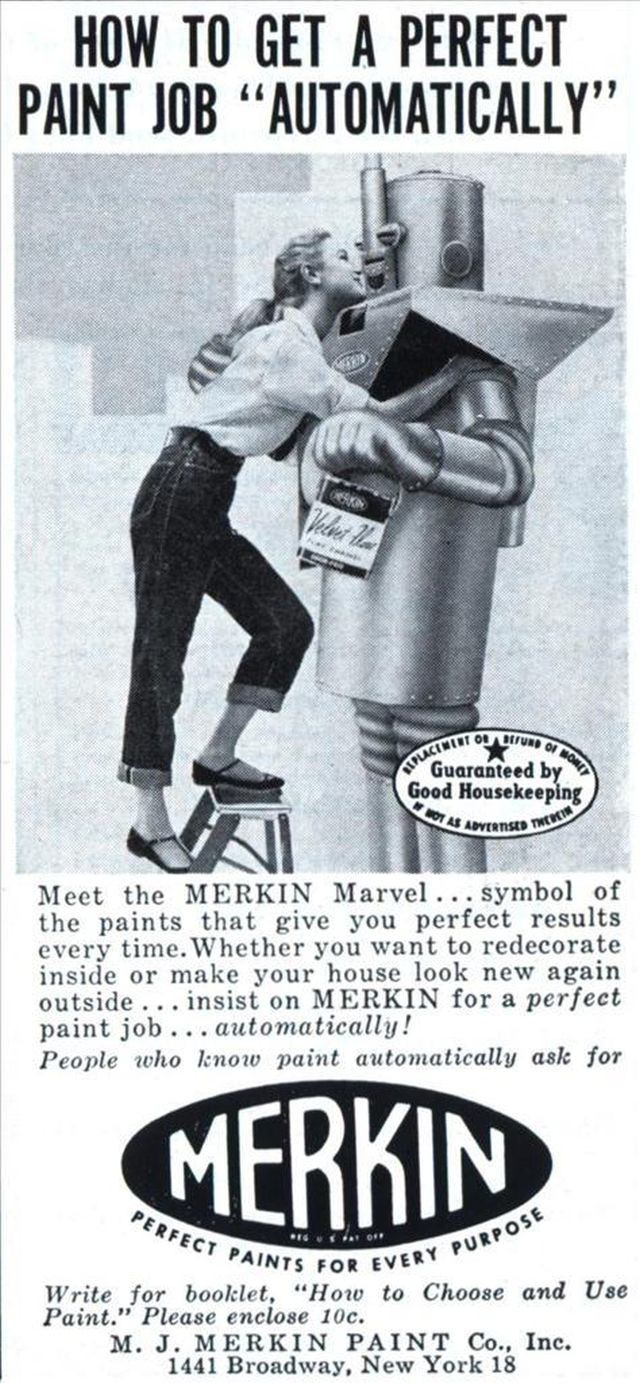 Image source: Good Housekeeping, Oct, 1955.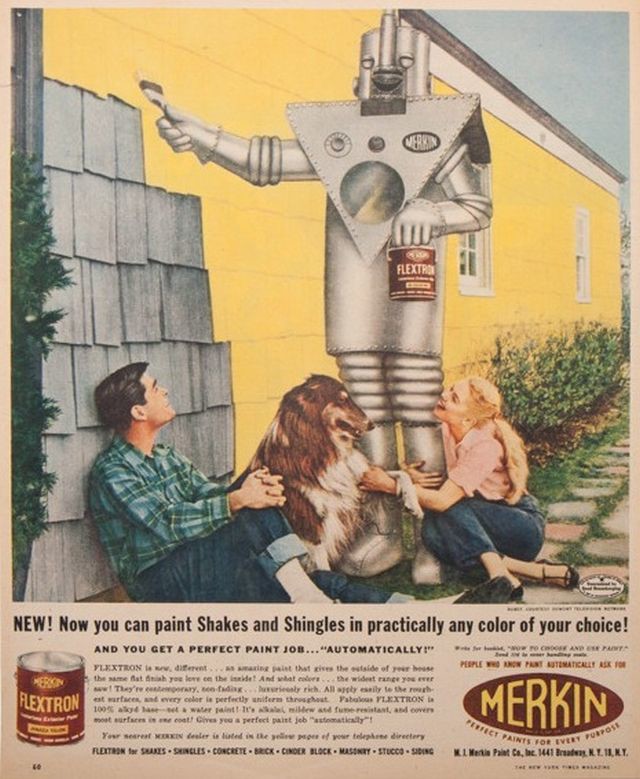 Image source: The Space Age Museum.
---
Dave Ballard – the actor giant.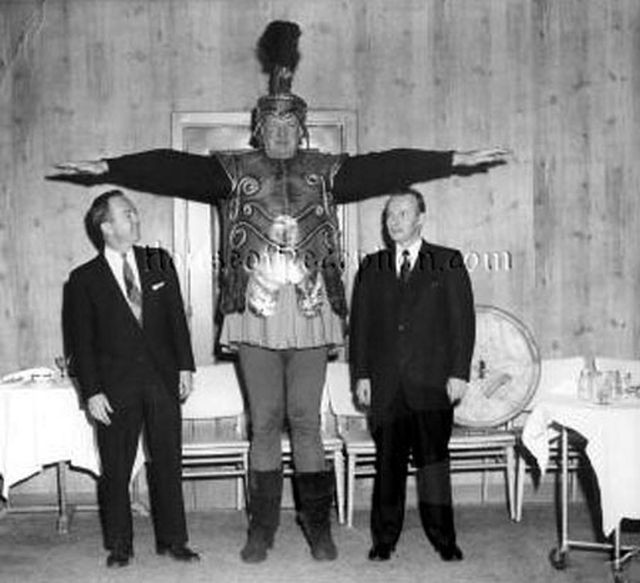 Picture Source: The Tallest Man
Text Source: The Daily News, Huntington and Mount Union, PA. Monday December 21, 1953.
TV News by F. Glenn Westbrook.
In case anyone didn't know, there's a man inside the robot on the TV "Captain Video" series. He's a fellow called Dave Ballard, a 7-foot 8-inch giant. His trouble as a TV actor is that there aren't enough roles for giants.
---
Tobor Trivia:
Its been said that Tobor is the first robot to appear in a TV series, beginning the week of November 2, 1953. It should be noted that the earlier robots from Captain Video were from a film serial, not TV.   To my knowledge, the Superman TV serial had the first robot – Adventures of Superman: Season 1, Episode 17, The Runaway Robot (9 Jan. 1953).
Other forums suggest the reason why the robot is called Tobor is due to a stencil being cut on the wrong side, hence reversed in its application. As we haven't seen an image of Tobor with his name emblazoned on his chest, this cannot be confirmed yet.
A different looking robot appeared in the earlier 1951 film serial Captain Video Master of the Stratosphere and first appeared in Chapter 3 "Captain Video's Peril".
The 1954 movie "Tobor the Great" was a different robot as well.
---