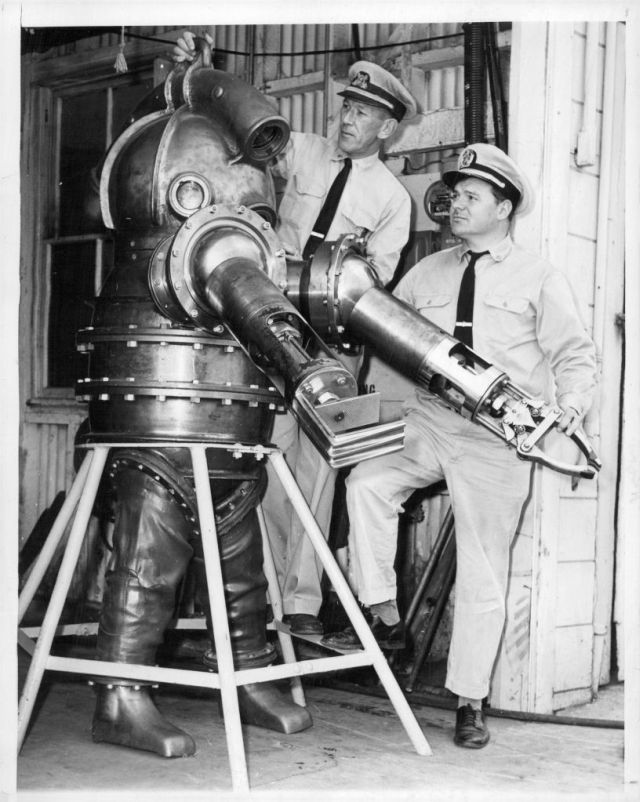 TREASURE HUNTING ROBOT-A 1,500 pound diving robot is checked over by diver Al Mikalow (right) and Paul Ilsley, a diving instructor at Mikalow's diving school in Oakland, Calif. Mikalow intents to dive in the robot later this summer in a search for treasure which legend says lies waiting in the Rio de Janiero, which sank in the Golden Gate entrance to San Francisco Bay, in 1901. Source: Press photo June 1961.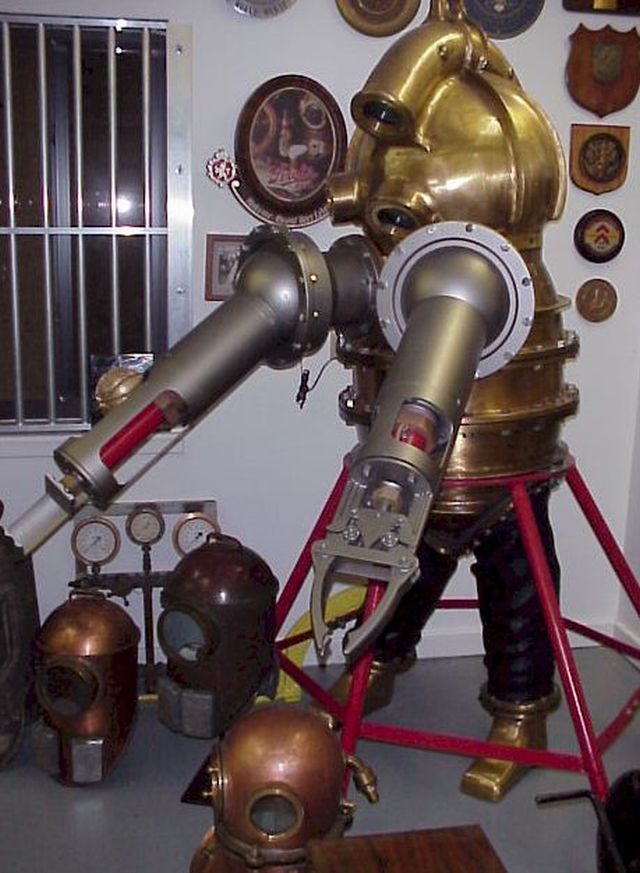 Photo: Carlos Domingues via divingheritage.com.
---
A SURVEY AND ENGINEERING DESIGN OF ATMOSPHERIC DIVING SUITS
A REPORT
by MICHAEL ALBERT THORNTON
December 2000
Mikalow – 1952 (United States)
During a period of history considered by many to be a gap in the development of the atmospheric diving suit, Alfred A. Mikalow, once director and owner of the Coastal School of Deep Sea Diving, in Oakland, California, designed and built an atmospheric diving suit (Figure 16). His suit, employing ball and socket joints, was built for the purpose of locating and salvaging sunken treasure. The suit was reportedly capable of diving to depths of 1,000 feet and was used successfully to dive on the sunken vessel, City of Rio de Janeiro, in 328 feet of water near Fort Point, San Francisco, California (Rieseberg, 1965).
The Mikalow had several interchangeable instruments that could be attached in place of the usual manipulators at the end of the arms. The "deep-sea diving robot", as it was called in Fell's Guide to Sunken Treasure Ships of the World [1st 1965], carried seven 90 cubic feet high-pressure cylinders to provide the breathing gas and control the buoyancy. The ballast compartment covered the air cylinders and opened at the bottom near the diver's legs. The suit used hydrophones as its primary means of communication with the surface and powerful searchlights were attached to the head and arms.
Note: Although Thornton dates this suit at 1952, the first press articles don't appear until 1961.
---
See other early Underwater Robots here.
---