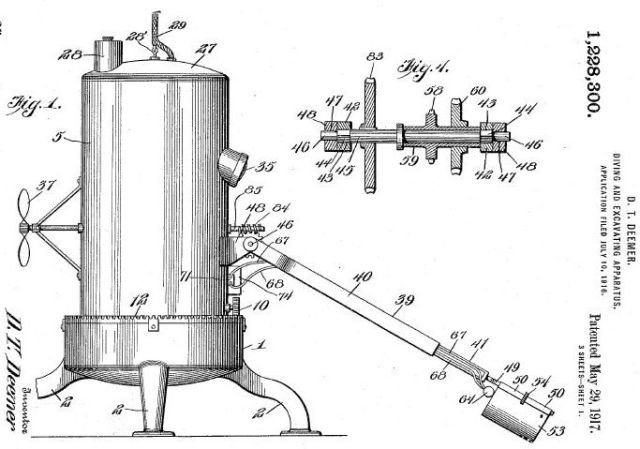 1916 – Diving and Excavating Apparatus by Dewey T. Deemer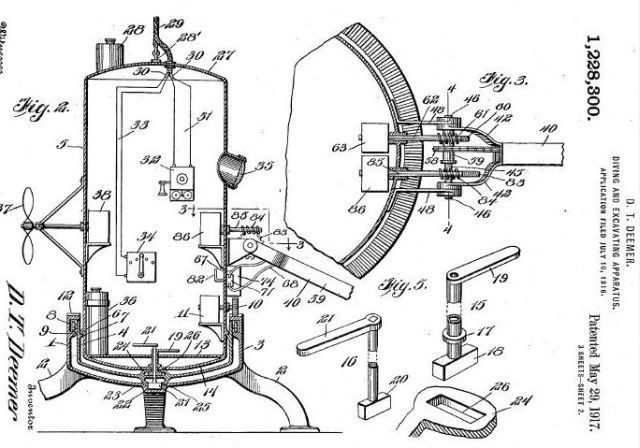 DIVING AND EXCAVATING APPARATUS.
Publication number US1228300 A
Publication type Grant
Publication date May 29, 1917
Filing date Jul 10, 1916
Priority date Jul 10, 1916
Inventors Dewey T Deemer
Original Assignee Dewey T Deemer
Be it known that I, DEWEY T. DEEMER, a citizen of the United States, residing at Hopkins, in the county of Allegan and State of Michigan, have invented new and useful Improvements in Diving and Excavating Apparatus, of which the following is a specification.
This invention relates to a diving and excavating apparatus, designed particularly for deep sea explorations, and one object of the invention is to provide a device of this character which may be lowered from the surface to a considerable depth, and will effectually withstand deep sea water pressure.
Another object of the invention is to provide means for raising and lowering the apparatus which also serves as an electric conductor, for the supply of current to one or more contained motors, telephones, etc., whereby different devices may be operated in a ready and convenient manner.
A still further object of the invention is to provide an apparatus of the described character which will allow deep sea observations, which embodies a base and a drum or receptacle, adjustable to different observation or working positions, and which is also provided with propelling and excavation devices, and means for freeing the exploring apparatus from its base for elevation to the surface when necessary.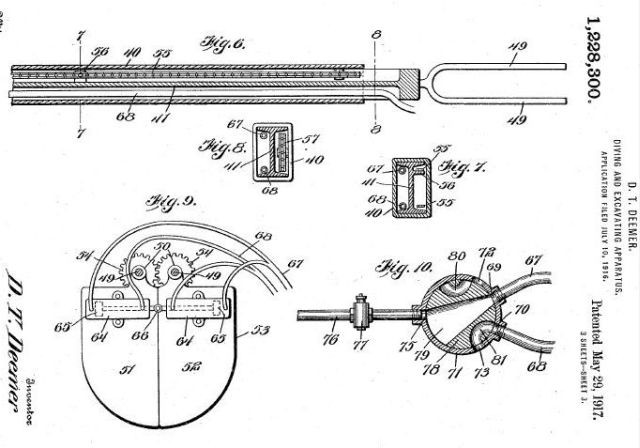 ---
See other early Underwater Robots here.
---