Edward Payson Weston was one of Americas earliest and famous 'pedestrians', walking all over the country for most of his life.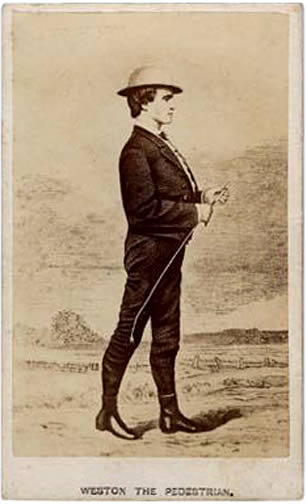 A Walking Automaton was built in his likeness by a currently unknown inventor.
The Evening World 14 Jan 1893 p5
Huber's 14th Street Museum. The walking automaton. Walks like a living man.
The Trenton Times 15 Oct 1894 p5
The Trenton Museum has another constellation of fine amusement makers this week. The walking automaton, Weston, heads the list. It is a machine which moves and walks like a human being and is one of the greatest curiosities extant.
The Trenton Times20 Oct 1894 p8
AMUSEMENTS.

This is the last opportunity to see the wonderful Walking automaton, Weston. This human-appearing machine has never before been exhibited except in the cities of New York, Philadelphia and Boston. It is at the Trenton Museum now for the first stand upon a tour of the country. The most lavish praise has been showered upon this wonderful piece of mechanism by the press of the cities Those who have not seen this automaton walk should do so to-day. The balance of the entertainment is also fine.
[Note: Edward Payson Weston (1839-1929) was a notable pedestrian, who was largely responsible for the rise in popularity of the sport in the 1860s and 1870s.]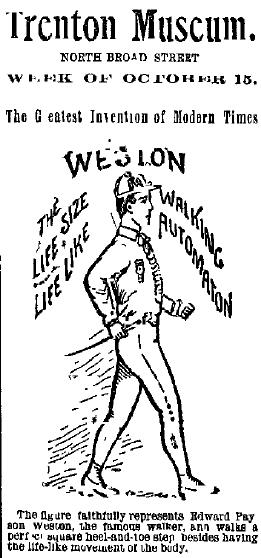 Caption: The figure faithfully represents Edward Payson Weston, the famous walker, and walks a perfect square heel-and-toe step besides having the life-like movement of the body.
Toronto World 8 Apr 1919
…George N. Brown, the world's champion walker, assisted by Billy Weston, does a mile walking stunt with a walking machine…..