1876 – Philadelphia Centennial Steam Men – Farr Goodwin (American)
In 1876, America held its Centennial in Philadelphia. There appears to have been four Steam Men built for the Centennial Exhibition, along with a Mechanical Horse.
An American inventor by the name of William Farr Goodwin, had some of his agricultural inventions produced by manufacturers who exhibited at the Centennial Exhibition, The National Iron Works, for example. We know that Goodwin also patented ideas for a scaleable toy Mechanical Horse (1867) and also a Walking Toy (1868). It is quite probable that the Goodwin design of his Mechanical Horse was used by The National Iron Works in their Mechanical Horse.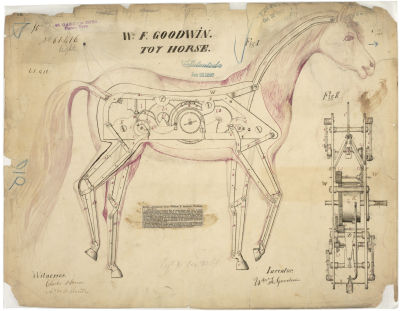 Iron – June 3, 1876, London, Middlesex
Mechanical horses and Men.- A mechanical horse is being made at the National Ironworks, New Brunswick, New Jersey, which is quite a curiosity in its way, and is to be on exhibition at the Centennial. The life-size model has been operated satisfactorily to all who have seen it. Every movement of the horse is as natural as life. It walks, and each joint of the leg is put in its proper motion, while the neck and head bob in appropriate unison, and yet the simplest mechanism is used, being nothing more than a few pulleys and one or two belts, the latter corresponding with the tendons of the natural animals. There are also four steam men being manufactured at Munn's machine shop. These men are for exhibition at the Centennial.
Update 26 July 2010: Located article from the Daily Times, New Brunswick, N.J., which confirms Goodwin as the inventor of the Centennial Steam Men and Mechanical Horse.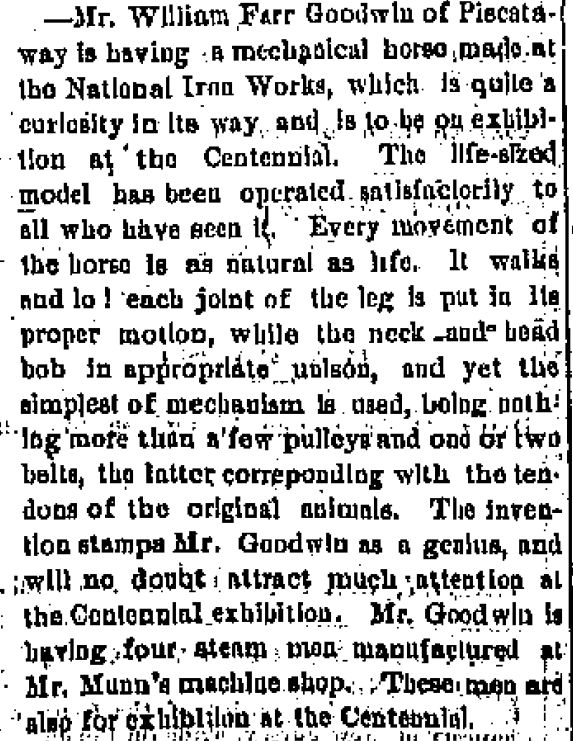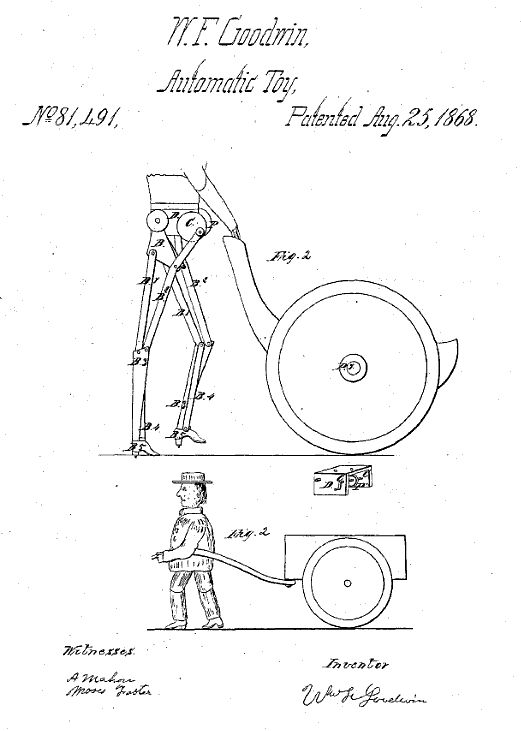 ---
Evening Post, Volume XIV, Issue 79, 30 September 1876, Page 1
STEAM MAN AND A MECHANICAL HORSE.
Anglo-Australian writes in the European Mail : — "The Yankees are notably clever in the invention of machinery intended to subvert the use of manual labor. The last achievement in this direction is a mechanical horse and a steam man, which it is said are on view at the Centennial Exhibition. Their uses are not stated, but it is said that they are simple in construction, and very satisfactory in their movements. If they can be utilised in agricultural work, or in field labor generally, the inventor may expect a brisk demand for them in countries where labor is scarce. It would be too much to expect that the steam man could be trained to do the duties of a policeman, a waiter, or a member of any local house of assembly, because it may be assumed that he could not tell us that he was 'coming,' give evidence, or make windy speeches for the sake of obstructing business. Still, it may be assumed that he would be a very useful member of society if any one should have the courage to import him, just to see what he is like, and j what he can do. It would certainly be in his favor that he might be expected of him not to strike — except when the iron was hot — and the staunchest unionist could hardly object to work with him on the ground that he was not a society man. Indeed, from this point of view, he would be essentially a non-unionist, because it may be assumed that he was called into existence by the fact that the Union men were getting so well paid they could afford to do with eight hours' work a day. The iron man, therefore, may be regarded as the very essence of competition, and by-and-by he will be so improved upon that capitalists will be sure to give him the preference, and then your Union men will discover that they reckoned without their host when they conceived they could conserve to themselves a life of ease and independence upon eight hours' work a day."
---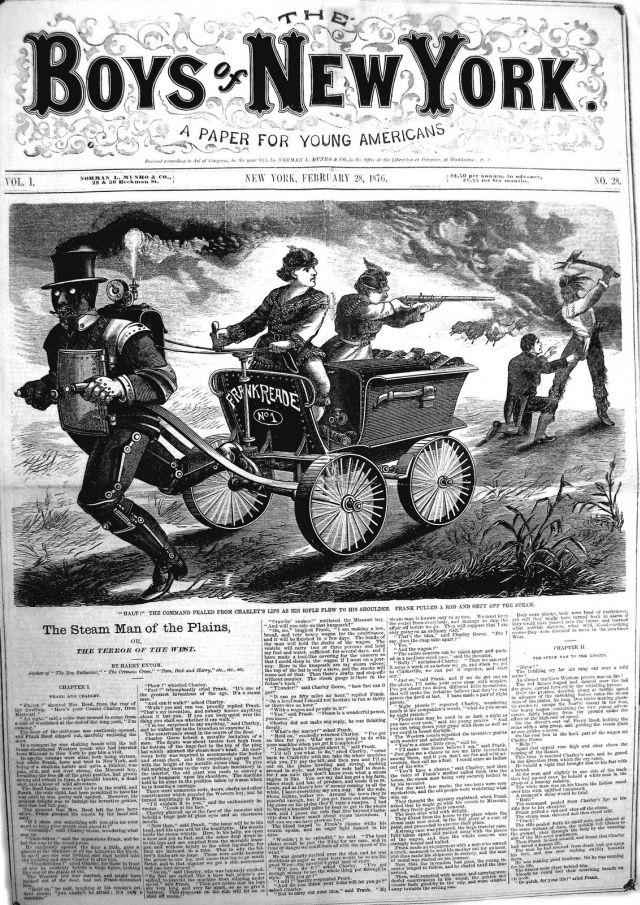 1876 – Fiction – in [Harry Enton] Harold Cohen's (penname) story "Frank Reade and His Steam Man of the Plains, or, The Terror of the West", Frank Reade builds the Steam Man MkII.
---
Brooklyn NY Daily Eagle 1923 p11
"Noname" Talks About Himself

"The use of the word 'Noname' was suggested by the late Frank Tousey. It was first used by Dr. Harry Enton of Brooklyn, an old friend of mine, who wrote for Tousey the "Steam Man of the Plains.' When he tired of the adventures of the steam man, who was a mechanical marvel who drew an Iron wagon across the world, protecting the young hero from all dangers, Tousey asked me to write a similar series, using electricity as a basis.
"Enton got his idea for the steam man, who was hideous looking, and all powerful steam propelled iron figure, from a steam-man who was exhibited at the Centennlal Exposition in 1876. Enton saw the steam man standing in front of a store on Center St., and built a series of storie about his exploits over the plains of the West and the deserts of Africa and Asia, where boys in search of treasure could by the steam man's aid strike terror to the natives and have adventures aplenty."

["Noname" in this article is Lu Senarens.]
The original 1868 Steam Man of the Prairies Dime novel by Ellis was inspired by Dederick's and Grass' Steam Man, so the Centennial Steam Man is the inspiration to the second generation Steam Man of the Dime novels.
---
Tags: 1876, 1876 Centennial Exhibition, American, Farr Goodwin, Harry Enton, Lu Senarens, Mechanical horse, Philadelphia, Steam Man, Steam Men, Steam Robot, Steam Walker, Steampunk, W. Farr Goodwin, William Farr Goodwin