Early Meccano Robot Models – Frank Hornby et al (British)
Mechanical Men and Robot Models from various Meccano Instruction Manuals.
1931 Mechanical Man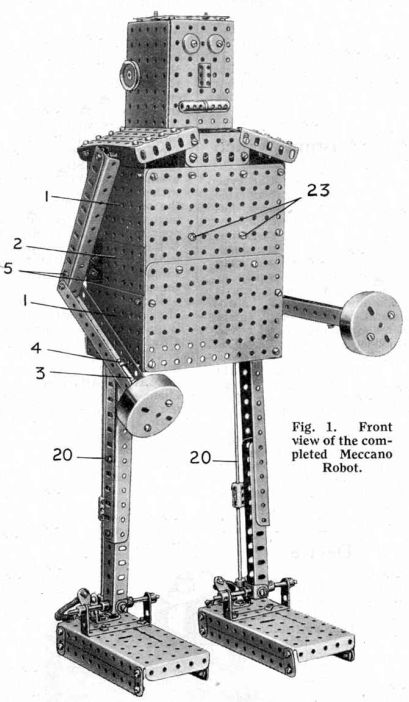 AMONG the many mechanical marvels that scientists tell us will be common sights in the year 2031 A.D., none can be of greater interest than the " robots " or mechanical men which, we are assured, wilt be used to perform almost every action of a human being. Meccano boys. may well envy their fellow constructors of the next century using a "squad" of these "mechanical humans" to do their homework while they complete a model of a super 500 m.p.h. land plane, or the latest pattern of a moon rocket !
Although the remarkable Meccano model robot described this month is not capable of working out Square Roots or Compound Interest, it will nevertheless walk forward in a remarkably realistic manner, merely by pressing one of the Pulley Wheels that represent this weird individual's "ears" !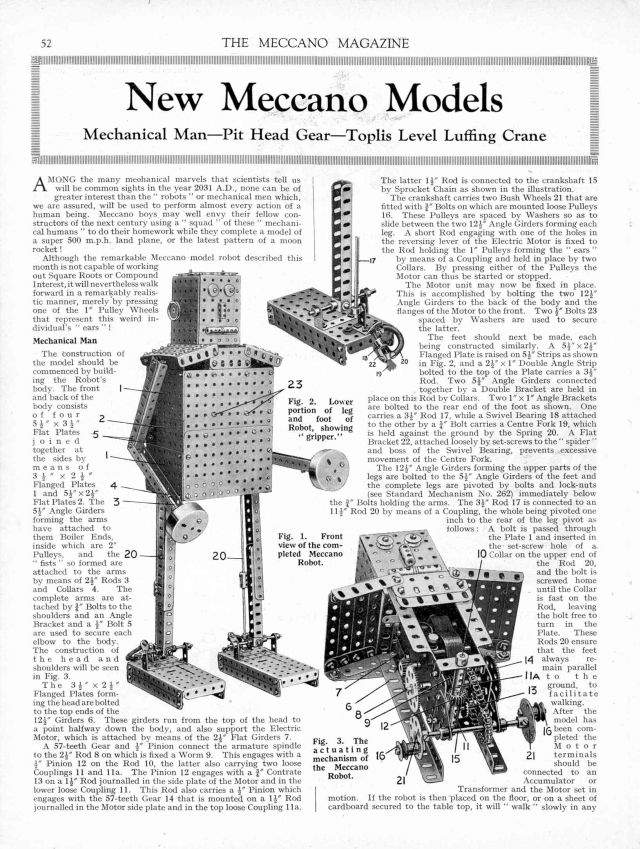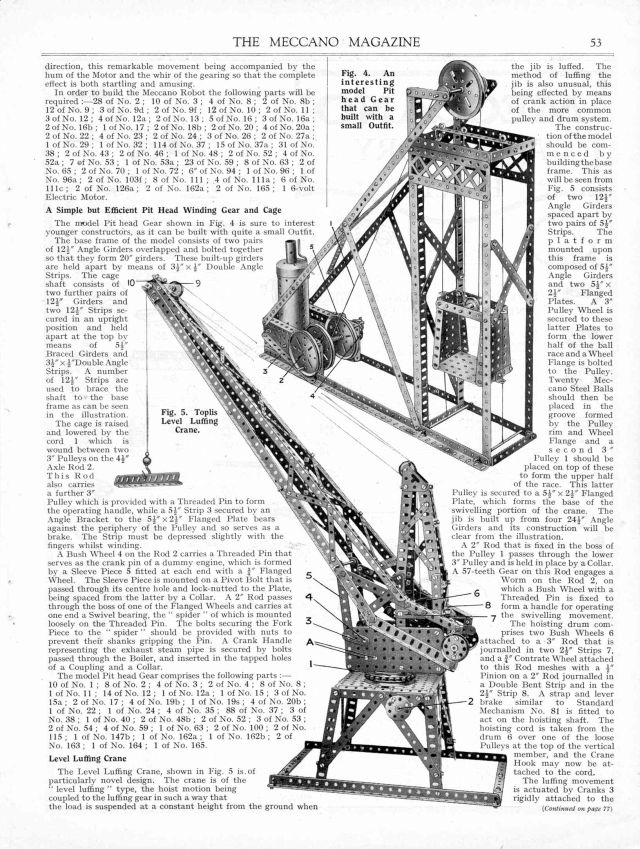 ---
1950 – Mechanical Man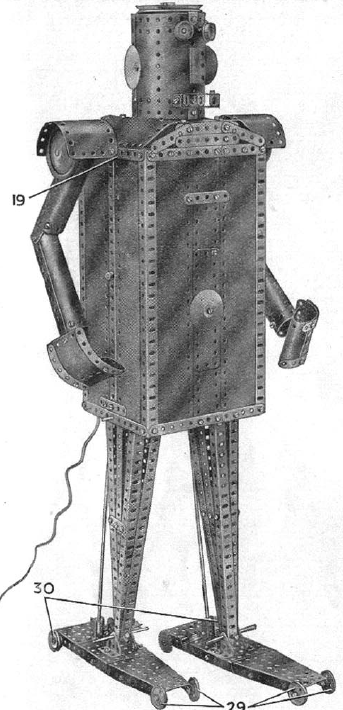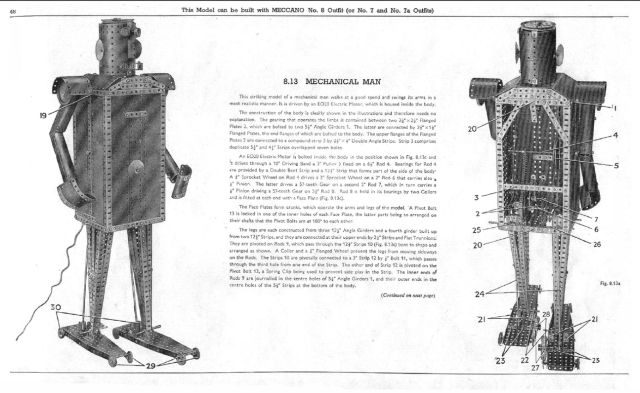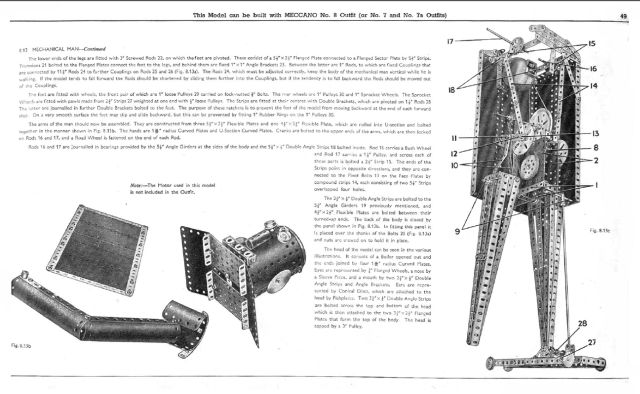 1957 version below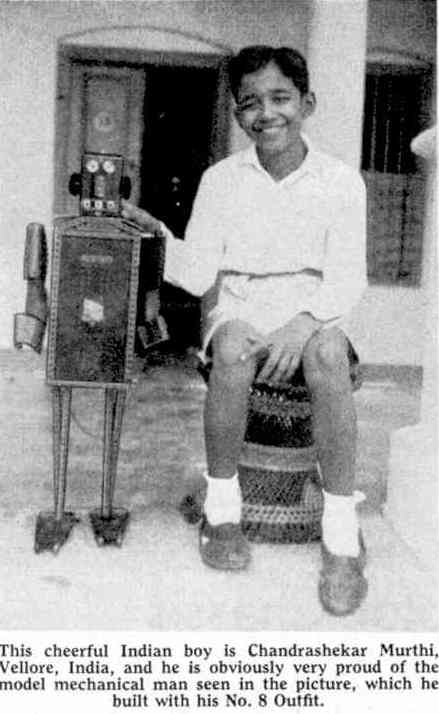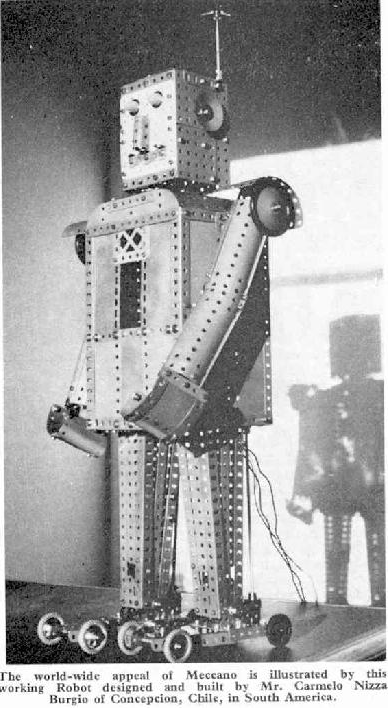 1970 version from Chile.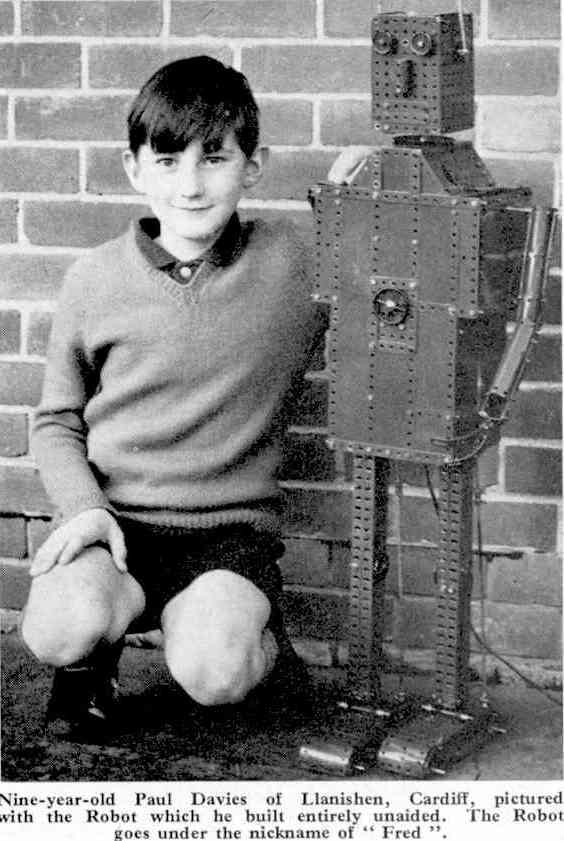 Another 1970 version called "Fred".
---
1967 – Hoppy the Perambulating Robot.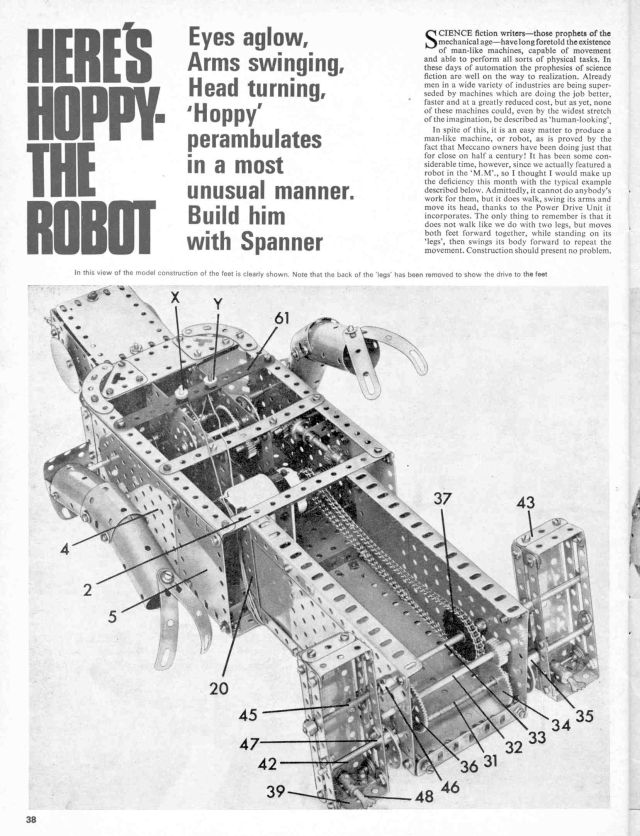 Source: Meccano Magazine 1967
HERE'S HOPPY – THE ROBOT
Eyes aglow, Arms swinging, Head turning, Hoppy' perambulates in a most unusual manner. Build him with 'Spanner'.
SCIENCE fiction writers—those prophets of the mechanical age—have long foretold the existence of man-like machines, capable of movement and able to perform all sorts of physical tasks. In these days of automation the prophesies of science fiction are well on the way to realization. Already men in a wide variety of industries are being superseded by machines which are doing the job better, faster and at a greatly reduced cost, but as yet, none of these machines could, even by the widest stretch of the imagination, be described as 'human-looking'.
In spite of this, it is an easy matter to produce a man-like machine, or robot, as is proved by the fact that Meccano owners have been doing just that for close on half a century! It has been some considerable time, however, since we actually featured a robot in the 'M.M'., so I thought I would make up the deficiency this month with the typical example described below. Admittedly, it cannot do anybody's work for them, but it does walk, swing its arms and move its head, thanks to the Power Drive Unit it incorporates. The only thing to remember is that it does not walk like we do with two legs, but moves both feet forward together, while standing on its 'legs', then swings its body forward to repeat the movement. Construction should present no problem.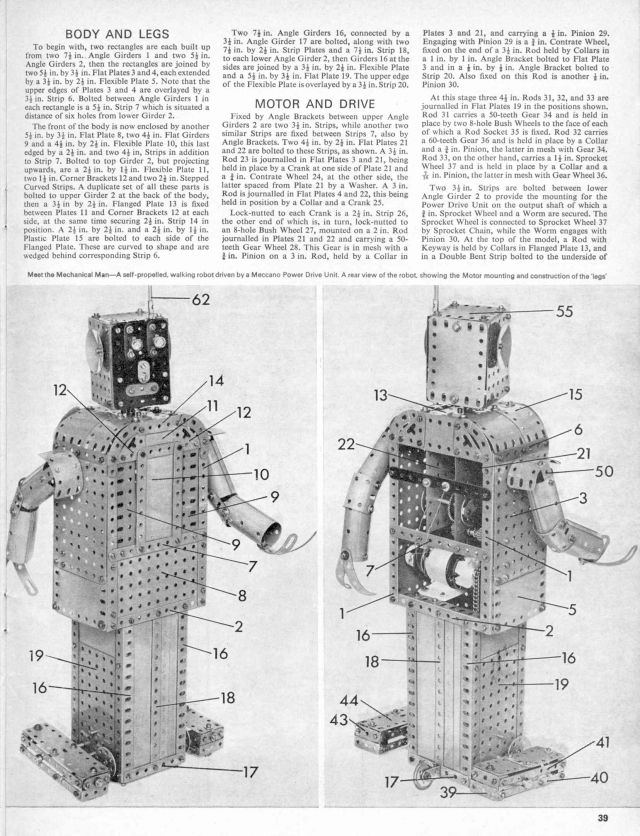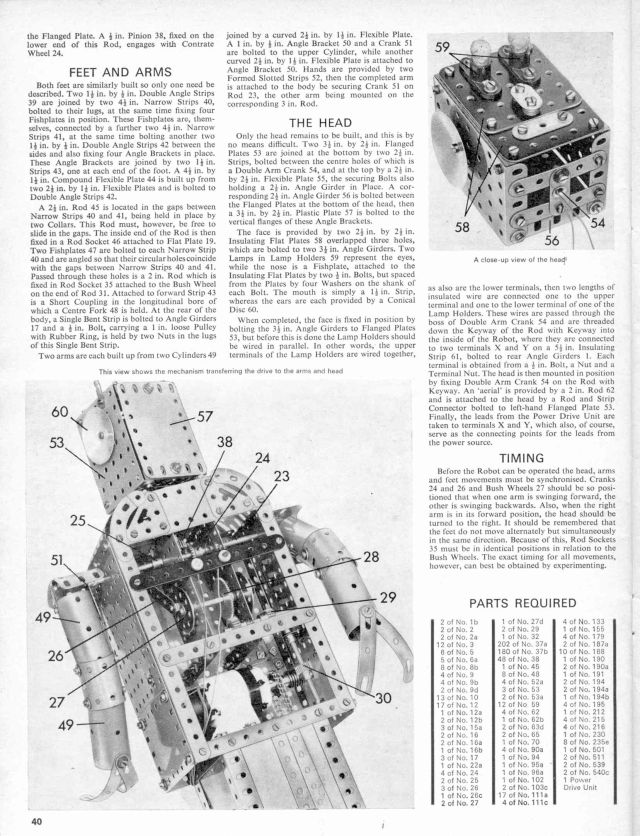 ---
1965 Meccano Dalek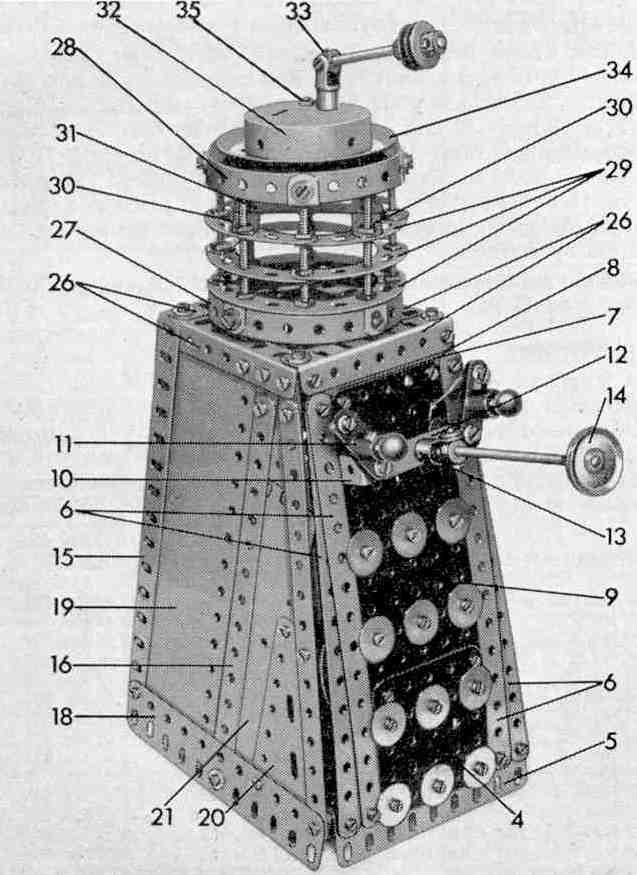 WHILE travelling into the future in his incredible 'time machine', Dr. Who and his three companions encountered the fearsome Daleks! These weird space invaders of the future are, as most of you know, to be seen on the exciting television serial 'Dr. Who'.
However, although the Daleks are in many ways frightening, they are fascinating creatures with strange metallic voices that have the ability to slip along, robot-like, under their own power. In fact, so popular are the Daleks that toy shops throughout the country have been selling thousands of models of these space creatures. Therefore, I thought it would make a popular exercise to build a Dalek in Meccano. The model described in this article is based on a television Dalek, although it is not identical in shape. Motive power is supplied by an Emebo motor and two lamps on the front of the body flash on and off as the model moves.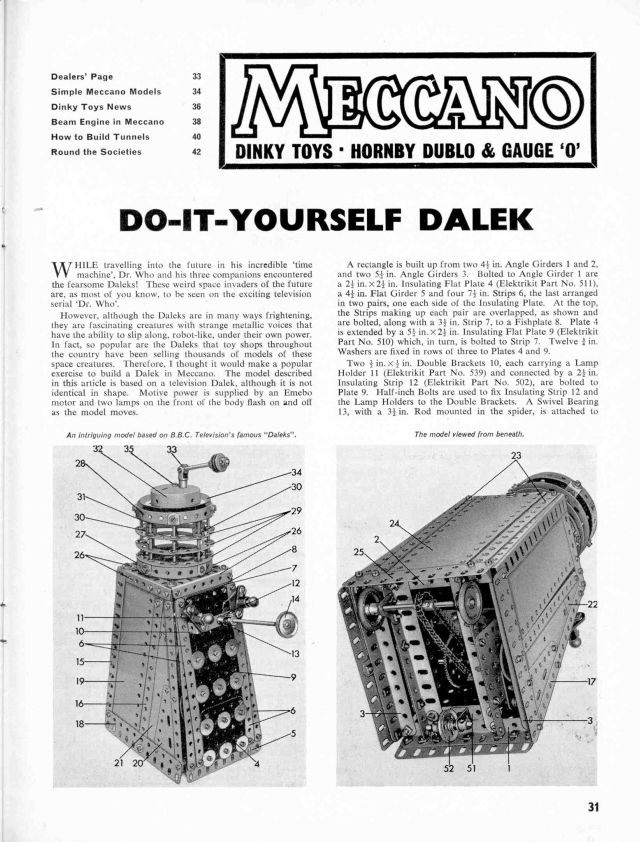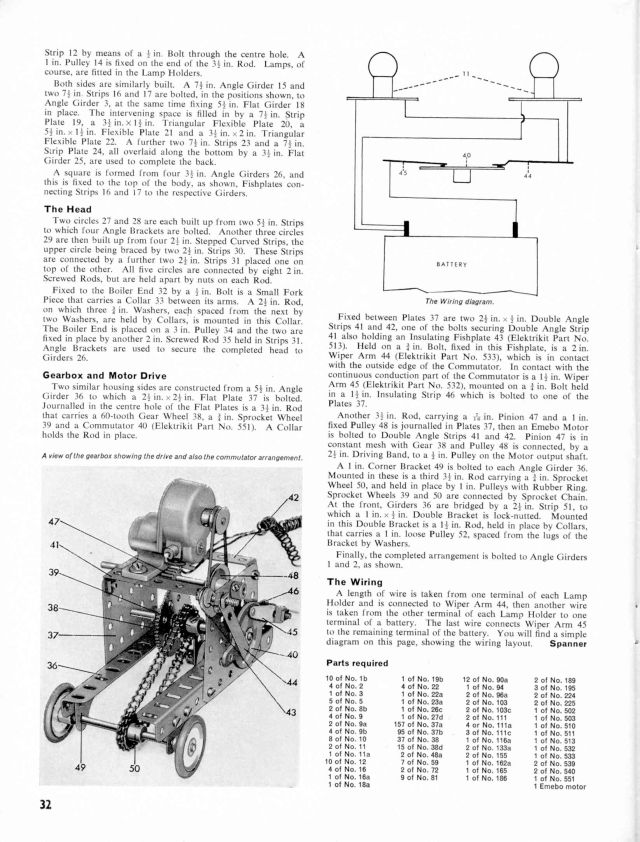 Modern, more realist version of a Dalek Mk IV.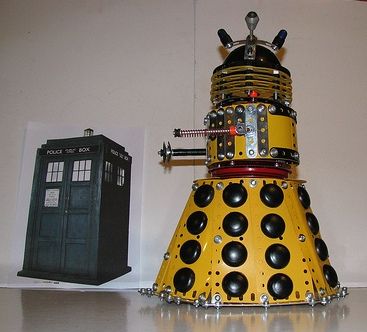 ---
1987 Mr. Clockwork Motor designed by Andreas Konkoly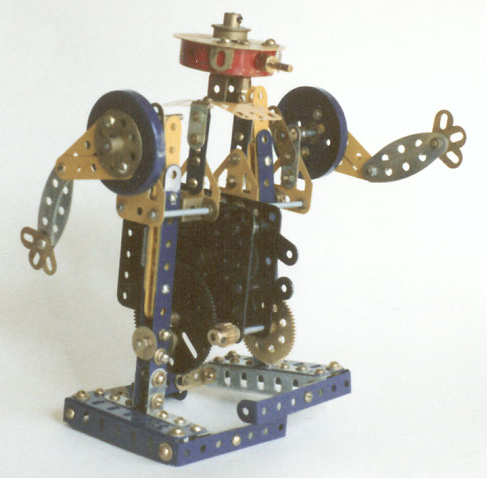 The late Andreas Konkoly designed some interesting and often quirky models. Entitled Mr Clockwork Motor this model was published in the North Midlands Meccano Guild Newsmag No 47, March 1987.
The model is built around a No. 1 Clockwork motor which is able to provide the light model with a good run.
The large feet (3" square) are for purposes of stabilizing the model which exhibited an interesting gait when operating. His arms swung with each step and his head swung from side to side as if scanning the horizon.
Although it may appear from the pictures that the Double Angle Strips are likely become entangled, this does not happen in practice and his excursions are limited only by the endurance of the motor.
Like all ambulatory models of this kind, it is a kid magnet at exhibitions.
Model and Text by Lindsay Carroll.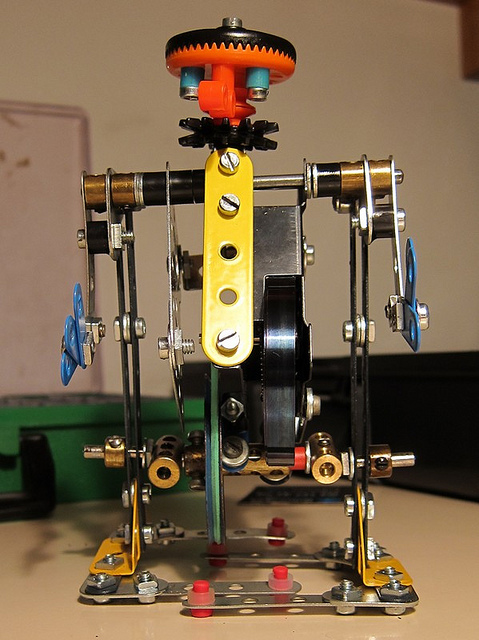 A similar model called "Little Big Man" by Antoni Gual.
---
Miscellaneous Early Meccano Robots
1934 Mechanical Man [Below]

1952 Mechanical Man [Below]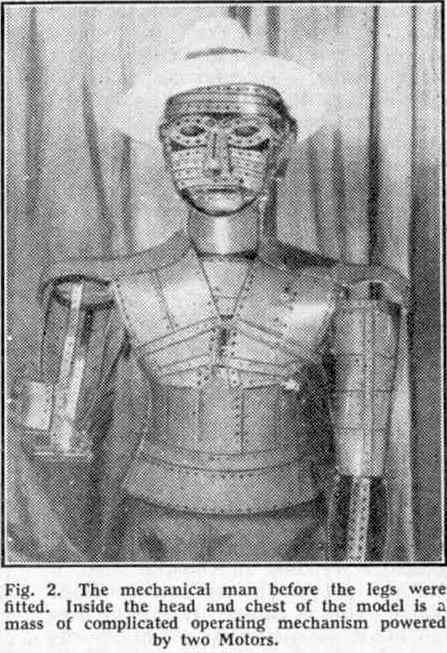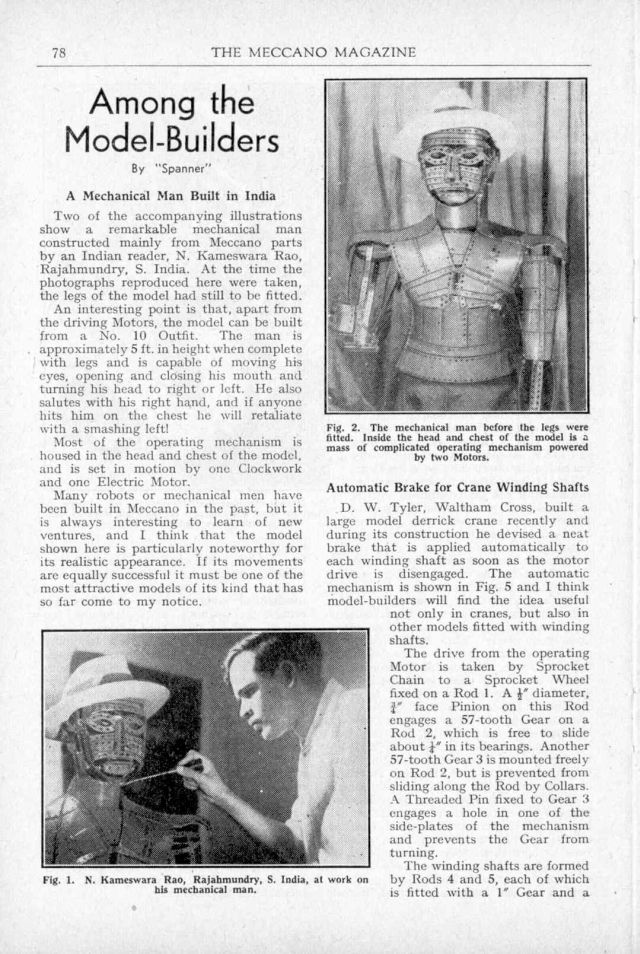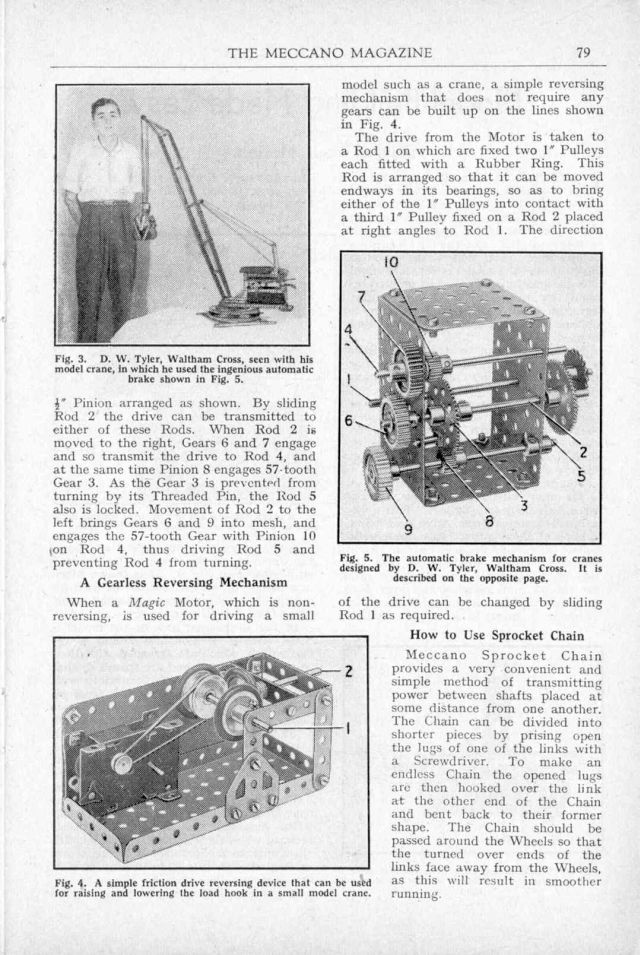 Above. 5ft Mechanical Man 1951.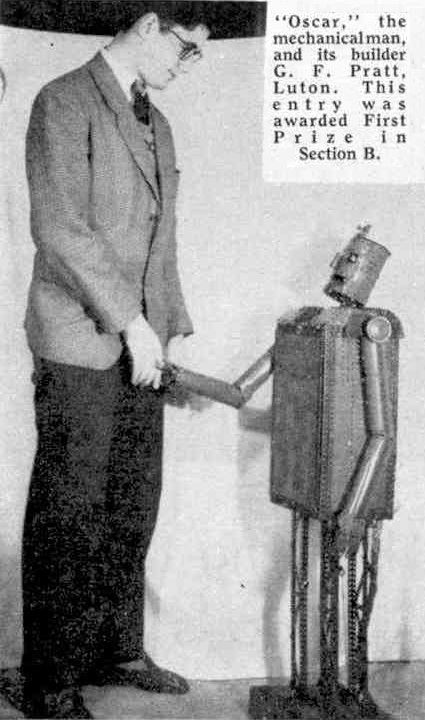 Above. 1957 – Oscar the Robot by Geoff Pratt.
Geoff must have built several more robots. Rob Thompson (Mar 2014) informs me of Oscar V built in 1977.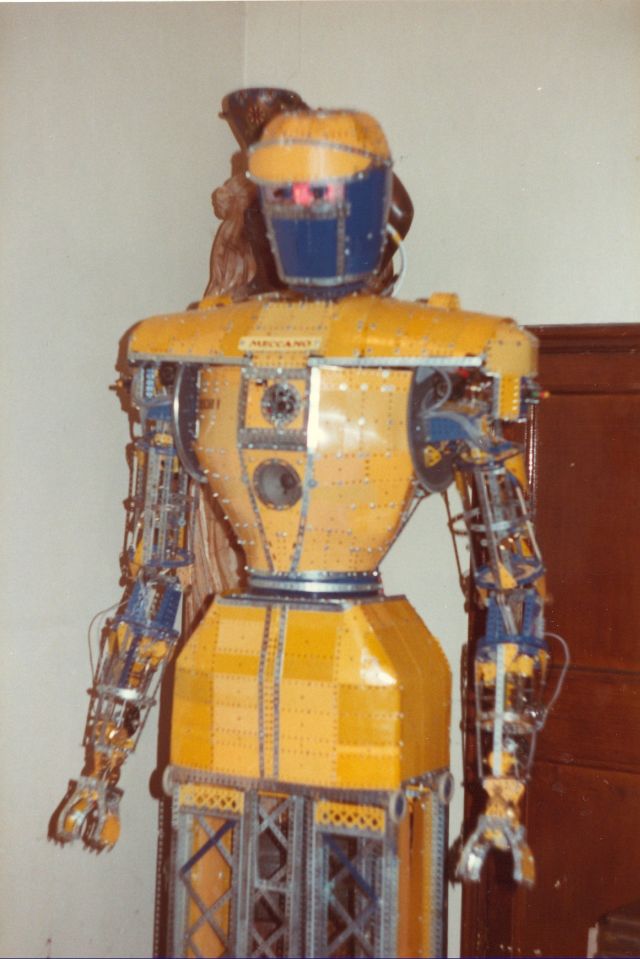 Here Rob's pic of him from the Henley Exhibition in 1983.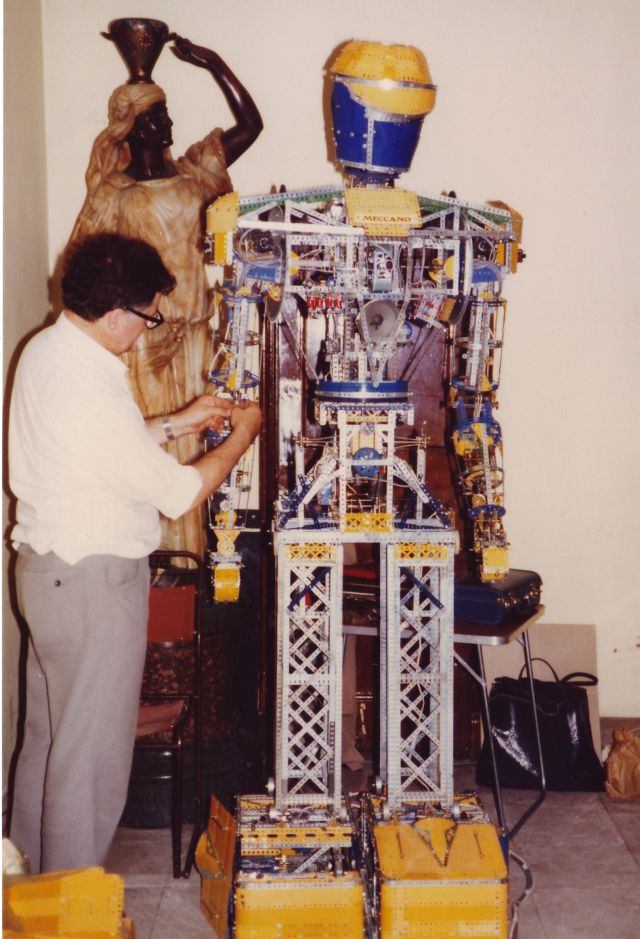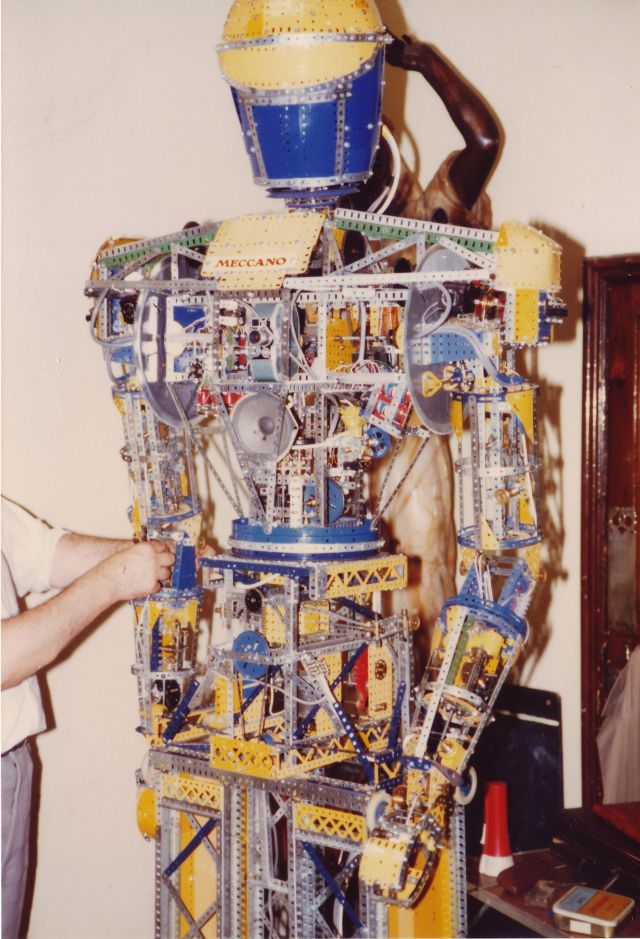 Above 2 photos by NoirProfond2. Above 3 images located at www.nzmeccano.com .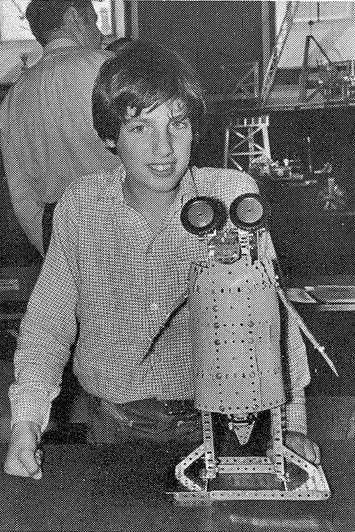 1975 – Edmund Atkinson with his Motorised Penguin.
---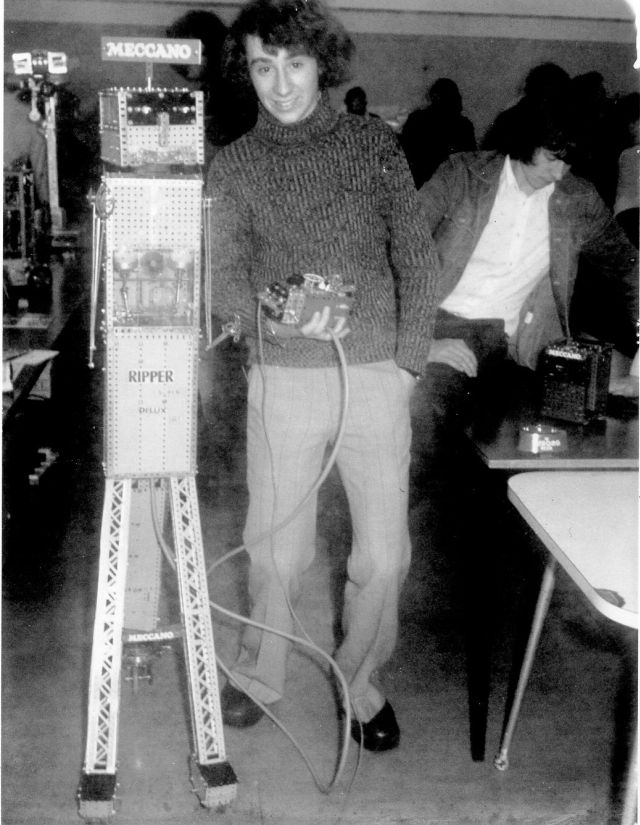 1977c – Robot "Ripper Delux" with Matt Goodman. Photo by Rod Thompson
Update: Email from Matt Goodman 8 Feb 2014
"I was fascinated to find by accident a picture of myself on p2 of your walking machines website (attached). It was either taken at The Town & Country Festival nr Coventry or at the Midlands Meccano Guild (the first guild & Dad was first Treasurer). …….

For your information Ripper Delux was the last in a series of robots all with very different capabilities. This had remote control of: moving about (driven by the steerable rear wheel), a rotating sign on the top, blinkin eyes, moving mouth, swivelling head, illuminated moving lungs and heart and shook hands. There were two types of buzzer and a bell. Nobody I had ever seen build a lifesize robot before and very few since.

Throughout our teens my friends and I specialised in destructive robots (looong before Robot Wars was ever conceived). The most successful design was based upon the Venus Probe (as escaped in Steve Austen's Six Million Dollar Man) which was extremely fast, stable and manouverable with a large pair of jaws at the front for throwing or grabbing the opposition. We damaged a lot of shiney Meccano in those days -these computer gamers are just whimps when it came to real losses of pocket money due to lost battles ! "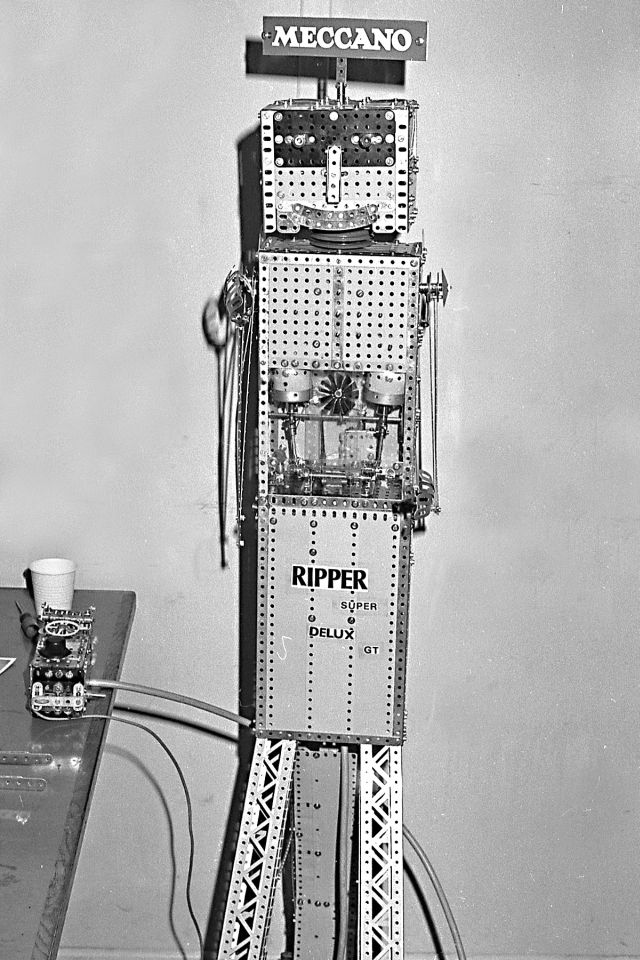 1977c Robot "Ripper Delux". Photo by Rod Thompson.
---
See all the known Steam Men and early Walking Machines here.
See all the known early Humanoid Robots here.
---
Tags: Andreas Konkoly, Antoni Gual, British, Carmelo Nizza Burgio, Chandrashekar Murthi, Dalek, Edmund Atkinson, Frank Hornby, Matt Goodman, Meccano, Meccano Models, Mechanical Man, Paul Davies, Robot, robot models, Walking machine