1985 – Robot George – Dan Mathias (American)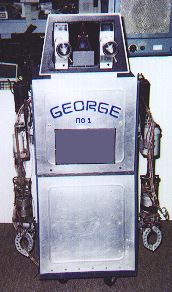 Built in 1985 Robot George, it's 25 years old Dan Mathias first big robot and 40 inches tall, and weights 110 lbs, has one Pentium III – 600 MHz Lap-Top, with 128 meg ram and 20 Gig ide hard drive, sound blaster voice input, voice syntheses and image processing and control with Linux software that is in the works, it's arms can lift over 60lbs at the wrist and can move at about 3 miles per hour, it is made of aluminum, wood and plastic construction, 12 volt Lead Acid powered.
[RH Although built in 1985, Pentium III's were not introduced until 1999, so possibly an earlier processor was used when it was first built.]
All images and text sourced from here: http://www.futurebots.com/dan.htm .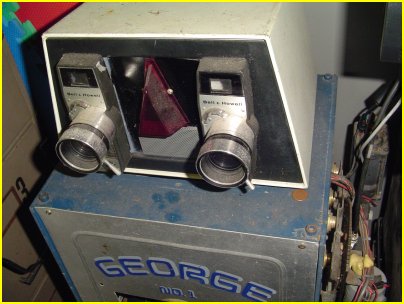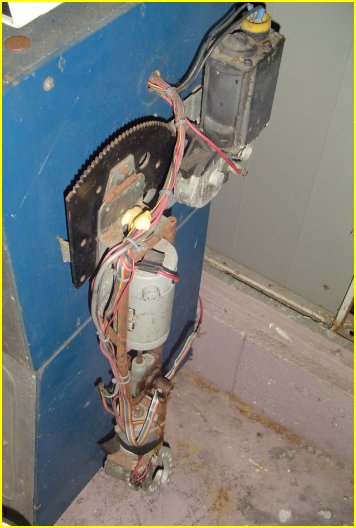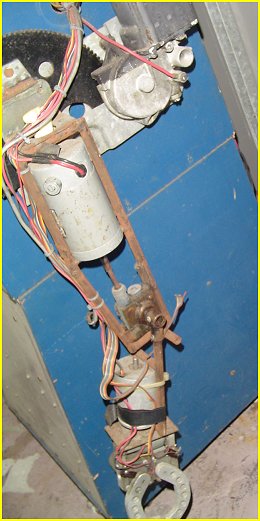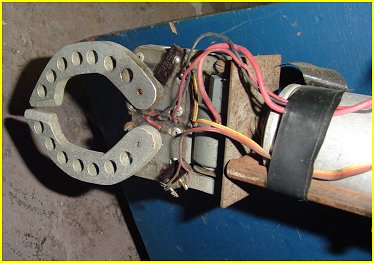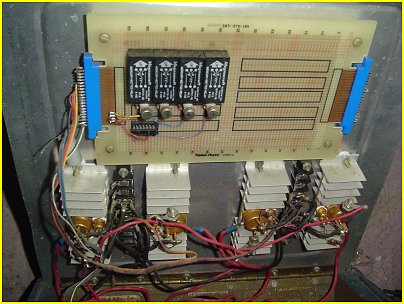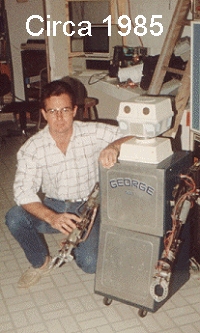 Dan Mathias with George No. 1.
---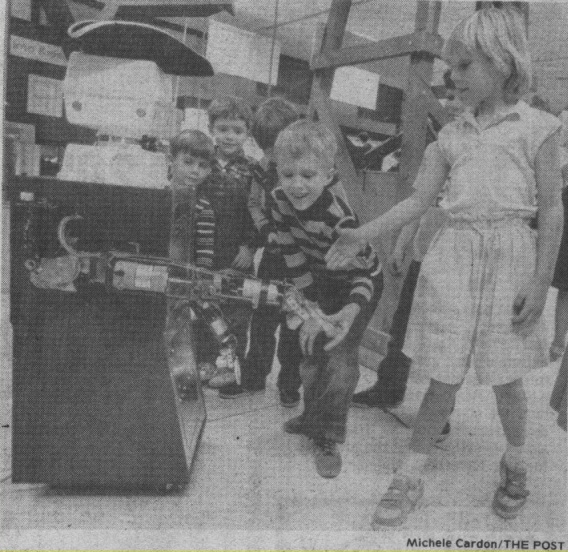 Caption: Timothy Blumenthel, Melia Hibbart with robot.
Source: The Palm Beach Post – Nov 8,1985
Inventors of Robots Aim for 'Better Idea'
By Tim O'Mellia – Staff Writer
Even wearing a three-cornered hat and a colonial jacket, George No. 1 looks nothing like the father of our country. George No. 1 is squat as a beer keg and has the face of a blank Mr Potato Head.
But George No. 1 isn't in any beauty pageant. George is one of the robots that will be gliding across the floor of the South Florida Science Museum in West Palm Beach this weekend, beginning at 6 p.m. today. Besides watching robotics demonstrations, youngsters will be able to compete in guiding a robot through a maze.
Forbidden Planet, a science fiction film featuring Robbie the Robot, will be shown at 7:15 p.m. today; 11:15 1:15 and 3:15 p.m Saturday; and 1:15 and 3:15 p.m. Sunday.
George is called No. 1 because he's likely to be the first in a long line of creations by inventor Dan Mathias of West Palm Beach. George No. 1 was made from metal, wire, cable and clamps, is powered by the brain taken from a home computer and costs about $600.
"That's because you try something, get a better idea, tear it down and start over again." said Tom Gershey, who teaches robotics classes at the museum.
George No. I rolled across the floor and stuck out one of his arms, powered by electric window units taken from a Cadillac, to a class of students from Bible Baptist Christian School In Fort Pierce. He shook hands.
George isn't quite agile enough to tip his hat, but he's mobile enough to follow a second-grader around the room. "I think he wants to dance with you," one of the teachers said.
Mathias' next project is to give George a voice. "Kids always want to know if he talks and I always have to disappoint them." he said.
But Mathias, Lenny Schectman —a Lantana inventor who has two robots on display — and the robotics experts at Robotland admit that the personal robot isn't of much use except for games or as an educational gimmick.
"The technology has come about so that people can assemble a robot fairly cheaply, like Dan," said Dr. Ed Sobey, director of the museum. "Some people say they have a robot that will vacuum your house, but that remains to be seen.
"Washing windows is easy for anyone with an IQ of 65. But a robot is just as likely to put his hand through the glass. Do you know how difficult it is for a robot to keep its hand on the glass as he reaches up?" Sobey said.
But the artificial intelligence has not been developed to guide a robot to perform a job, correct itself when it makes a mistake and then change its task.
But the day of the robot watering your plants, making your bed or delivering a drink from the bar is not far away. "Two or three years," said George Cretecos Jr., president of Robotland, a firm that distributes and sells robots for kids and imports others for commercial use.
Cretecos said he believes his Lake Worth company will be on the ground floor of the robotics revolution, which will lead to the "domestic robot."
"Or," Mathias added, "we'll be theirs."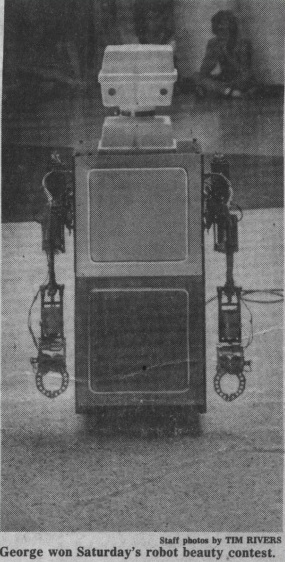 ---
See other early Humanoid Robots here.
---
Tags: 1985, American, Dan Mathias, George No. 1, Humanoid, Humanoid Robot, Robot, Robot George