1982 – "Marilyn Monroe" the Cybot – Shunichi Mizuno (Japanese)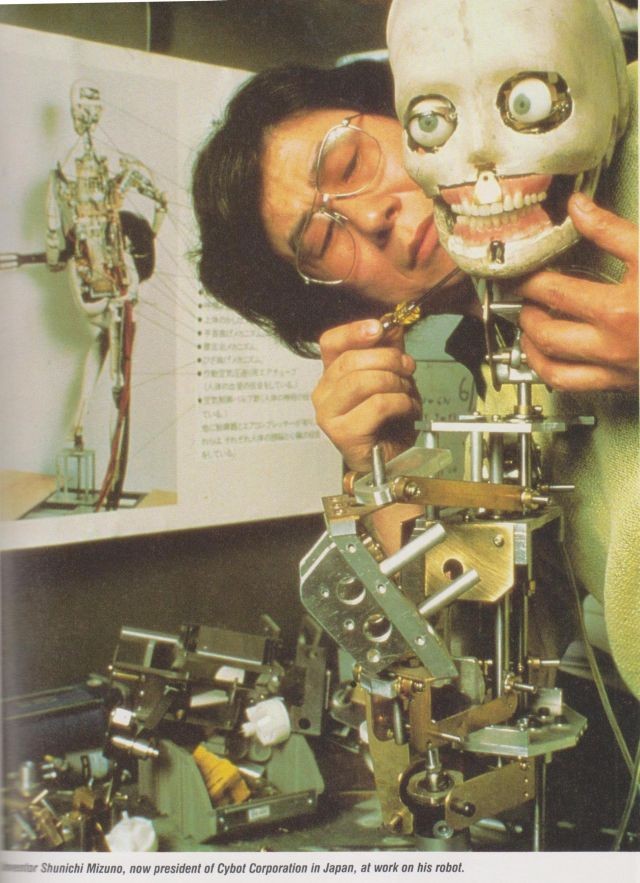 Inventor Shunichi Mizuno, now president of Cybot Corporation in Japan, at work on his robot. Image source: Robots, machines in man's image, Isaac Asimov, Karen A. Frenkel – 1985.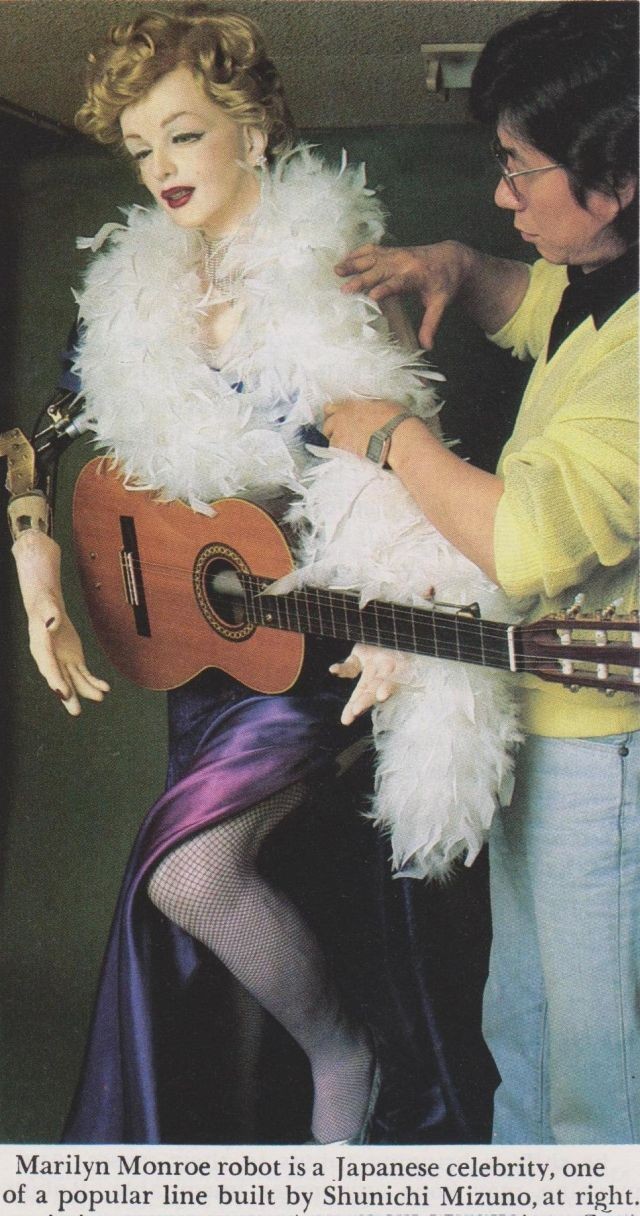 Photo by Mark Wexler.
Caption: Instead of diamonds, up to 20,000 electronic components are this girl's best friends. Low-[pressure] pneumatic valves controlled by a microcomputer give "New Monroe" facial expressions and body movement. Although gemless, New Monroe was first exhibited at the 1982 Osaka Jewel Fair.
Robots, machines in man's image – Page 117
Isaac Asimov, Karen A. Frenkel – 1985
Other robots in the image of famous personalities, including Thomas Edison, have been created by Shunichi Mizuno, president of the Japanese company Cybot Corporation in Osaka. In 1982, New Monroe, a facsimile of Marilyn Monroe, was introduced at the Jewel Fair in Osaka. …. New Monroe has forty movements, enabling it to laugh, sing, talk, and strum a guitar. Cybot also created a fairy and a mermaid, which were both used in department store displays.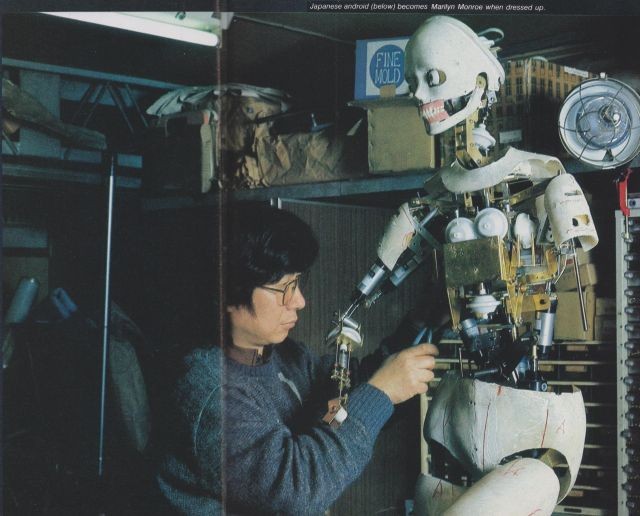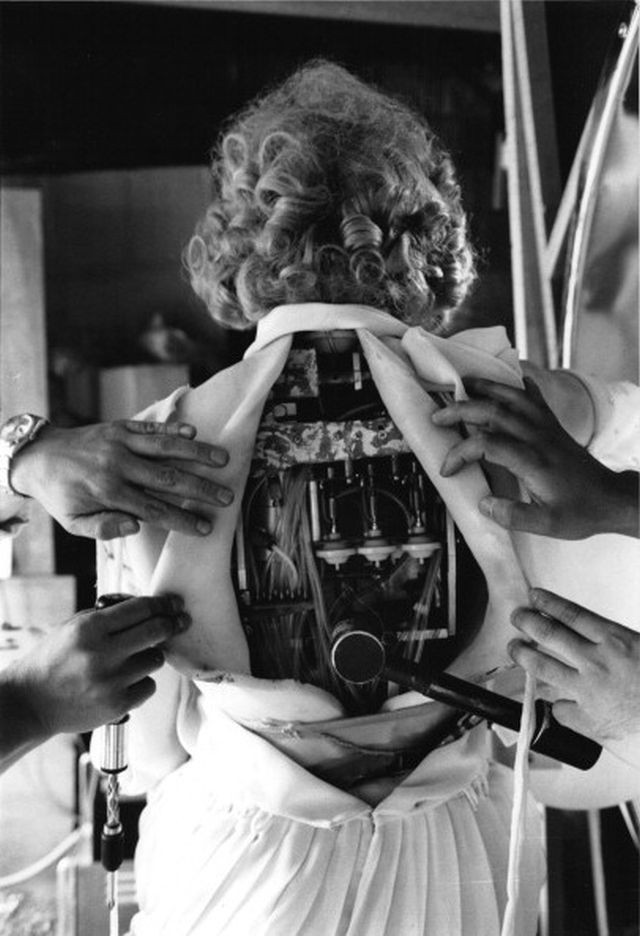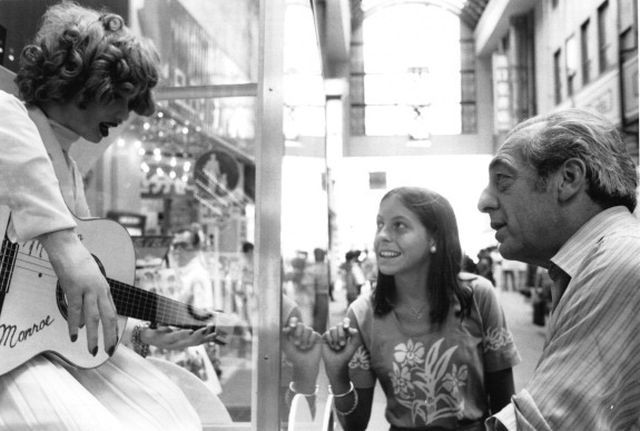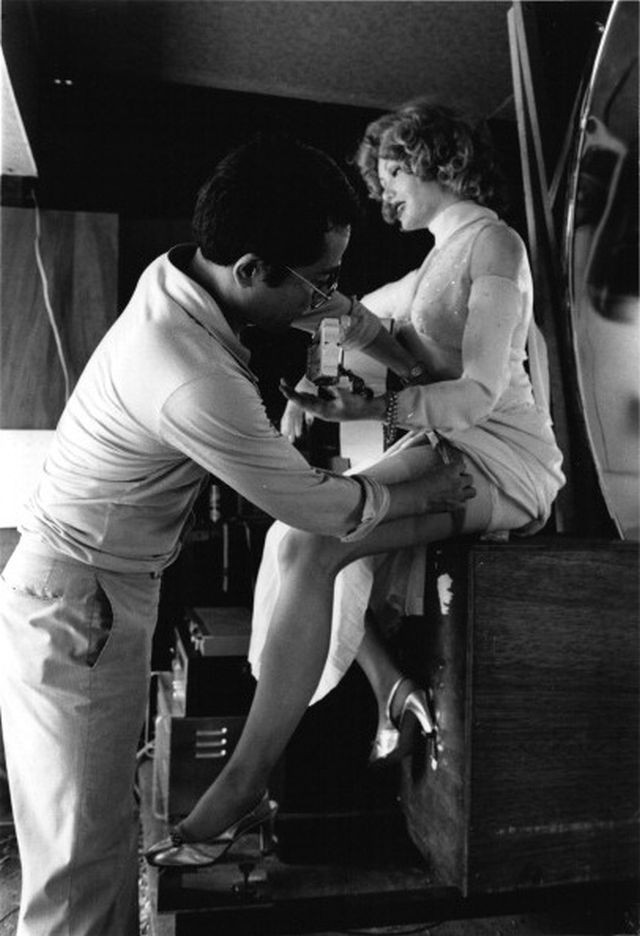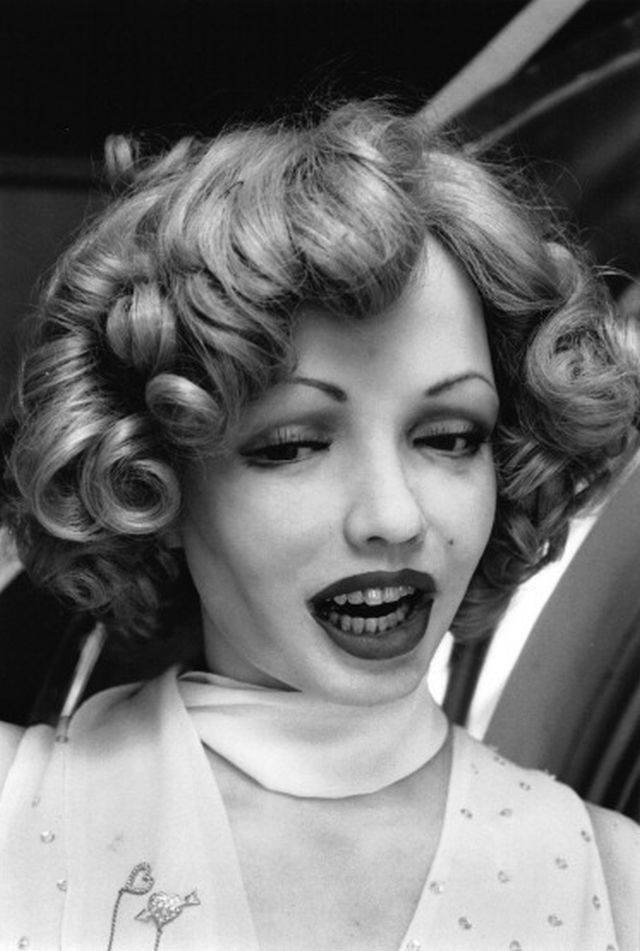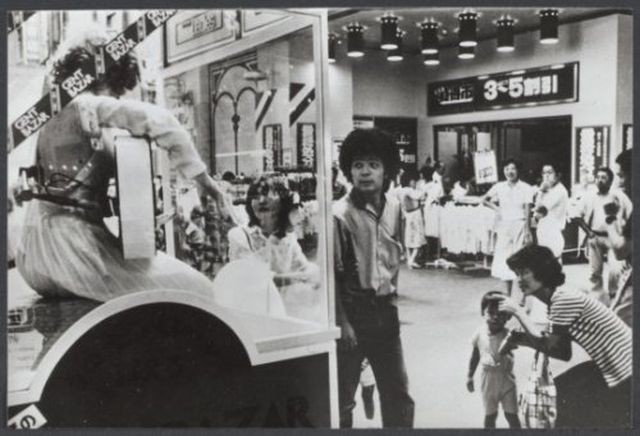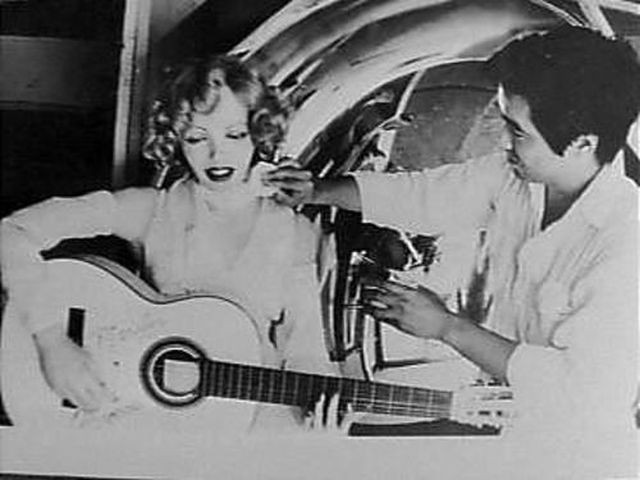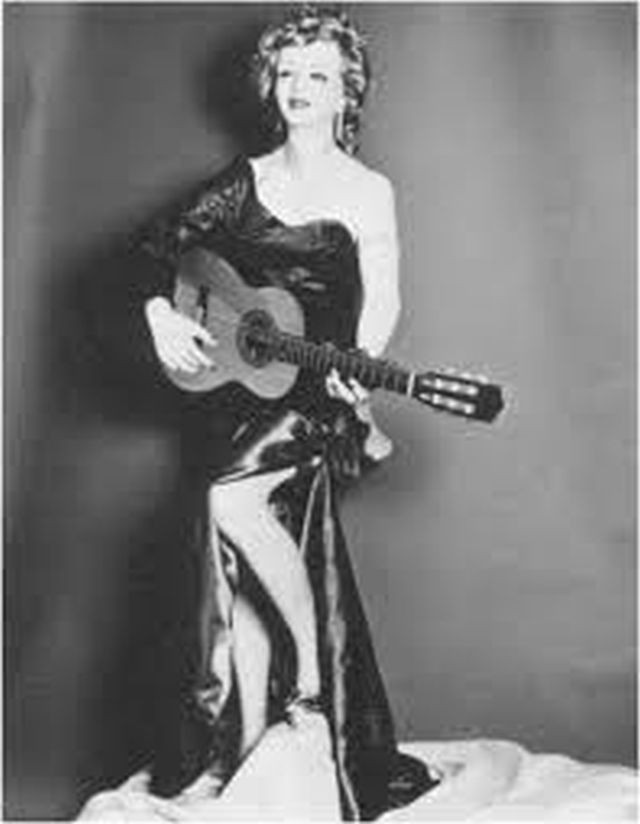 ---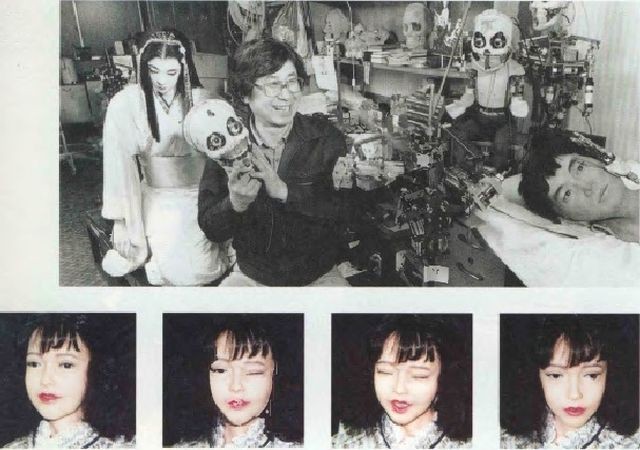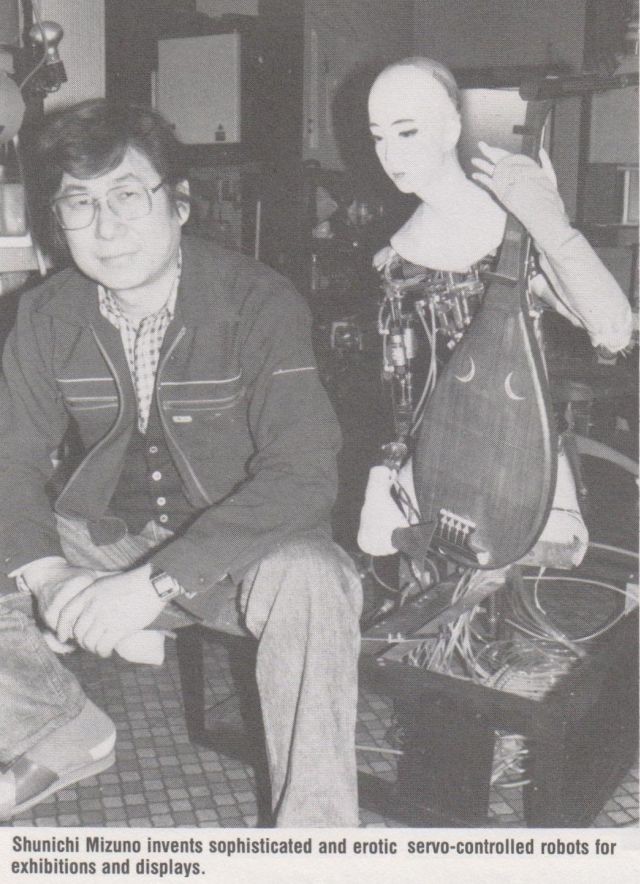 Caption: Shunichi Mizuno invents sophisticated and erotic servo-controlled robots for exhibitions and displays.
New Marilyn, the creation of Shunichi Mizuno, is computer-programmed to sing River of No Return, play a guitar, wiggle and wink. Others in the Mizuno family include Thomas Edison and John F. Kennedy.
Inside the Robot Kingdom: Japan, Mechatronics, and the Coming Robotopia. – Page 63, Frederik L. Schodt – 1988
A MODERN AUTOMATA ARTIST Shunichi Mizuno, the president of Cybot, Inc., is a modern-day automata creator in the European tradition— but in Japan. Mizuno makes what he calls "cybots," or "cybernetic robots," which are not for industry or research but for display. Appropriately, his background is in both electronics engineering and animated storefront displays. His goal is to create robots that, with emotional expressions, are as lifelike as possible.
"I want to see how close I can get to a human using cybernetics," he says. The ultimate expression of humanity, he believes, is eroticism, and eroticizing the machine therefore "will be essential for the coexistence of man and machine in the future." One of Mizuno's most famous robots is Marilyn Monroe, seated and playing a guitar. Ironically, Mizuno has often been frustrated in converting people to his viewpoint in Japan. Like roboticist Ichiro Kato, he believes that Japanese people favor the world of deformation and the softening of reality as seen in Japan's traditional theater and arts. As a result the Japanese public often find his dolls too realistic and unnerving.
Westerners and even the Taiwanese, says Mizuno, have been far more appreciative of what he is – trying to do.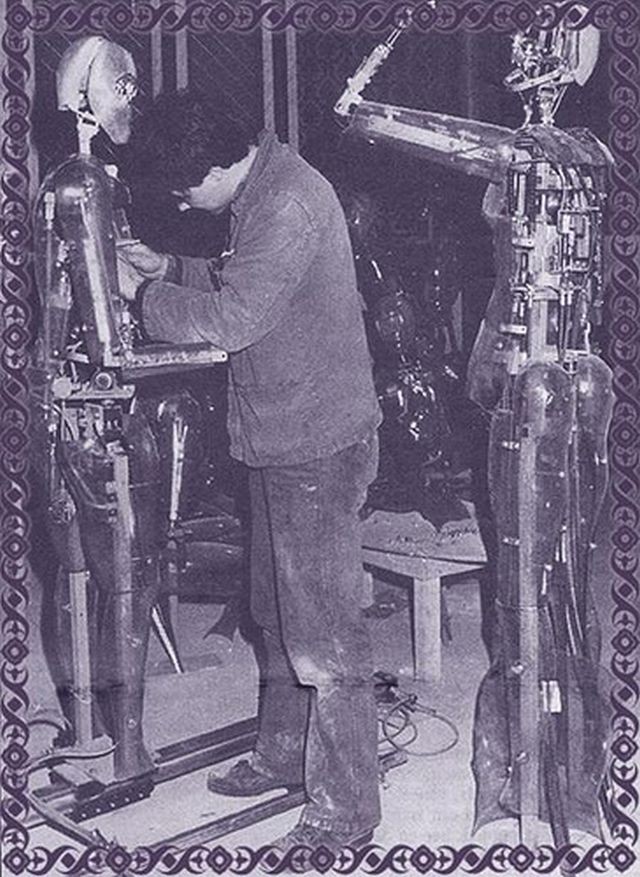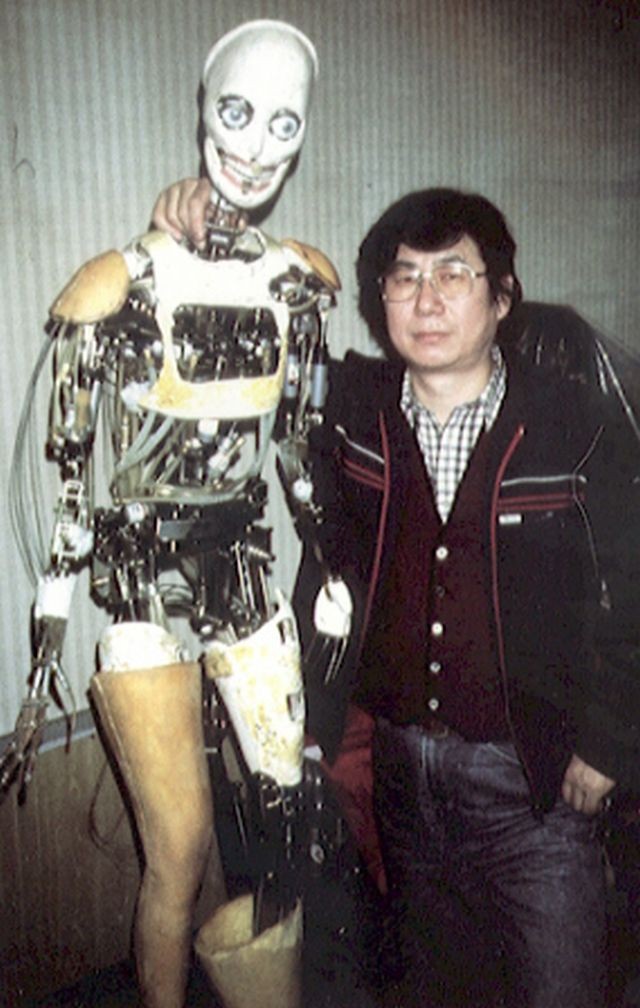 ---
Beyond the industrial robot
By TODD R. EASTHAM | April 5, 1983. Source: here.
TOKYO — Picture the perfect servant: a guardian and playmate for the children, companion to the elderly, skilled musician, mechanic, gardener, cook, as strong as an ox and gentle as a kitten.
Impossible? Not if the servant is an android, says electrical engineer Shunichi Mizuno.
An android is a computerized robot made to resemble and behave like a human being.
Mizuno, president of Cybot Co. Ltd. of Tokyo, thinks the first generation of androids could be on the market in about 30 years.
Mizuno, who describes himself as a 'technical display artist,' is working on a special aspect of android development. While others work on its brain and senses, he is busy perfecting its skin, its muscles and its bones.
His first success was a computerized Marilyn Monroe robot, created about 10 years ago. A second life-sized Marilyn constructed recently uses a microcomputer-controlled air compressor to regulate facial expressions.
'She' can mouth a song, shrug her shoulders, wink an eye and strum a guitar with a natural elegance that belies her mechanical heart.
Mizuno leases her out for about $10,000 a month for advertising and display. His small workshop-warehouse is home to another half dozen humanoid machines based on popular fiction or his own fantasy.
Already Japanese and American factories employ a wide range of industrial robots to perform heavy, dangerous or dirty tasks shunned by their workers. Japanese 'mechatronics' experts are busy designing more flexible and efficient robots for industry.
Japanese toy manufacturers have devised a new generation of computerized toys that speak and respond creatively to voice or sensory input to perform a growing array of complex functions.
Computer scientists in Japan and elsewhere are piecing together the means to simulate human intelligence and creativity in machines.
Japanese researchers from nine high technology firms are working under a government grant on the so-called 'Fifth Generation Computer Project.'
They hope to develop a superfast, superintelligent computer that might respond swiftly to spoken, written or visual input, exercise near-human judgment or suggest modifications to its own program if it seems unsuited to the task at hand.
Other researchers responding to the need for word processors to read the complex written characters of the Japanese language have developed computers capable of recognizing patterns, laying the groundwork for machines that can see and respond to their visual environment.
One soon-to-be unveiled creation will be able to speak. Based on a popular comic strip heroine, the new robot will have about 30 phrases in her repertoire and will be capable of responding to spoken input, Mizuno said.
'It took me over 20 years to reach this stage,' he said. 'I spent eight years developing the skin alone.'
'People must learn to co-exist with machines in the future,' he said. Development of androids is, for better or worse, inevitable, he believes. 'People must learn to use robots so robots cannot use people.'
Mizuno has joined with a group of scientists and engineers headed by Dr. Ichiro Kato of Waseda University to explore potential in the field.
---
See the complete list of early Mechanical Men and Robots here.
---
Tags: 1980, 1982, animatronics, Automaton, cybernetic robots, CYBOT, Humanoid Robot, Marilyn Monroe Robot, New Monroe, Robot, Shunichi Mizuno