1967 – Sim One – Denson & Abrahamson (American)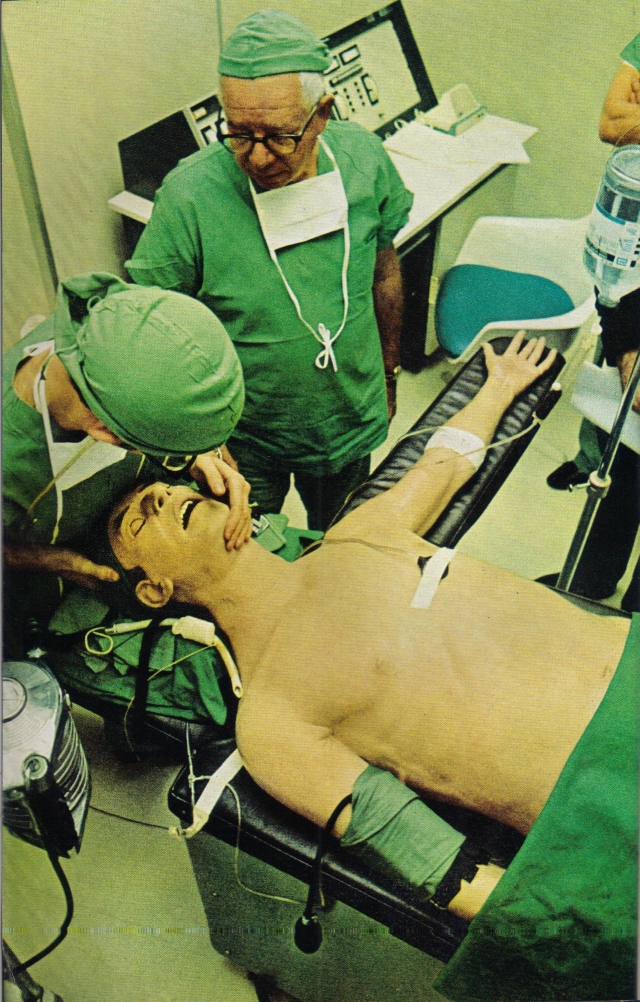 (Source: Nat Geo Nov 1970)
The patient that always comes back
Lifelike in its apparent distress, a plastic- skinned manikin known as Sim One —for simulated patient No. 1 — serves as a durable guinea pig for an anesthesia student and his instructor, right, at Aerojet-General Corporation's Electronics Division in Azusa, California. Driven by a computer, Sim reacts to their ministrations by sleeping, coughing, vomiting, changing his breathing rate, even temporarily dying. As the student tilts the head to insert a tube into the windpipe, the instructor stands near a console that permits him to vary Sim's reactions. From the monitoring of intensive-care patients to the sending out of hospital bills, computers have swiftly become medicine's newest partners.
(Sim One features in this clip from Future Shock. View the first 45 seconds only)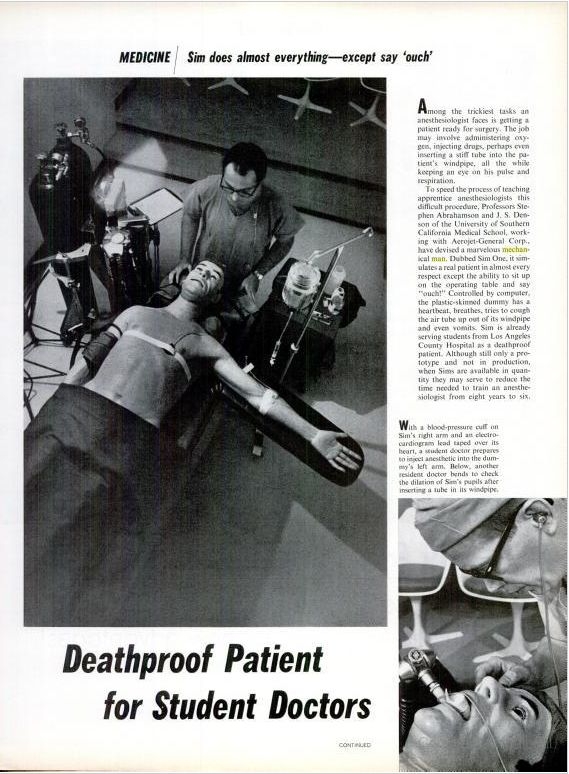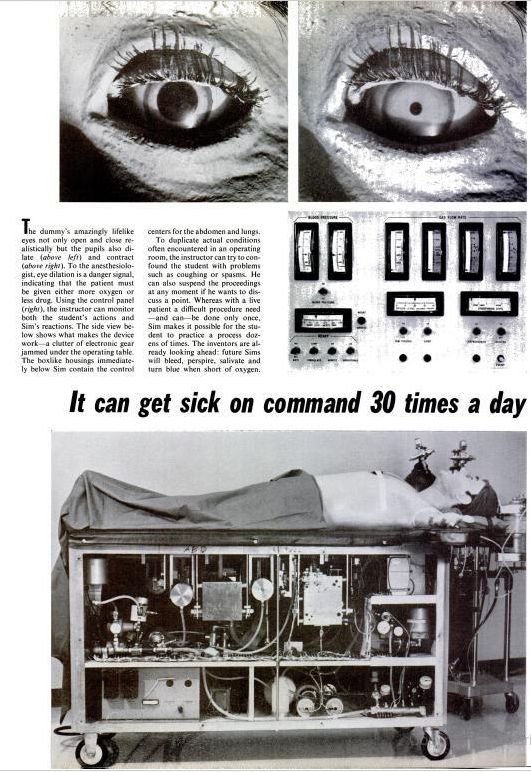 (Source: Life Magazine 8 December, 1967)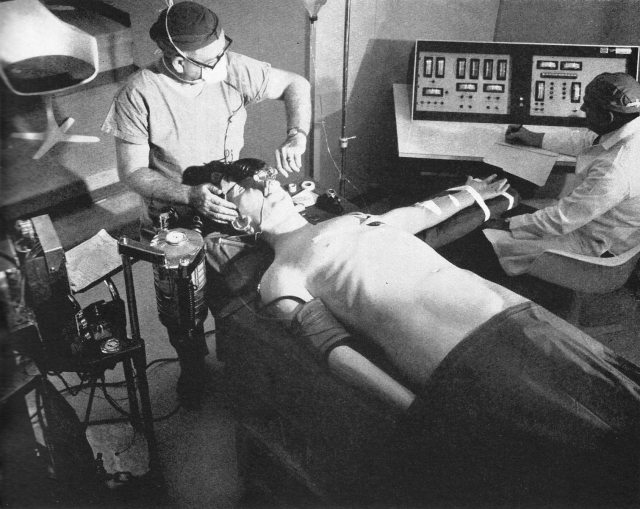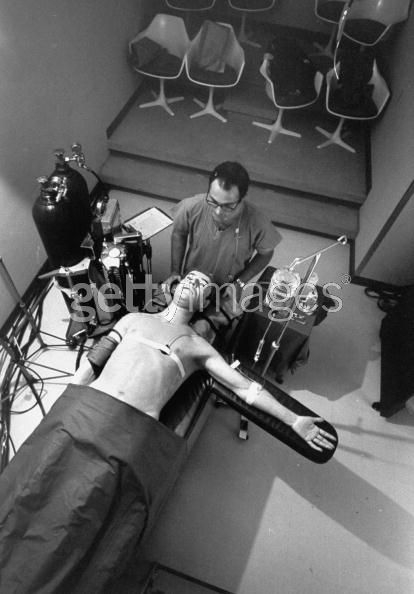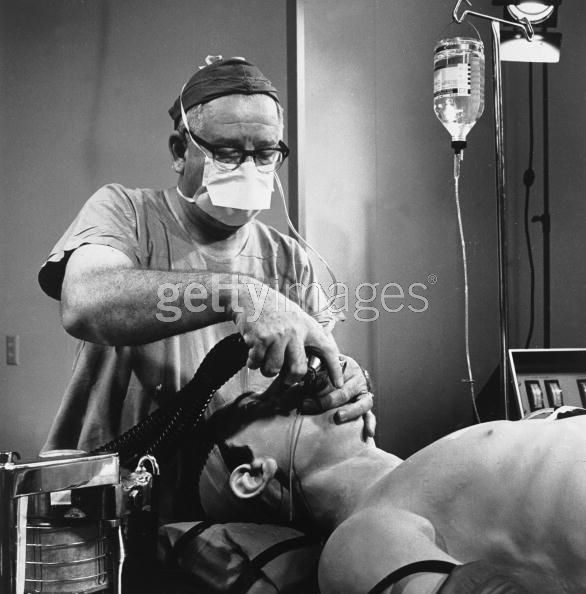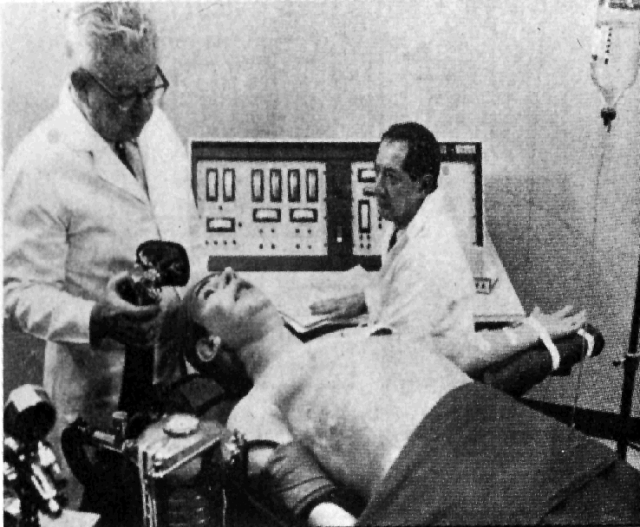 There are three general types of anesthesia simulators: realistic or hands-on simulators, screen-based simulators, and virtual reality simulators. In addition, part-task trainers are available for specific procedures, e.g., intravenous access, endotracheal intubation, CPR. The first realistic anesthesia simulator, Sim One, was produced in the late 1960's, based on work done by J.S. Denson and Stephen Abrahamson at the University of Southern California.
It was used mainly for the training of endotracheal intubation and the induction of anesthesia. The mannequin had outputs for peripheral pulses and heart sounds, but no outputs for electronic monitors. The system was clearly advanced for its time, but was eventually phased out.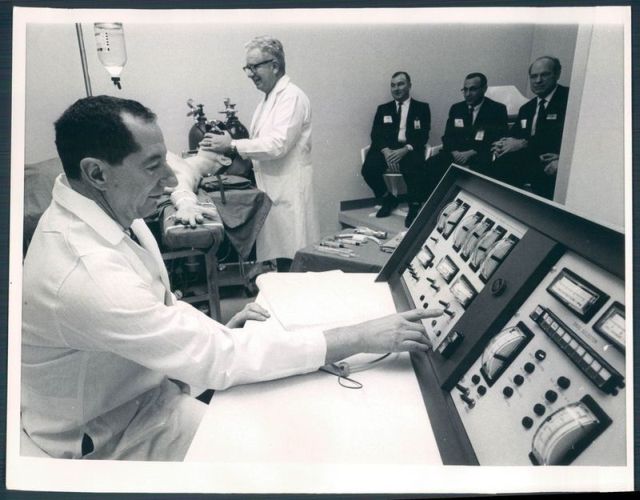 Denison is in the background holding Sim One.
---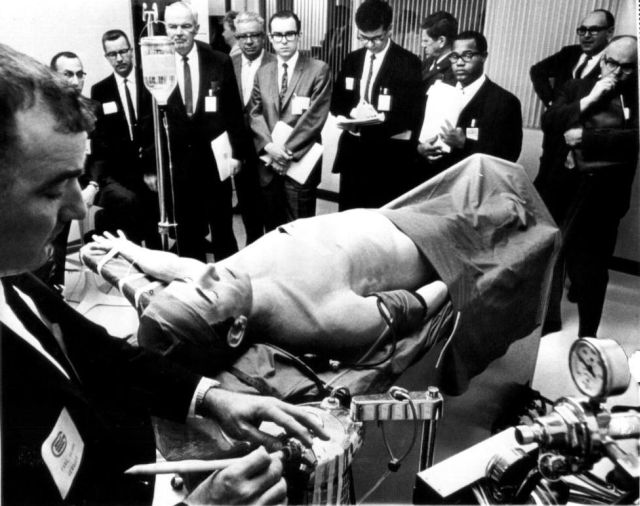 Press Release MAR 1 9 1967
TECHNICIAN, AT LEFT, DEMONSTRATED "SIM ONE"
The dummy was designed to aid training of medical students
It Breathes, Moves, Acts Much Like Us
By RALPH DIGHTON Associated Press
AZUSA, Calif., March 18.—The age of the android has dawned.
Androids are automatons fashioned in human form—long predicted in science fiction.
Man's progress toward duplicating himself took a spectacular step forward this week with a demonstration in an electronics laboratory of a lifelike, life-size dummy that breathes, has a heartbeat and pulse, blinks its eyes, opens
its jaws to disclose teeth, tongue and vocal cords, and even
responds to drugs the way a man would.
The 6-foot-2, 195-pound android was created in skin-colored, skin-textured plastic to speed up the teaching of anesthesiology and thus help relieve a shortage of physicians threatening to become critical as the population expands.
THE DUMMY HAS BEEN DUBBED "Sim One," meaning it is the first of a progressively complex series of simulators planned to train doctors and aides in health services ranging from first aid to fractures.
Sim One is instrumented only in head and chest, but one of its creators, Dr. Stephen Abrahamson of the University of Southern California School of Medicine, predicts a fully functional "whole unconscious form" in seven years.
"The future is unlimited," Dr. Abrahamson said at a news briefing at the Aerojet-General Corp. laboratory where Sim One was created. "The second generation of Sims will be able to bleed and sweat and will be shaped to simulate different ages of each sex. The third generation, which we hope to evolve within several years, will be even better than cadavers for training medical students."
Will they be able to walk and talk?
"They could—that would be a comparatively simple task," said Don Carter of Sierra Engineering Co., which made Sim One and also makes Sierra Sam and Sierra Sue, dummies used in automobile- and plane-crash research.
"But there is no requirement so far for an ambulatory patient. They have talked about asking us to build in a groan, and the second generation will shed tears and bleed at the mouth if the student is too rough.
"And we're not through with Sim One yet. He'll be able to frown and wrinkle his forehead to simulate patient discomfort."
ANOTHER OF SIM ONE'S creators, Dr. J. S. Denson of U. S. C., demonstrated the dummy's prime use—training anesthesiologists to slip a tube down the throat into the trachea or windpipe, without damaging delicate tissues. This procedure, he said, is used in 90 per cent of major surgery and usually takes three to four months to master.
"By constant practice with Sim One," he said, "a young resident could learn the procedure in one or two days."
The three-year project to build Sim One cost $272,130 under a grant from the United States Office of Education. The manikin accounted for S100,000 of this. The rest went into research to hook it up with a computer which calculates its responses to drugs injected and to mixed anesthetic gases forced into its plastic bronchial tubes.
Dr. Abrahamson said that eventually a package consisting of a manikin and a small computer could be produced for about $150,000, for use in hospitals and medical schools.
"With fully instrumented Sims," Dr. Denson said, "it should be possible to shorten the postgraduate training of a physician from eight years to six years. And they should enable others, trained on these manikins, to take over some of the purely mechanical procedures which now take up so much of a physician's time."
AS SIM ONE LAY breathing and fluttering muscles on an operating table in the computer center, the dull "boom-boom, boom-boom" of its heartbeat resounded over loud-speakers.
The beat changed as injected drugs lowered the android into unconsciousness prior to placing a tube down its throat.
Readings on dials showed it was ready for surgery. Then it was revived and its eyes — the pupils dilated by drugs —opened and blinked.
Sim One was back among the "living."
---
Publication number US3520071 A
Publication date Jul 14, 1970
Filing date Jan 29, 1968
Inventors Abrahamson Stephen, Clark Alfred P, Denson Judson S, Ronzoni Tullio, Taback Leonard
Original Assignee Aerojet General Co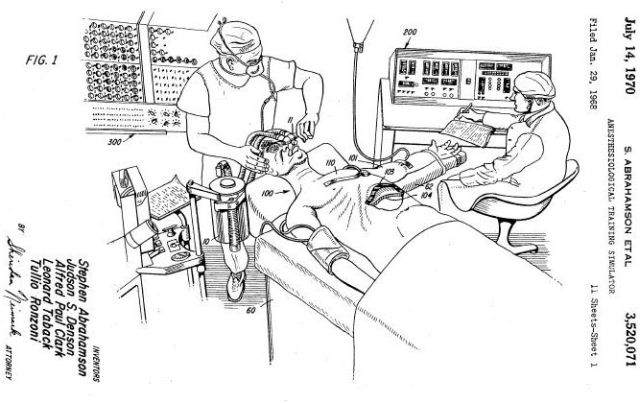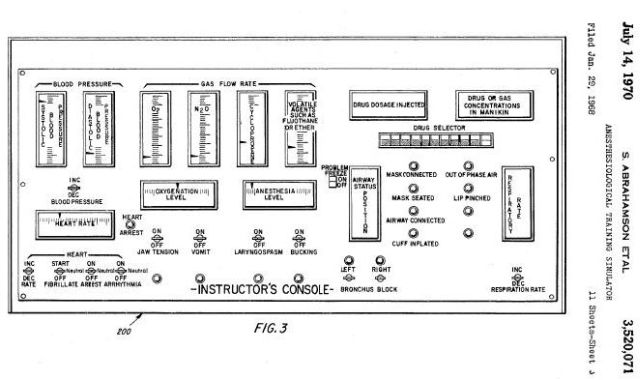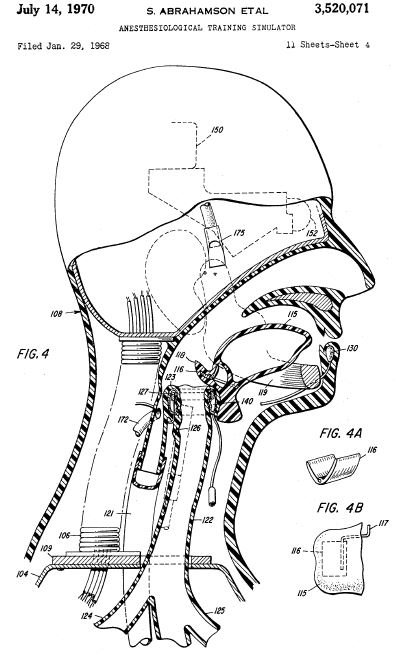 ---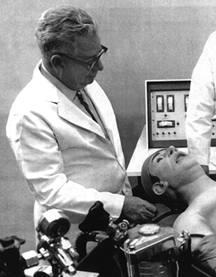 Judson Samuel Denson MD and Sim-One
In the late 1960s, Stephen Abrahamson, emeritus professor of medical education, who also founded USC's Department of Medical Education in 1963, led the team that invented Sim-One, the world's first computer-controlled, interactive simulated patient. Used to train anesthesiologists and other healthcare professionals, Sim-One had a heartbeat and pulse as well as lifelike skin and teeth. Although the medical community's initial response to Sim-One was somewhat cautious, Abrahamson had confidence in his creation—and today teaching hospitals around the world use computerized human patient simulators to train medical personnel.
---
Tags: 1967, American, Android, Humanoid, Judson Samuel Denson, Medical Robot, Robot, Sim One, Stephen Abrahamson