1967 – RIVET (Remote Inspection VEhicle Telechiric) – Hugh A. Ballinger (British)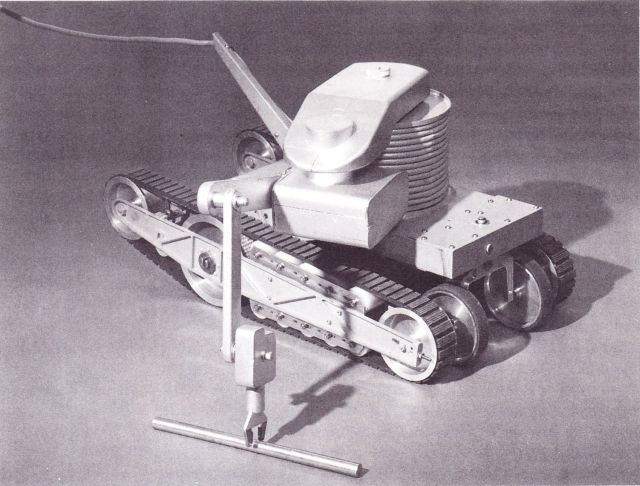 Text: Science Journal, October 1968 Special Issue: Machines Like Men
Machines with arms p59
H. A. Ballinger

Representing a further class of machines for the radioactive environment is the result of my [Ballinger] own work at Harwell. Some four years ago a study of reports on' criticality' incidents in the United States highlighted the advantages of a machine with arms for reactor damage control duties. A survey of existing designs showed, however, that none had the obstacle surmounting ability needed to reach an accident point within a building. A vehicle study was therefore made which resulted in the design of the RIVET (Remote Inspection Vehicle, 'Telechiric'). The dimensions of this device are such that it has, when in transit, the profile of a crawling man — yet at the scene of an accident it can erect its TV eyes and operating arm to the height of a standing man. In this position it can outreach a human by manipulating loads of up to 35kg at a 1.4 m radius. A novel track design enables it to surmount those obstacles where any single step is as high as 50 per cent of its track length—the limit of a modern tank is 12.5 per cent. It can mount stairs of 45o angle, turn in a 1.2 m corridor, or enter an office, pass through the knee hole of a desk and then climb onto the desk top.
Hugh A. Ballinger is an assistant chief engineer at the Harwell Atomic Energy Research Establishment. His department develops the technology of remote and active handling for the Authority. It also provides the general scientific equipment and services for research into materials science. Previously has led groups developing nuclear fusion and fission plant; he helped to build and operate the first experimental reactor at Harwell.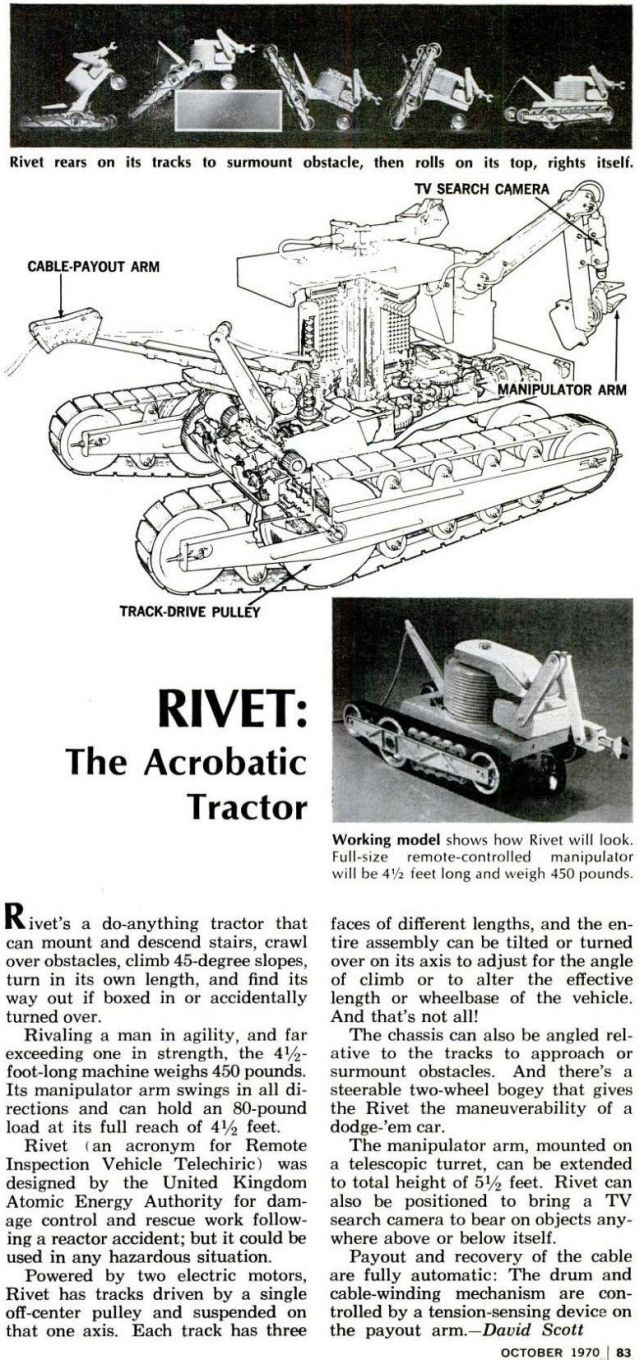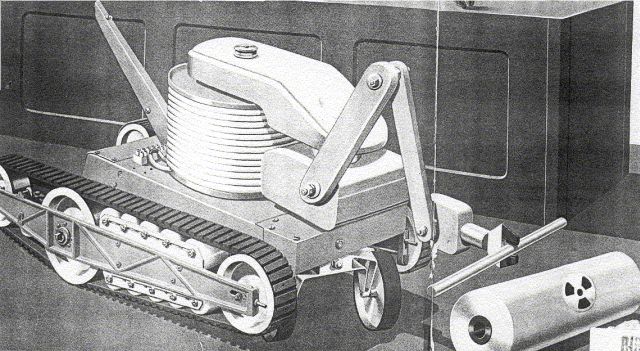 ---
I was recently researching the robots used in the 1979 movie "Saturn 3". One of the minor robots is referred to and is said to be a RIVET made by Harwell Laboratories (UK Atomic Energy Authority).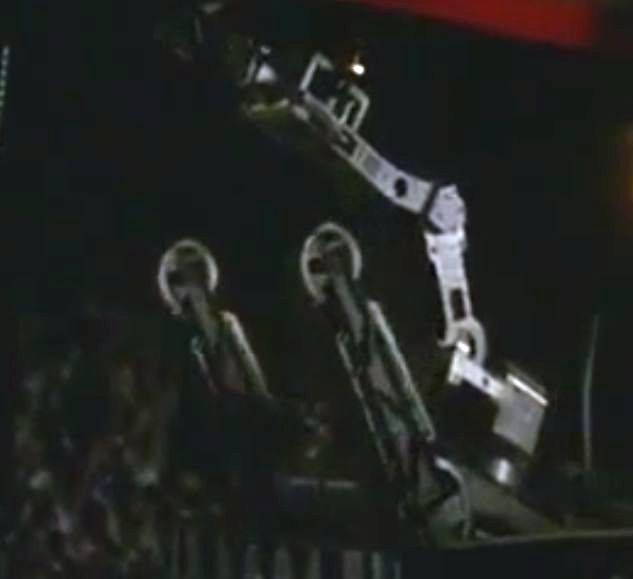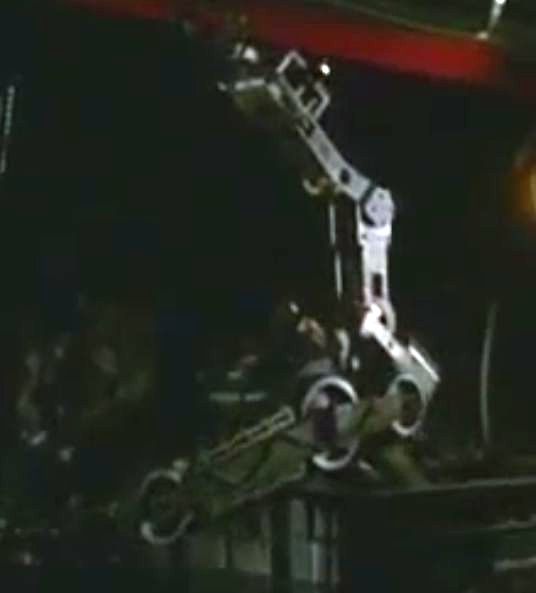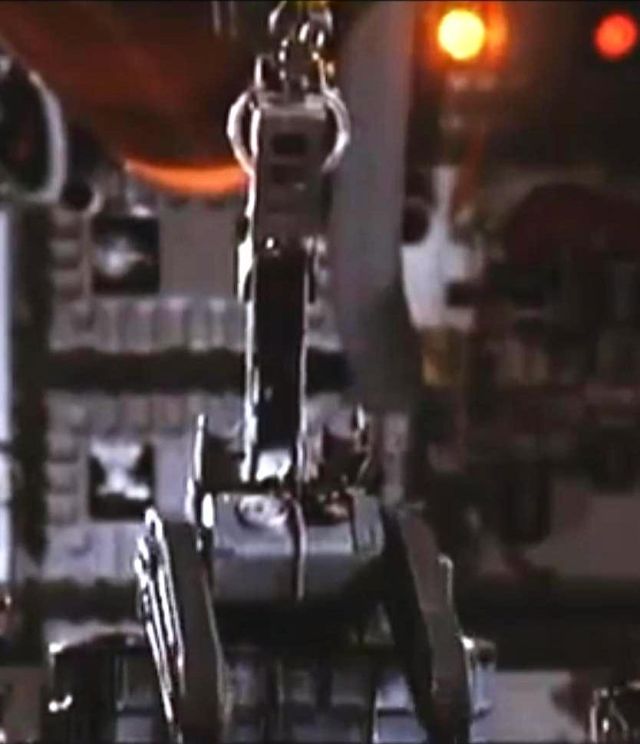 ---
The original patent was filed in Great Britain in 1967.
Here are the details on the US patent of RIVET. See here.
Patent number: 3533483
Filing date: Feb 8, 1968
Issue date: Oct 13, 1970
---
A later version [but pre-1986] from UK Atomic Energy Authority (UKAEA) called "Spider".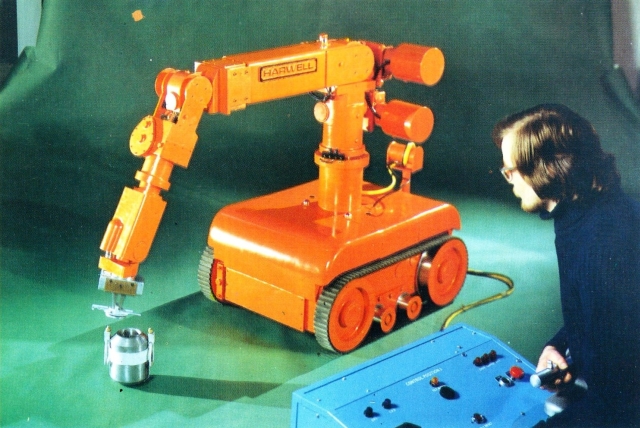 Another later version called ROMAN.
---
Origins of Articulated Track
The track design, particularly that of the later model "Spider" above, is very similar to that of iRobot's Packbot. It's interesting to note that the original track patent for Packbot does not reference the "Spider" vehicle in its prior art. Possibly the "Spider" design is not patented or only patented in the UK. Other than similar approaches used for wheelchair climbing, the RIVET/SPIDER design is the first I've come across like this.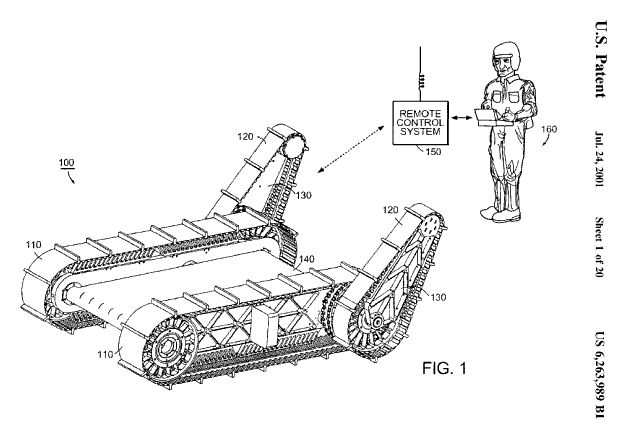 See full iRobot patent here.
Patent number: 6263989
Filing date: Jan 26, 1999
Issue date: Jul 24, 2001
See also later revised patent of same here which does cite Ballinger's RIVET, unlike the earlier patent.
Patent number: 8113304
Filing date: Jun 13, 2008
Issue date: Feb 14, 2012
Application number: 12/138,737
---
Challenge: If anyone comes across an earlier implementation of this design, or more information on the UKAEA "Spider" vehicle, let me know.
It's interesting to note that an ex-employee of iRobot built and sold his own version of Packbot, called Robot FX "Negotiator". This resulted in a controversy over patent-infringements in 2010.
---
Tags: 1967, British, Harwell Laboratory, Hugh A. Ballinger, RIVET (Remote Inspection VEhicle Telechiric), Robot, Telechiric, UK Atomic Energy Authority