1966 – Bip-Bipom John (Бип-Бипом джон) – Nicholas Fedichkin (Russian)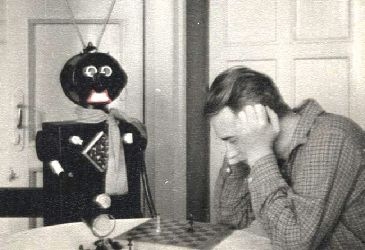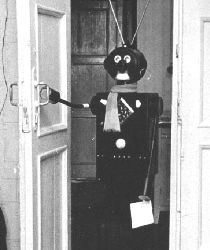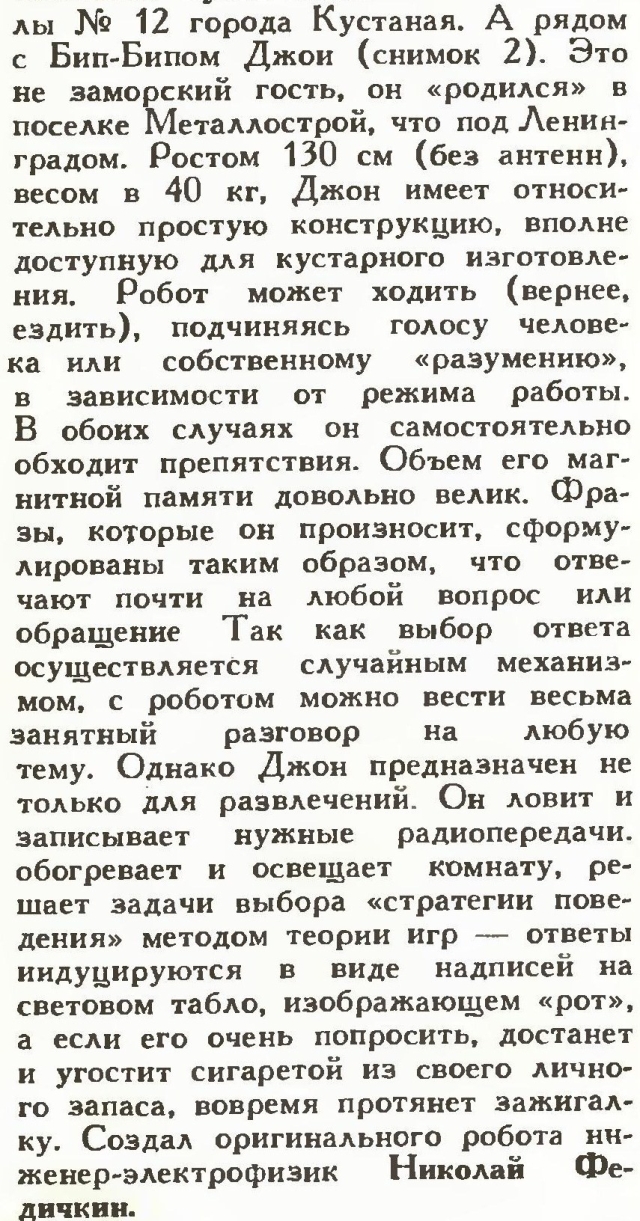 A non-perfect OCR with a non-perfect English translation
No. 12 города Кустаная. А рядом с Бип-Бипом джон (снимок 2). это не заморский гость, он « роднлся » в поселке Металлострой, что под Ленинградом. Ростом 130 см (без антенн), весом в 40 кг, джон имеет относительно простую конструкцию, вполне доступную для кустарного изготовления. Робот может ходить (вернее, ездить), подчиняясь голосу человека или собственному «разумению», в зависимости от режима работы. в обоих случаях он самостоятельно обходит препятствия. Объем его магНИТНой памяти довольно велик. Фразы , которые он произносит, сФормулнрованы таким образом, что oтвечают почти на любой вопрос или обращение Так как выбор ответа осуществляется случайным механизмом, с роботам можно вести весьма занятный разговор на любую тему. однако Джон предназначен не только для развлечений. Он ловит записывает нужные радиопередач обогревает и освещает комнату, рещает задаЧи выбора « стратегии поведения» методом теории игр – ответы индуцируются в виде надписей на световом табло, изображающем « рот », а если его очень попросить, достанети угостит сигаретой из своего личного запаса, вовремя протянет зажигалку. создана оригинального робота инженер-электрфизнк николай ФедИчкИН.
No. 12 of the city Kustanai. Beside with Bip-Bipom John (picture 2). it no overseas guests, he was "born" in village Metallostroy that at Leningrad. He is 130 cm tall (without antennas) weighing 40 kg, Jon has a relatively simple design, it is accessible to artisanal production. Robot can walk (or rather, ride), obeying the voice of the person or his own "intelligence", depending on the mode of operation. in both cases it yourself avoids obstacles. The volume of its magnetic memory quite large. Phrases he says, are formulated in such way that he answers almost any question or Since the choice of treatment response carried random mechanism, with bots can lead a very amusing conversation on any theme. but John is not just for fun. He catches writes the desired radio warms and illuminates the room, solves choice problem "Behavior strategies" by game theory – the answers induced in the form of inscriptions on light boards depicting a "mouth", and if it is asked, would get and treat a cigarette from his private reserve time stretches out a lighter. created original robot engineer-electrophysicist Nicholas Fedichkin.
Thanks to Leonid who provided me with some corrections and translation improvements.
Tags: 1966, Bip-Bipom John Бип-Бипом джон, николай ФедИчкИН, Humanoid, Nicholas Fedichkin, Robot, Russian