1965 – ROSA BOSOM – Bruce Lacey (British)
Radio Operated Simulated Actress – Battery Or Standby Operated Mains
(sometimes seen written as ROSA. BOSOM, or Rosa Bosom, or Rosabosom.)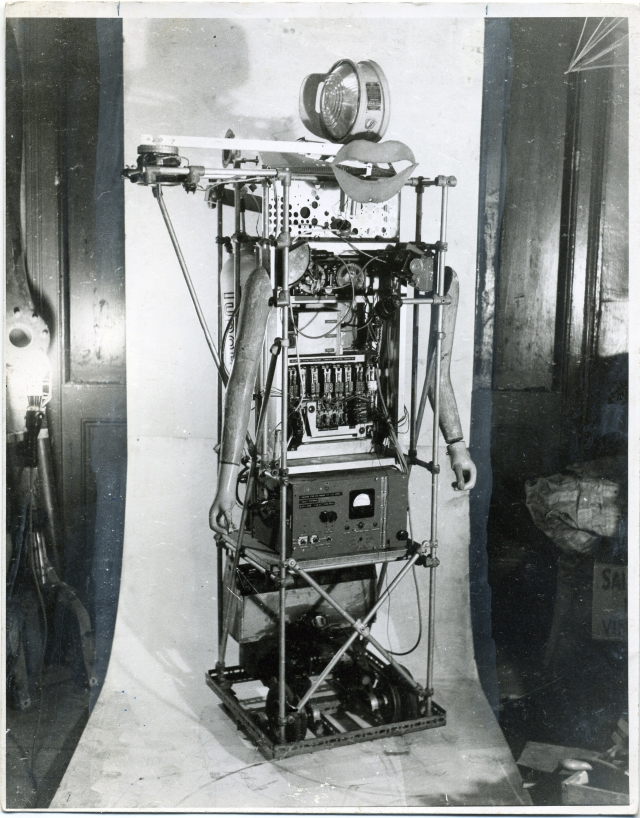 Image courtesy Bruce Lacey.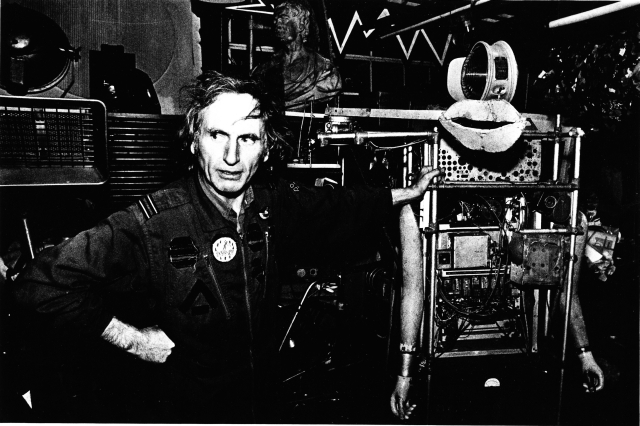 Image courtesy Bruce Lacey.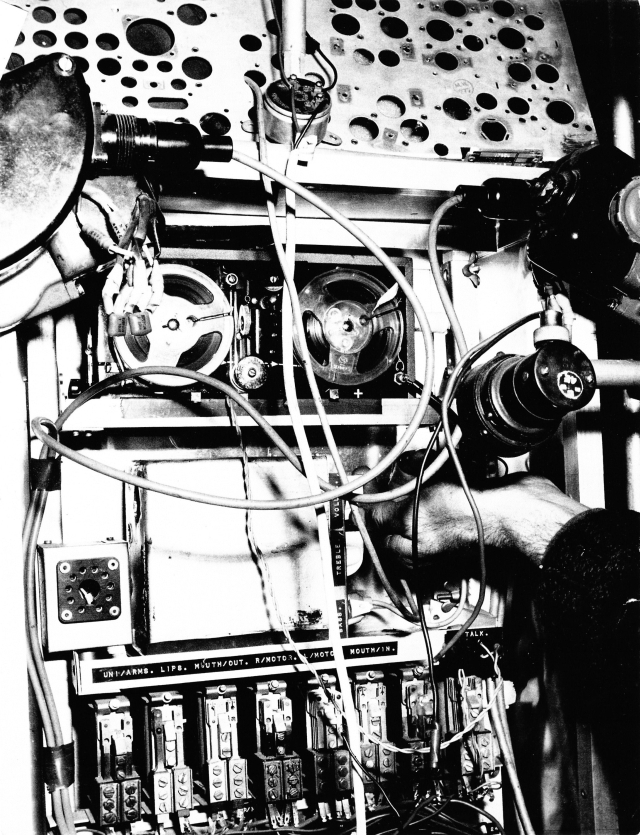 Image courtesy Bruce Lacey.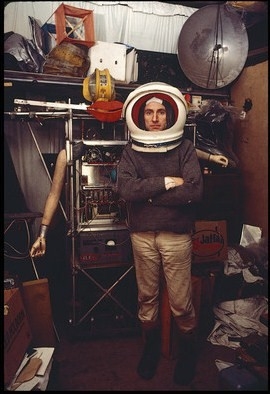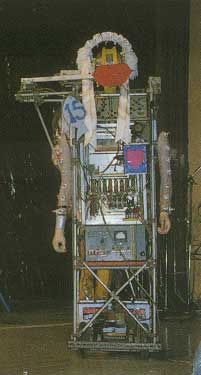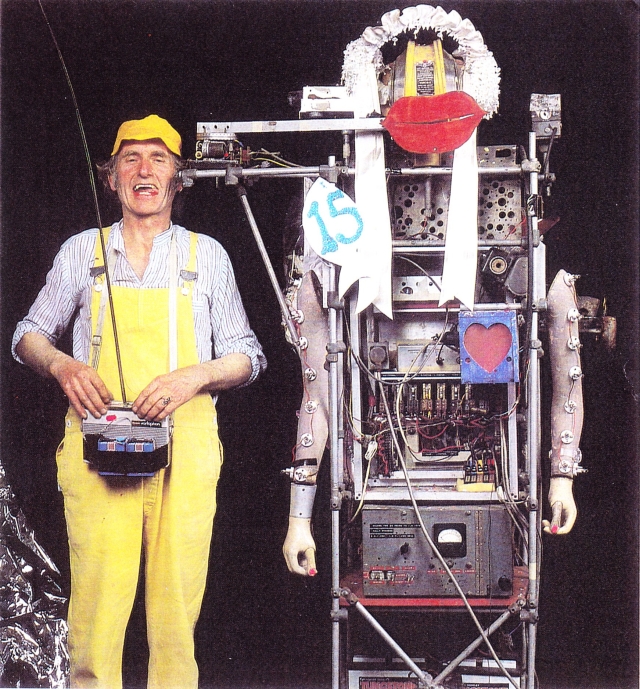 Her finest moment was to win The Andrew Logan's Alternative Miss World competition in 1985.
When I first met Bruce in 2009 and saw Rosa, she was wearing a box with a heart shape on it (see photo below). This is a remnant from when Rosa won the 1985 Alternative Miss World. This event was run by Andrew Logan. There are three costume changes with an overall water theme. So there is day-wear, beach-wear and evening-wear. Although Bruce's second wife was a contender in previous years competition, he himself was invited this year. Not wanting to be in drag, he then thought of entering Rosa. For day-wear Rosa was a bride, for beach-wear she wore a deep-sea divers helmet, and for evening-wear she was lit up, including a lamp in her 'heart', little lamps along her arms (see pic below). To Bruce's surprise, Rosa won the competition that year.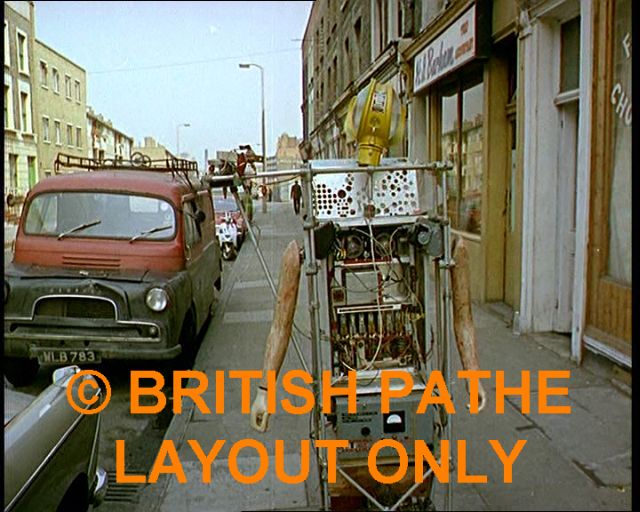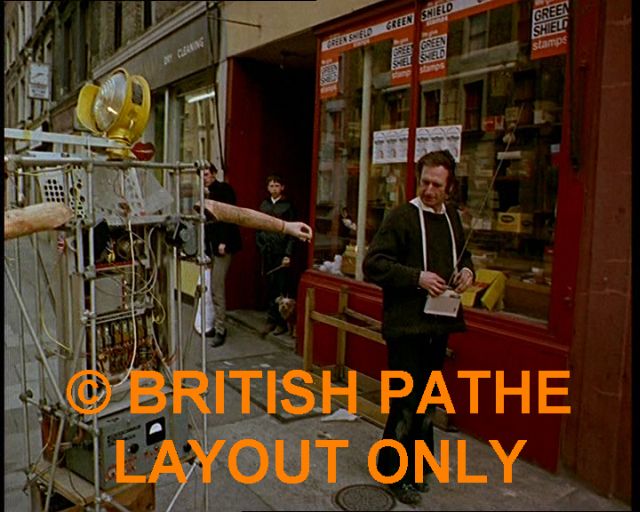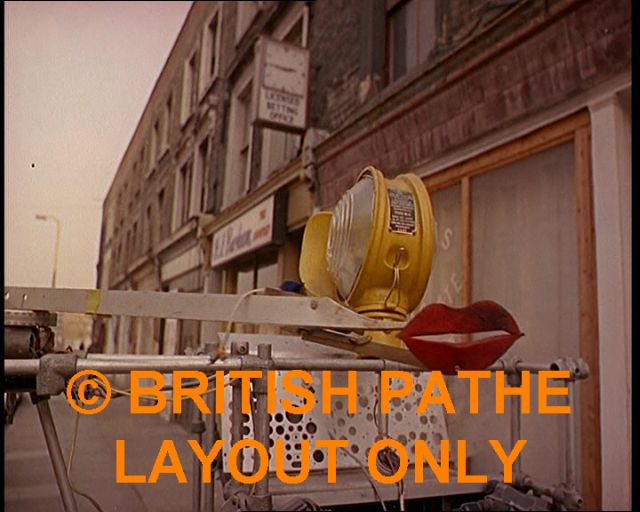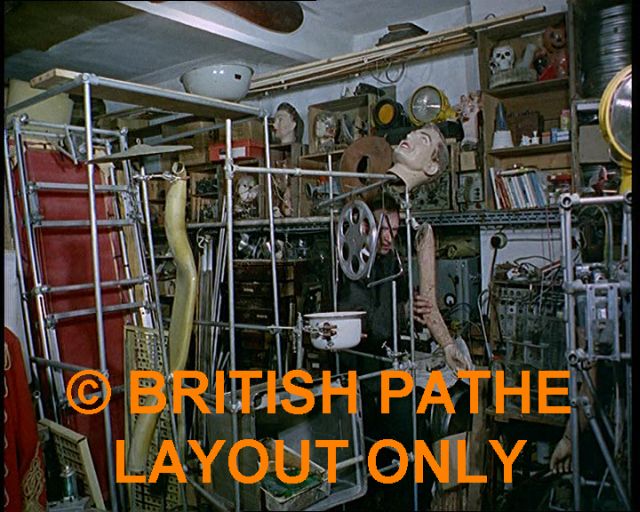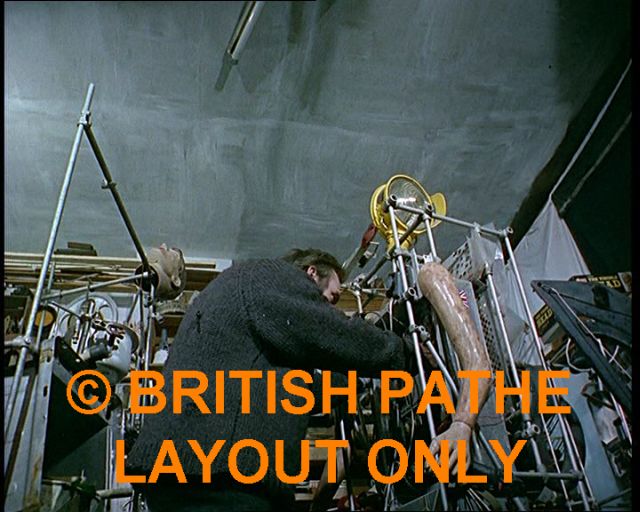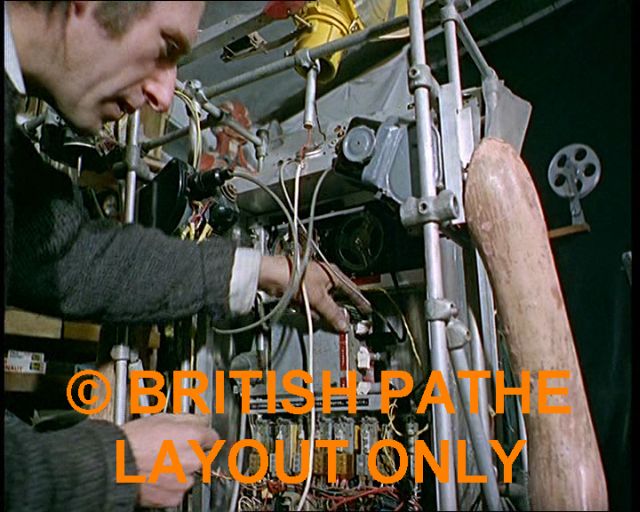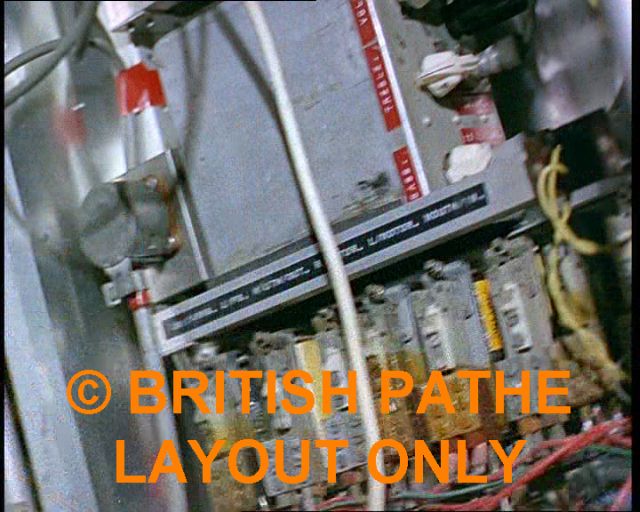 The above still are from the British Pathe video clip seen here .
---
Jasia Reichardt invited Bruce to exhibit at Cybernetic Serendipity – 1968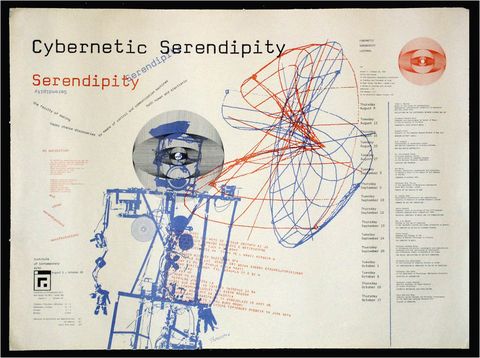 The image below shows ROSA BOSOM with MATE at the 1968 Cybernetic Serendipity exhibition of 1968.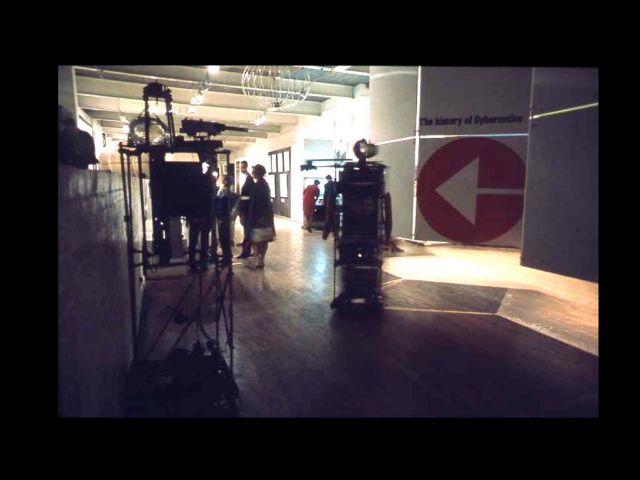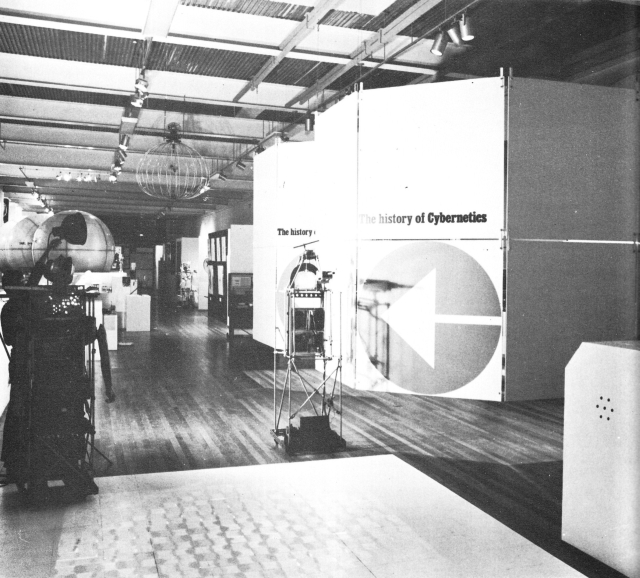 Rosa appearing on "Blue Peter" in 1967.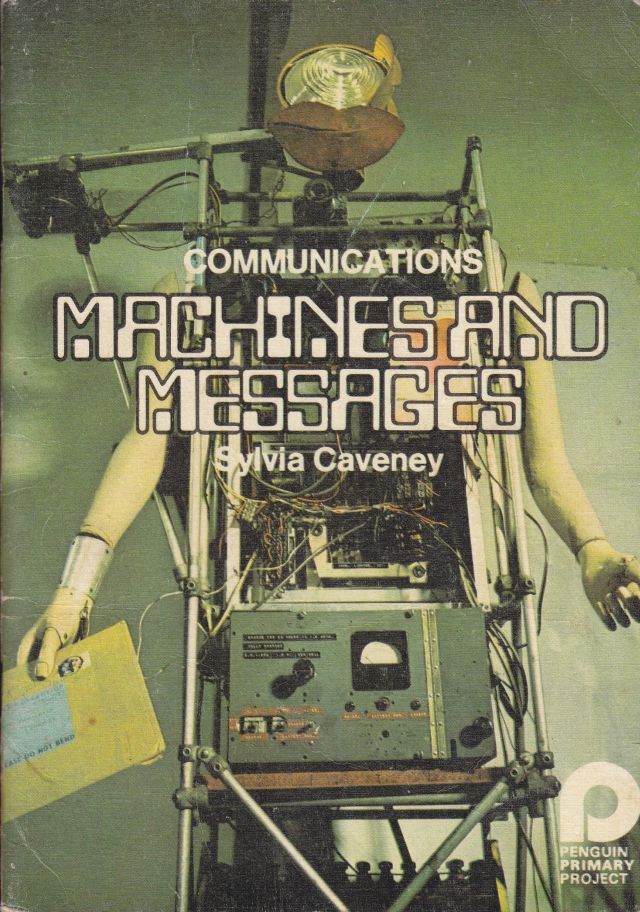 ROSA featuring on a book cover.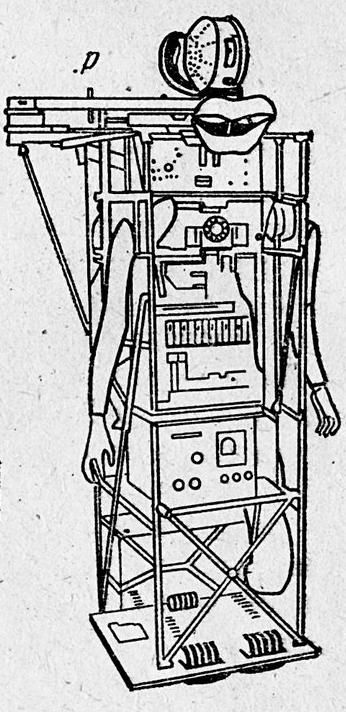 Even the Russians new about ROSA !
see some wonderful and rare images of Bruce and ROSA
http://dlpl.org/art_and_antiques?album=2&gallery=27
David Lewis-Hodgson Photography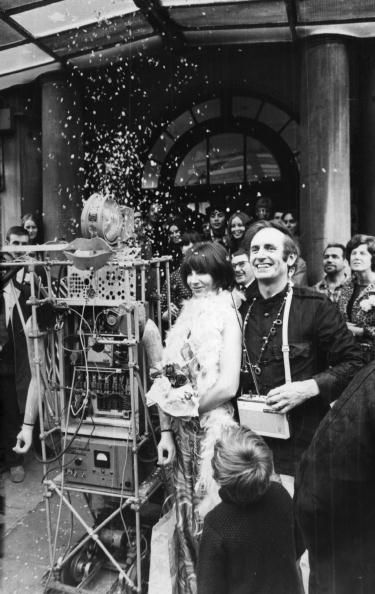 Bruce goes on to tell me about his wedding to Jill in 1967. I mention to Bruce that this Wedding photo showing Rosa Bosom as the "best man" went around the world, and I still have the newspaper cutout in my childhood scrapbook.
Although Bruce had already teed-up John Sewell as his best man, he asked him to step-aside and let Rosa perform the duties. With Bruce at the radio-controls, he commands Rosa to give him the wedding ring, then, via a tape-recorder attached within the robot, the bridal march gets played. Rosa then kisses the bride, and blows confetti everywhere.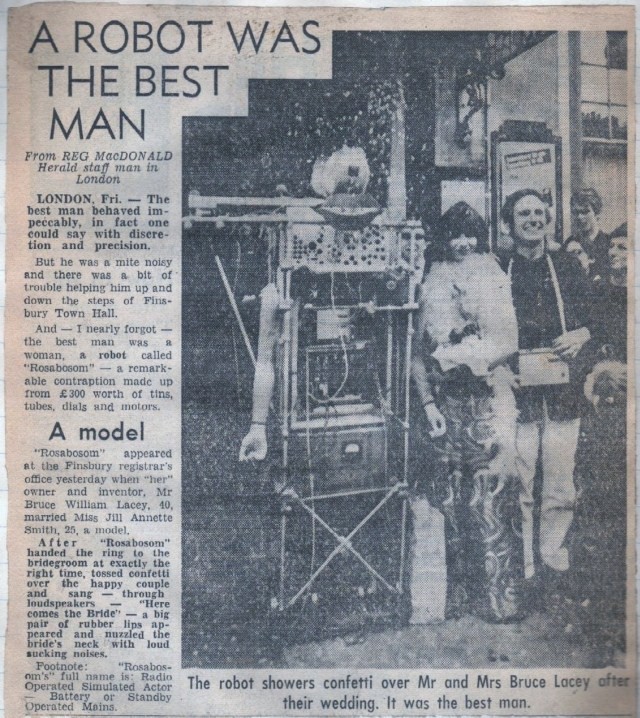 I have had the above image of Bruce Lacey with ROSA as his best "man" ever since it was published in 1967. It was one of my inspirations when I decided to travel from Australia to Britain and Europe on my robot pilgrimage in mid 2009.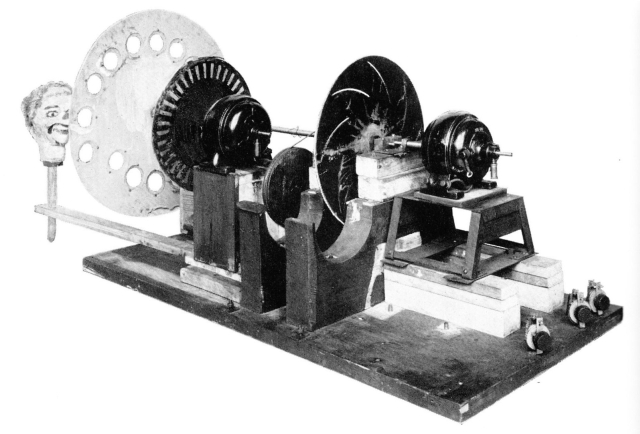 Inside of Bruce's farm house there is a large photograph on the wall showing Logie Baird's experimental television set-up. Bruce tells me that he was inspired by this photograph, showing the utilisation of a ventriliquist's dummy's head [called "Stookey Bill"] as a replacement of a real person's head. He thought of this when he started to build the first of his many "robot actors", as he refers to them as.
---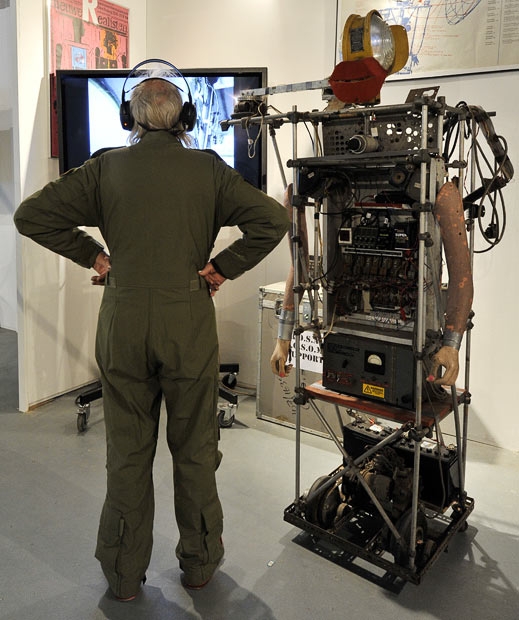 (Image from The Telegraph showing Bruce and Rosa at the Kinetica Art Fair, Feb 2010)
Bruce Lacey
(b. London, 1927)
Hornsey School of Art, 1949–1951; Royal College of Art, 1951–1954
At the Royal College of Art, I performed at student shows sawing women in half, dancing with a dummy woman that disintegrated. The staff called this "silly bugger activity". I left with a first class degree and a silver medal. I didn't know whether to carry on as a painter, or to be a performer, as I had been since childhood. In West End nightclubs, I played tunes on the spokes of a penny farthing bicycle and exploding pianos.
My lodger, who was working in television, asked if I would make special trick props for Spike Milligan in a series called The Idiot Weekly, Price 2d. I appeared in and also supplied sets, costumes, props and special effects for The Running, Jumping and Standing Still Film, with Spike and Peter Sellers. After not receiving any credit or payment for this work, I began hating the whole of professional show business. To express this hatred, in 1961 I built two robot electric actors and performed with them at the Establishment nightclub, run by Peter Cook, showing their superiority over live actors.
I performed with the Alberts and Ivor Cutler in An Evening of British Rubbish (which I saw as a satire of show business) at the Comedy Theatre. At this time I was also creating automata and assemblages expressing other hates, fears, loves, wishes and dreams.
I could see a relationship between unrelated objects, as if they were meant to be together to express something afresh. I saw my machines as props, and was most surprised when a friend sent me off to Gallery One, run by Victor Musgrove, who gave me an exhibition in 1963. I had my second show at the Marlborough Gallery in 1965. The critics called it neo-Dada. I didn't even know what Dada was, let alone whether it was art. I hated Pop Art as it was the very opposite of what I was concerned with – the state of the world around me: war, famine, spare-part surgery.
I built The Womaniser from objects I had around me. It was a fantasy wish to be an hermaphrodite with sex on the brain. It was satisfying to make these things using consumer objects and technology – to criticise the very society that had made them. It was my psychotherapy; why I had started art in the first place, suffering from TB in 1946, and how I've carried on since.
---
From Bruce Lacey – 40 years of Assemblages Enviroments & Robots. 1975
My life has been spent, so far, making and doing things for no other reason than that they were the instinctive thing for me to do at the time. To my friends and various tutors, these things sometimes appeared to be madness, eccentricity, self-indulgence or just playing silly-buggers.
In retrospect, I can see that all these activities were fulfilling very strong psychological needs at the time and that seemingly unrelated activities can eventually be seen to be in fact related. I have followed many completely separate threads of interests and activities right through my life and it is only now that all these threads have fused together in a way it would have been impossible to foresee.
This exhibition is an attempt to show how the things I am doing now in my work with Jill, had their origins in my early childhood, and to chronicle and document their development throughout my life, and also to show how, at various critical points in my life, when my life was going along in a certain direction, I stopped completely, re-assessed myself and carried on as though re-born.
Finally, many people, who only know me in one of my activities, think there are several different people called Bruce Lacey This exhibition is also an attempt to show that they are in fact all one and the same person.
November 1974.
1927 Born Catford, London
1942-3 Worked in explosives factory
1943-5 Worked as bank clerk. Began doing events. Built aeroplane simulator in bedroom.
1945-7 Electrical mechanic in Navy.
1947-8 In hospital with TB. Began painting as occupational therapy.
1948-51 Studied painting at Hornsey College of Art.
1949 Got married.
1951 Won Knapping Prize.
1951-4 Studied painting at Royal College of Art. During this time he devised and appeared in many revues and circus shows (doing knife-throwing, tightrope walking, trapeze, magical illusions, etc). Developed cabaret acts using mechanical devices and doing magic lantern acts. With others, made and performed in films which won prizes in festivals. Did one-man events. With others developed light-sound workshop, Mobilux, doing many performances and TV programmes. Created many environments. Became President of the Dodo Society.
1954 Won Silver Medal from the RCA and Abbey Minor travelling scholarship. Visited Middle East, Italy and Greece.
1956-60 Gave up painting. Made trick props and special effects for television, for Spike Milligan (such as Footo, the Wonder Boot Exploder), Michael Bentine (invisible fleas), Peter Sellers, The Army Game, etc. With Bob Godfrey and Joe McGrath, formed the Gnits and made many short comedy films which were shown on Cool for Cats – an early pop programme. Became a comic cabaret performer and appeared in nightclubs on his own and with comic jazz musicians, The Alberts. Appeared in such places as the Blue Angel, The Gargoyle, The Satire Club, The Savoy, Ronnie Scott's club, 100 club, and Albert Hall. Was to be seen in series of posters designed by John Sewell for City Books and Better Books on the underground.
1960 Met Jill Bruce. Appeared in Don't
Shoot, We're English, on tour and at the Cambridge Theatre, with Michael Bentine. Appeared in series of joke commercials for Frothingslosh – Foam on the Bottom Beer, for American TV. Did first performance work with Jill Bruce.
1962 Cabaret with The Alberts at the Establishment Club in London. They were seen by Lenny Bruce who became their American manager and presented them at the Blue Angel Club in New York. Made first assemblage sculpture for window of Portal Gallery.
1963 Starred with The Alberts, Ivor Cutler and Joyce Grant in An Evening of British Rubbish at the Comedy Theatre, which included an act with two electric actors. Made record Sleepy Valley for EMI, with The Alberts. Having been making assemblage sculptures, had one-man exhibition of them at Gallery One. Took An Evening of British Rubbish to the Little Fox Theatre in San Francisco.
During the following few years did British Rubbish (now including Jill Bruce) at the Theatre 140, Brussels; The Poor Millionaire, Winter Gardens, Bournemouth; St Pancras Town Hall; Civic Theatre, Darlington; Ashcroft Theatre, Croydon; Civic Hall, Barnsley; New Victoria Theatre, Halifax.
1964 Group environment Stigma at Better Books, London, organised by Jeff Nuttall. Appeared in the opening programme of BBC-2 with The Alberts. Made first version of his robot for international poets convention at the Albert Hall.
1965 Made environment Osmosis with
students at Leeds College of Art. With The Alberts and Jill Bruce wrote own version of The Three Musketeers and performed it in Brussels.
1966 With The Alberts and Jill Bruce developed The Three Musketeers and presented it at the Arts Theatre Club, London. His Robot, ROSA BOSOM played the part of the Queen of France. Made Vietnam environment for Angry Arts Week at the Roundhouse.
1967 Continued to perform British Rubbish.
Got divorced. Married Jill Bruce and had Robot as best man.
1968 With an Arts Council grant made an environment Journey through the organs of the human body, with Gill Southgate and Tony Bindloss, for the City of London Festival, and later took it to Woburn Abbey. Did events at Middle Earth. Began making films with Jill Bruce.
1969 Continued making assemblages.
Devised British Landing on the Moon with Mike Reynolds and Jill Bruce and first performed it at Transport Museum. Has since continued to perform it with Jill Bruce.
Performed The Three Musketeers Ride Again at the Royal Court Theatre, London, with The Alberts, Jill Bruce, Rachel Roberts and Valentine Dyall. Once again his Robot appeared as the Queen of France. He made all the sets and props, including a robot cuckoo clock.
1970 Demonstrated robots at the International Broadcasting Convention in London with Jill Bruce on radio 'mike as the voice of the robot, Come Together festival at the Royal Court Theatre. An evening of his films at the ICA.
1971 Became caretaker of one of SPACE studios. Joined end of Arts Council Blow Up tour with Jill Bruce and robots, appearing at the DLI Museum and Arts Centre, Durham; Serpentine Gallery and Art Spectrum at Alexandra Palace. Gave John Player lecture at the National Film Theatre. Commissioned by Habitat to construct a work Universal Integrator for the British Steel Corporation stand at the Ideal Home exhibition.
1972 Began working as a group 'The Laceys' with Jill, eldest son John and youngest children Kevin, Tiffany and Saffron, in the community arts field. With a London Borough of Camden grant made the Incredible Whatsit Machine, which they presented at the Camden Festival and Crystal Palace Children's Day, and since have taken it to numerous sites all over London – to parks, playgrounds, blocks of flats, etc. With 'The Laceys', devised, constructed and presented Journey Through a Black Hole to a Coloured Planet, a multi-media experience, sponsored by the Arts Council as
part of their Outside In tour of Northern England, and has presented it at several art centres since.
1973 Made The Lacey Rituals film with the family. Continued work as 'The Laceys' in the community arts field and developed The Magic Fun Factory. With Jill Bruce and The Alberts, wrote and starred in The Electric Element at the Theatre Royal, Stratford East. A multi-media,
comedy, musical, science fantasy, helped by an Arts Council grant. He designed and made all the sets, and the live action films, with Jill making the costumes, painting the sets and making the animated sequences.
1974 Continued to work with family in community arts. Began to realise life-long ambition to write songs and create music. With Jill Bruce formed Galactic Theatre and created their first production of Stella Superstar and Her Amazing Galactic Adventures, an environmental, multimedia science fantasy, for which he has created all the electronic sound and written one song, constructed the sets, and made many electronic devices……
---
from Cybernetic Serendipity catalogue
On the human predicament
Bruce Lacey
Given a brain, man has the possiuility of developing into a sublime, happy, creative, and unique creature, but he is prevented from realizing this potential by the severe limitations imposed on him by the environment he has created for himself in order to survive physically. Having to adapt psychologically to his environment, and if the environment has been too hostile, religions have stepped in to offer a pleasanter one after death. If man has resisted external pressures, he has either been put to death, put into prison, or put into a mental home. To survive in the future, he must rebuild his cities, rewrite his laws, and re-educate himself and his 38 children. He must do all these things to suit his emotional, sexual and psychological needs. In other words, he must change his environment and his society to suit himself and not change himself to suit his environment or society.
In my robots and humanoids I attempt to present this predicament, In my events I attempt to ask questions, And in my simulations and environments I attempt to point direction towards the answer.
In attempting to solve these problems I use all advances in technology, electronics, psychology, market research, medicine and mathematics at my disposal. Using, in fact, the very hardware that has brought about these problems in the first place.
Right, Rosa Bosom (R.O.S.A.—Radio Operated Simulated Actress), 1965
Electronic parts, aluminium, batteries, motors, etc. 24x 36 x 72 in.
Originally designed as an actress to integrate with live performers in production of Three Musketeers, at the Arts Theatre 1966. where it played the Queen of France.
Method of control: radio; programmed ; environmental.
Far right, Mate, 1967
Electronic parts, aluminium, batteries, motors, etc. 24 x 24 72 in.
Built as companion to R.O.S.A., which it follows automatically and generally interacts with.
Using ultrasonics, infra-red and sonic signals.
---
http://www.tate.org.uk/servlet/ViewWork?cgroupid=999999961&workid=8248&searchid=12302&tabview=text
Bruce Lacey born 1927

BOY, OH BOY, AM I LIVING! 1964
Inscribed 'Bruce Lacey' and '1964' on embossed metal strip on front side of wooden box
Wood, metals, plastic, canvas, leather, with electric motor, in metal frame, 78 1/4×59×15 (198.2×150×38.1)
Purchased from the artist (Grant-in-Aid) 1976
Exh: Bruce Lacey, Marlborough New London Gallery, January 1965 (1 repr.); Exhibition of Assemblages, Fairfield Hall, Croydon, July 1965 (no catalogue); An Exhibition of Humanoids and Constructions, Arts Council Gallery, Cardiff, April–May 1967 (1, repr. and cover); Bruce Lacey, 40 Years of Assemblages, Environments and Robots, Whitechapel Art Gallery, February–April 1975 (16, repr.); Manifestations of the Obsessions and Fantasies of Bruce Lacey and Jill Bruce, Fruitmarket Gallery, Edinburgh, May–June 1975 (16, repr.)
Repr: 'Spare Part Surgery' in Hospital World, October 1965
'Boy, Oh Boy, am I Living!' was made in the artist's workshed at Bounds Green, Muswell Hill, London at the same time as a series of works which were first exhibited at the Marlborough New London Gallery in 1965. The work was constructed partially from objects already in the artist's possession, and partially from objects specially sought after. The component limbs of the humanoid figure were made from discarded artificial legs and arms obtained from the Limb Fitting Centre at Roehampton, with permission from the Department of Health and Social Security. Permission was only granted on the assurance that they would form part of a serious work of art. The head utilises a plastic globe from a Belisha beacon obtained in Holland, as it is more orange than the British version. The mouth is made from a dentist's tooth selection chart, used to match the correct colour for dentures. Various small parts have had to be replaced since it was first constructed, because of pilfering during exhibition, including the eyes, spectacles, nose, mouth, pulley and electronic 'implant' on the side of the head. Lacey had to search to find the water geyser which forms the trunk of the figure, and this was used in a similar way to that forming the trunk of 'We'll make a new man of him', a humanoid constructed in 1963.
After leaving the Royal College of Art in 1954, Bruce Lacey had within two years given up painting, and was concentrating on performance work. This varied between cabaret, television and films and included performing and constructing special effects. In 1962 he made his first assemblage sculpture for the window of the Portal Gallery, and between 1962 and 1963, while performing at the Establishment Club, Lacey made two humanoids which appeared on stage as part of the performance entitled 'An evening of British rubbish'. In June 1963, sixteen 'automata and humanoids' were exhibited at Gallery One. Lacey was spurred to exhibit his constructions after seeing the exhibition of work by Kurt Schwitters, which included many collages, at the Marlborough Gallery in March and April 1963. Previously he had been uncertain whether such everyday scraps could be exhibited as art, and in these works he was keen to use 'real' objects rather than to cast in bronze or transmute the objects in any way. At this time the artist obtained a quantity of key-clamp metal tubing and was thus able to provide a physical framework for building each work, without having to rely on gluing each individual part. After making 'Boy, Oh Boy, am I Living!' where the figure is held in by this frame, he progressed to making such works as 'The Institution' where an old person appears to be living in a coffin-like box, and then 'The Living Room' where part of a room was reconstructed in the gallery.
The idea for this work came from current developments in 'Spare Part Surgery'. In 1964 it was becoming apparent that doctors and surgeons might be able to replace every section of the human anatomy with artificial substitutes. Experiments with electrode implants into the brain implied that the actions and thoughts of individuals might in the future be remote-controlled. Lacey wished to express his fears about the creation of robot-like humans. He gave the ironic title 'Boy, Oh Boy, am I Living!' to emphasise that this society might induce individuals to imagine that they were enjoying life-here we see the humanoid man apparently pleased that he is allowed to move one of his legs when we can see that he is completely caged in. All Lacey's automata and humanoid sculptures of this time used ironic titles and imagery. He saw his works as 'hate, love or fear' objects expressing his own hates, loves and fears. He has said that he intended his work to be psychologically therapeutic for himself rather than for the aesthetic appreciation of others. 'Art shouldn't just be stimulating man intellectually or emotionally, like a love potion or a panacea for purely aesthetic motives. It should instead be awakening his conscience and his awareness of life as it is and what it is going to be, as we move forward to a frightening future, where man's very individuality and personality may be lost'. (catalogue of exhibition at Arts Council Gallery, Cardiff, 1967). In making the works, Lacey tried not to make aesthetic decisions about the disposition of parts, but to allow the materials necessary for a particular image to dictate the lay-out of a particular sculpture.
After the exhibition at the Marlborough Gallery in 1965, Lacey decided to make 'active' rather than 'passive' works. He had found that he had to spend too much time explaining the works in the exhibition. Thus he developed the use of automata in his performances, started to build his first robots and was able to substitute these for actors in performances. His work then progressed to making a series of environments, where the spectator experienced the work from inside, and he put less emphasis on the exhibition of his constructions. Since 1974, for some of his performance art work, made in collaboration with his second wife Jill Bruce, he has created another form of 'machine' with the lighting and special effects systems which he builds and then operates as part of the performance.
The information for this catalogue entry was obtained from an interview with the artist (4 March 1977) and a letter (13 March 1977), and has been approved by him.
Published in:
The Tate Gallery 1974-6: Illustrated Catalogue of Acquisitions, London 1978
---
A Statement by Bruce Lacey about R.O.S.A. B.O.S.O.M [Kinetica 2010]
Radio. Operated. Simulated. Actress. Battery. Or. Standby. Operated. Mains.
A Statement by Bruce Lacey about R.O.S.A. B.O.S.O.M

http://www.artstream.org/artists/view/210
prepared for Kinetica 2010 talk on Cybernetic Serendipity and ROSA BOSOM.
I studied Electrical and Mechanical Engineering in the Royal Navy 1945-48. In 1951 I went on to study painting at The Royal College of Art, London, leaving in 1954 with a First Class Honours Degree.
Two years on I had lost interest in painting, I began making props and special effects for television shows, this developed and I found myself performing in West End night clubs with my electrical assemblages.
In 1965 there was a poetry convention at The Albert Hall, London. I was asked to do an event, so I built a radio controlled Robot called John Silent, who came on stage making farting and belching noises. This was my comment on Poetry. The Poets thought this was very Avant-Garde, there was a style of Poetry called 'Noise or Sound Poetry' of which I knew nothing.
1966 John Silent had a sex change and became R.O.S.A. B.O.S.O.M (Radio. Operated. Simulated. Actress. Battery. Or. Standby. Operated. Mains.) to play the part of the Queen of France in a production of the Three Musketeers with myself playing the part of D'Artagnan at the Arts Theatre, London and later at The Royal Court Theatre, London in 1969.
In 1967 I built another Robot called MATE, who performed with R.O.S.A at various venues, such as The Middle Earth in Covent Garden and The Brighton Festival, they interacted cybernetically with each other using Ultrasonics, Infra-Red and Audio Signals.
In 1968 Jasia Reichardt invited me to participate in the Cybernetic Serendipity exhibition at the ICA, London. I was overjoyed.
I performed with both R.O.S.A. B.O.S.O.M and MATE. I also exhibited a light sensitive OWL and an experience called SENSEXPLORATION.
Over the years R.O.S.A. has achieved many things, being Best Man at my second wedding, acting in films, appearing in television shows, newspapers, magazines, and exhibitions. Her finest moment was to win The Andrew Logan's Alternative Miss World competition in 1985. R.O.S.A. is still going strong today, and loving every minute of it, at the age of 45.
---
See British Pathe video clip here .
There is another video clip showing MATE interacting with ROSA. It is an interesting clip in that, other than a clip showing Schoffer's CYSP-1, shows other elements of Cybernetic Serendipity (1968), including Gordon Pask's "Colloquy of Mobiles", Edward Ihnatowicz' SAM, amongst others. It is found here, but you need to create an account first (no payment required to see preview) login, then search for "ACCIDENTAL ART".
See also Tomorrow's World video clip
[There are earlier Bruce Lacey assemblages in a video clip here.]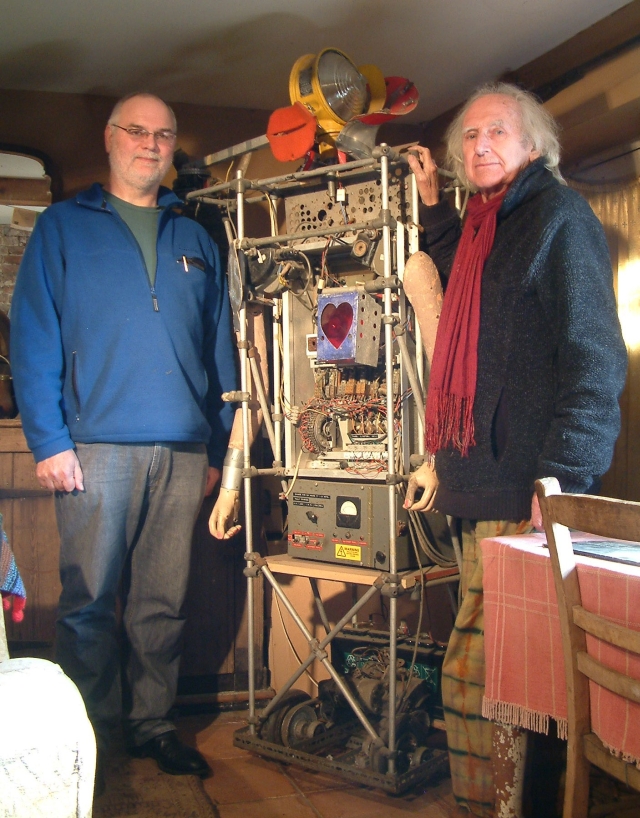 The author, Reuben Hoggett with Bruce Lacey and ROSA BOSOM [June 2009].
I asked Bruce about what motivated him to build Rosa. Bruce said that in the 1960's [actually 1965, not 1964 as stated in the Whitechapel catalogue that he constantly referred to], there was going to be a poetry convention in Albert Hall featuring Ginsburg, Michael Horowitz and Ernst Jandl amongst others. Bruce was invited, but his proposal of smashing up a large statue of Venus de Milo was rejected as being to visual for a voice event. Again, as a reaction to this rejection (Bruce's therapy), Bruce decided to build a robot. He called it "John Silent" (I didn't know this until I was speaking with Bruce at the time). It wasn't silent, it didn't utter words, but it did make farting-type noises. This reactionary piece somewhat back-fired as, although intended as a "piss-take", turned out to be a new form of "noise" poetry pioneered by Ernst Jandl who was there.
Rosa Bosom then came about, following the "electric actor" theme, as a reaction to actors being bossed about. Bruce's approach is for spontenaety, creativity – not a prescribe, rehearsed part that totally obliviates the actors input. So, if that's how the director wants it, then use a robot instead who doesn't care about being bossed around. The robot had a sex change, and "John Silent" became "Rosa Bosom". Rosa played the Queen of France in "The Three Musketeers" at the Royal Court Theatre.
---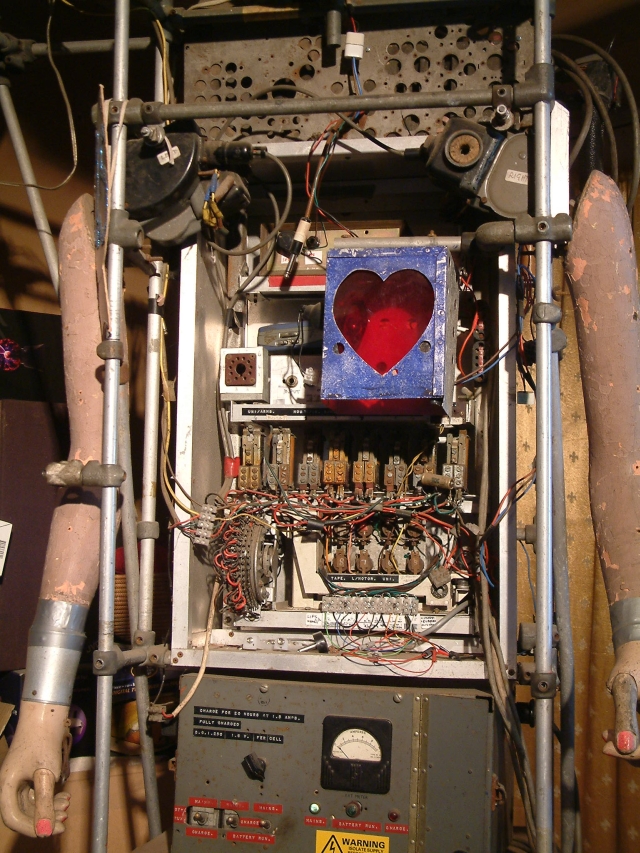 Detail of Rosa Bosom (June 2009).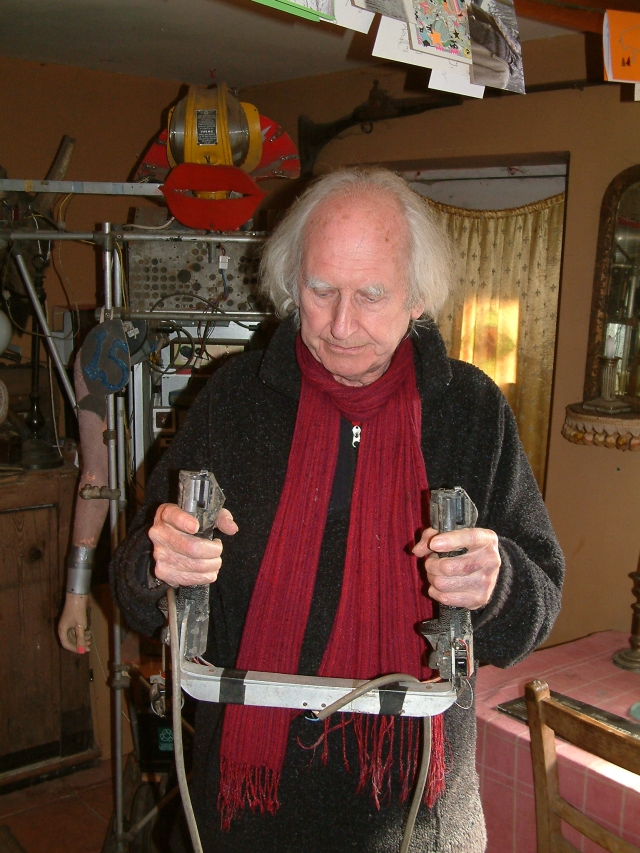 In the event of not being able to use the radio-control unit e.g. flat batteries, unit failure, R-C ban, etc., Bruce made up a joystick control out of an aircraft gun control.
---
Tags: 1965, Bruce Lacey, Cybernetic Serendipity, John Silent, Mate, R.O.S.A. B.O.S.O.M., Robot, ROSA BOSOM, ROSABOSOM