1957-73 – "MM6″,"MM7 Selektor" & "MM8 Contina" Selektor – Claus Scholz (Austrian)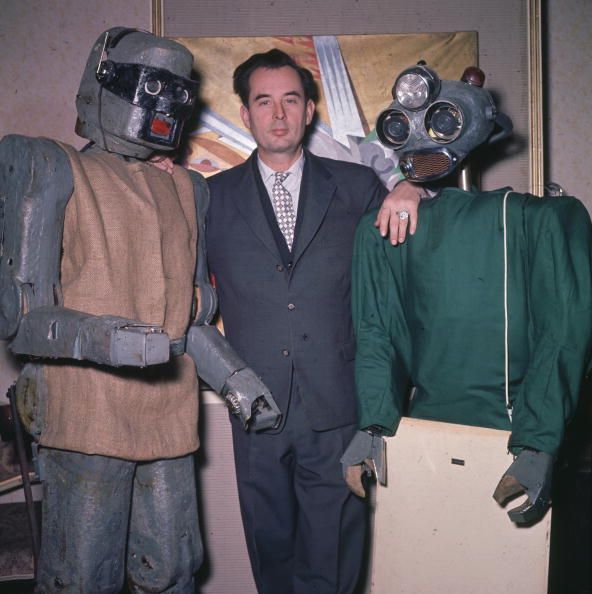 "MM7" on the left, Claus Scholz in the middle and "MM8" on the right.
Scholz made MM7 between 1957-8 and finished with MM9 in 1973, so I believe.
The MM7 Selektor human machine is the development for which the international scientist Scholz-Nauendorff, nicknamed the "Viennese father of robots", is best known. Designed as a means of studying cybernetic movement the MM7, with its feedback stepping switches and visual receptors, is widely regarded as the predecessor of today's industrial robots. Its inventor later concentrated on artificial thought processes in an attempt to motivate follow-up models to act autonomously.
Cybernetic Machine MM7 Selektor, 1961
Claus Christian Scholz-Nauendorff [1915-1992]
Inv # 21918
MM stands for MaschinenMensch i.e. MachineMan.
Popular Mechanics 1964 incorrectly calls this robot MM47, it is MM7.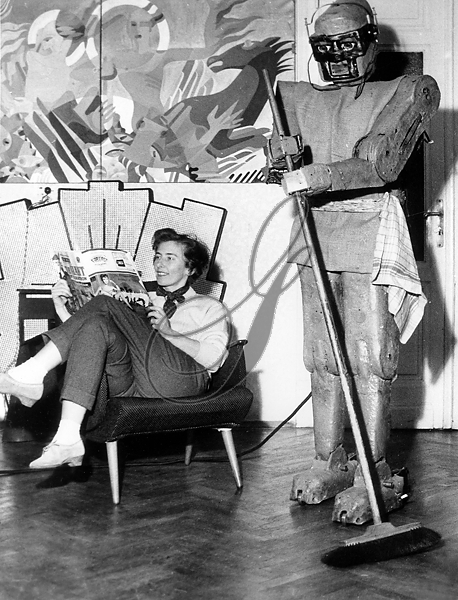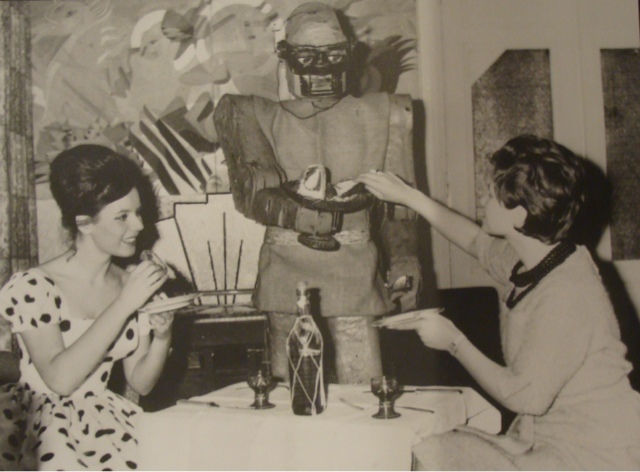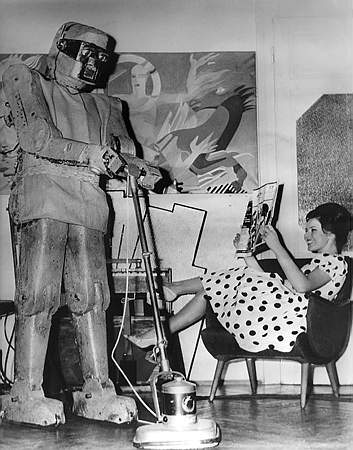 Younger lady is Scholz daughter, I believe.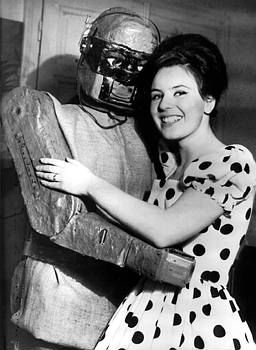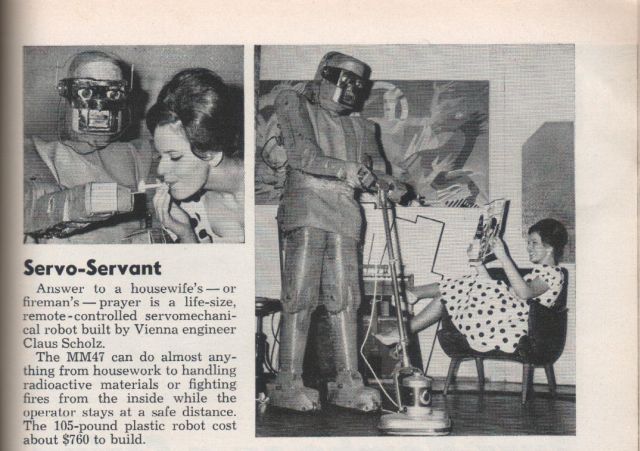 Note: MM47 is a typo, should be MM7.
---
MM7's younger brother MM8 (Contina).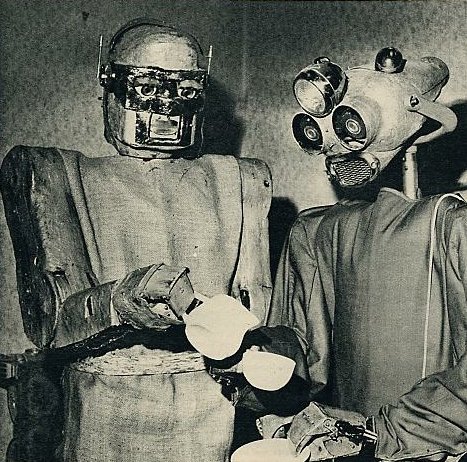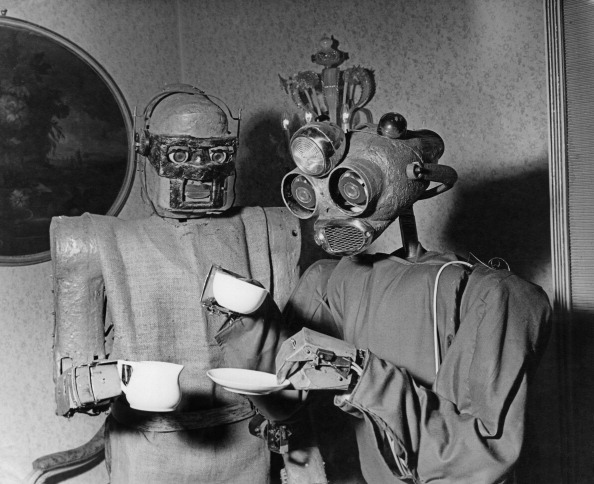 Notice the later modified head on MM8 between the images above and below. The rear head mount and grill-mouth are changed. This is an upgrade of MM8 .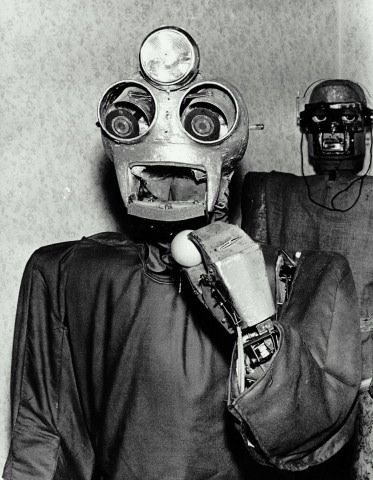 Upgraded MM8.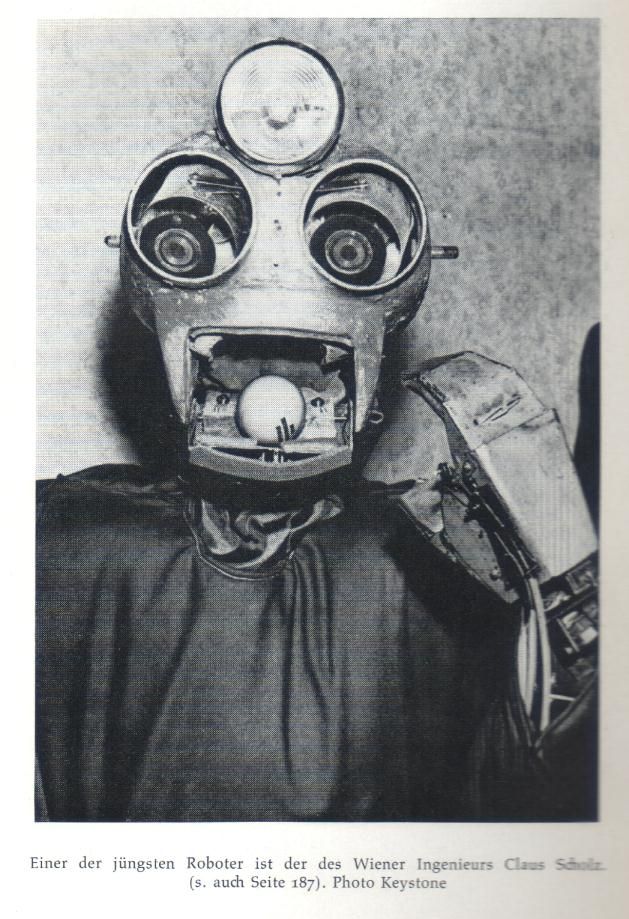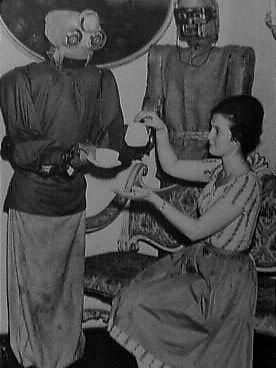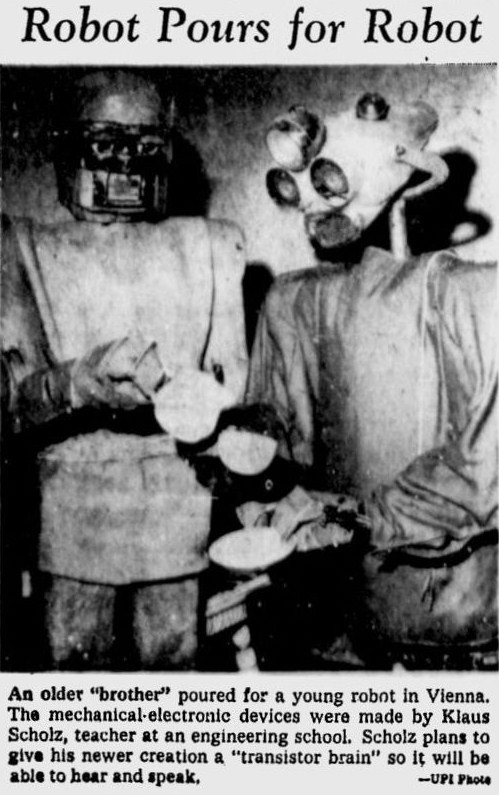 ---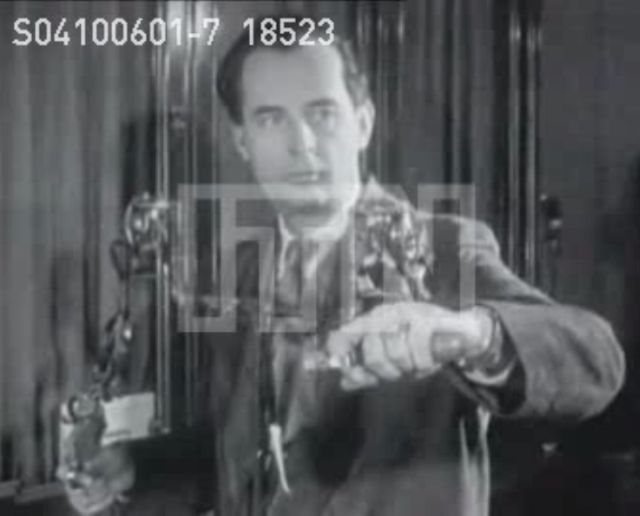 MM8 is controlled by another 'phantom' or remote control, looking simpler than MM7's phantom.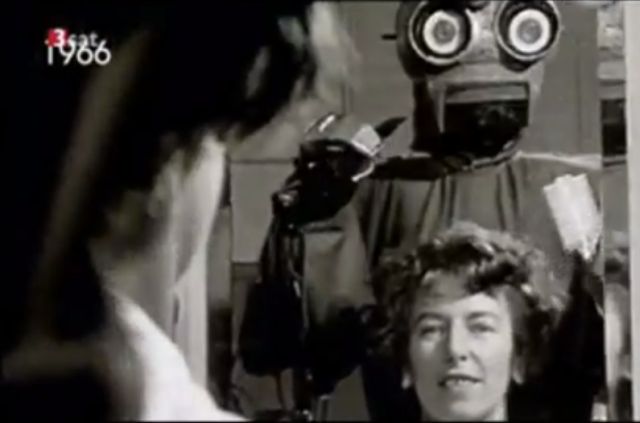 The combination of 'phantom' and controls and motors makes MM8 much more responsive than MM7. The video clip shows MM8 brushing Mrs. Scholz' hair, near impossible for MM7.
---
See video clip below:
AUSTRIA: INVENTOR SHOWS ROBOT "SERVANTS".
Clip Description:
Story
MR. KLAUS SCHOLZ, A VIENNESE INVENTOR AND ENGINEER, HAS DEVELOPED TWO ELECTRICAL ROBOT "SERVANTS" WHICH ARE DESIGNED TO PERFORM VERY EXACTING TASKS.
AS WELL AS ANSWERING THE DOOR AND THE TELEPHONE, THE ROBOTS CAN POUR DRINKS, SHAKE HANDS, HANG UP CLOTHES AND VACUUM CLEAN FLOORS. TO ANSWER THE TELEPHONE, THE ROBOT USES A MINIATURE TAPE RECORDER DEVICE WHICH IS BUILT INTO ITS HEAD.
THE MOVEMENTS OF THE ROBOT ARE CONTROLLED BY COMPLEX INSTRUMENT PANEL IN THE INVENTOR'S WORKSHOP. MR. SCHOLZ HOPES TO DEVELOP HIS MECHANISM EVEN FURTHER SO THAT EVENTUALLY HIS ROBOTS WILL BE VISUALLY ABLE TO RECOGNISE AND REACT ON KNOWN OBJECTS. HE ALSO PLANS TO BUILD A MACHINE WHICH WILL DO ALL HOUSEHOLD CHORES – EVEN THE WASHING-UP.
Reference 2661/64
Can 3734
Source REUTERS
Date original 16 MARCH 1964
Duration 1.49
Technical 16MM/NEG.
16MM/POS.
Subset Reuters TV – RTV Post 1957
Location VIENNA, AUSTRIA
Sound
Colourbw B/W

1. MV FIRST ROBOT AT DOOR 0.05
2. CU "SCHOLZ" NAME PLATE ON OTHER SIDE OF DOOR PAN.. TO ROBOT OPENING DOOR 0.13
3. CU ROBOT MOVES EYES 0.21
4. MV ROBOT CLOSES DOOR 0.27
5. MV KLAUS SCHOLZ AT DESK 0.29
6. CU SCHOLZ AT CONTROLS 0.34
7. MV DITTO 0.36
8. CU VOLTMETER 0.39
9. CU SECOND ROBOT TAKES VISITOR'S HAT 0.51
10. CU FIRST ROBOT 0.53
11. CU SECOND ROBOT 0.59
12. CU SECOND ROBOT'S EYES MOVE 1.04
13. MV FIRST ROBOT WALKS WITH BOTTLE IN HAND 1.11
14. CU FEET MOVING 1.16
15. CU BOTTLE OVER GLASS HELD BY SECOND ROBOT 1.21
16. CU SCHOLZ MANIPULATES CONTROL FOR POURING ACTION 1.25
17. CU BOTTLE TILTS 1.27
18. CU POURS DRINK INTO GLASS 1.36
19. CU SECOND ROBOT RAISES GLASS TOWARDS HEAD 1.44
20. CU FIRST ROBOT 1.49
---
Another video clip here, thanks to the author of a comment below in locating it.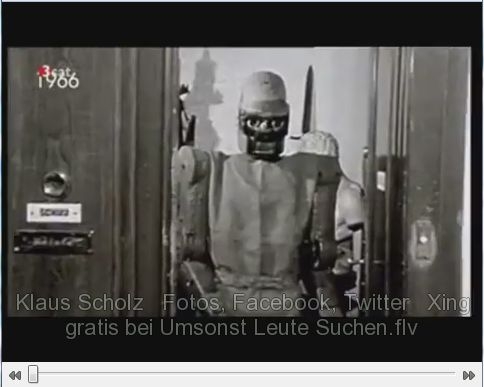 Stills from clip.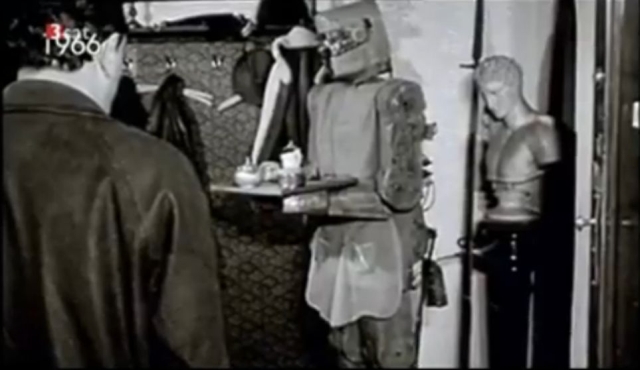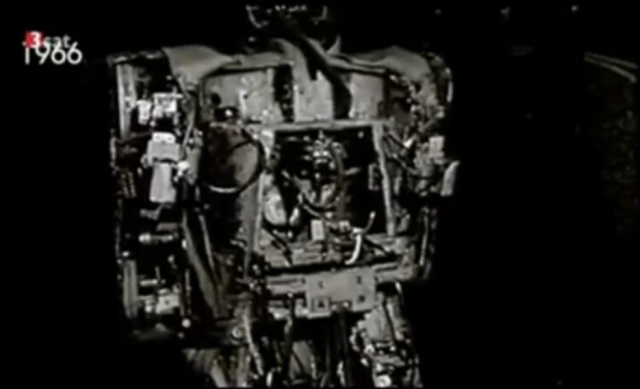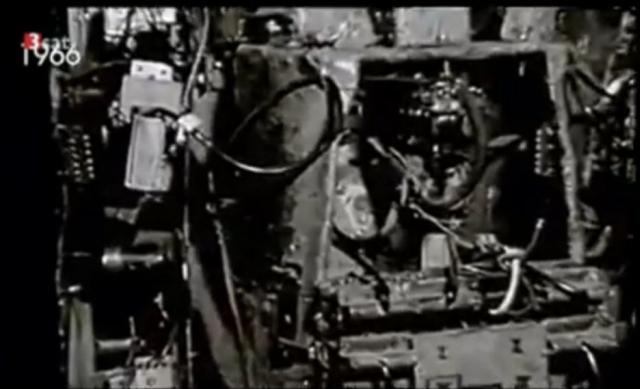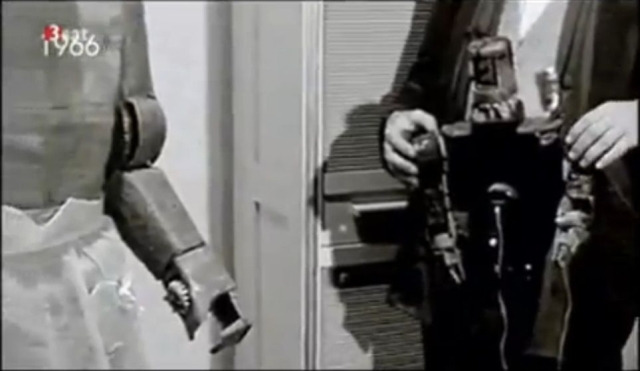 MM7 (and MM8) remotely controlled by a 'phantom'.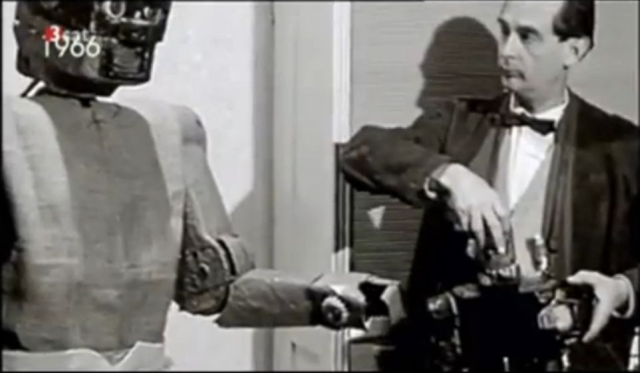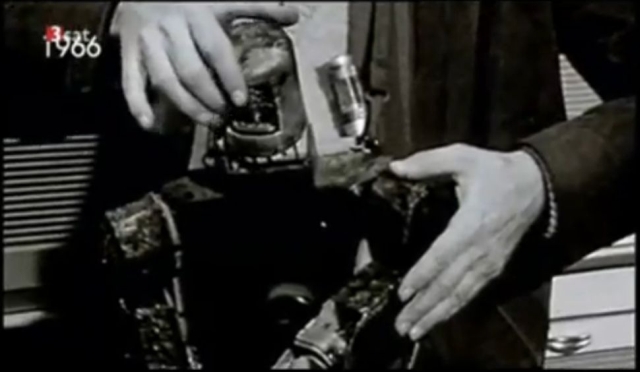 Scholz was also experimenting in voice recognition and ….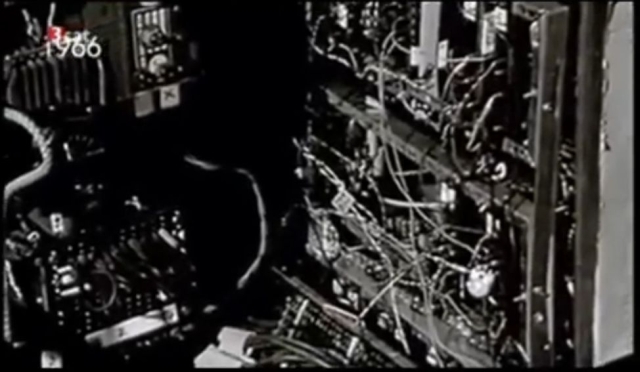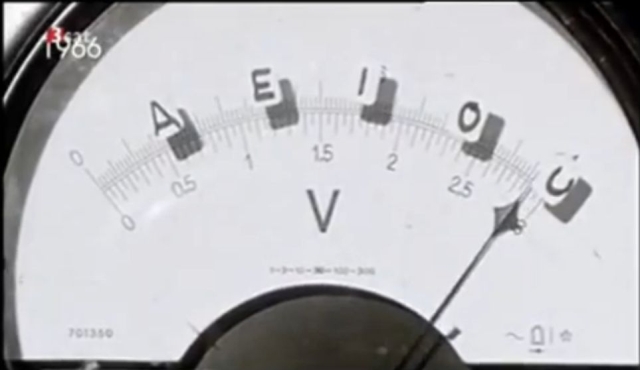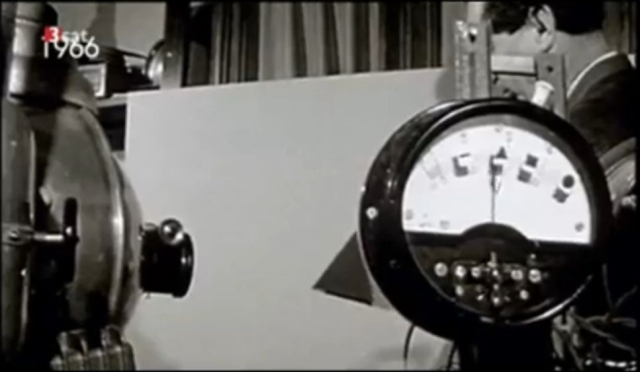 …pattern recognition.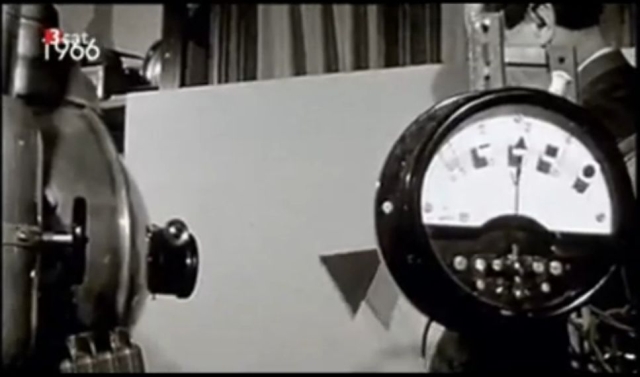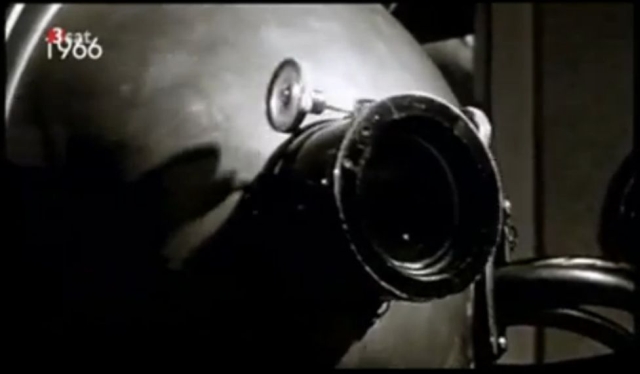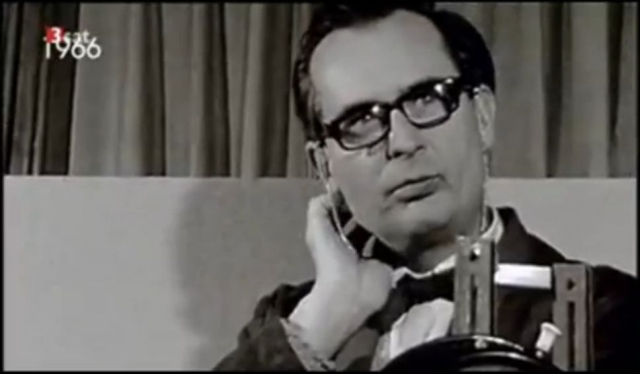 Claus Scholz.
---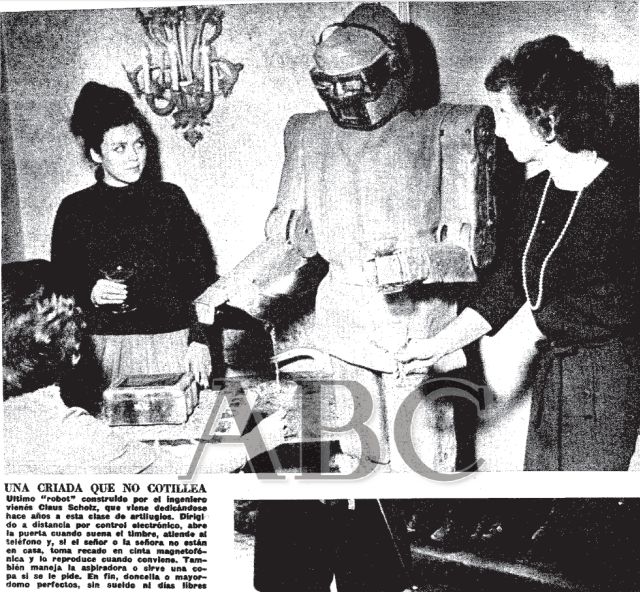 Translated from Spanish by Google
A creature that is not gossip
Last "robot" built by the Viennese engineer Claus Scholz, who has been engaged for years in this kind of gadgets. Went do remote electronic control, open the door when the doorbell rings, the phone serves, if Mr. or Mrs. are not home, takes message on tape and plays it when convenient. It also handles the vacuum or serving a drink if asked. In short, perfect maid or butler, the days off without pay.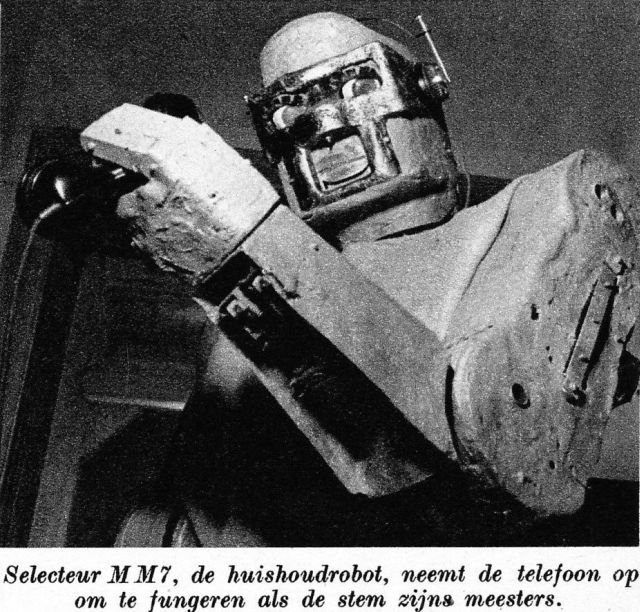 Caption: Taking a wrong message by telephone without names is something that "MM-7" made without difficulty. (Improved image from another magazine)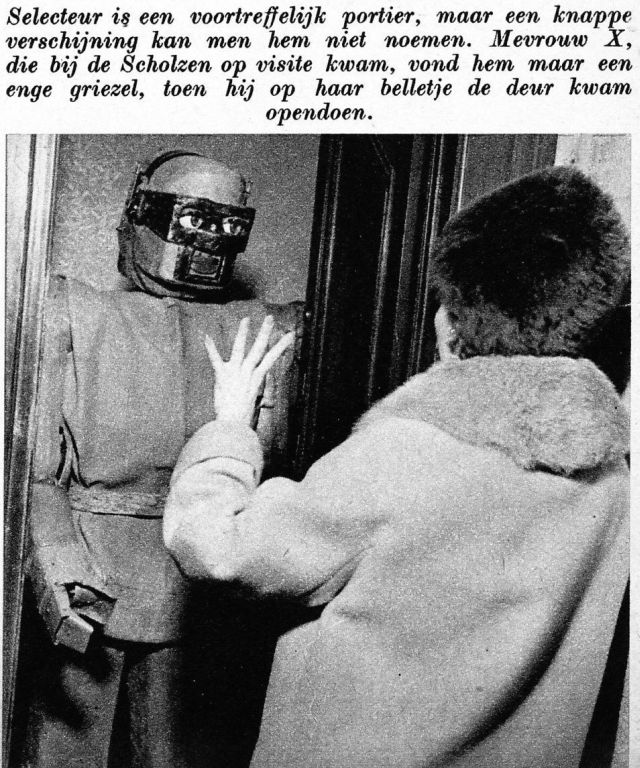 Caption: The lady who goes to visit her friend is frightened by the disquieting aspect of the "maid". But you will get used to her. (Improved image from another magazine)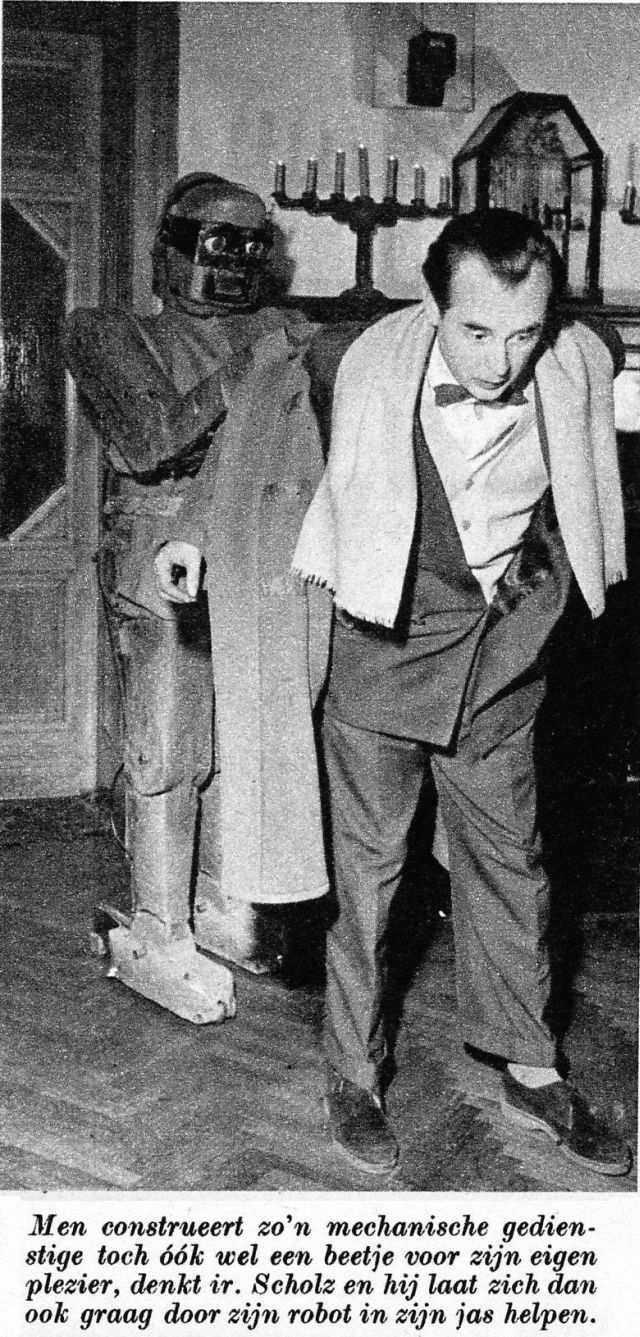 (Improved image from another magazine)
Caption: [Below image] Will need to understand that children of the house, if any, are gradually accustomed to a different home as physical as the one they know. To the left [above], 'MM-7' helps to shed the coat sir.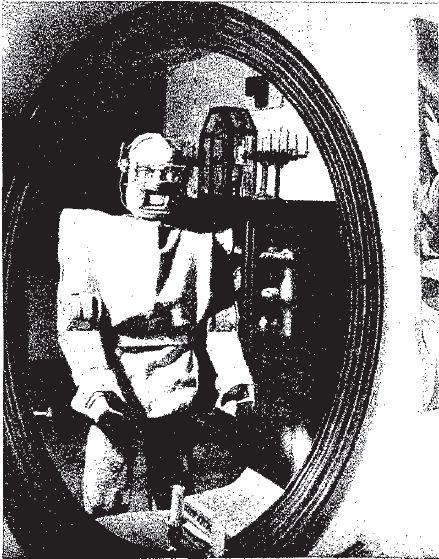 Google translation from Spanish
LADY: BEHOLD YOUR NEW DOMESTIC
It's ugly, but does not answer to bad manners
THE Vienese Engineer Claus Scholz is about to solve the problem of domestic service, as alive as living standards improve. He has built and what will be the perfect servant and that currently called "Selector MM-7 '. This is a "robot" able to perform simple tasks, such as dusting, open the door, sweep, serving snacks and dry dishes. The mechanical maid is high. It measures 1.82 meters, but weighs little: is less than 50 kilos. Her skin is not pleasant, it is made of synthetic resin, and has feet too big, first to fit the number 49. Nor can it be said to offer a pleasant face. But evil does not answer, no armhole and, above all, does not require frequent wage increases or claims free time to go with her boyfriend to "cinema". For now, the new home is in the period that the housewives have devoted to updating the servants from the village. The engineer Scholz says his "chacha" soon be perfected and that before long enough that the lady says, "Prepare a meal for six people" so that the "robot" fulfill the order. For now, the acquisition of a maid is expensive electronics. If forecasts are met rows mass production and further desired, housewives can calm breathing, and tightness of the traditional "girls serve" will be corrected with the entry into the homes of these dolls, which provided "mnemonics files" receive instructions and develop relevant work .., without question. So be it.
Source: Blanco y Nero, Dec 1963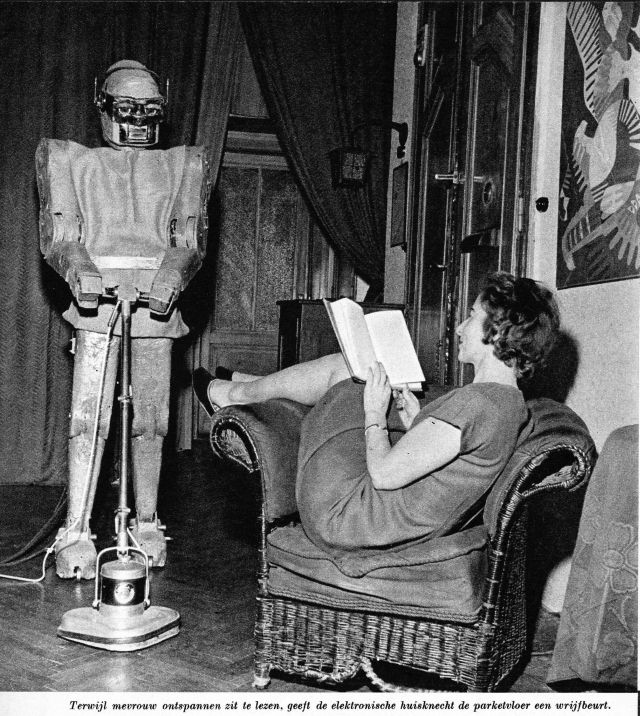 ---
MM7 as he was in 2009.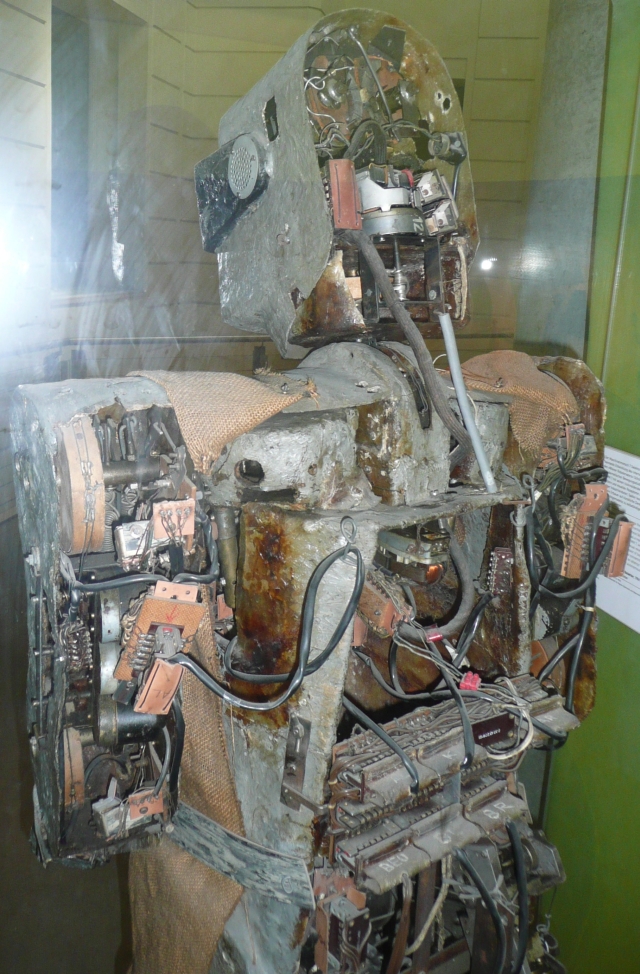 In May of 2009 I travelled from Australia to Europe on a pilgrimage to see the old robots the had infuenced and aroused me in my youth. I went to Vienna to see Heinz Zemanek and his many Cybernetic tortoises and Maze solvers. These items are now housed in the Technical Museum of Vienna. Whilst there, I also saw Scholz's MM7, which was unexpected. DI Dr. Otmar Moritsch arranged for my behind the scenes visit. Here is the address of the Museum:
Technisches Museum Wien
medien.welten
Mariahilfer Str. 212
A-1140 Wien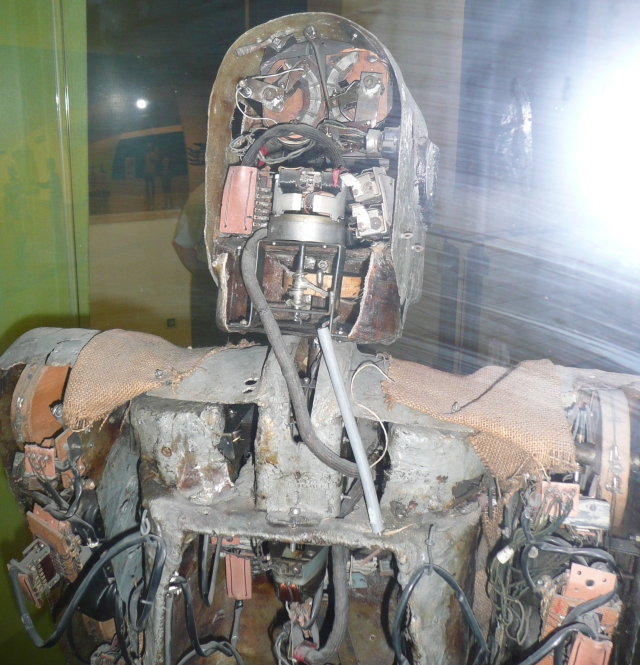 Head and upper body detail.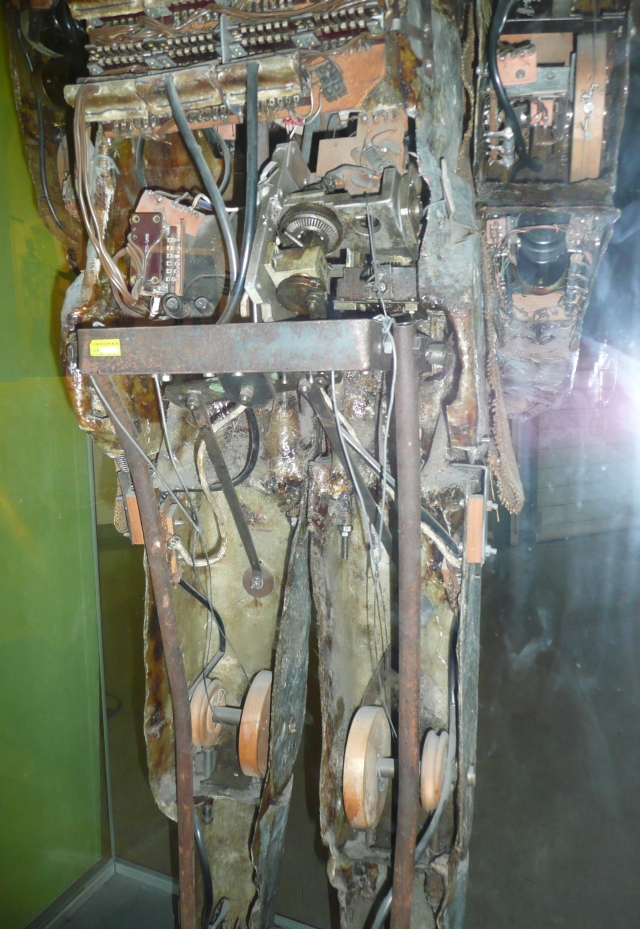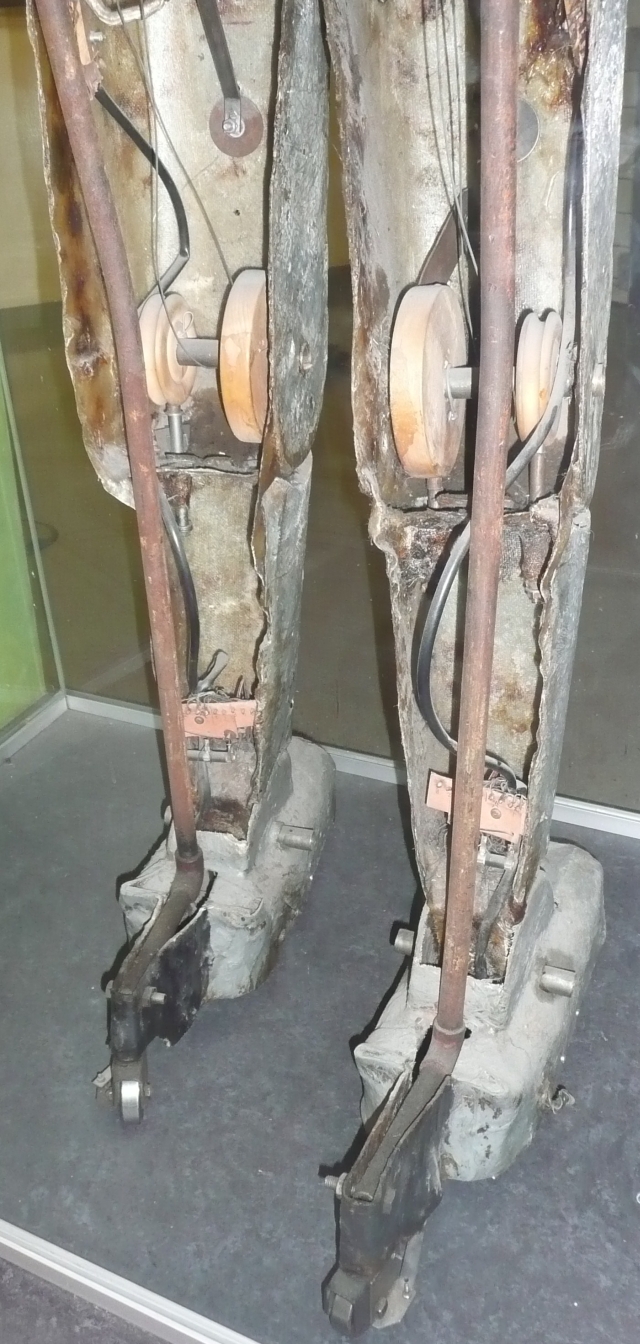 It looks as if Scholz had walking and stability problems early on with MM7. The knees were then "frozen" to prevent a bending action, and a metal frame added that also extended the length of the feet and added a steering castor at the rear.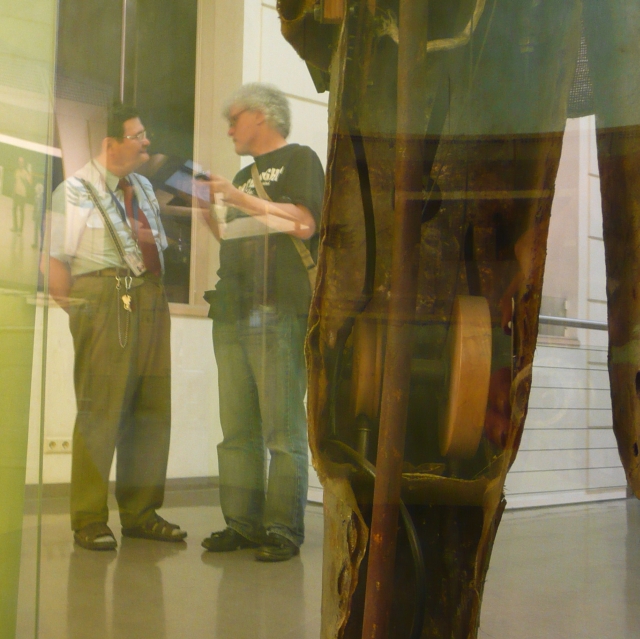 David Buckley (on the right) joined me on my pilgrimage. Peter Schoen, Dr Otmar Moritsch's colleague who went out of his way to ensure our visit was a success, is on the left.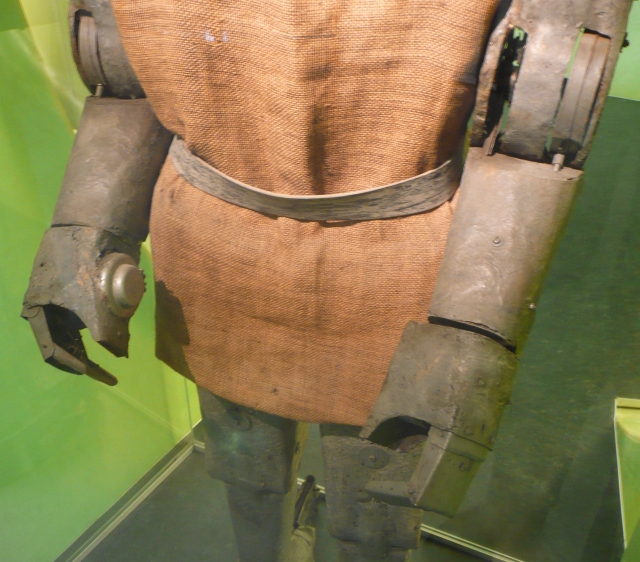 Close-up of the hands.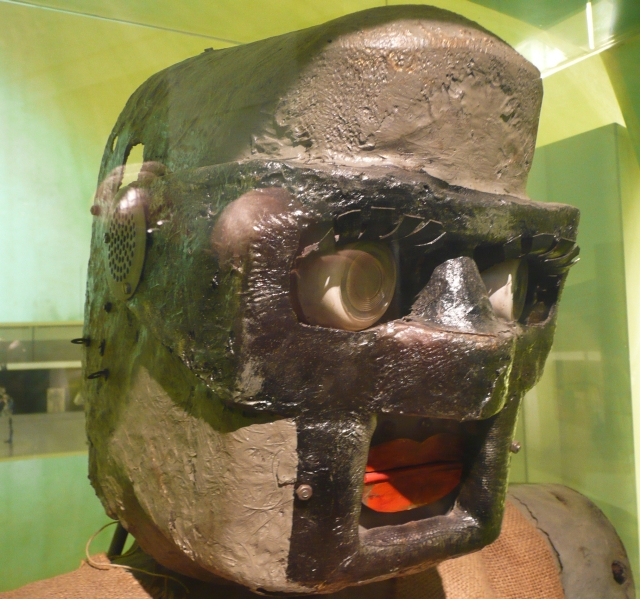 Detail of the head.

MM7 has no back as such. His exoskeleton body is made of reinforced fibreglass. MM7 was mains, not battery powered.
---
MM9 was built around 1973, so i'm lead to believe, but currently I have no image of it. MM6 was built in 1957-8.
MM6 found!
Here's the amazing story of how MM6 was found:
ANSICHTSSACHE NR. 14: "Einer von denen" – Christian Stadelmann über eines seiner Lieblingsexponate in der Ausstellung "Roboter. Maschine und Mensch?"
Im Technischen Museum Wien ist noch bis 14. Juli 2013 die Ausstellung "Roboter. Maschine und Mensch?" zu sehen.
Christian Stadelmann, gemeinsam mit Bodo-Michael Baumunk Kurator der Ausstellung, stellt hier eines seiner Lieblingsexponate vor. Es handelt sich um den "Maschinenmenschen" Numero 6 aus dem Jahr 1958. Erbaut wurde er von dem Wiener Kybernetiker Claus Scholz-Nauendorff in dessen Privatwohnung. Christian Stadelmann umreißt die Bedeutung dieses Roboters folgendermaßen:
"Das ehrgeizige Ziel, das Scholz-Nauendorff verfolgte, war es, sogenannte künstliche Intelligenz in Gestalt humanoider Roboter zu schaffen. Die Ergebnisse dieser Arbeit muten aus heutiger Sicht bizarr an, allzu simpel erscheinen die technischen Lösungen angesichts des Anspruchs, ein dienstbares Wesen zu schaffen. Aber die Öffentlichkeit zeigte vor allem an den Nachfolgemodellen MM7 und MM8 großes Interesse. Scholz Nauendorff präsentierte seine 'Geschöpfe' mit ernstem Stolz im Fernsehen und in Zeitungs- und Zeitschriftenartikeln. Dauerhafter Erfolg war diesen Forschungsaktivitäten nicht beschieden. MM7 kam ins Technische Museum Wien, MM8 ins Wiener Bezirksmuseum Landstraße. Sie haben dort einen eher skurrilen Status erlangt. MM6 ist überhaupt in Vergessenheit geraten."
Und wie kam nun dieser MM6 in die Ausstellung des Technischen Museums? Das ist eine jener spannenden Geschichten, wie sie Ausstellungsmacher/innen auf der Suche nach interessanten Exponaten gerne erleben. Im Zuge der Recherchen zum Begleitmaterial zu den "Maschinenmenschen" konnte Christian Stadelmann die Witwe des 1992 verstorbenen Kybernetikers, Friedericke Scholz-Nauendorff, ausfindig machen. Während eines Gesprächs über die "Maschinenmenschen" ihres Mannes erwähnte sie dem Kurator gegenüber en passant, dass "einer von denen" ja noch "hier herumsteht". Für Christian Stadelmann war das ein ebenso aufregender wie berührender Augenblick:
"Auf meine unsichere Frage hin, was sie denn meine, führte mich die beim Gespräch anwesende Pflegerin von Frau Scholz-Nauendorff in einen Vorraum zur Küche, wo tatsächlich in einem Erker der mannshohe, über 50 Jahre alte Roboter stand. Wegen mechanischen Problemen hatte Scholz-Nauendorff seinerzeit die Entwicklung daran eingestellt und mit der Herstellung des Nachfolgemodells begonnen. Über meinen Wunsch, den MM6 ins Museum zu holen, zeigte sich die Betreuerin sehr erfreut, denn sie fürchtete sich jedes mal, wenn sie an ihm vorbeigehen musste, wie sie gestand."
Für Christian Stadelmann ergab sich bei dieser Gelegenheit nicht nur ganz unerwartet ein tolles Ausstellungsobjekt, sondern auch eine direkte Verknüpfung zu den vielen Hoffnungen, die in Roboter gesteckt wurden und werden – wozu auch die Vorstellung zählt, dass Roboter dereinst in der Pflege von kranken Menschen eingesetzt werden könnten. Ein Gedanke, der in diesem Moment und in Gegenwart einer Pflegerin aus Fleisch und Blut einen ähnlich unheimlichen Beigeschmack besaß wie die äußere Gestalt des MM6.
English translation
ANSICHTSSACHE NO. 14: – ". Robot machine and man" "One of those" Christian Stadelmann about one of his favorite exhibits in the exhibition.
The Technical Museum in Vienna until 14 July 2013, the exhibition "Robots. Machine and man?" to see.
Christian Stadelmann, together with Bodo-Michael Baumunk curator of the exhibition, shares with us one of his favorite exhibits. These are the "human machine" Numero 6 from the year 1958. It was built by the Viennese cyberneticist Claus Scholz Nauendorff in his private apartment. Christian Stadelmann outlines the importance of this robot as follows:
"The ambitious goal of the Scholz-Nauendorff pursued, was to create so-called artificial intelligence in the form of humanoid robots. The results of this work seem bizarre at from today's perspective, the technical solutions seem overly simplistic, given the claim of creating a serviceable creature. But the public was mainly due to the subsequent models MM7 and MM8 interest. Scholz Nauendorff presented his 'creatures' with earnest pride on television and in newspaper and magazine articles. Long-term success was not granted these research activities. MM7 came to Vienna Technical Museum, MM8 into Vienna's Museum highway. They have acquired a rather bizarre state. MM6 is ever forgotten. "
And how does this MM6 came into the exhibition the Museum of Technology? This is one of those fascinating stories, as curator / inside in search of interesting exhibits like to experience. In the course of research on the supporting materials for the "machine-man" could make Christian Stadelmann's widow died in 1992 cyberneticist, Friedericke Scholz Nauendorff, locate. During a conversation using the "machine-man" of her husband, she mentioned the curator over en passant that "one of those" still "around here is." For the Christian Stadelmann was as exciting as touching moment:
"In my uncertain question what they mean for me the nurse present during the conversation of Mrs. Scholz Nauendorff led into an anteroom to the kitchen where actually stood in an alcove of the head-high, over 50 years old robot. Due to mechanical problems Scholz Nauendorff had once stopped developing it and started the production of a new model. About my wish to bring the MM6 to the museum, the supervisor was very pleased, because she was afraid every time she had to walk past him, as she confessed. "
For Christian Stadelmann was found on this occasion not only quite unexpectedly a great exhibit, but also a direct link to the many hopes that have been placed in robot and be – including the idea is one that robot one day used in the care of sick people could be. A thought that at this moment and in the presence of a nurse in the flesh had a similar sinister connotation as the exterior of the MM6.
As a result of the 2012-13 Robot exhibition held at Vienna Technical Museum, I now have images of MM6.
Scholz was exploring electro-hydraulic limbs in MM6, dating from 1957-58.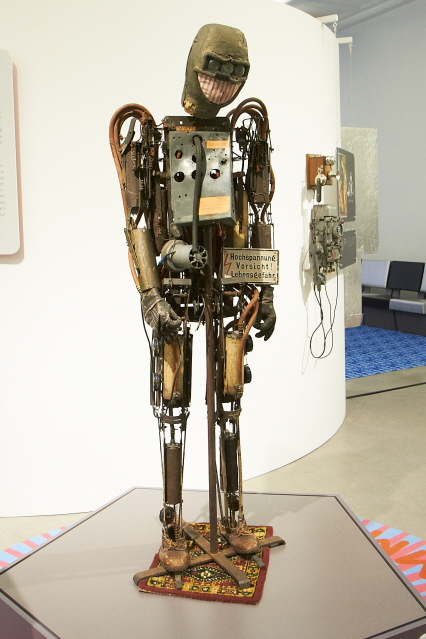 Above photo by Thomas Preiss.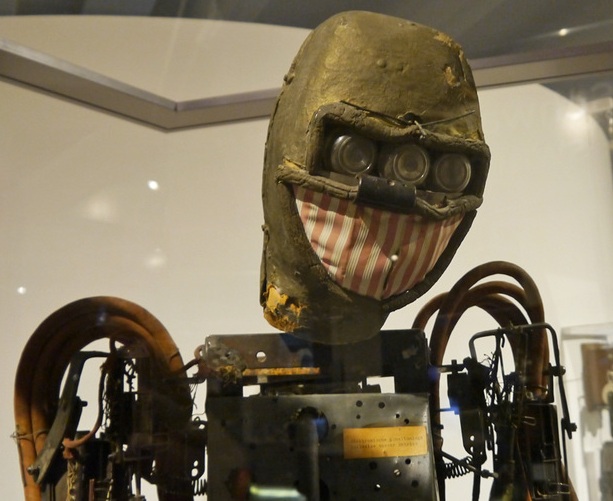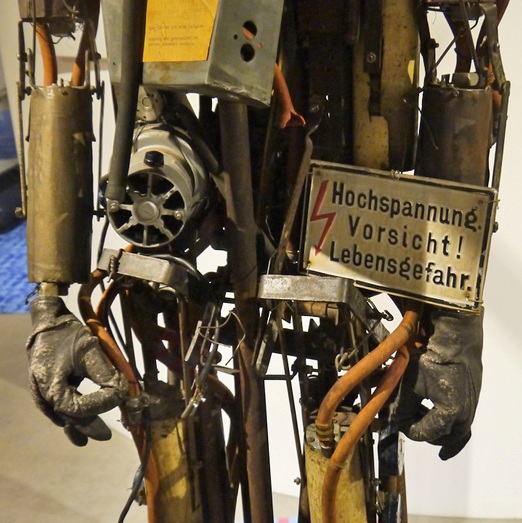 Images by David Kotrbar.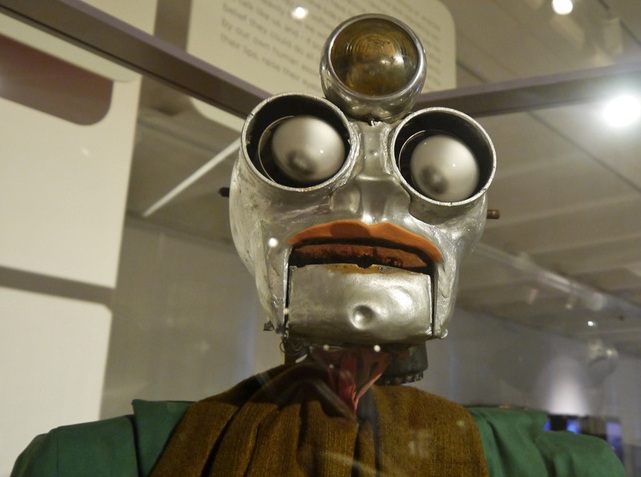 MM8 normally resides at Wiener Bezirksmuseum Landstraße (Vienna's District Roads Museum).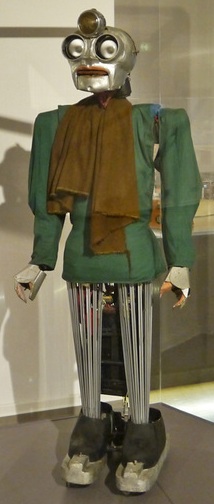 MM8 doesn't walk (slide) as per MM7, but rolls around with rigid legs.
---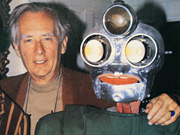 Picture rights: praktiker.at/Felix Wessely
Claus Scholz with MM8 in 1990.
Picture is from praktiker magazine 6/1990 which carries an excellent article on the story of Claus Scholz and has diagrams of MM6 to MM9.
Claus was a Professor. The only paper I could find is "System with automated exploring of problems for intelligent data processes by ergonomic dialog" published in 1982 under his fulll name of Claus Christian Scholz-Nauendorff.
Audio files by Scholz are located here and here. An English translation by a reader would be greatly appreciated and acknowledged.
Missing Articles: Mentioned here are 2 articles on Scholz that I'm having difficulty in locating.
One is supposedly in an 1964 edition of LIFE magazine. I've searched all of 1964 issues online and not found this article. It may be in an International edition of Life Magazine.
The other is in a 1970 German edition of Mickey Mouse (Micky Maus).
Any assistance in locating these articles would be much appreciated.
---
Tags: 1958, 1961, Austrian, Christian Stadelmann, Claus Christian Scholz-Nauendorff, Claus Scholz, Contina, Klaus Scholz, Maschinen Mensch, Maschinenmensch, MM47, MM6, MM7, MM8, Robot, Roboter, Selektor