1957 "Robetron" aka "Robotron" – Donald Rich (American)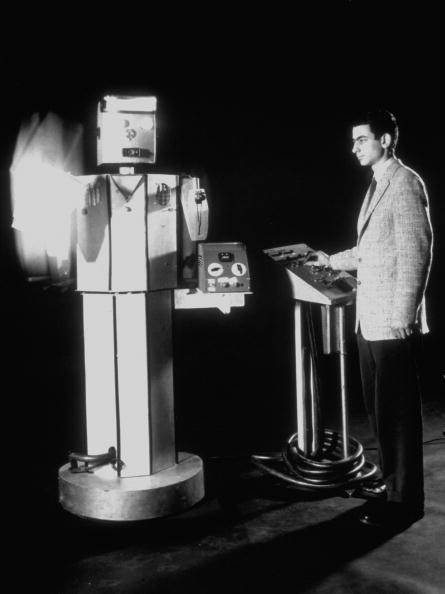 14-year-old inventor Donald Rich with Robotron walking robot designed as a computer at International Gadget & Invention show at Madison Square Garden. [Getty image]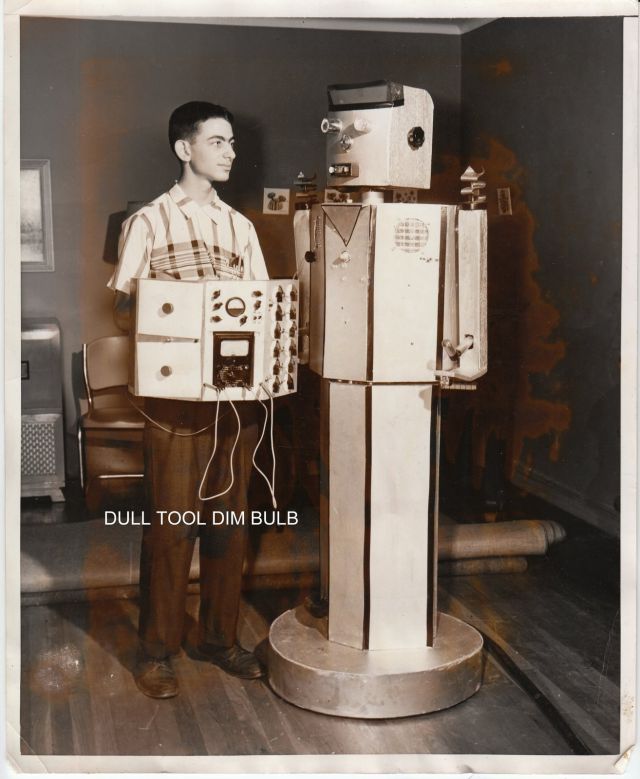 (above image from Jim Linderman's site)
text from Corpus Christi Times Fri Aug 9 1957 p10.
DOES EVERYTHING BUT TALK – Ready to respond to his master's directions is Robetron a sixfoot electronic 'man,' who owes his existence to the ingenuity and diligence of 13-year-old Donald Rich of Kew Gardens, Borough of Queens, New York.
Robetron, who is capable of 'seeing' with his electronic eyes and of 'sensing the presence of a human being, can pick up objects manually or magnetically and moves about on wheels powered by electric motors. Donald holds a computer he designed to fit the robot like a vest, enabling Robetron to do mathematical calculations.
See video clip here from:
I've Got a Secret — 1958
Week 302, 3/26/58
Panel: Bill, Jayne, Dick Clark, Betsy
Director: Paul Alter
Associate Producer: Chester Feldman
Program Staff: Roger Peterson, Judy Crichton
Lighting: Vernon Cook
Program Supervisor: Howard Merrill
Special "teenage" show.
Daniel Rosen, 12, of NY Art Students League: Displays paintings.
Raymond Jones, 16, of Juilliard: Plays Gershwin's third prelude.
Melinda Planck, 17, Riverside, CT: Ballet dances.
Tommy McClure, 10, San Diego: "I was saved from drowning by one of these teenagers" (Bonnie Gramm, Girl Scout). Betsy guesses, going last.
Donald Rich, 14, Bronx High School of Science: Invented a robot.
Tags: 1957, American, Donald Rich, Mechanical Man, Robetron, Robot, Robotron