1957 – "Otto Matrix" the Robot – (American)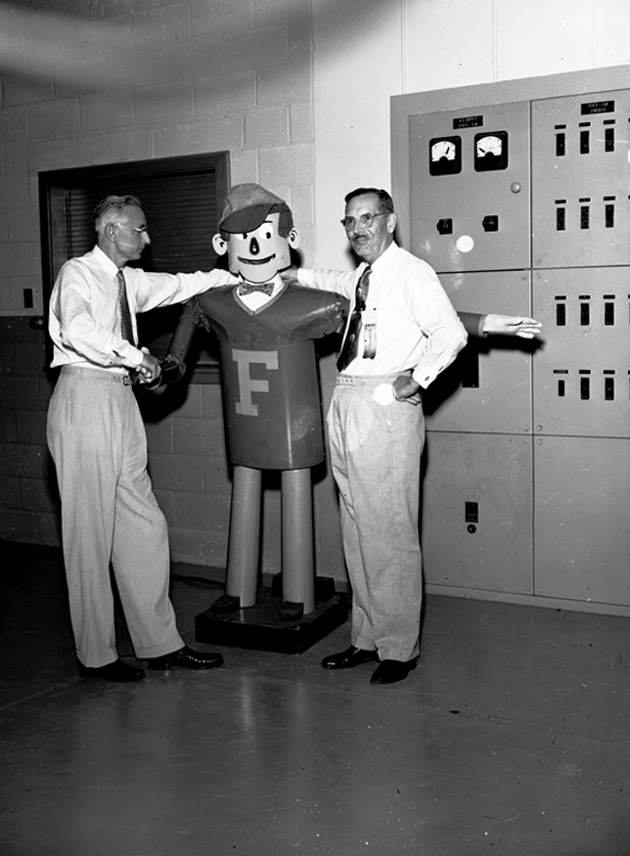 Grinter & Woolich with robot – University of Florida ASEE (American Society for Engineering Education) 1957
© 2004 – 2013 University of Florida George A. Smathers Libraries.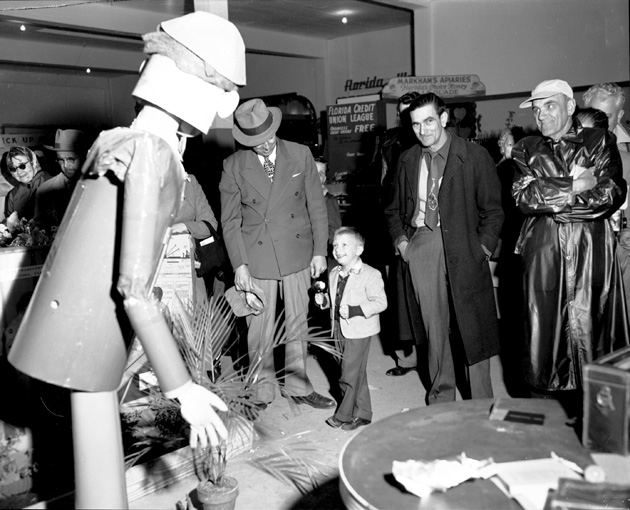 State Fair, Florida (same robot as above)
© 2004 – 2013 University of Florida George A. Smathers Libraries..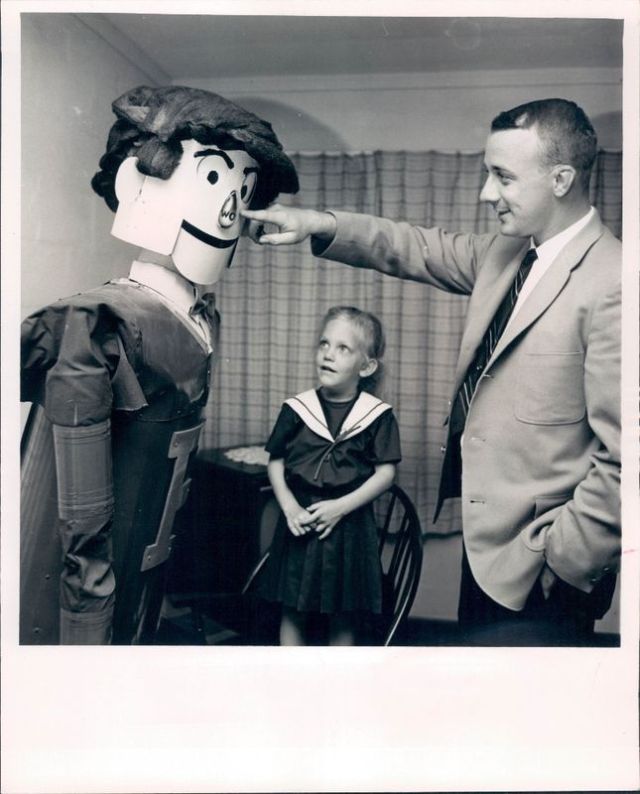 WOW! It's A Real Robot
8 Mar 1965
Otto Matrix, a robot with an appeal for the whole family, will be a featured attraction during this week's Engineers' Fair at the University of Florida. Otto's nose lights up in a red "WOW" for the benefit of attractive girls and chldren alike. He's shown here with engineering student Nick Touchton and Molly Wing of Gainsville. The fair opens a three-day run March 12.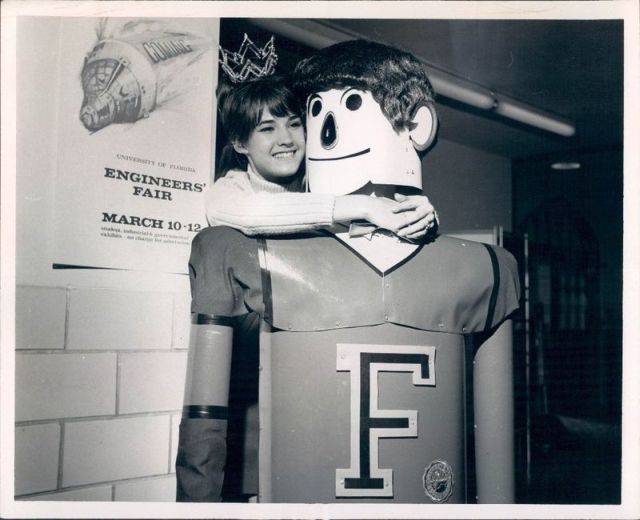 Lucky Mechanical Man
10 Mar 1967
Pretty Janis Lynn Biewend of St. Petersburg, queen of the University of Florida's 22nd annual Engineer's Fair, thinks Otto Matrix, the Mechanical Man, is kind of cute. Both Miss Biewend and Otto will be at the free fair this weekend at the Engineering Building where various and unusual exhibits will demonstrate the marvelous engineering feats of man. Theme of the fair is "Engineering – A Better Tomorrow." Miss Biewend is a graduate of Gainsville High School …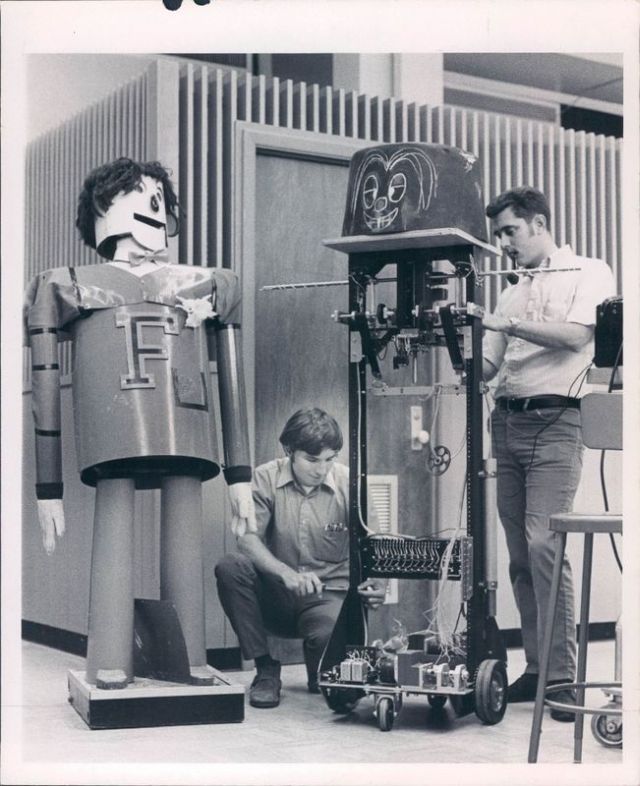 'Old Otto' Faves Generation Gap
17 Apr 1970
"Old Otto" the robot who for 22 years greeted visitors the the University of Florida's annual Engineer's Fair looks askance at his replacement being assembled by Charles Durick of Lakeland. Otto is now "robot emeritus" and has been granted permanent retirement quaters in a closet. His replacement, yet unnamed, is radio-controlled, can sing, whistle and chase coeds. He was built by student members of the institute of Electrical Engineering. To build him students contributed their coffee money, the UF gave scrap parts and Mororola Corp. donated some integrated circuits. The new robot can turn on a spot, use his "hands" to grasp, fully rotate his head, "hear" and "speak."
---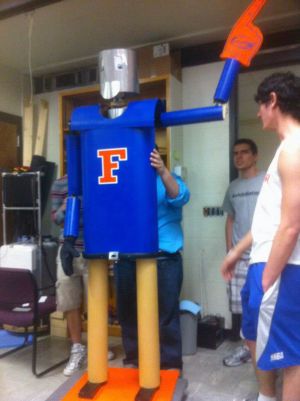 • ARTICLE Source: Gator Robotics' mascot, Otto, to get upgraded

Courtesy of Gator Robotics
Posted: Wednesday, September 18, 2013 11:53 pm | Updated: 11:59 pm, Wed Sep 18, 2013.
Lawrence Chan, Avenue Writer | Courtesy of Gator Robotics
The Gator Robotics Club intends to refit and rebuild a 7-foot humanoid robot.
After two years of operation as the Gator Robotics outreach mascot, Otto the robot's battery failed, and he was placed into storage last year.
However, Otto's project leader, 20-year-old UF junior John Milns, plans to rebuild and upgrade the metal mascot.
"His battery ran out and an accidental collision into a doorway knocked Otto out of commission," Milns said. "Our goal this year is to fix him up and upgrade him better than before."
Along with battery troubles, Otto's arm was violently launched awry from the main body after performing his duties for the day.
Otto's design originated from an earlier incarnation of the robot built in 1957 for an engineering fair. This version of Otto was scrapped for parts a week after the fair, and the robot was forgotten until 2011 when Michael Andrews, president of the Benton
Engineering Council, asked Gator Robotics to rebuild the robot.
Milns said that robotics club members will be working to fix the mechanisms in the robot's arms and replace the battery. Plans are also in place to mechanize Otto's hips for rotational movement and to refit his chest with a latched opening to facilitate future repairs and upgrades.
"Our goal this year is to have him operational by the end of the Fall semester," Milns said. Prior to decommissioning, the robot could move its eyes, mouth and arms. A sensor in Otto's right hand allowed the robot to respond to handshakes with prerecorded dialogue and a wave.
According to the Gator Robotics website, Otto's frame of wood and aluminum is powered by a small 12-volt battery and an Arduino microprocessor. Materials and funds for the robot's construction are provided by the Benton Engineering Council and club member donations, Milns said. Kevin French, publicity director of Gator Robotics, said Otto is one of three robot projects run by Gator Robotics.
Other projects include Lunabotics, a lunar rover design intended to mine the surface of the moon, and Tailgator, a tailgating robot designed to cool drinks and make burgers. Work on Otto is intended to ease new members of the organization into the Gator Robotics design process.
"Because Otto is mostly built already, he's the easiest project to familiarize new members," French said. "We also want new members to have fun brainstorming upgrades to Otto."
Twenty-year-old UF economics junior Nicholas Mils thinks the new robot is very intriguing and would be eye-catching during school events.
"It'll be cool if the robot becomes a new mascot for the school," Mils said. "I think it's a pretty awesome idea."
A version of this story ran on page 10 on 9/19/2013 under the headline "Otto the robot, let me upgrade you"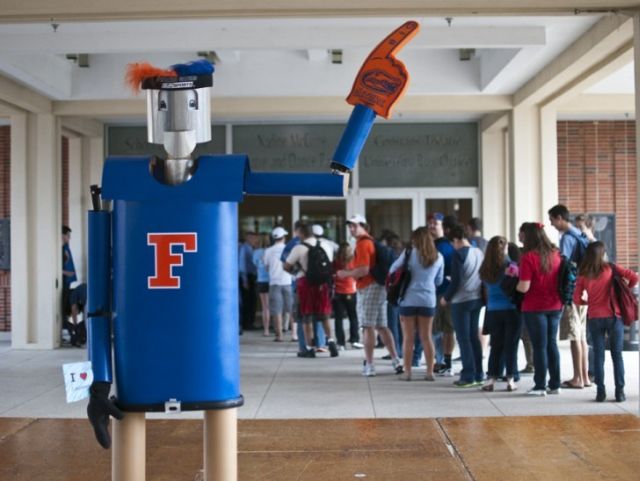 • ARTICLE Source: Robotics club recreates 1950s robot for University of Florida Engineering Week by Javier Edwards, Alligator. Posted: Monday, February 27, 2012
A 7-foot robot named Otto built by the Gator Robotics club stands on display on the Colonnade last Wednesday. The robot is a replica of the original bot, which was built in 1957 [1950?] by an electrical engineering student from UF.
Using three photographs, a 55-year-old video clip and $700 from the Benton Engineering Council, the UF Gator Robotics club resurrected a 7-foot robot from the past.
Michael Andrews, president of the Benton Engineering Council, asked Gator Robotics last month to rebuild a robot named Otto, which was built by a UF electrical engineer in 1957 [cyberneticzoo- maybe 1950?].
The robot is the mascot for Engineering Week, which ends today. Otto will be on display at the State of the College Address at 5:30 p.m. in the Reitz Union Grand Ballroom.
The seven-student design team completed the basic construction of the robot Wednesday, said Camilo Buscaron, president of Gator Robotics.
"I'm really proud of the work they did," he said. The robot can move its eyes, mouth and arms, 18-year-old material science and engineering freshman Kevin French said. The team plans to add a speaker so Otto can talk and to give Otto the ability to shake hands and wave.
"We have been brainstorming all kinds of things to add to him. Everything from a jet pack to tank treads," French said. "Maybe a team in the future will make a female Otto, and it'll be like the new Albert and Alberta."
---
See all the known early Humanoid Robots here.
---
Tags: 1957, American, Humanoid Robot, Mechanical Man, Otto Matrix, Otto the Robot, Robot, Science Fair, University of Florida