1957 – "Gygan" aka "Cygan" aka "Mr Moto" – Piero Fiorito (Italian)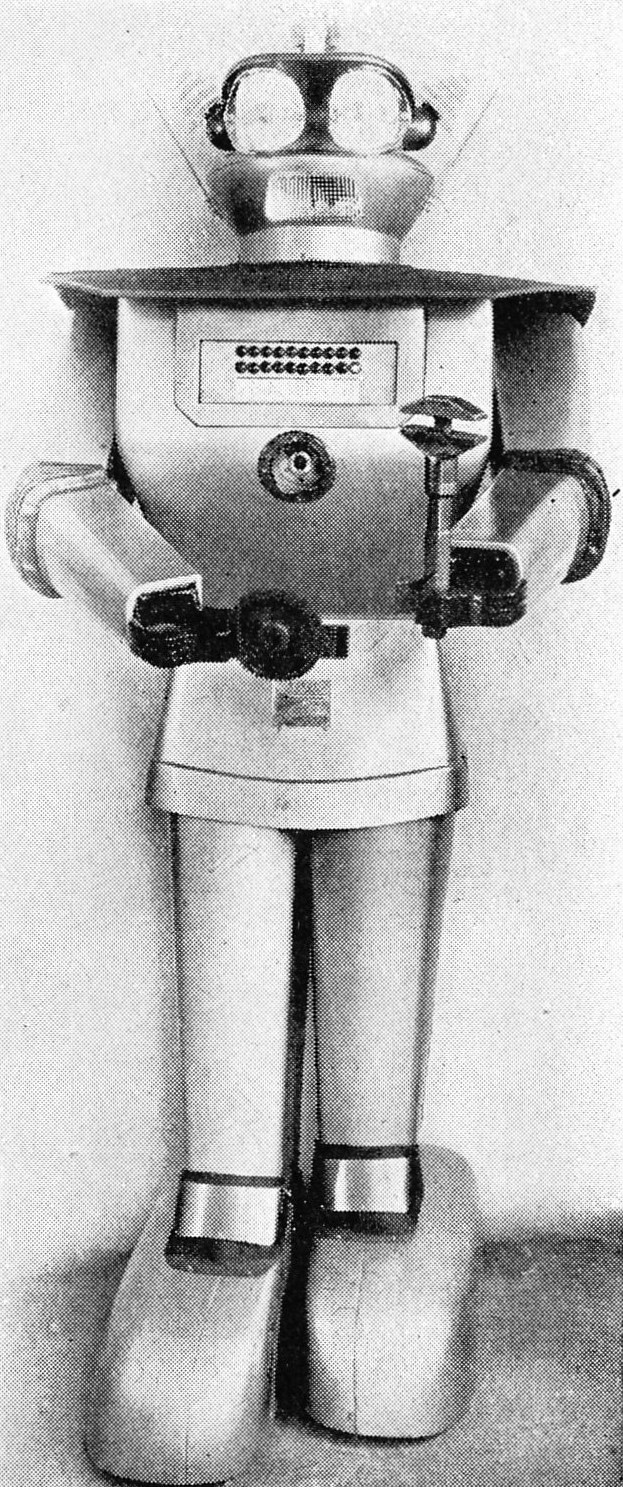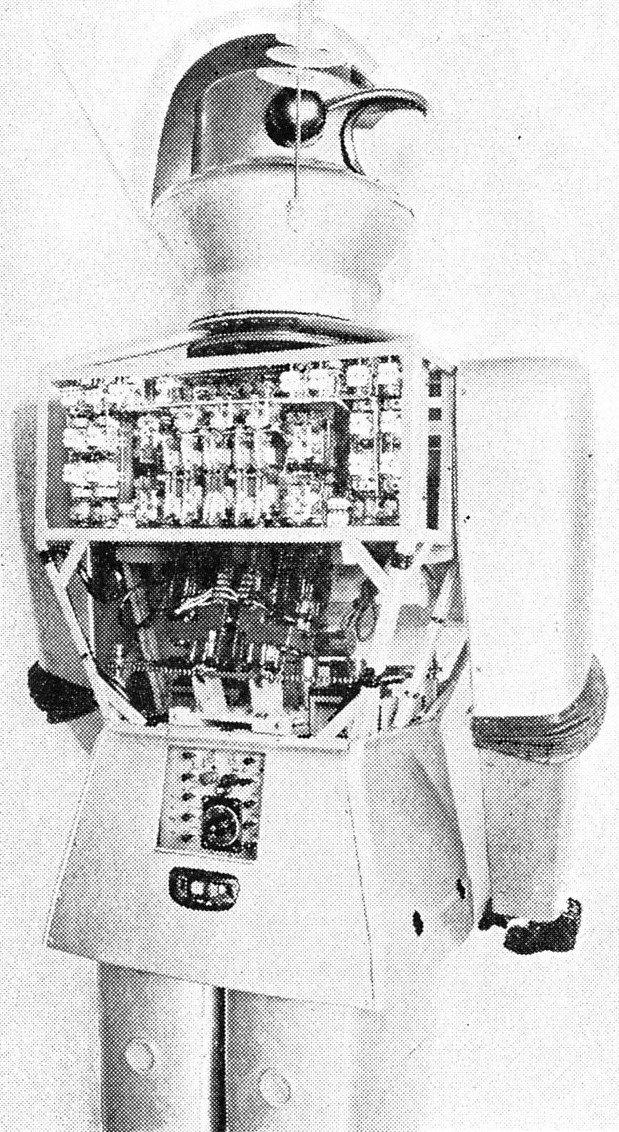 Radio Control Models & Electronics, September 1960 p244-5
CYGAN – Dr. Fiorito's Giant Electronic Robot
From Italian Rassegna di Modellismo
This fantastic model is the work of Dr. Ing. Fiorito, a keen aeromodeller from Turin, who has been working on a whole series of such models and fitted them with radio control circuits. Construction – in spite of appearances to the contrary – has been kept comparitively simple. Meccano parts being largely used in building. First prototype to be built was about five feet high, and models two and three were built to a similar size, with the addition of cybernetic and autocontrols.
The final design, after months of work looked, so the designer declares, like "a proud Englishman" so he called it "Cygan". (We confess to being baffled by the connection!).
"Cygan" is positively enormous! According to our figures it is over eight feet tall and weight over 1,000 lbs.! This weight includes batteries and accumulators, which give an operation time of 4 1/2 hours. It will walk forward or backwards, turn right or left, raise it arms singly or together, and perform simple operations with them with the greatest delicacy, such as lifting iron bars, picking up pieces of apparatus and putting it down again where told. It is addapted to accept spoken commands as well as signals, and will also respond to light rays. Current consumption is 28v. at 70 ah. Accumulators weigh about 2 cwts. and are placed as low down as possible to give stability to the robot. Other interesting data includes: R/C range approx, one mile: top speed 10 ft. per min,; left or right turns up to 180degrees made in three seconds on level ground. Arm movements complete from rest to raised or vice versa in three seconds. Coloured lights can be flashed from sockets, and robot will acknowledge signals, and make some responses.
Unfortunately no data is offered on radio control circuits or servos in use. From the illustrations we can count at least twenty relays. Propulsion methon seems to be based on that used in Peter Holland's "Mr. Robot-ham" some years ago, whereby wheeled trolleys are located under each foot, with electric motors which make and break automatically as each foot comes forward for a step. Turn is presumably made by slowing down or stopping the motor in one foot.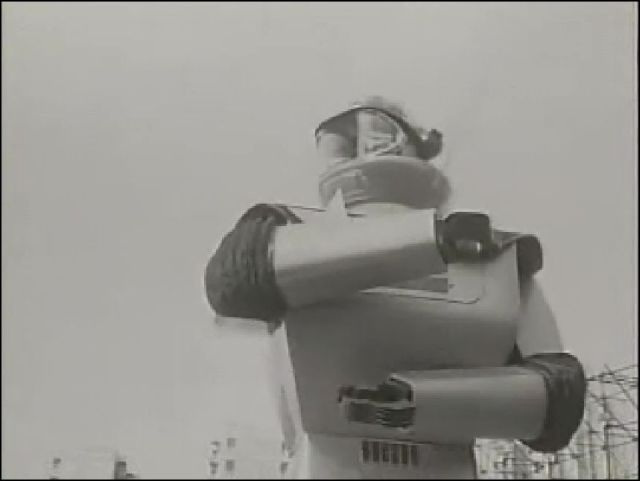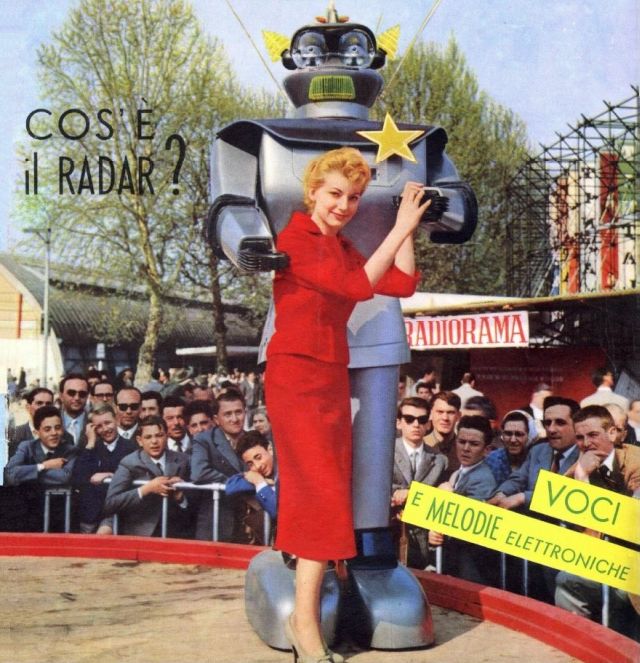 Nataniela De Michele with Gygan, the electronic man of the future!
Source : Radiorama Jun 1957 here.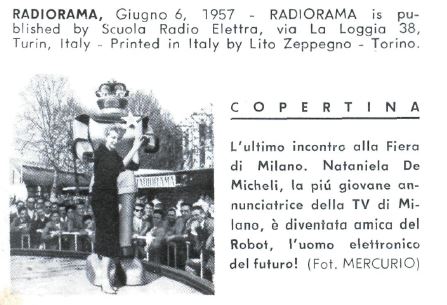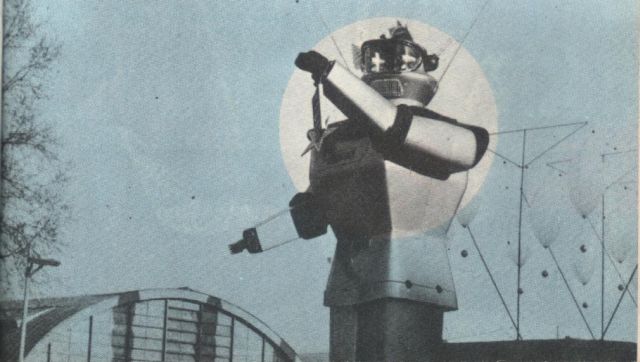 ---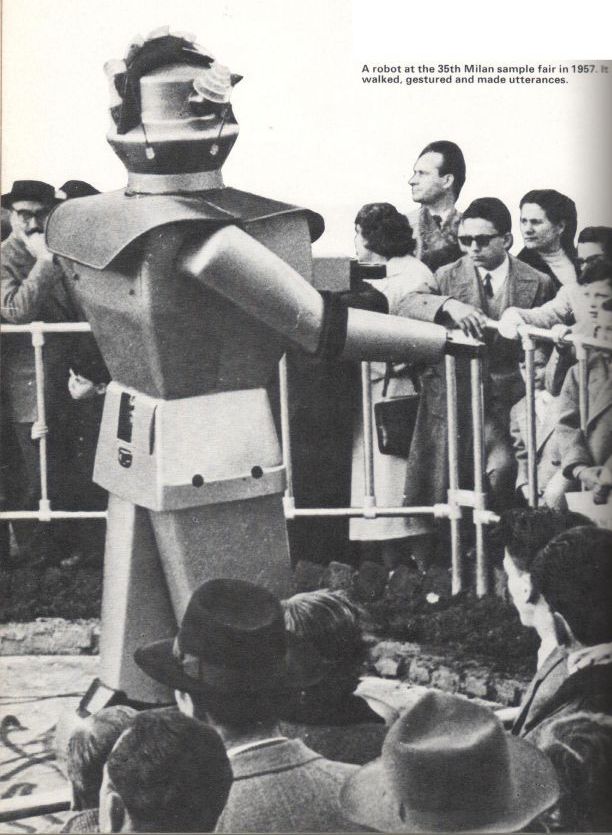 The Jasia Reichardt book (Robots: Fact, Fiction and Prediction (p80) dates this image at 1957.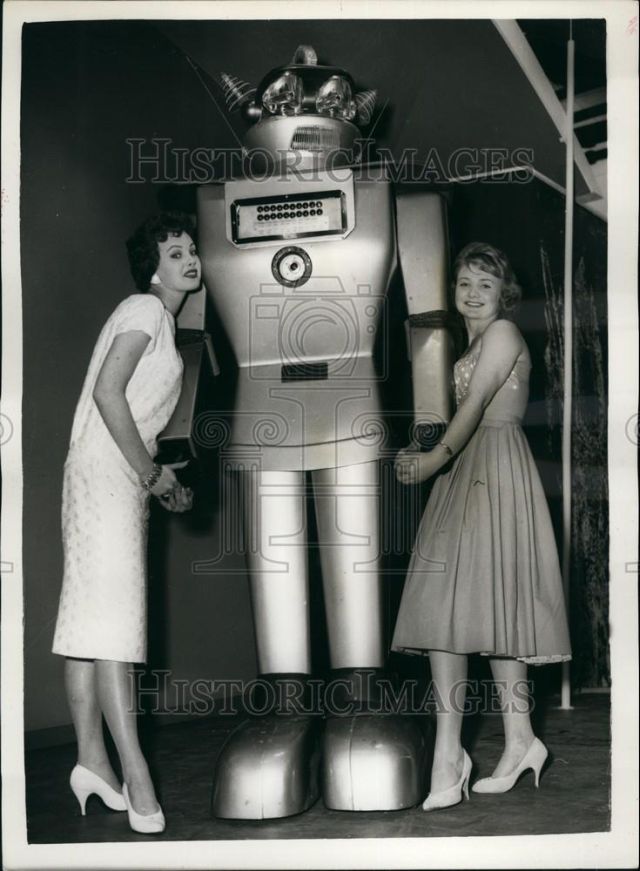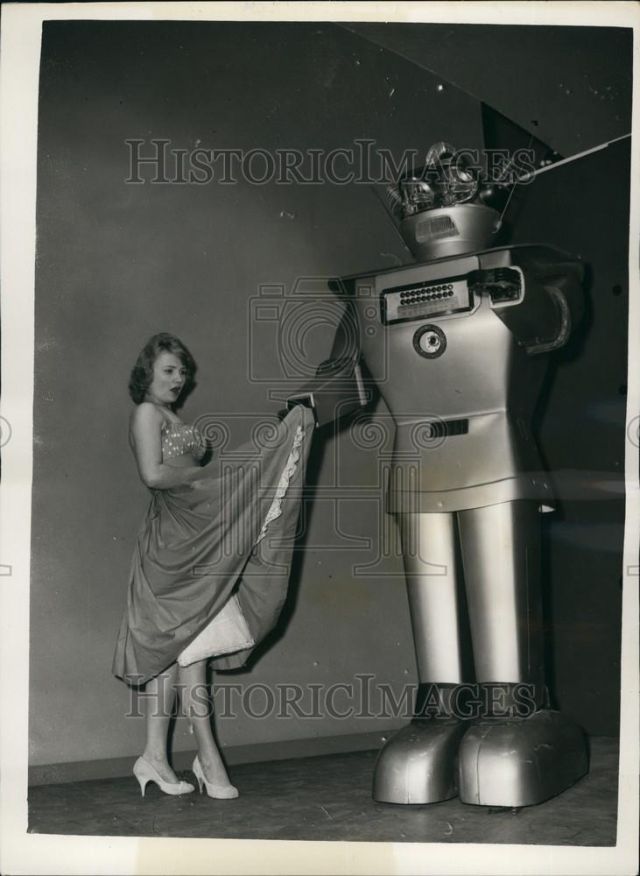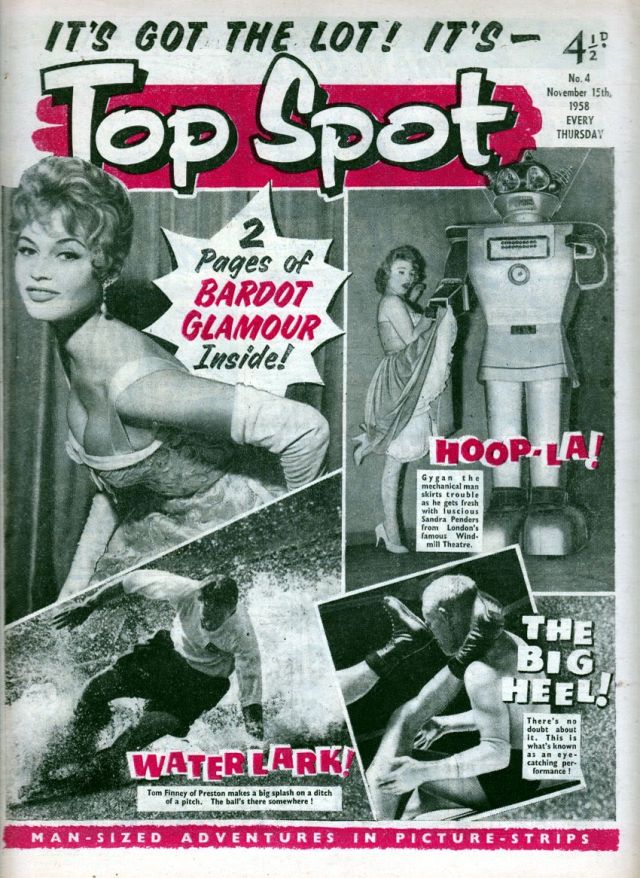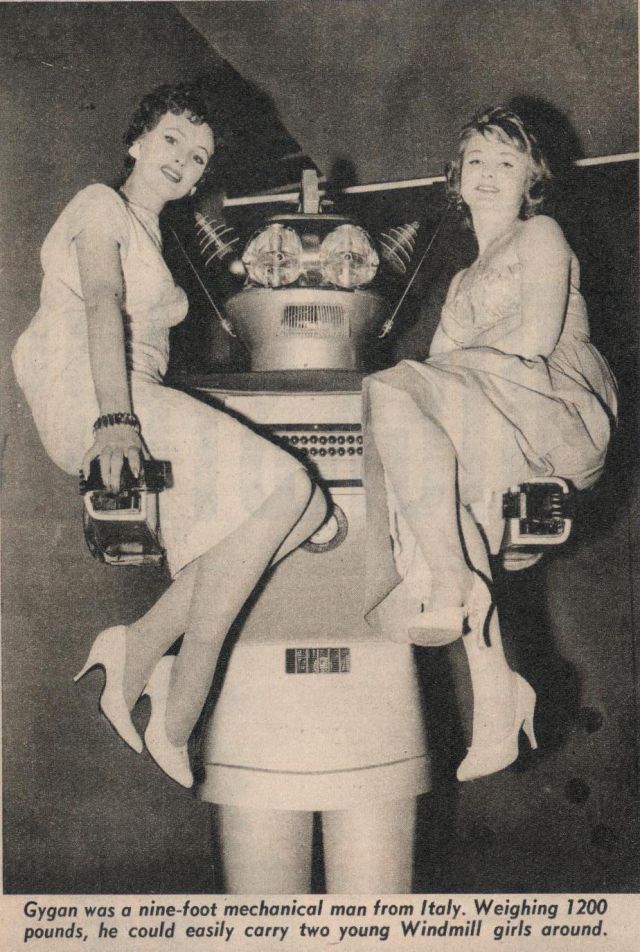 "9 ft. robot "Gygan" opens 1958 British Food Fair carrying 2 Windmill Girls" – so says caption to Reuter clip clip ( no preview available).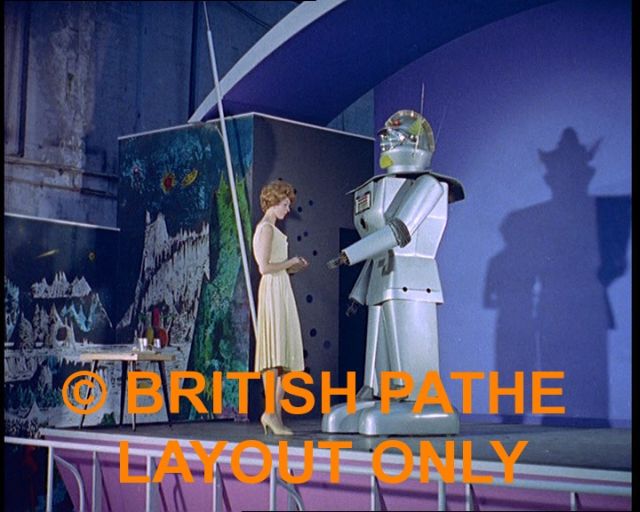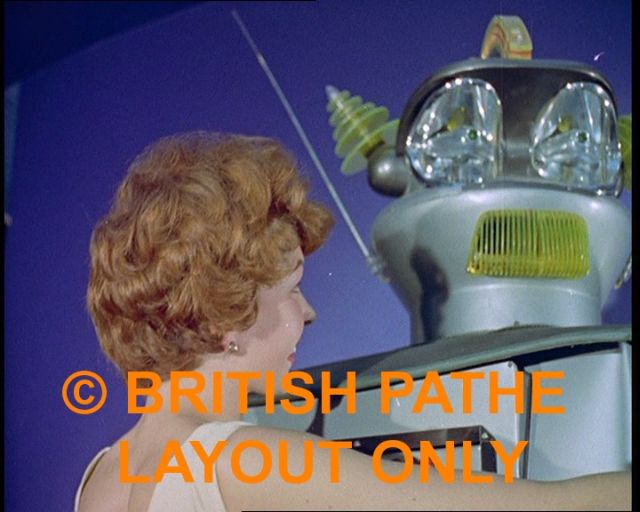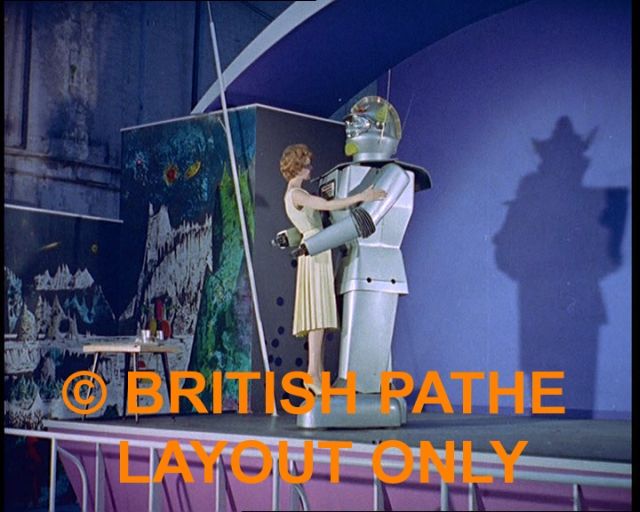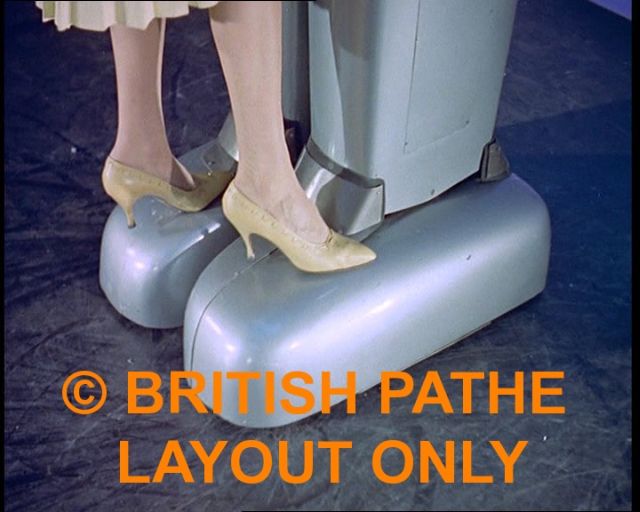 GENTLE GIANT aka ROBOT
Here's the blurb on the British pathe clip
GENTLE GIANT (aka ROBOT) 1958
London.
L/S of a stage, Bill Kellie is stood on one side. On the other side is Gygan a nine foot tall robot, he walks towards Bill. M/S as Gygan comes to a stop. C/U of Gygan's face, he turns his head from side to side and his eyes flash, the camera pans down to his hand which is holding a tin cup. M/S as Bill takes the cup out of his hand and shows the bottom which has been crushed. M/S of the audience watching. C/U of Gygan's face. M/S as Gygan's inventor, Senor Piero Fiorito of Milan, goes round the back and adjusts the control panel. C/U of his face, C/U of the panel, the camera pans up to Gygan's face again.
M/S of Gygan on the stage, Piero walks off. Model Audrey Blakey is stood at the side of the stage. M/S of the audience, M/S of electronics designer Luciano Maritano, he is wearing headphones and sat at a control panel. M/S as Gygan starts walking towards Audrey, C/U of his big feet. M/S as he holds out his hand, Audrey steps up onto his feet and holds his arms, he puts his arms around her. C/U of a little boy watching them. M/S of Gygan and Audrey, the narrator says Gygan could have many uses including handling radioactive materials but he could also be a servant or 'obedient companion'. He can walk, talk, sing and dance. M/S of children in the audience. M/S as Gygan and Audrey dance, she is still balanced on his feet. C/U of Audrey looking up at him, M/S of the two dancing, his eyes are flashing. C/U of her feet on his, M/S as they dance.
Note: This demonstration takes place at The British Food Fair at Olympia.
MORE VIDEO CLIPS
There are several video clips on Gygan / Cygan. Here, here, here and here. The first two sites require "Silverlight", and the third site Gaumont, will require you to create a free account and log in first.
---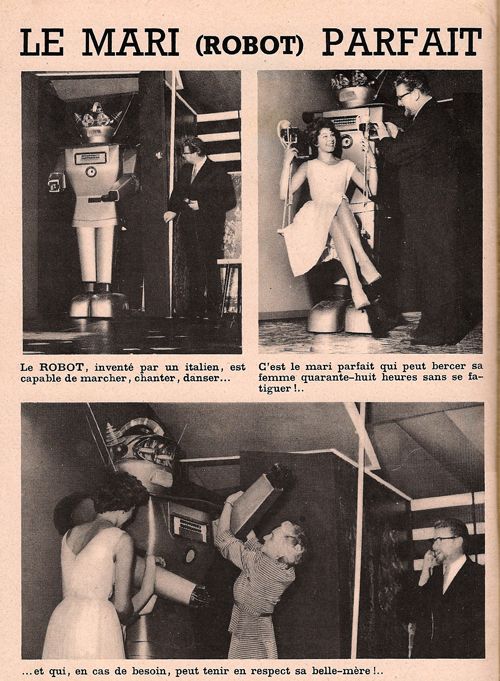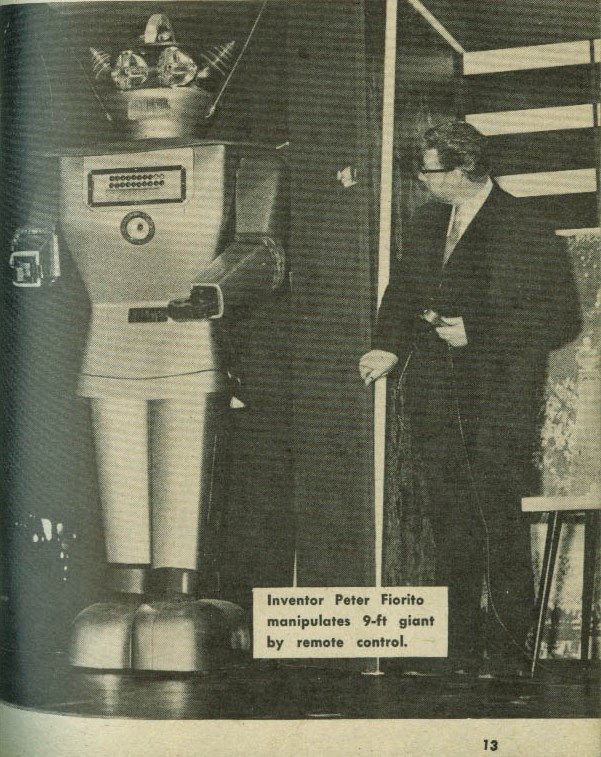 Caption: Inventor Peter Fiorito manipulates 9-ft giant by remote control.
Caption: Obedient robot gently hoists woman into air. Gygan's strength is incredible, may be put to use in danger atomic piles.
GYGAN, the silver giant, is no Hollywood horror creation. He walks, talks, even sings and dances, and is the latest in electronic robots. His "master" is Peter Fiorito, a 35-year-old Italian who built the 9-foot tall in his Milan workshop on a bet.
Quite intelligent, Gygan reads the paper and his chest control panel lights up like a pin-ball machine when he gets angry or is amused by the strange antics of human beings.
Fiorito works him by remote control, is convinced that the principles involved will be applied to atomic production, among other uses. Such robots could handle radioactive materials in a nuclear pile, each one doing the work of two humans.
All this is very well and good, but TEMPO wonders what's going to happen when Gygan wises up and starts demanding an electronic Eve to make world complete?
Caption: Obedient robot gently hoists woman into air. Gygan's strength is incredible, may be put to use in danger atomic piles.

Source: Tempo, May 1961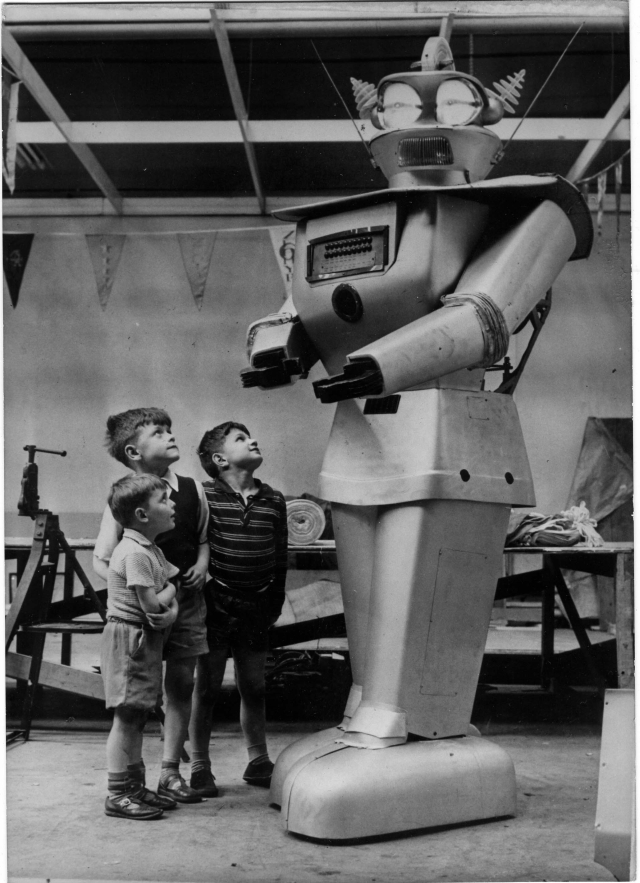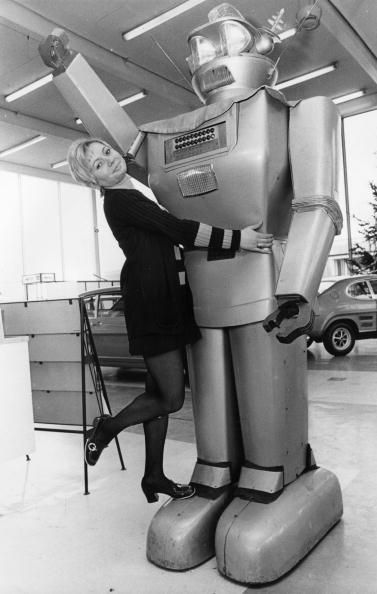 The secretary of South East Essex Motors in Basildon with the company mascot. As my friend David Buckley says, Gygan was called Mr. Moto whilst he was at a Ford car dealership in Leeds doing promotional work in the 1960's.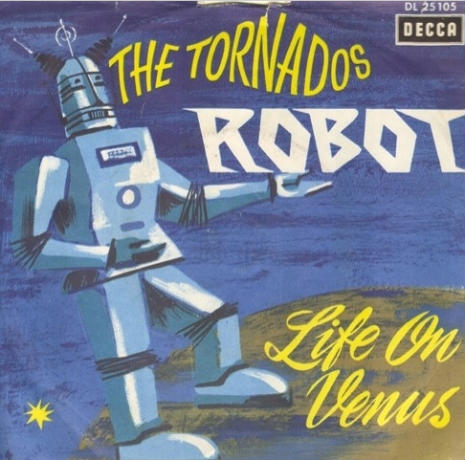 In 1963, The Tornados released a single record with side A called Robot.  The English album cover appears greatly inspired by Gygan.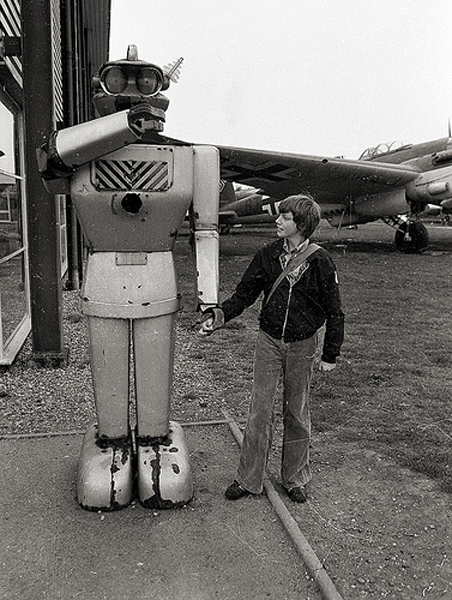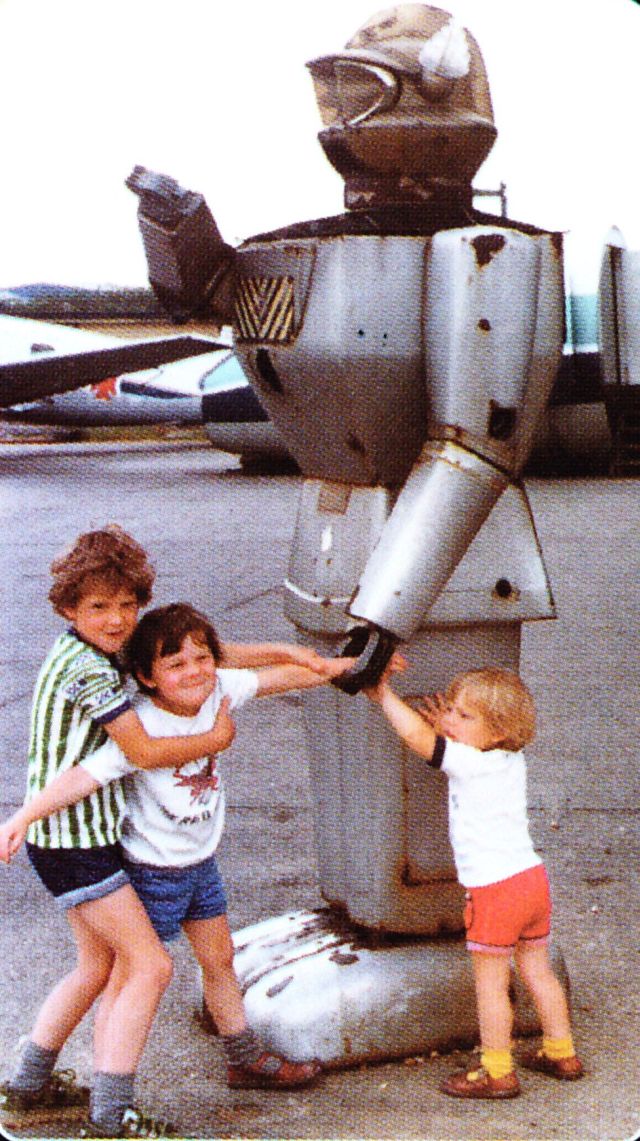 Rusting and corroding away at some, what looks like, old aircraft museum (date and location currently unknown).
Update: 12 Sept 2013 – Mitch Thraves informs me that the robot was on display at the Southend Historic Aircraft Museum which was open from the early 1970s through to 1983.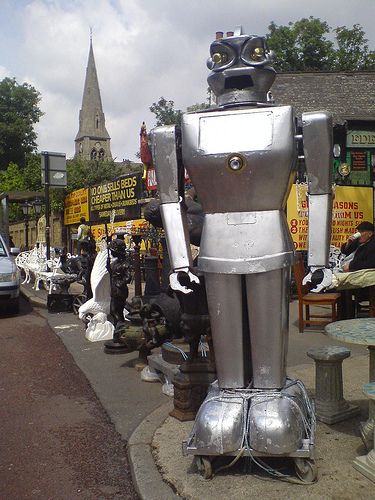 For sale in May 2007. Painted silver to hide the rust and corrosion. Someone now has him, but I don't know who [found 2011 – see below].
"This architectural salvage shop  is on Lewisham Way , Brockley, SE4. Opposite Tyrwhitt Road, SE4. The robot was sold about two months after this photo was taken." – [put photo credits here].
---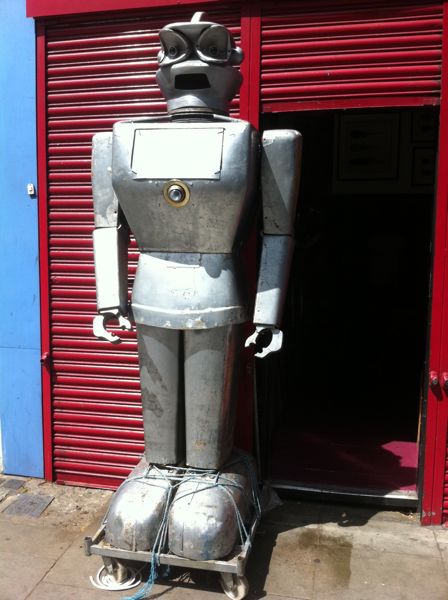 Previously (July 2011) at M.Goldstein's 67 Hackney Road in London E2 8ET.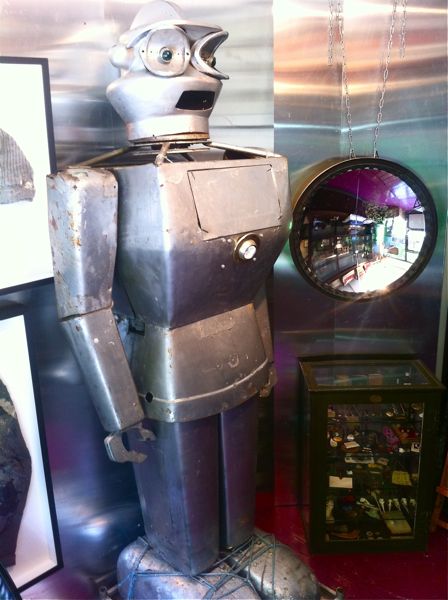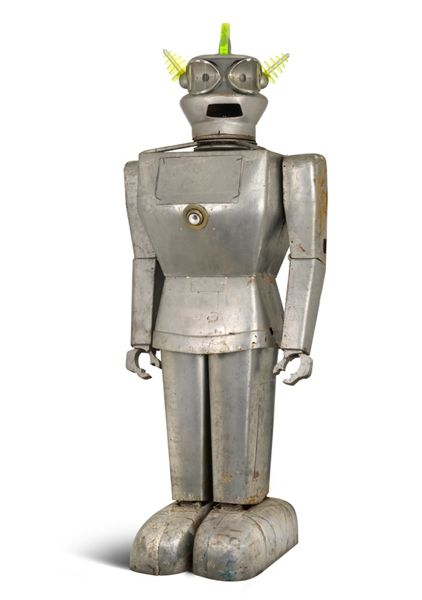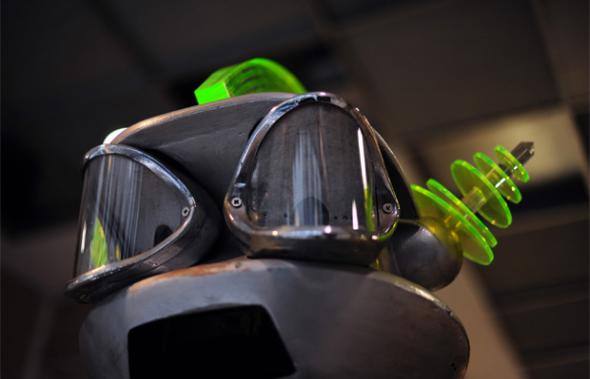 Above: Some more recent pics (2013) showing a spruce up, antenna ears and green "mohawk" – not quite the original colours.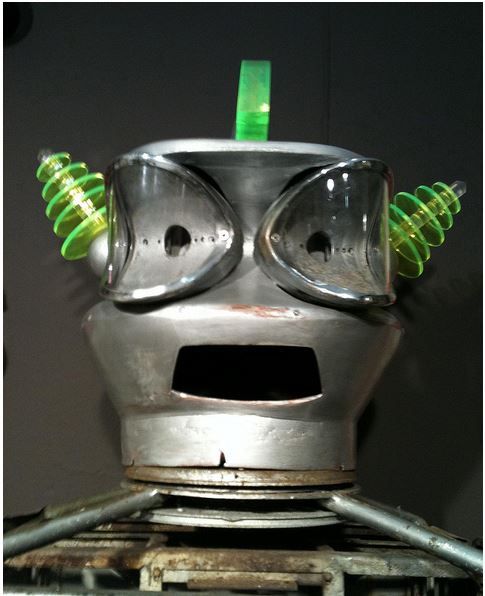 All ready for the Cristies Auction (September 2013).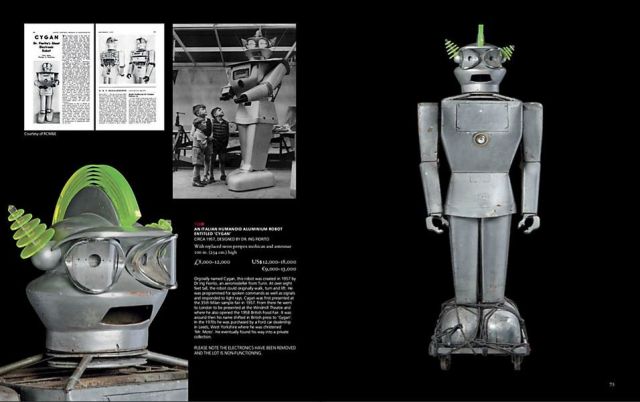 Christie's Catalogue page.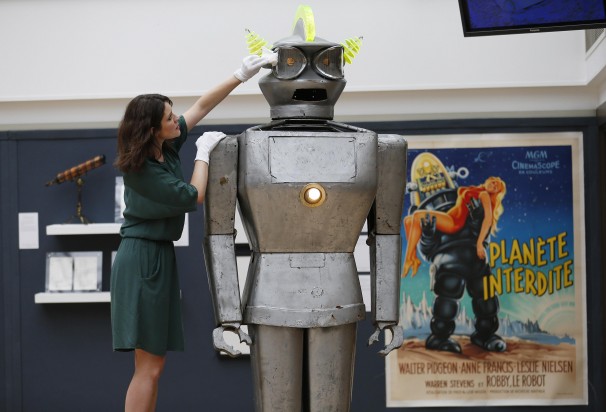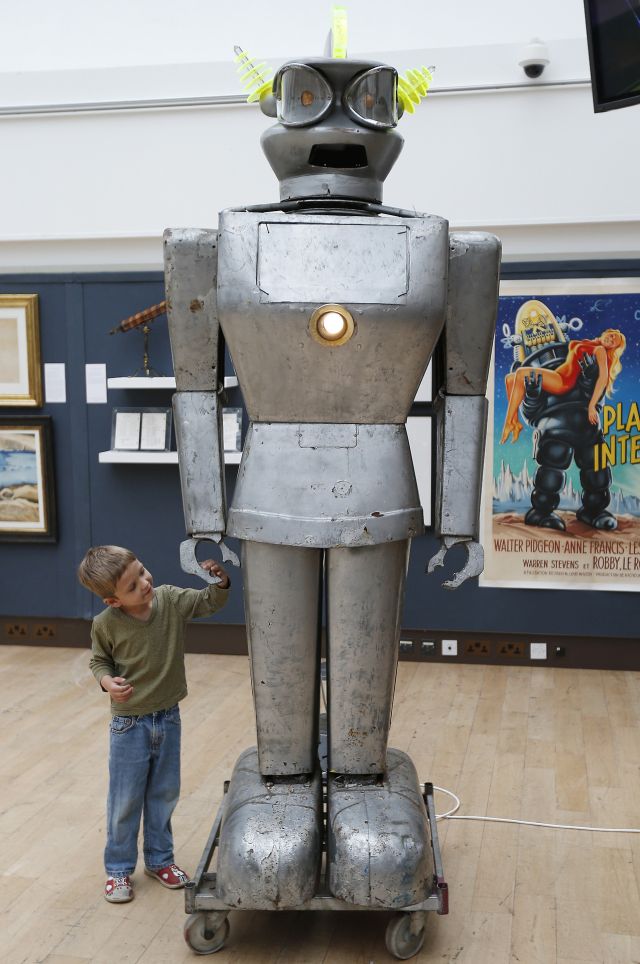 He was sold for £14,000 (+ tax and commission = £17.5k).
Video of the Live Auction of Lot 128: AN ITALIAN HUMANOID ALUMINIUM ROBOT ENTITLED 'CYGAN'.
---
See all the Early Humanoid Robots here.
---
Tags: 1957, Audrey Blakey, Bill Kellie, Cygan, Dr. Ing. Fiorito, Gygan, Luciano Maritano, Mechanical Man, Mr. Moto, Piero Fiorito, Robot