1948 – Anatole the Robot (nee Marsulus and Gustave) – M. Koralek / Jean Dusailly (French)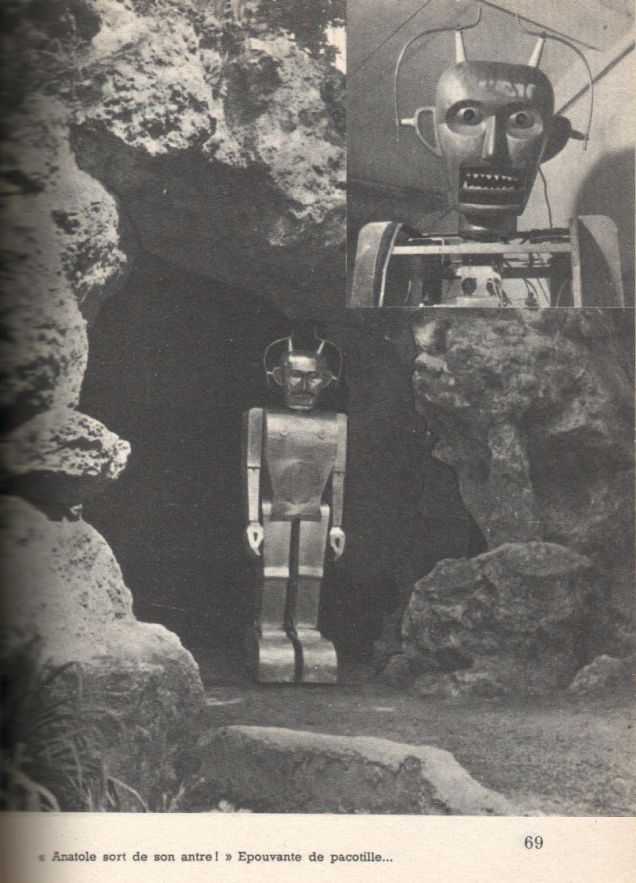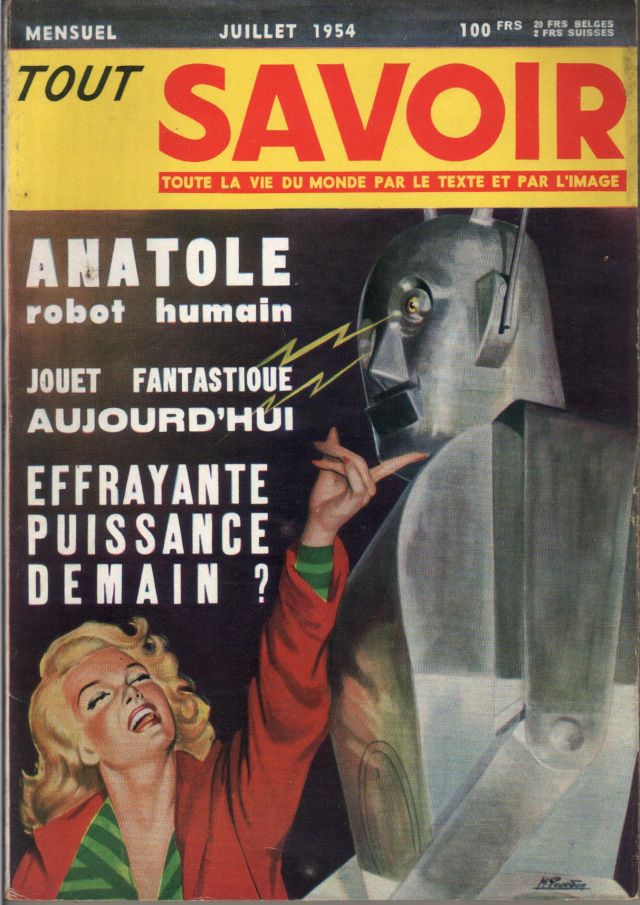 A radio controlled French robot made by Jean Dusailly.
According to Tout Savoir magazine for July 1954 Anatole could move its head right and left, move its arms and responded to ten commands; and it weighed 140 kg and was 2m 10cm high.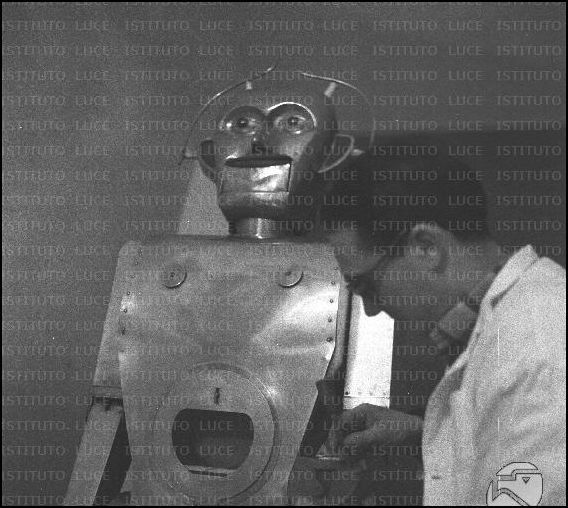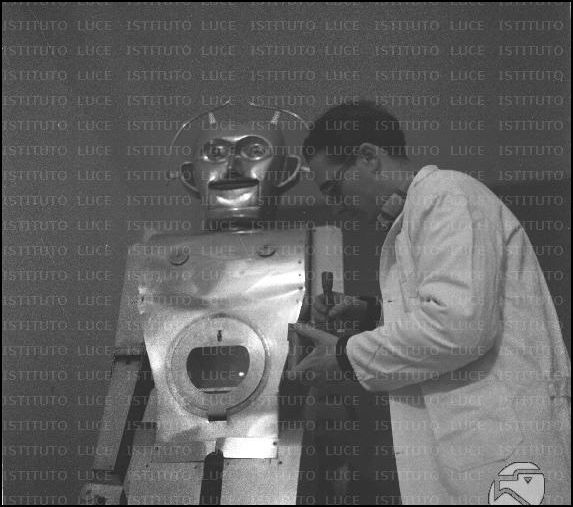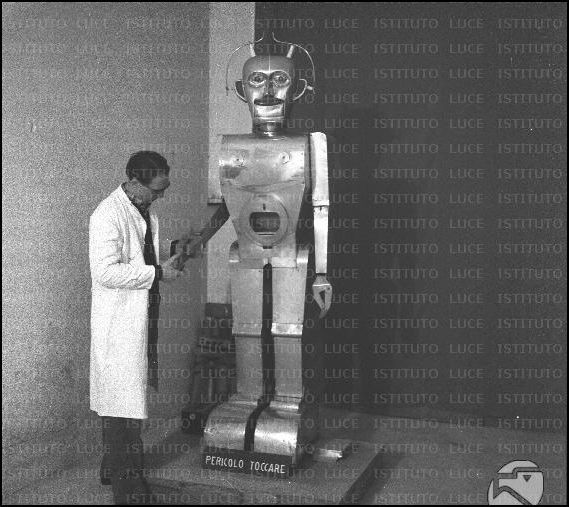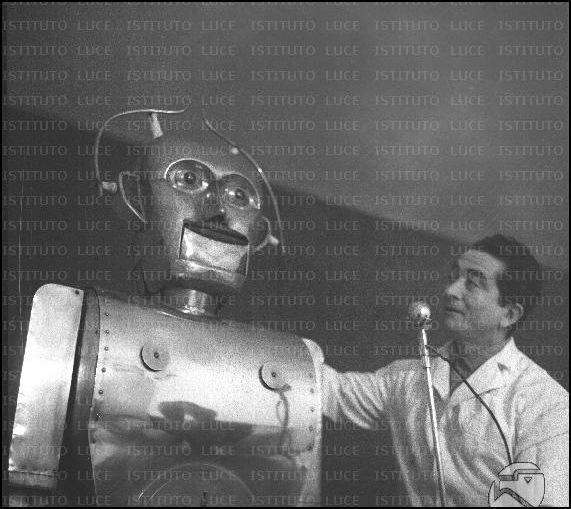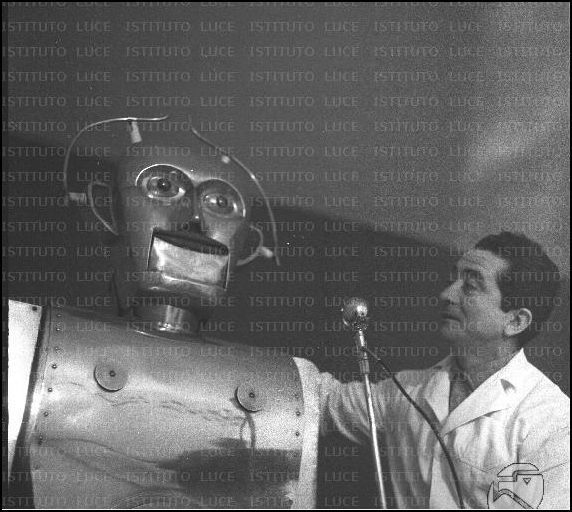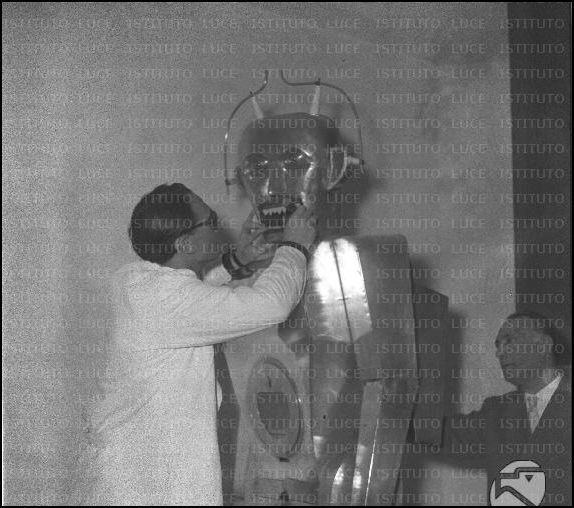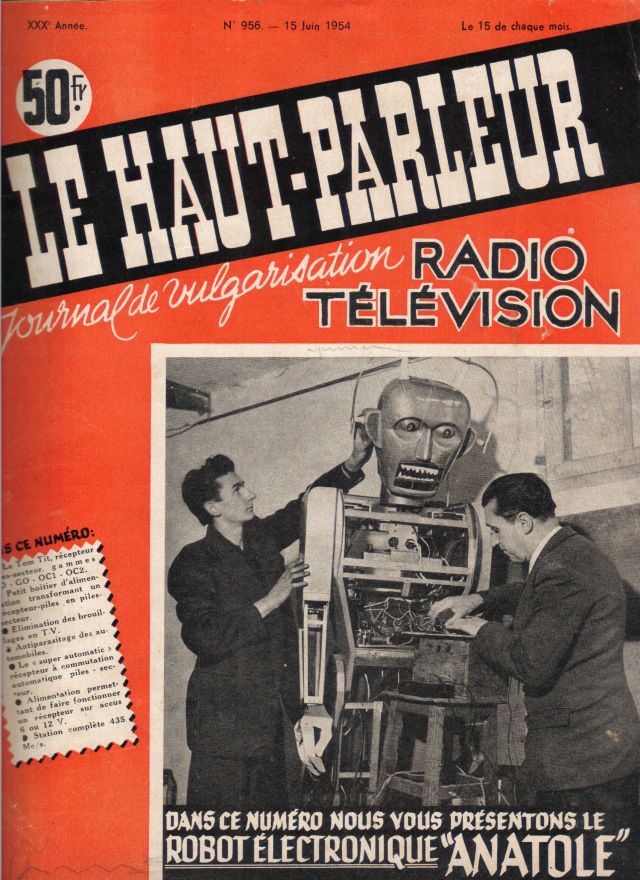 Le Haut-Parleur No. 956 Page 8 , 15 Juin 1954
L'ERE DES ROBOTS EST UNE RÉALITÉ :
Le robot électronique "ANATOLE"
Dans l'esprit du public, il arrive encore souvent que le terme même de « robot » évoque d'instinct la forme d'un être humain. Ce n'est évidemment pas là une forme logique bien que la machine à contrôler le baccalauréat par exemple, se présente sous la forme d'un homme de fer et d'acier.
Il est cependant possible de créer un automate électronique qui rappelle la forme humaine et, c'est ce à quoi s'est applioué Jean Dusailly, qui imagina, jadis, le typophone, appareil épelant les lettres d'un texte imprimé ordinaire pour les aveugles, et a construit « Anatole ».
Le Robot « Anatole »
« Anatole » est un robot télécommandé qui, obéit à son maître, salue à droite et à gauche de la tête, agite les bras et répond à onze signaux-codes différents. Il est capable d'enregistrer un certain nombre d'ordres différents pour les restituer ensuite simultanément. Il est donc, pour cela, doté de mémoire.
Géant de 2 mètres 10 de hauteur et pesant 140 kilogrammes, « Anatole » a une véritable vie de robot. Lors de ses réglages, il lui advint, un jour, d'entrer dans une véritable crise d'épilepsie parce qu'il avait reçu des ordres contradictoires. Lors de la première séance de Pleyel, il souffrit aussi de quelques traumatismes relatifs à son transfert, mais, par contre, à la seconde séance, il fonctionna parfaitement et sut même répondre aux questions posées par le public.
Ce sont les mêmes principes de la radio et de la télécommande, ici associés, qui donnent la parole à ce robot et c'est, bien entendu, par l'intermédiaire d'un émetteur-récepteur, fonctionnant sur des ondes électromagnétiques particulières qu' « Anatole » reçoit les instructions désirables.
English machine translation:
THE ERA OF ROBOTS IS A REALITY:
The electronic robot "ANATOLE"
In the public mind, it still happens frequently that the very term "robot" refers to instinct as a human being. This is obviously not a logical form that the machine to control the degree for example, takes the form of a man of iron and steel.
However, it is possible to create an electronic controller that is reminiscent of the human form and that is what has applioué Jean Dusailly, which came once the typophone, spelling device letters of ordinary printed texts for the blind , and built "Anatole".
The Robot "Anatole"
"Anatole" is a remote controlled robot who obeys his master, welcome to the right and left of the head, waving his arms and responded to eleven different codes signals. It is capable of recording a number of different orders for the return then simultaneously. It is for this, with memory.
A giant at 2 meters 10 centimeters tall and weighing 140 kilograms, "Anatole" is a real life robot. When its settings, it happened one day to enter into a genuine seizure because he had received orders. At the first meeting of Pleyel, he also suffered a few injuries on his transfer, but, again, in the second meeting, it worked perfectly and was able to answer questions raised by the public.
The same principles of radio and the remote, here involved, which give voice to the robot and is, of course, via a transceiver, operating at specific electromagnetic waves that "Anatole" receives instructions desirable.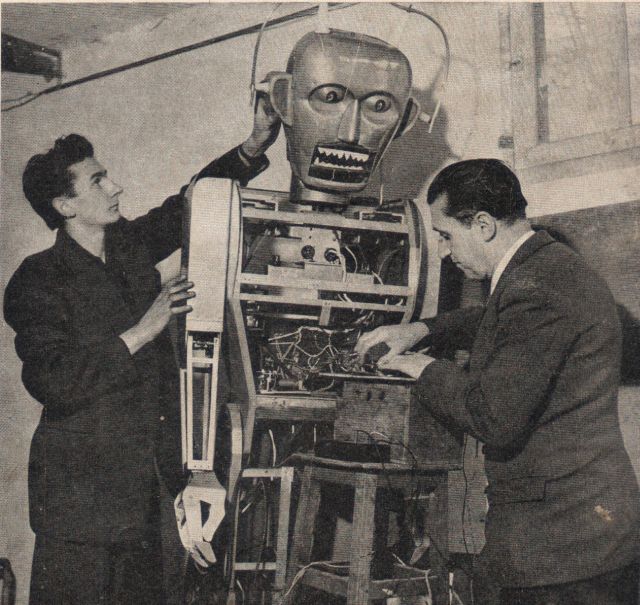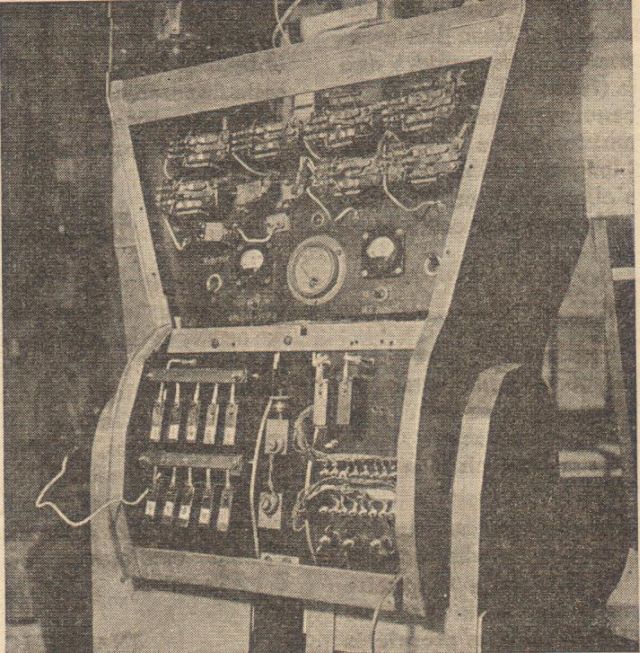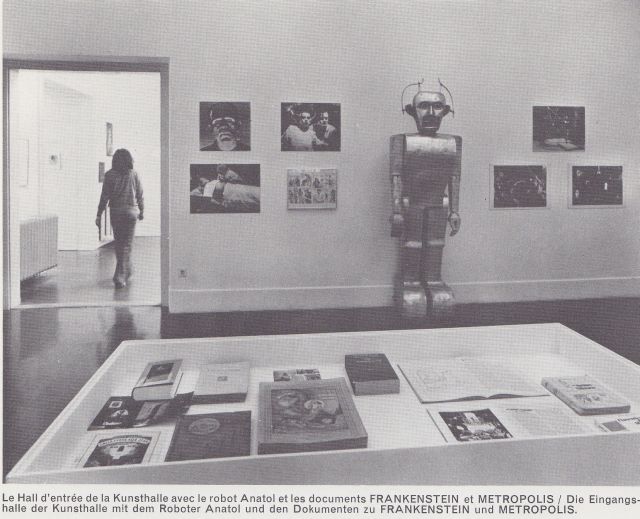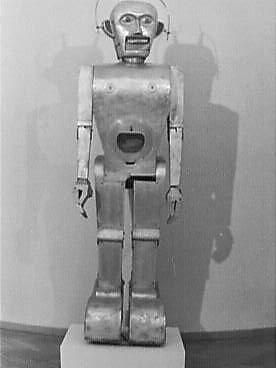 Exhibition "Bachelor Machines" in Amsterdam's Stedelijk Museum (1975); Robot Anatole from collection Fivel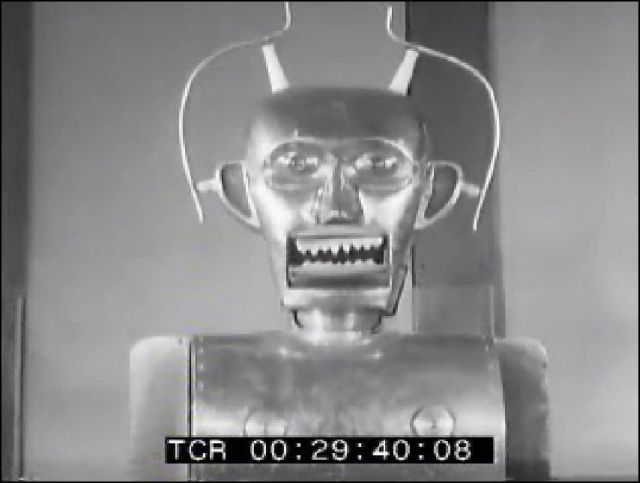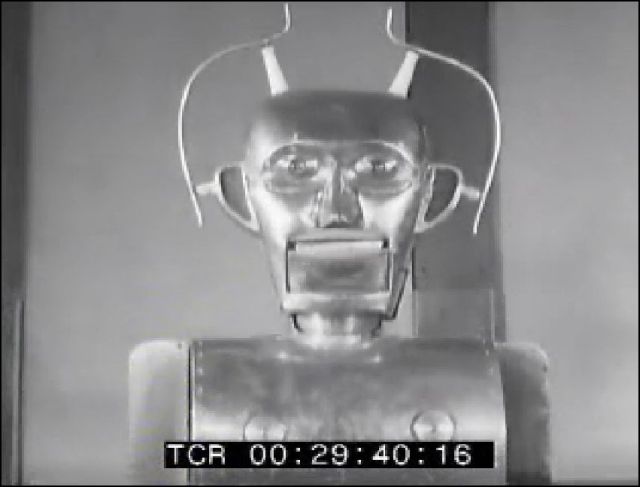 Several stills from a video clip. Three video clips found here, here, and here [the third one not relocated as yet!].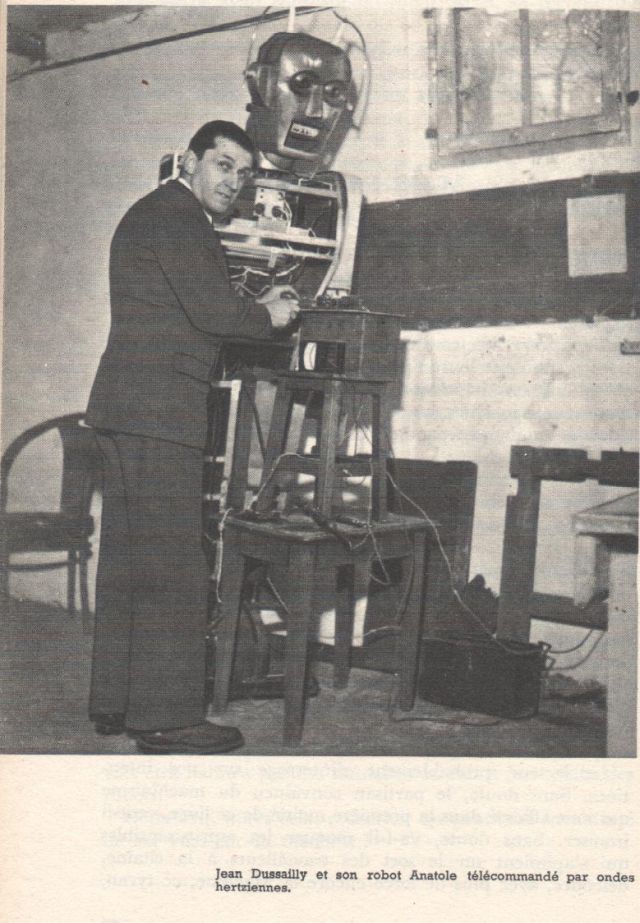 (Note incorrect spelling: Should be Jean Dusailly, not Jean Dussailly.)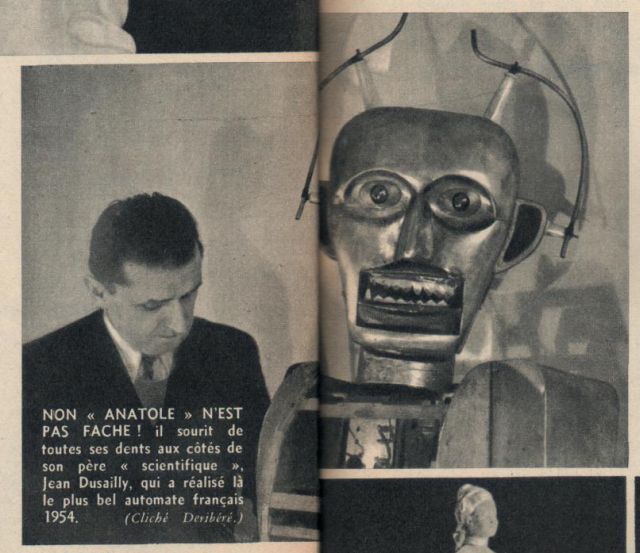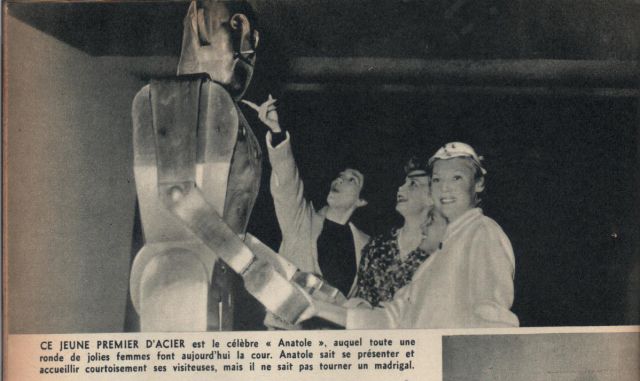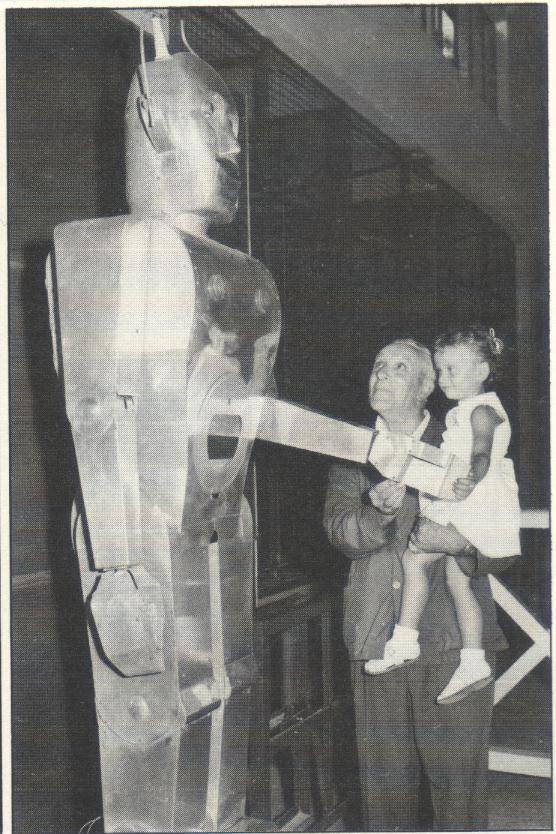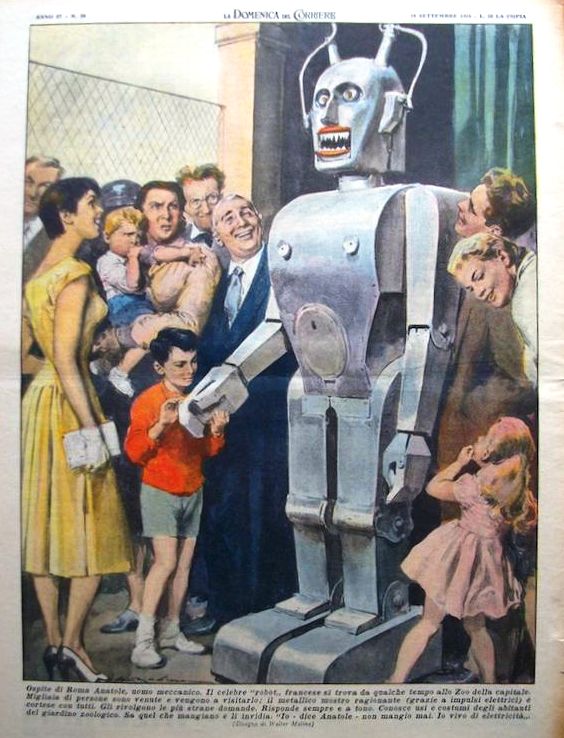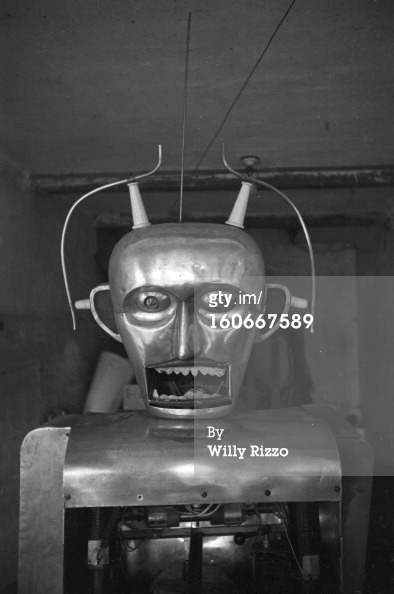 ---
1948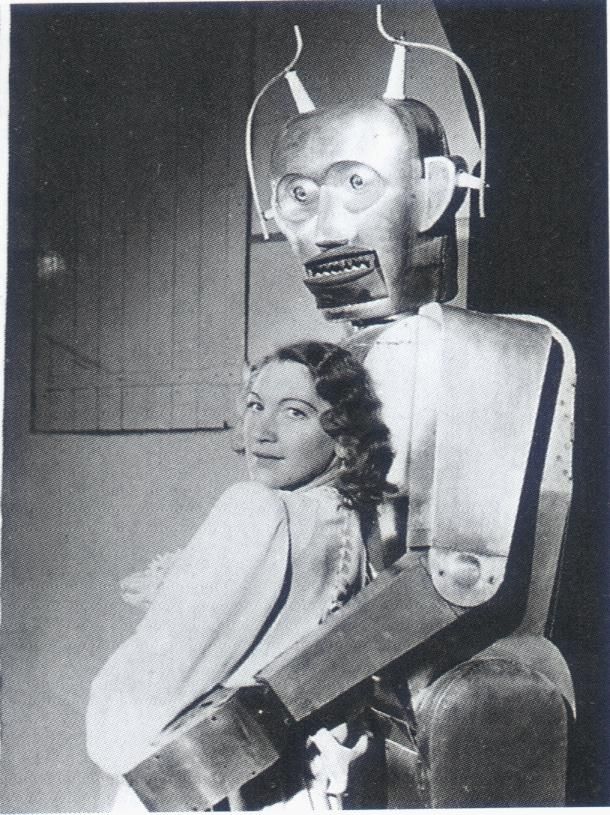 The French actress Mag Villars with the robot called "Marsulus" the Martian that they both appeared in a French production.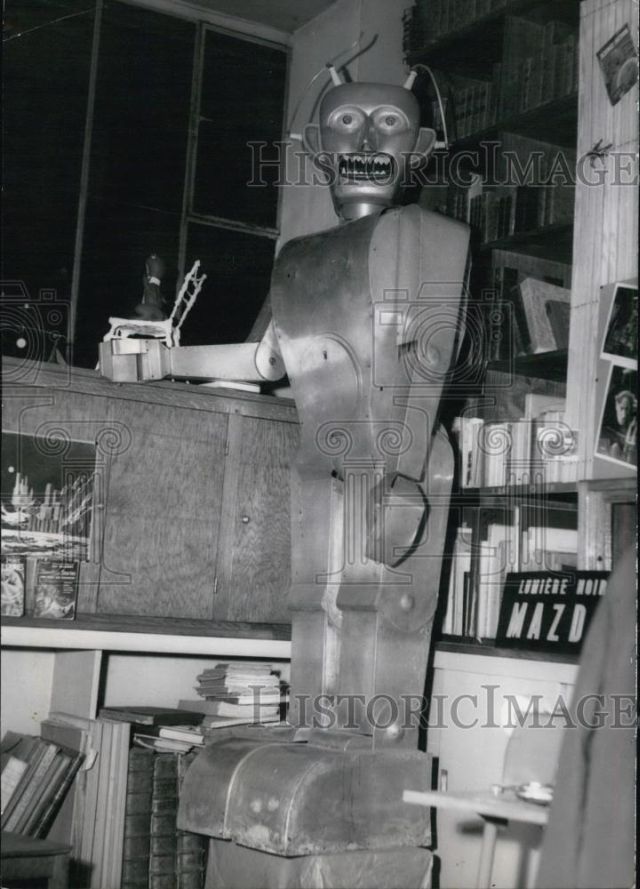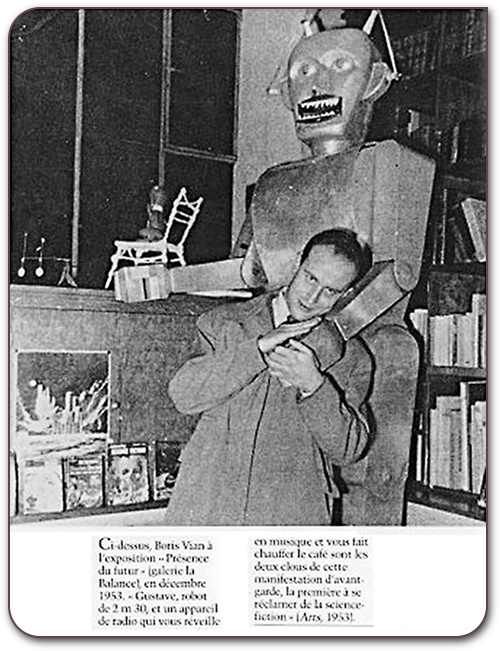 Boris Vian with "Gustave" at the Science and Fiction Exposition in France, December 1953.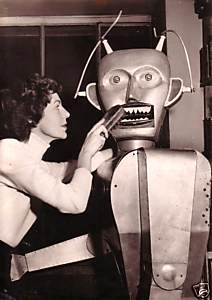 From a recently discovered article above, it appears that "Anatole" was originally "Gustave", thought to be of Russian origin.
Dusailly is said to have bought the robot from a garage which had, in turn, bought it at the end of the Library's Exposition on Science Fiction in late 1953, and refurbished it. However, from the picture below, we see that a French inventor by the name of M. Koralek, a noted engineer, was most likely the original inventor of "Gustave".
So he is of French origin, not Russian.
Excerpt from French article found here.
Comme je ne suis pas collectionneur et que le plaisir de vivre m'intéresse plus que la possession, je fus amené, un jour de dèche absolue, à vendre cet ensemble rare à Valérie Schmidt ? — dont la librairie voisinait celle du Minotaure, spécialisée dans le cinéma, que je fréquentais assidûment. J'avais appris qu'elle y préparait une exposition sur la Science-Fiction ancienne et moderne. Afin d'augmenter le fonds avant la transformation, puis l'exposition inaugurale de la Balance en librairie de Science-Fiction, la première en France, je lui portai pendant une semaine mes livres dans une large valise en carton. Je contribuai aussi à l'exposition grâce à une singulière trouvaille. Sillonnant Paris et sa banlieue en solex chez les libraires, les brocanteurs, les chiffonniers, les ferrailleurs, d'abord pour l'agrément, aussi pour ramasser, découvrir d'autres livres destinés à augmenter le fonds ancien de la librairie, je tombai par hasard, à Montreuil, sur un robot en fonte d'aluminium issu tout droit de Métropolis, d'origine russe il me semble bien. Son achat fut négocié et le monstre de métal qui faisait plus de deux mètres de hauteur, baptisé Gustave, fut installé en vedette dans la librairie. Totem signifiant, il attira tous les regards. À la fin de l'exposition, ce robot fut revendu à un garagiste, puis redécouvert par un certain Jean Dussailly qui le perfectionna ?, remplaçant son système de rouages et de cames par des tubes et des relais électroniques.

English Google Translation

As I am not a collector and the enjoyment of life interests me more than the possession, I was brought a day of absolute dèche to sell this rare set ? Valerie Schmidt – whose bookstore that neighbored the Minotaur, specializing in film, I attended regularly. I learned that she was preparing an exhibition on science fiction, ancient and modern. To increase the funds before the transformation, then the inaugural exhibition of the Balance in library Science Fiction, the first in France, I gave him my books for a week in a large cardboard suitcase. I helped as exposure through a unique find. Plying Paris and its suburbs solex among booksellers, antique shops, ragpickers, the wreckers, first for approval, also to collect, discover other books intended to increase the funds of the former bookstore, I stumbled by chance, Montreuil, a robot from cast aluminum straight Metropolis of Russian origin it seems to me. Its purchase was negotiated and the metal monster that was more than two meters high, called Gustave was installed featured in the library. Totem meaning, he drew all eyes. At the end of the exhibition, the robot was sold to a garage, and then rediscovered by a certain Jean Dussailly who perfected ?, replacing its system of gears and cams tubes and electronic relays.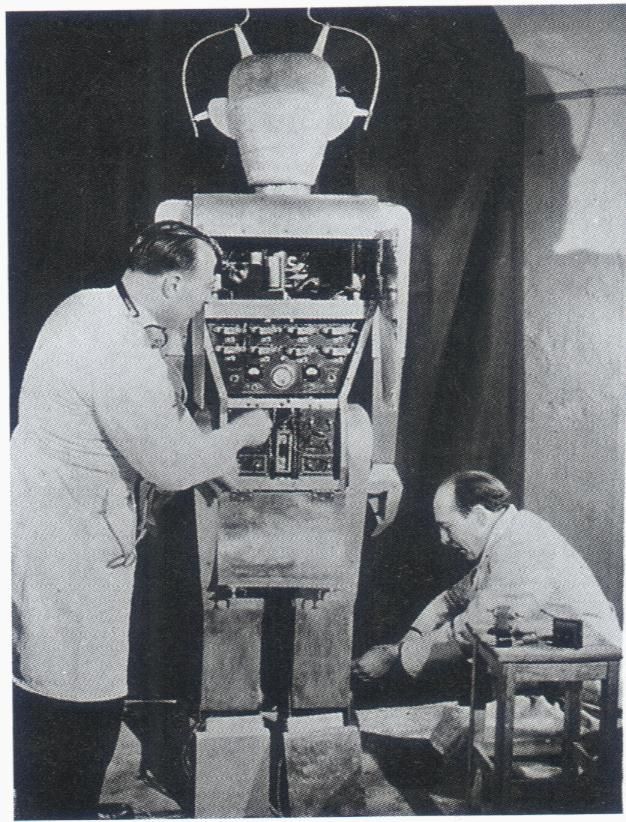 Images are from DRK archive, but are the same as those used in Mechanix Illustrated magazine of April 1948. Inventor is said to be M. Koralek, a noted French engineer.
---
Tags: 1948, 1954, Anatole, Anatole the Robot, French, Gustave Robot, Jean Dusailly, Jean Dussailly, M. Koralek, Marsulus, Mechanical Man, Robot