1949-50 – George the Robot – Tony Sale (British)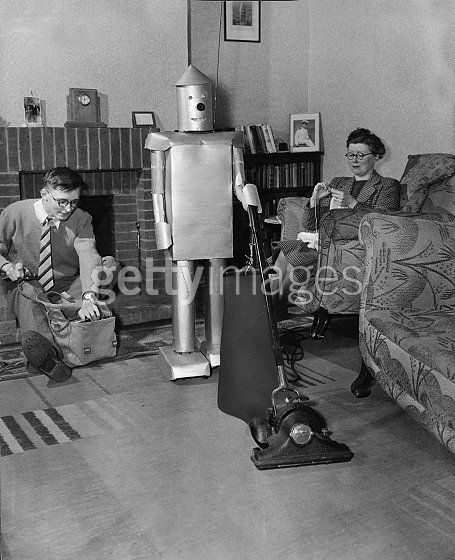 The first version of "George' the robot built when Tony Sale was seventeen years old in 1949.
Compare with image below shows that this negative/print masked out the brand of vacuum cleaner.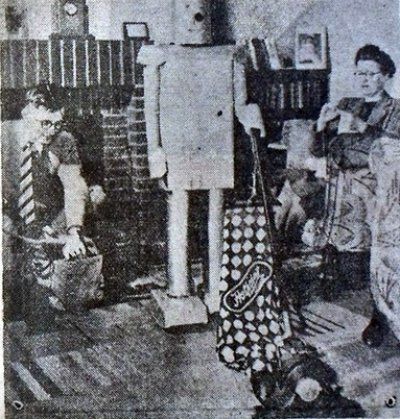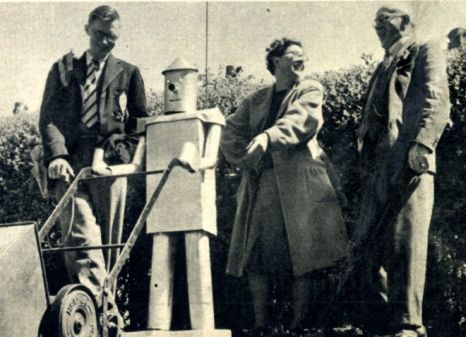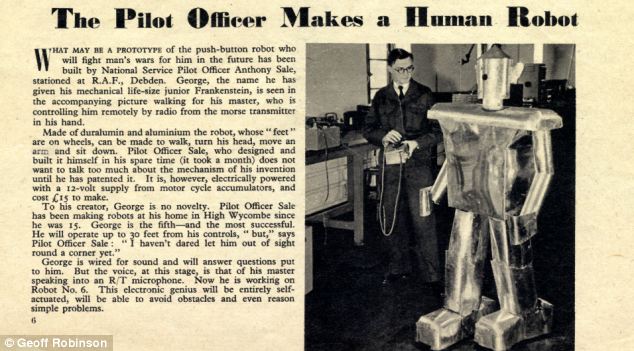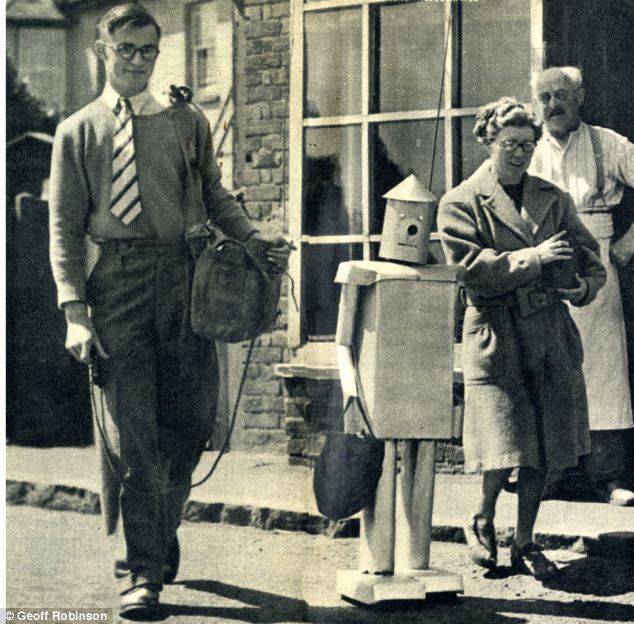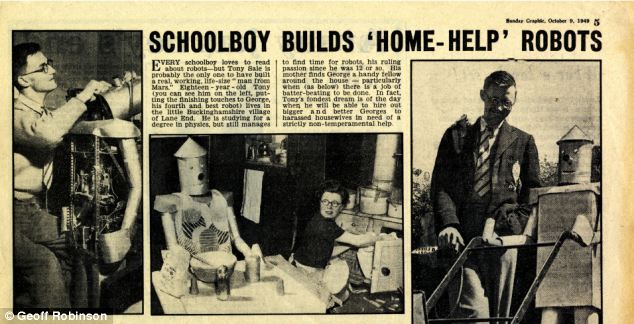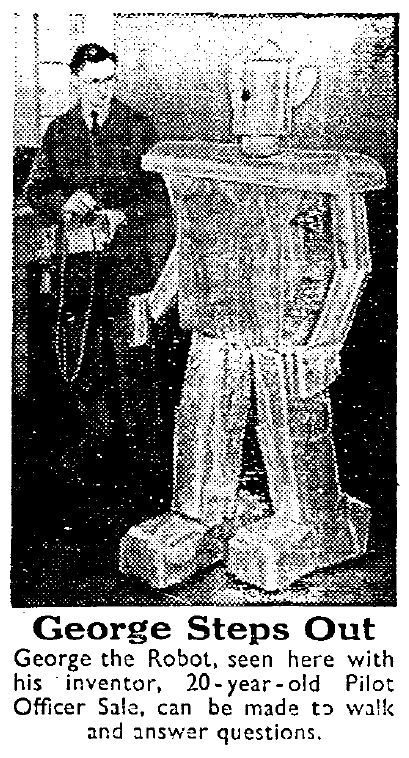 The later version of "George" displayed bigger feet, broader shoulders, and with ears!
---
I contacted Tony Sale in 2009 and hopefully soon I will have a recent picture of Tony and "George" as they are now. Tony is the same person who is responsible for building the replica "Colossus" WWII code-breaking computer from Bletchley Park. See his site here.
---
Date original Released : 23/05/1949 – Unfortunately there is no preview of this video available
Duration 66ft
Technical ORIG. NEG.
Subset Reuters TV – British Paramount
Location High Wycombe, England
Sound
Colourbw B/W
ENGLAND: HIGH WYCOMBE. Seventeen-year-old Terry Sale makes radio-controlled robot. High Wycombe, England SV Boys bedroom with boy surrounded by apparatus which he is soldering. CU Terry Sale (the boy). CU Pan from feet of Robot to head, showing frame built of Meccano and wireless material. SCU Robot head revolves and eyes light up. CU Pan Boy with buzzer Pan to radio short wave aerial. SV Robot walking towards, reaching to short wave signal. CU Robot arms moving. SV Boy tapping out morse, reaches down and adjusts short wave, CU Robot feet moving. BV Pan Robot walking towards boy with short wave equipment, camera Pans to boy. SCU Robot talking. CU Robot talking with smoke in foreground of screen.
---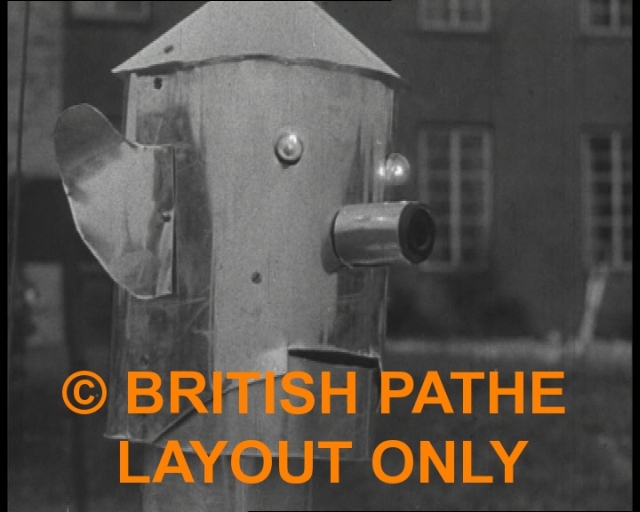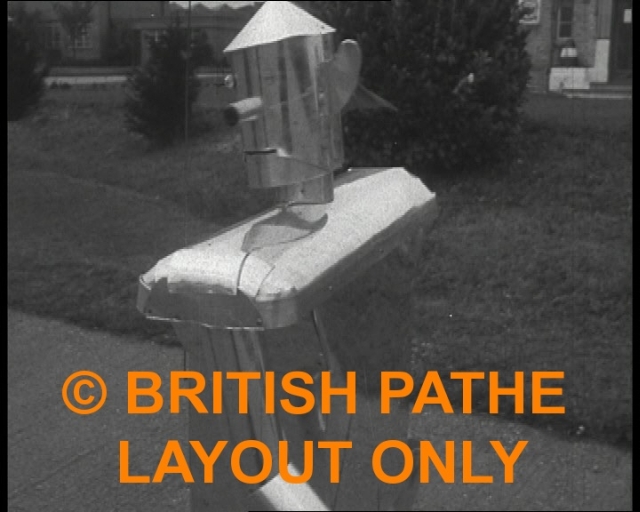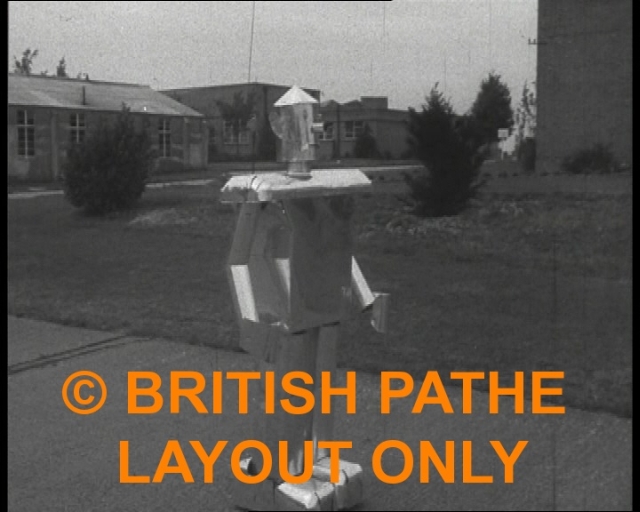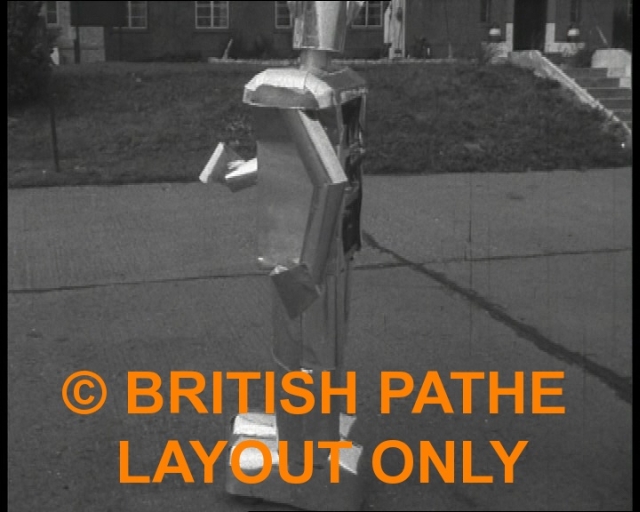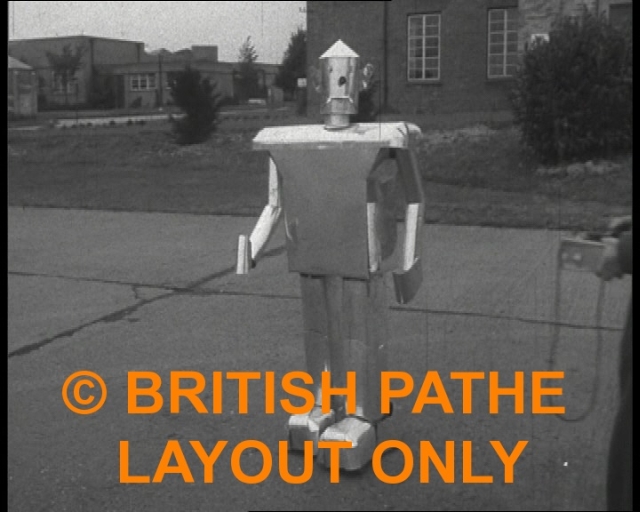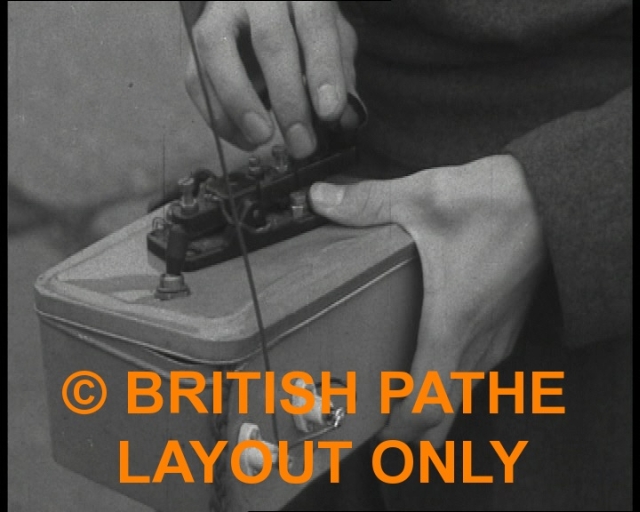 ROBOT

Click on above image to see video clip.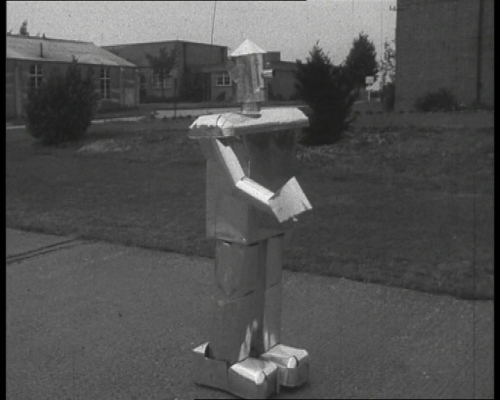 Description from Video clip source:
1283.11 | ROBOT (1:15:00:00 – 1:17:13:00) 18/12/1950
Robot invented. RAF (Royal Air Force) Saffron Waldren, Essex.
C/U Robot (George) head turning, eyes light up and mouth moves. M/S Controller Pilot Officer Sale working robot. C/U Robot walking forward, moves arms and shakes head. M/S Pan from controller to robot walking, controller comes back into picture. C/U Feet of robot approaching. C/U Control set, pan up to controller's face. M/S Robot walking. C/U Control set. M/S Robot, controller walks into picture, puts down set and turns robot's shoulders. C/U Turning robot round, controller puts screwdriver inside robot and loosens nut. C/U Controller takes front from robot, showing inside.
---
Update: December 2010
Back in February 2010, I was contacted by the Aardman/Wallace and Gromit director about an upcoming series on Inventions. Tony Sale and "George" was one of my recommendations that bore fruit.
From the BBC News:
Above: Trailer for Wallace & Gromit's Inventions series.
---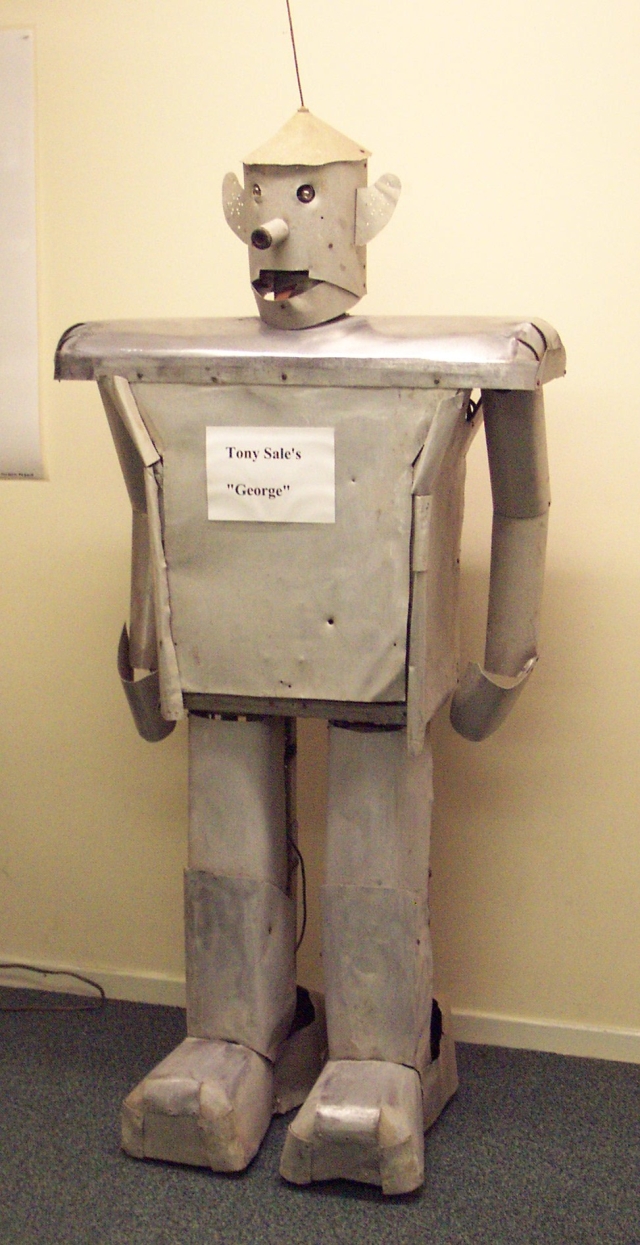 George as he now appears at The National Museum of Computing, Bletchley Park.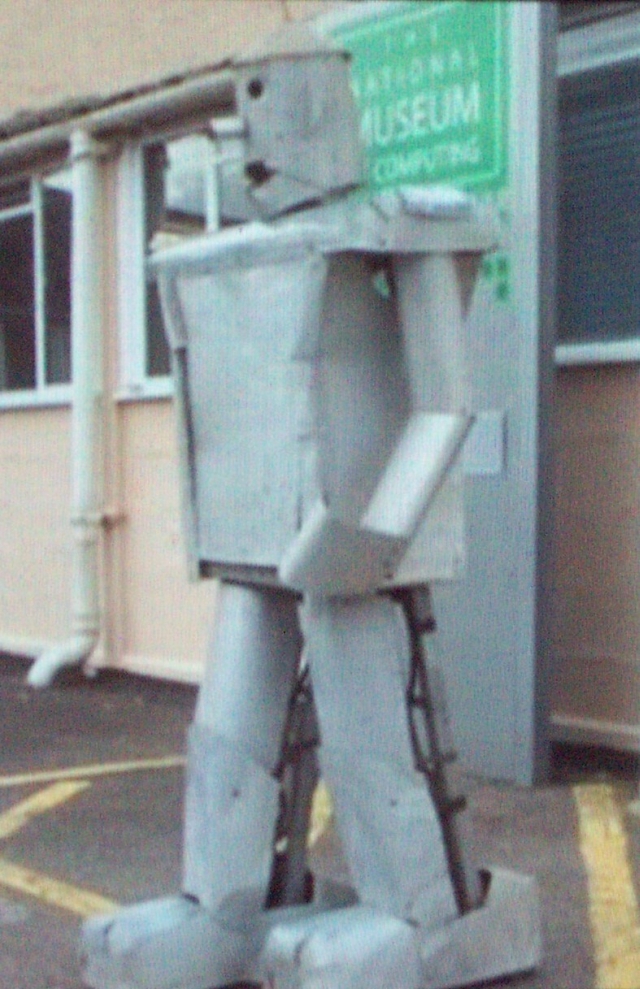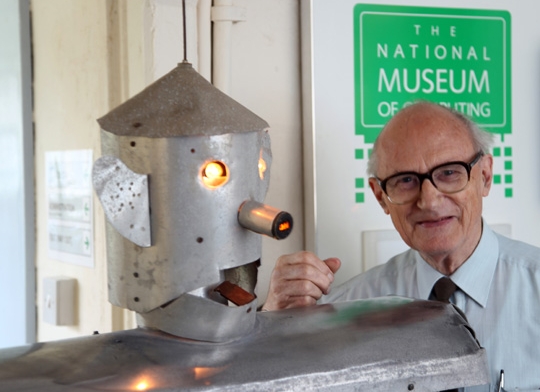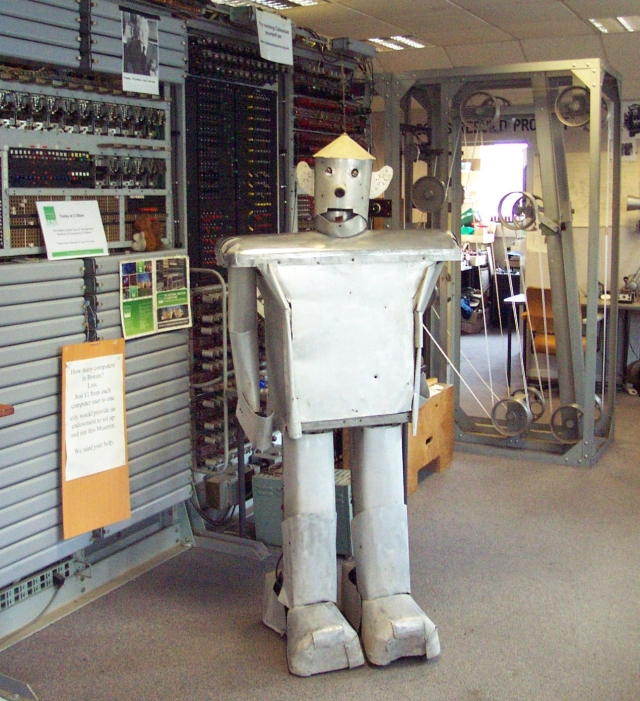 George with Colossus in the background.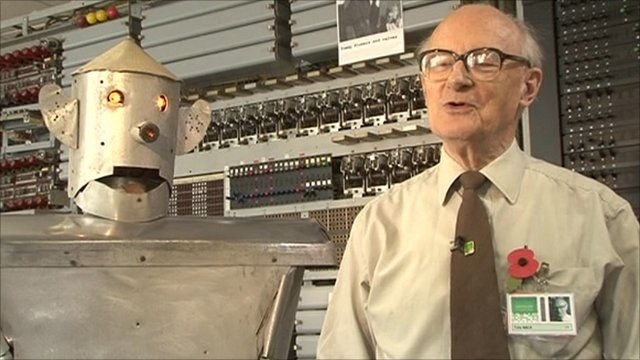 "George" with his creator, Tony Sale in 2010.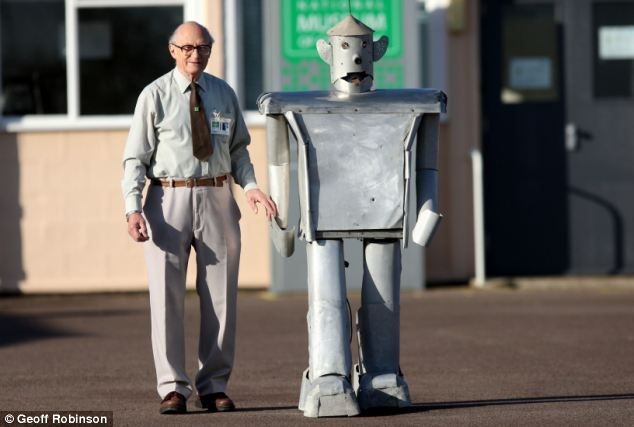 ---
To see Tony Sale and George back in the media today, check these articles from The Sun, The Telegraph and Metro:
Age Against The Machine – The Sun
Robot George: Early Humanoid Revived – The Telegraph
1950s Robot Back In Action – Metro
---
** Stop Press -** On 30 August 2011, Tony Sale passed away. Vale Tony.
---
Tags: 1949, British, Colossus, George Robot, George the Robot, Tony Sale