1938 – SABOR IV – August Huber (Swiss)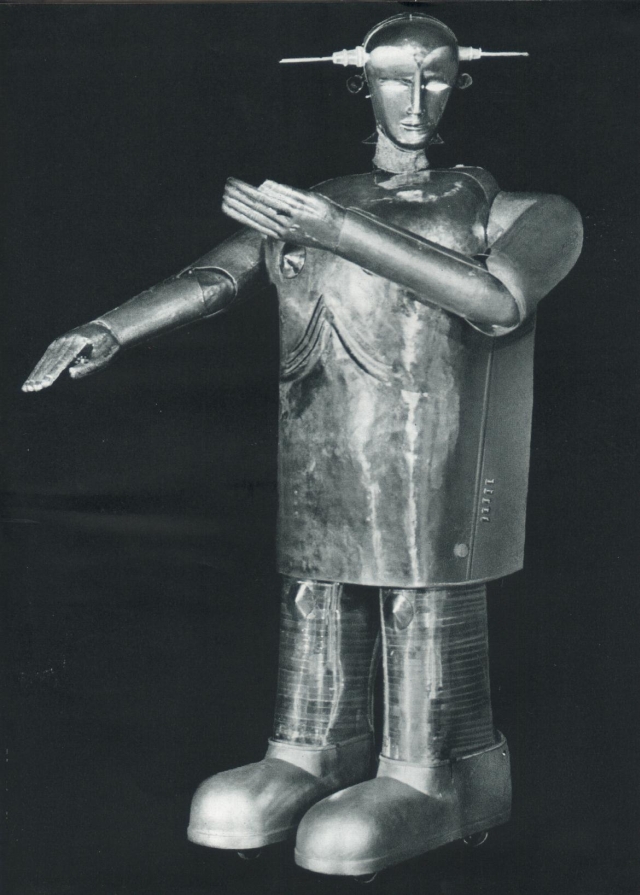 ---
From "Automata", Chapuis and Droz. Translated by Alec Reid 1958.
The working of the second robot (Televox was described earlier) is much gentler. It is called "Sabor," a Swiss giant, the brain-child of Auguste Huber, who brought it into the world in Appenzell.
At the request of a newspaper, Huber himself has thus summarised the "civil status" of his unusual offspring –

"Name :Sabor IV ; he had three brothers already deceased.
Place of birth : "Le Buhl" near Niederteufen, Appenzell.
Son of Auguste Huber.
Age : 10 years of trial and effort.
Weight : 500 lbs.
Height : 7 feet, 4 inches.
Profession : short-wave robot."

In fact, Huber has previously built three other automata, one of which he began when he was only 12 years old. This was made of wood, but even in its primitive form it contained a radio transmitter and receiver.

SABOR II, which was completed in 1930, was much more highly developed. It could sit down, beat a tambour and a big drum, and was controlled by a photo-electric cell. It was sold in Germany and Huber does not know what happened to it. The construction of SABOR III was faulty, and so it was demolished. Finally, at the beginning of 1938, SABOR IV appeared.

"Its principal motive parts are twenty little electrical appliances. The arrangement of this "nervous system" in the framework was no easy matter. The robot moves on two legs fitted with wheels. One leg takes a pace forward, brakes automatically, and the other then comes forward in its turn. Questions put to the robot are picked up by the microphone (Sabor's ears) and are immediately sent out by the transmitter (brain) and the lateral antennae to the control centre. The first wave directs Sabor's words and actions simultaneously, and there is perfect synchronization between the speech coming out of the load-speaker and the movements made by Sabor's lips. Eight batteries take the place of the "heart" in Sabor, while about 500 yards of electrical wire make up its "blood stream".

Automata are Huber's hobby. He is a textile manufacturer by trade, but from time to time he feels himself compelled to yield to the irresistible fascination of mechanics. Perhaps this will lead him one day to give the world a younger brother for Sabor, one even more highly developed.

Sabor's history is worth telling at some length and reads like a detective story.

In 1938, at the request of an entertainment promoter, Huber brought his mechanical man to England, and Sabor IV was actually exhibited at the Coleseum and at the Albert Hall in London. The inventor, however, had signed a contract, one clause of which was not clear, and he learnt to his horror that the promoter had sold the robot without his knowledge. He got it back only with great difficulty, but then the customs claimed 30,000 Swiss francs from him. Drastic action was required. While Huber himself secretly left London, some of his friends sent the mechanical man to Newhaven, whence it crossed the Channel on a steam trawler. On arrival in France, the metal giant continued its journey home by rail, and in 1939 it made a triumphal entrance at the National Exhibition in Zurich.
---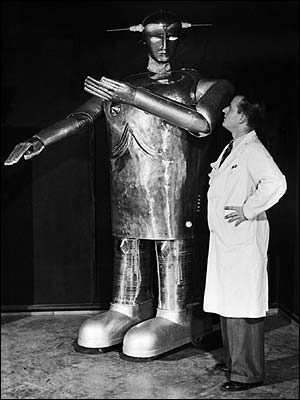 SABOR IV with August Huber.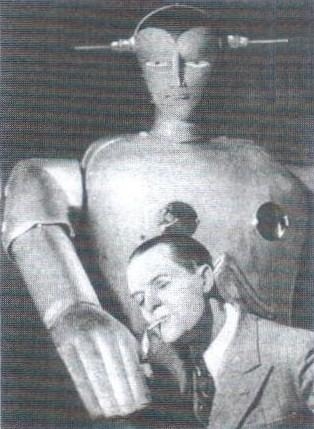 August Huber being offered a light by his creation.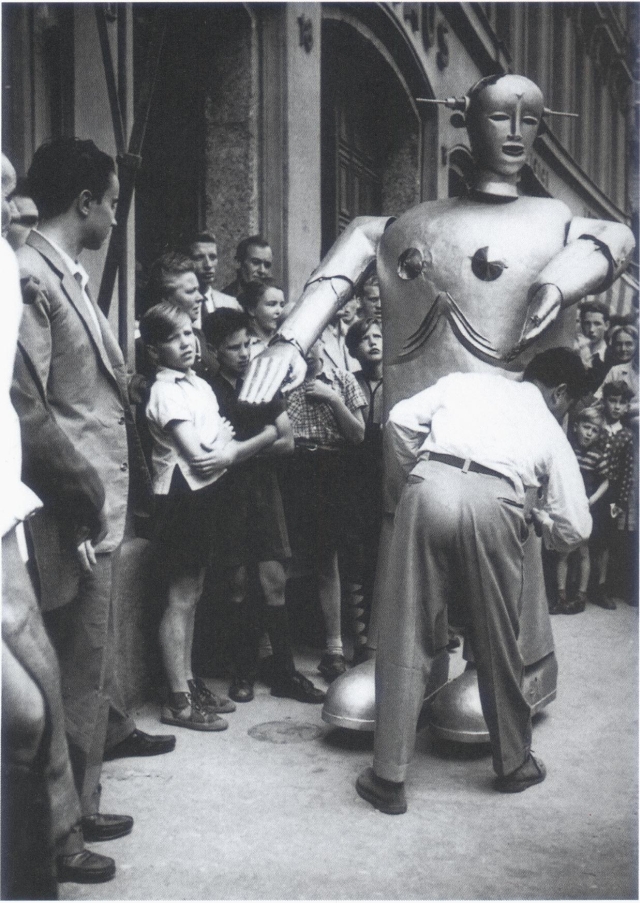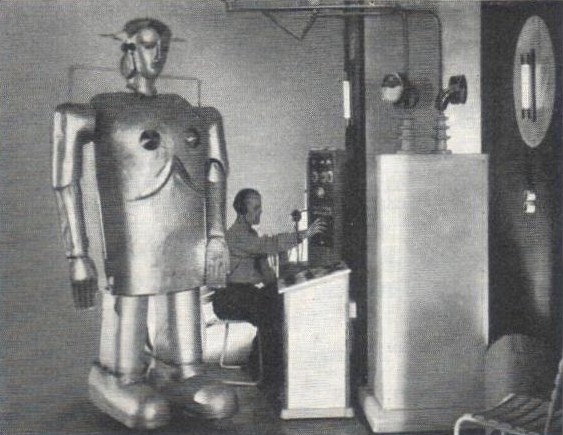 Sabor IV with August Huber seated at the usually hidden base station as featured in the film "La Féerie des Automates."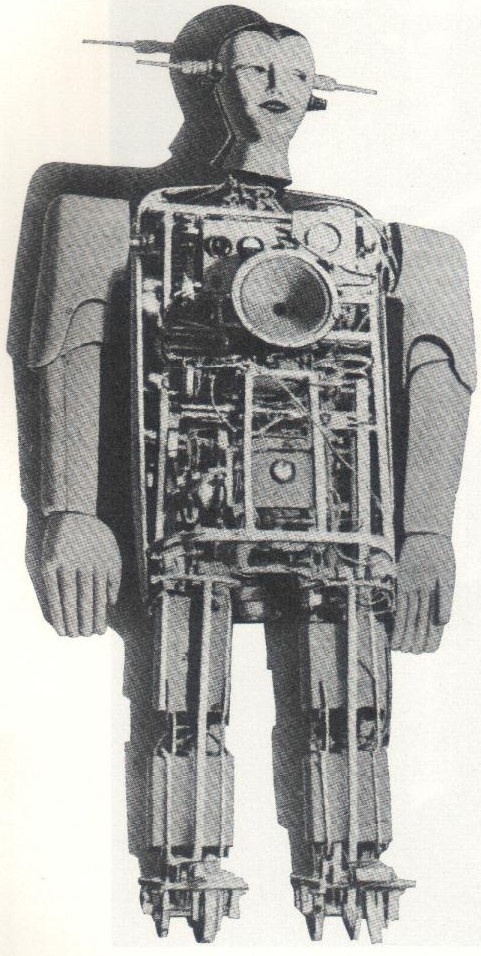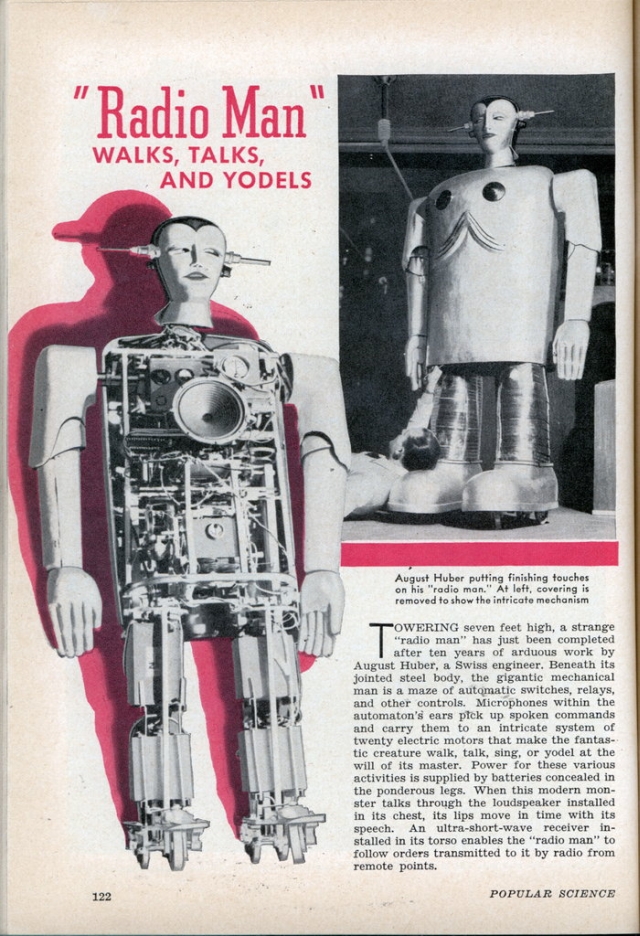 from Popular Science – April, 1939.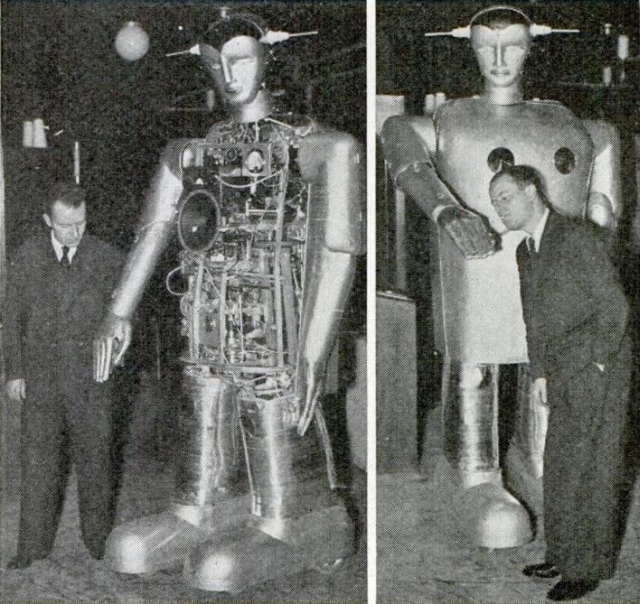 ---
VIDEO CLIP
A video clip is available from British Movietone, but you need to log in first. Registration is free. Search on 'SABOR'.
Film Title:
No Title
Card Title:
NEW ROBOT MAN – NO SOUND
Location:
N/A
Date:
04/01/1939
Length:
50 secs
Story Number:
35214
Description:
N/A
Shot List:
At Berne, in Switzerland, M. Huber demonstrates his latest invention, a robot by the name of "

Sabor

".
---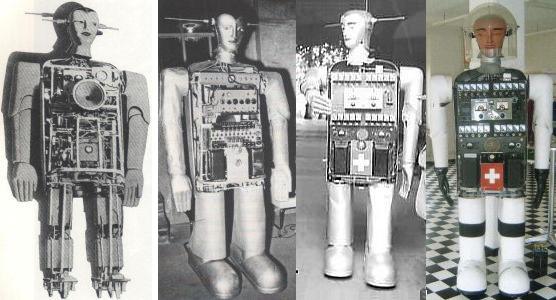 SABOR's compared – Huber's earlier 1938 SABOR IV on the left, followed by the modifications made by Peter Steuer for SABOR V , then the modifications by Eric Lanz. The far right shows the same internals of SABOR V as modified by Lanz, but externally made to look like an astronaut, and called "Orbitus" at the time. Mechanically, SABOR stayed the same.
Externally, SABOR IV is identified by his lack of eye-brows, but more specifically the shorter antennae, being for the ultra-short-wave radio transmitter/receiver.
See SABOR V early version here.
---
Tags: 1938, August Huber, Auguste Huber, Humanoid, Radio Robot, Robot, Roboter, SABOR, SABOR IV, Swiss