1930 – Katrina Van Televox – Westinghouse (American)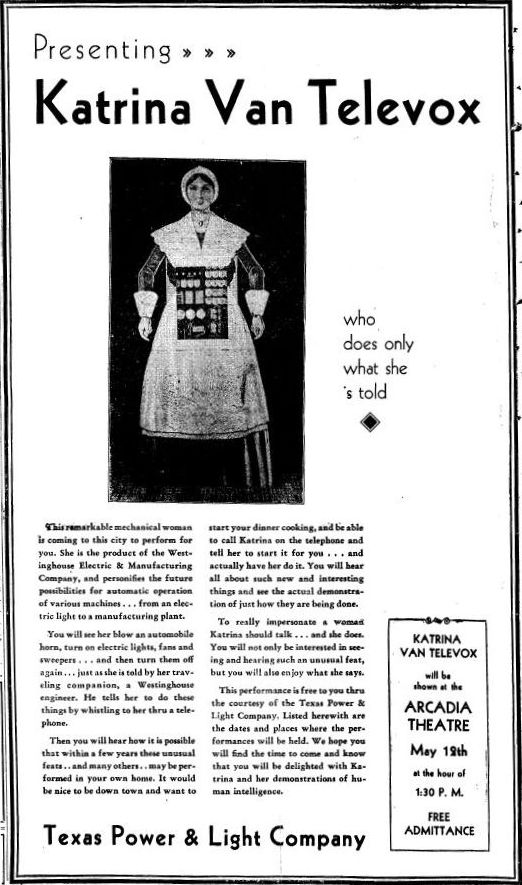 Targeting a different market audience, Westinghouse produced a female version of Herbert Televox. Katrina was based on the second model that ran sound tapes, and appeared between May 1930 through April 1931. Note that only the wallboard cutout is different, and I suppose the voice tapes were of a female voice as well.
from Kerrville Mountain Sun 08 May 1930 p8
Katrina Van Televox who does only what she's told

This remarkable mechanical woman is coming to this city to perform for you. She is the product of the Westinghouse Electric & Manufacturing Company, and personifies the future possibilities for automatic operation of various machines . . . from an electric light to a manufacturing plant. You will see her blow an automobile horn, turn on electric lights, fans and sweepers . . . and then turn them off again . . . just as she is told by her traveling companion, a Westinghouse engineer. He tells her to do these things by whistling to her thru a telephone. Then you will hear how it is possible that within a few years these unusual feats.. and many others.. may be performed in your own home. It would be nice to be down town and want to start your dinner cooking, and be able to call Katrina on the telephone and tell her to start it for you . . . and actually have her do it. You will hear all about such new and interesting things and see the actual demonstration of just how they are being done. To really impersonate a woman Katrina should talk . . . and she does. You will not only be interested in seeing and hearing such an unusual feat, but you will also enjoy what she says. This performance is free to you thru the courtesy of the Texas Power & Light Company, Listed herewith are the dates and places where the performances will be held. We hope you will find the time to come and know that you will be delighted with Katrina and her demonstrations of human intelligence.
---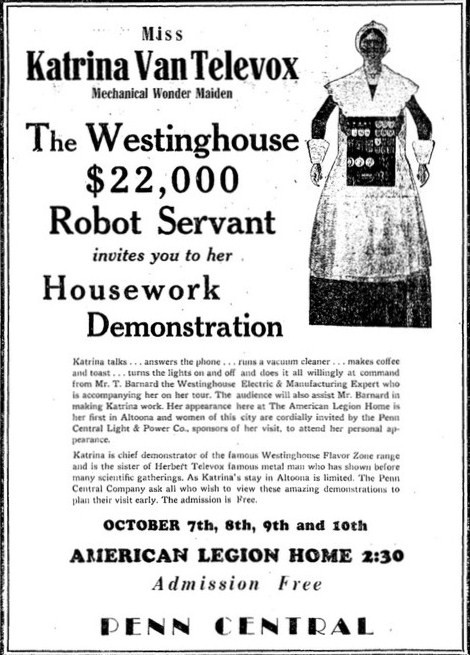 The above mentions $22,000 US in 1930! To put it into perspective a little, don't forget that the underlying "Televox" Supervisory Control System was mainly utilised by Power and Water utilities, and as such is commercially and industrially priced, not domestically priced.
The Altoona Mirror- October 3, 1930 (Altoona, PA)
Miss Van Televox talks – Mechanical Wonder Maiden.

The Westinghouse $22,000 Robot Servant invites you to her Housework Demonstration.

Katrina talks… answers the phone… runs a vacuum cleaner… makes coffee and toast… turns the lights on and off and does it all willingly at command from Mr. T. Barnard the Westinghouse Electric & Manufacturing Expert who is accompanying her on her tour. The audience will also assist Mr. Barnard in making Katrina work. Her appearance here at The American Legion Home is her first in Altoona and women of this city are cordially invited by the Penn Central Light & Power Co., sponsors of her visit, to attend her personal appearance.

Katrina is chief demonstrator of the famous Westinghouse Flavor Zone range and is the sister of Herbert Televox famous metal man who has shown before many scientific gatherings. As Katrina's stay in Altoona is limited, The Penn Central Company ask all who wish to view these amazing demonstrations to plan their visit early. The admission is Free.

Tags: 1930, American, Katrina Van Televox, Robot, Televox, Westinghouse