1928 – "Gakutensoku" Pneumatic Writing Robot – Makoto Nishimura (Japanese)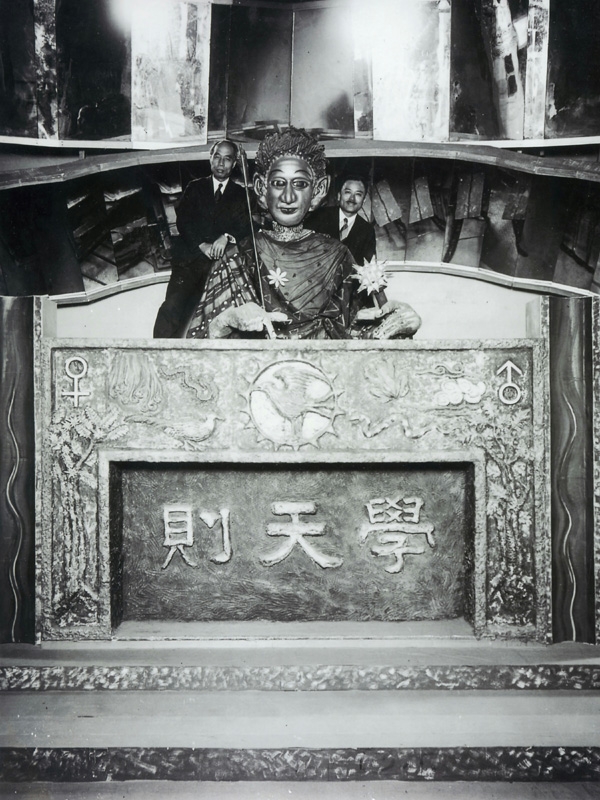 Gakutensoku (學天則, Japanese for "learning from the laws of nature"), the first robot to be built in Japan, was created in Osaka in 1928. The robot was designed and manufactured by biologist and botanist Makoto Nishimura (1883-1956). Nishimura had served as a professor at Hokkaido Imperial University, studied Marimo and was an editorial adviser to the Osaka Mainichi newspaper (now the Mainichi Shimbun).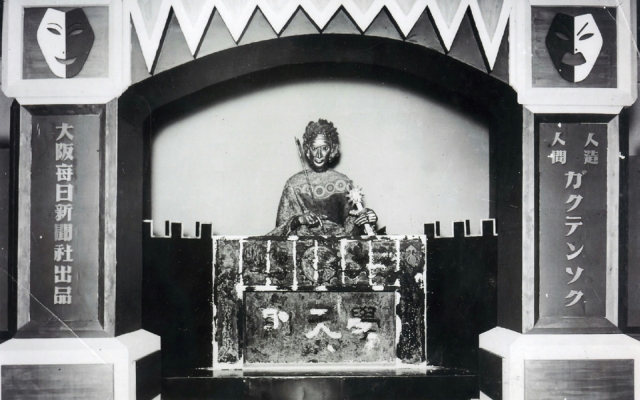 Gakutensoku could change its facial expression via springs and gears in its head, puff its cheeks as if breathing, and move its head and hands and torso via an air pressure mechanism. It had a pen-shaped Signal arrow in its right hand and a lamp named Reikantō (霊感灯, Japanese for "inspiration light") in its left hand. Perched on top of Gakutensoku was a bird-shaped robot named Kokukyōchō (告暁鳥, Japanese for "bird informing dawn"). When Kokukyōchō cried, Gakutensoku's eyes closed and its expression became pensive. When the lamp shone, Gakutensoku started to write words with the pen. Interesting that the words were written in Chinese characters, not Japanese.
Gakutensoku was first exhibited in Kyoto as part of the formal celebration of the Showa Emperor's ascension to the throne. The robot traveled to a number of expos and wowed onlookers with its mad calligraphy skills before going missing whilst touring in Germany in the 1930s.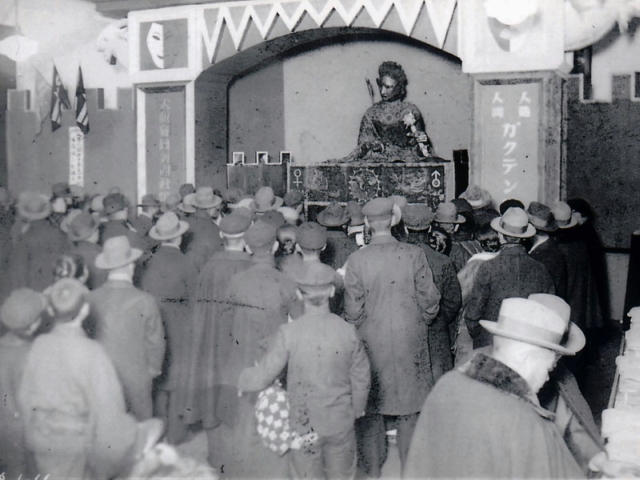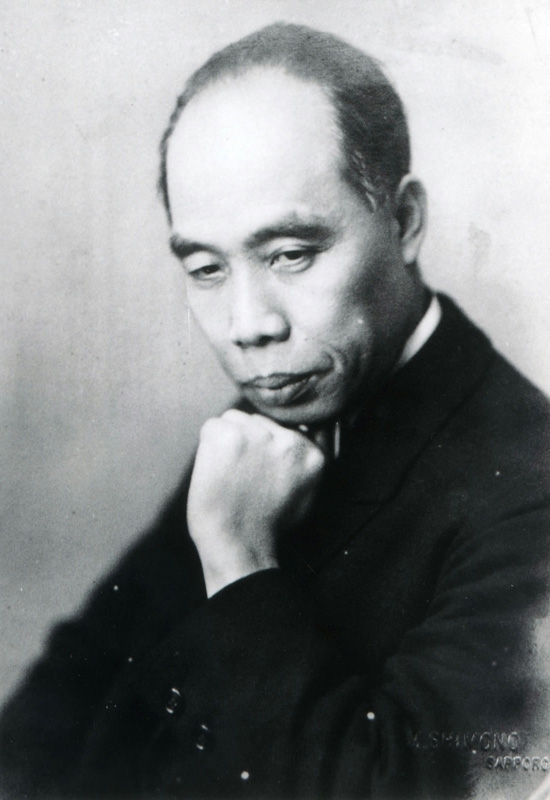 Makoto Nishimura (1883-1956)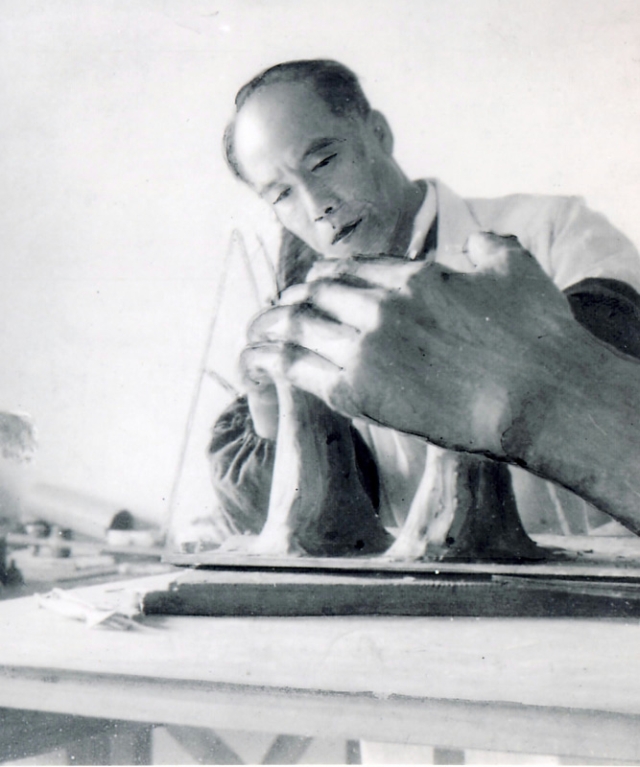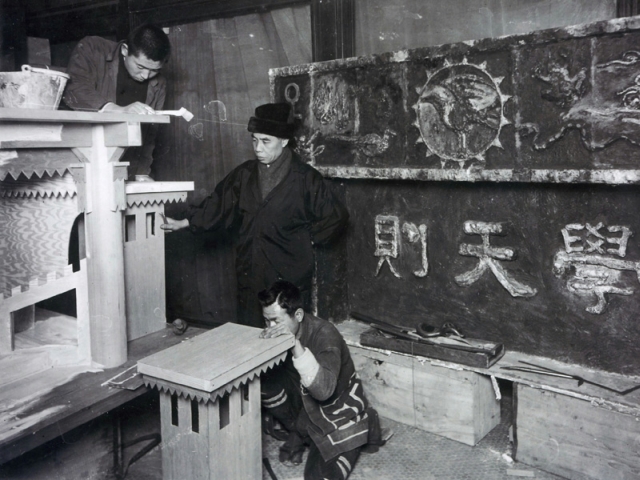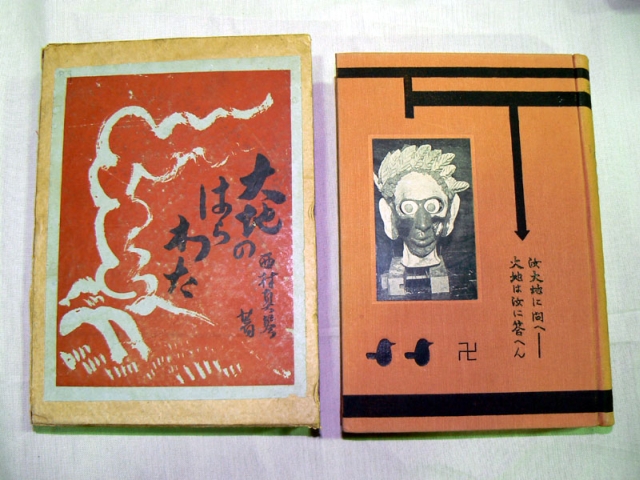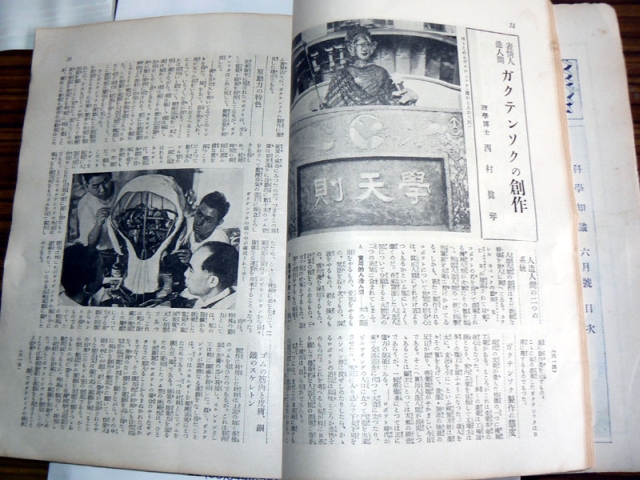 It is interesting to note that at least two performances of Capek's R.U.R. had been played in Japan by the time Gakutensoku was created, but unlike Capek's artificial labourers, as novelist Hiroshi Aramata notes, Nishimura designed Gakutensoku as "an attempt to set aesthetic robots free from slaves to industry."
---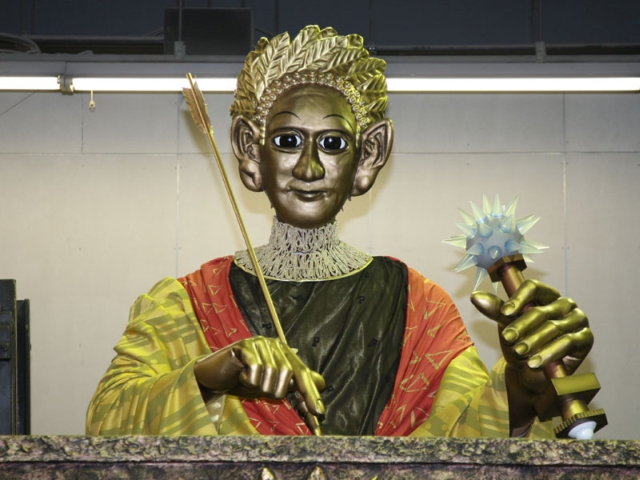 80-year-old Gakutensoku robot revived (w/video) – as reported on 25 Apr 2008.
Asia's oldest "modern" robot, an 80-year-old golden-skinned humanoid from Osaka, has been brought back to life thanks to a project organized by the Osaka Science Museum. Gakutensoku, a 3.2 meter (10 ft 6 in) tall automaton powered by compressed air, can tilt its head, move its eyes, smile, and puff up its cheeks and chest as instructed — just as the original did 80 years ago — thanks to a 20-million-yen ($200,000) computer-controlled pneumatic servo system that replicates the movement of the original system of inflatable rubber tubes. (Watch the video.)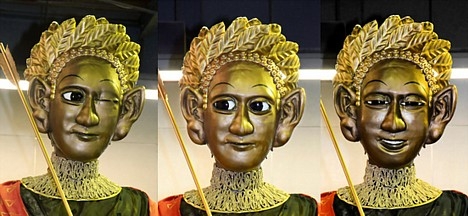 The reanimated Gakutensoku will star as the main attraction at the newly renovated Osaka Science Museum beginning July 18 2008.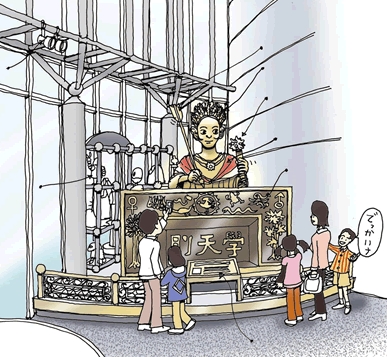 For further detail on Gakutensoku, see Timothy N. Hornyak's book "Loving the Machine" 2006.
---
Tags: 1928, drawing automaton, drawing machine, Drawing Robot, Gakutensoku, Japanese, Pneumatic Writing Robot, Writing machine, Writing Robot