1913 – Automaton (French)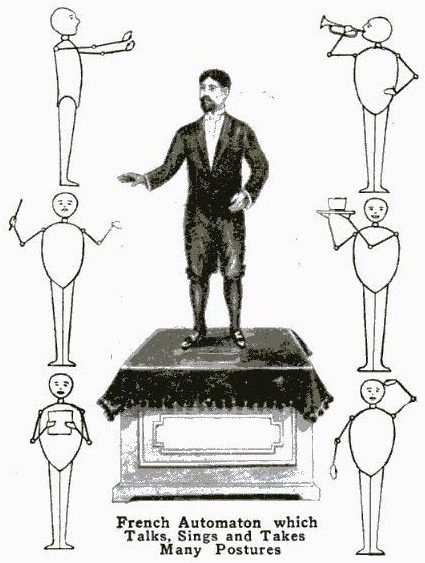 Popular Mechanics June 1913
A French Talking Automaton

A new French talking automaton, just placed on the market, is said to be a great improvement over previous automatons of this kind. Located in its base are mechanisms for working the eyes, eyelids, head, mouth, arms, and the hands and fingers. Fourteen different parts may be worked at once, and 5,600 positions may be produced. In addition, two phonographs are incorporated, one for talking and the other for singing, so that they can be put on in turn.
This automaton is especially designed for advertising purposes. It can, for instance, be dressed as a cook and placed behind a table bearing food products. Or it may be placed in front of a store to hand advertising matter to passers-by, and at the same time proclaim the value of the wares and invite persons to enter. The mechanisms are operated by an electric motor, also concealed in the base.