1886 – Ali the Electrical Automaton – De Lacy (British)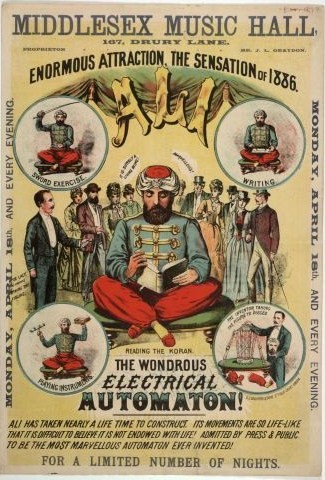 Middlesex Music Hall
Place London, Holborn
Title Middlesex Music Hall, … Enormous attraction, the sensation of 1886. Ali … the wondrous electrical automaton! Ali has taken nearly a life time to construct. Its movements are so life-like that it is difficult to believe it is not endowed with life! Admitted by press & public to be the most marvellous automaton ever invented! Monday, April 18th, and every evening. … For a limited number of nights
Size 56 cm.
Date [1887]
Imprint [London] : C. J. Culliford & Sons, 2a Field Court, London
Illustrations Chromolithograph, printed in red, yellow, blue, green and black inks, illustrating Ali reading the Koran, writing, playing instruments and performing a sword exercise; also shown is Mr. De Lacy, the inventor, working the figure and taking it to pieces
Notes Dated in MS.: 87
Genre Poster
Subject Robots; Machinery – Models
Names Lacy, A. de; Ali (Automaton)
---
Overall, I've been unable to locate much material on De Lacy's automaton.
---
In August of 1887, Mr. A. De Lacy brought Ali to Australia.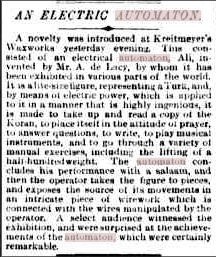 The Argus (Australia) 20 Aug 1887
AN ELECTRIC AUTOMATON.

A novelty was introduced at Kreitmeyer's Waxworks yesterday evening. This consisted of an electrical automaton, Ali, invented by Mr. A. de Lacy, by whom it has been exhibited in various parts of the world. It is a life-size figure, representing a Turk, and, by means of electrical power, which is applied to it in a manner that is highly ingenious, it is made to take up and read a copy of the Koran, to place itself in the attitude of prayer, to answer questions, to write, to play musical instruments, and to go through a variety of manual exercises, including the lifting of a half-hundredweight. The automaton con- cludes his performance with a salaam, and then the operator takes the figure to pieces, and exposes tho source of its movements in an intricate piece of wirework which ia connected with the wire manipulated by the operator. A select audience witnessed the exhibition, and were surprised at the achievements of the automaton which were certainly remarkable.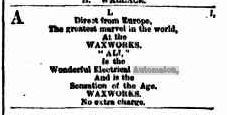 Tags: 1886, A. De Lacy, Ali the Electric Automaton, Ali the Electrical Automaton, Automaton, Humanoid, Robot