1992 – "Soul of Bubble King" – Kenji Yanobe (Japanese)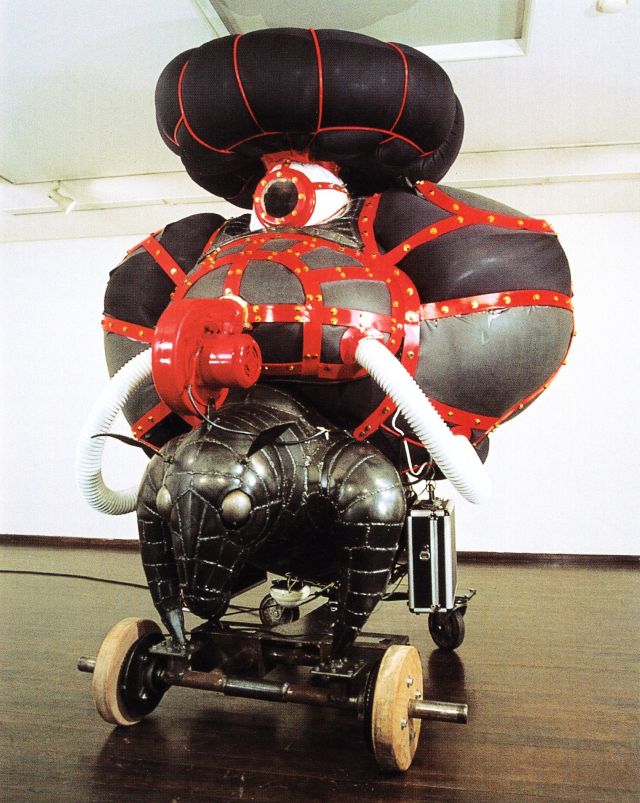 From Kenji Yanobe, one of Japan's most creative contemporary artists, comes the whimsical sculptural work "Soul of Bubble King" . Inspired by the Japanese subculture of Anime and Manga, Yanobe's works are intellectually inquisitive and convey a stoic persistence in facing adversity in everyday life. Created in 1992, "Soul of Bubble King" is a monumental sculpture that can inflate and deflate, reflecting the artist's interest in fortification, selfdefence and scientific advancement, executed with playfulness and precise engineering.
Artwork Details
Dimensions: 220 x 220 x 240 cm. (86 5/8 x 86 5/8 x 94 1/2 in.)Medium: steel, rubber, fan, computer, mixed media Creation Date: 1992
An anti-personal intimidation protection suit developed along with Inoue Brothers Inc. When an invader approaches, it threatens by swelling up its body and the passenger is protected at the same tiome being pressurized by the airbag system.

Deflated in China
---
See other Pneumatic, Fluidic, and Inflatable robots here.
---
Tags: "Soul of Bubble King", 1992, Japanese, Kenji Yanobe, Pneumatic Robot, Pneumatic Sculpture