1967 – "Arthur" R/C Robot Dragon – Jacques Monestier (French)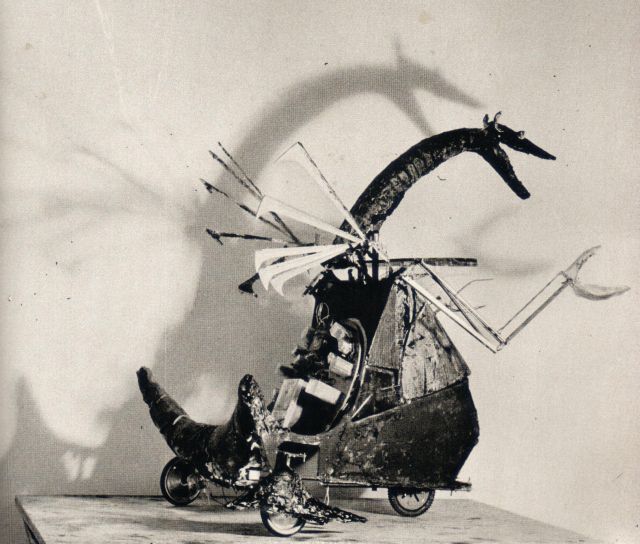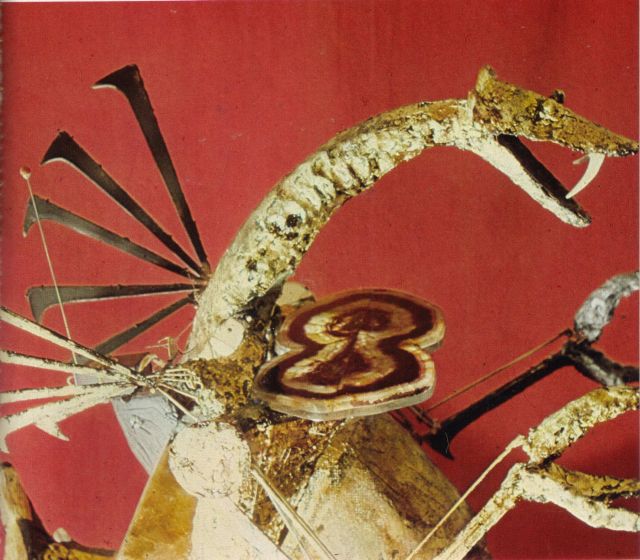 Height : 1m (3.2 ft)
Electric motor operated
Radio remote controlled
Sound produced by tape recorder
Unique piece
Private collection
Radio-controlled gilt (gold leaf gilding) resin whisky table with agate tray.
Arthur comes and welcomes visitors carrying tumblers and a whisky decanter in its tray while moving its neck, mouth, wings, and claws and making raucous noises.
Arthur est un être hybride dont les ailes et les bras pinces s'agitent. Par télécommande il avance, recule, marche de côté. II est doué de la parole grâce à un magnétophone. II sert le petit déjeuner ou le whisky à cinq moteurs, postes émetteur, récepteur, Photo Clovis Prévost.
English translation:
Arthur is a hybrid being whose wings and claws arm stir. By remote control it advances, moves back, walks sideways. It is endowed with the word thanks to a tape recorder. It serves breakfast or whisky, has five motors, has transmitter and receiver sets, Photo Clovis Prévost.
VIDEO CLIP
There is a wonderful period French newsreel clip showing Monestier's other automata found here Gaumont Pathe Archives . You have to be registered (free) and logged in to see the preview. Search for "vaucanson 68" without the quotes.
See Jacques Monestier's web site here.
---
Tags: "Arthur", 1967, Automata, French, Jacques Monestier, Radio Control