1965 – "The Friendly Grey Computer, Star Gauge Model 54" – Edward Kienholz (American)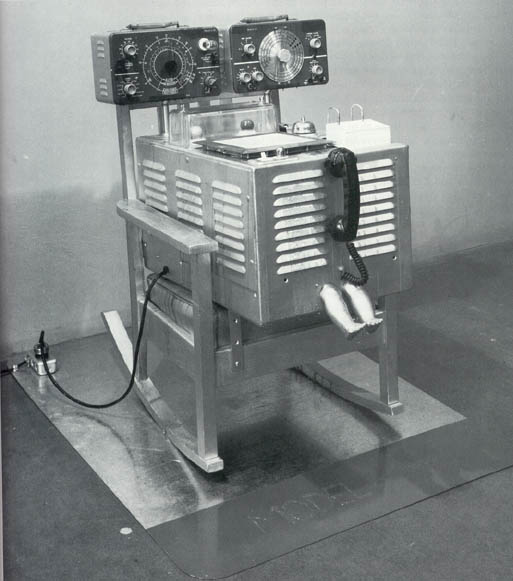 The Friendly Grey Computer, Star Gauge Model 54
Motor-driven assemblage: painted aluminum rocking chair, metal case, two instrument boxes with dials, plastic case containing yellow and blue lights, panel with numbers, bell, "rocker switch," pack of index cards, directions for operation, light switch, telephone receiver, doll's legs,
40 x 391/8 x 24 1/2";
on aluminum sheet, 481/8 x 36"
15 x 12 x 15"
---
In 1967, Robert Rauschenberg and Billy Kluver in New York formed a group called Experiments in Art and Technology (EAT). EAT was very influential and was also concerned with technology as a subject for art, rather than just a medium. One artist who was associated with EAT was Edward Kienholz, whose sculpture 'The friendly grey computer' in 1965 address a more subjective side of the relationship to the computer.
In an exhibit called "The Machine, as Seen at the End of the Mechanical Age" consisting largely of original work created by artists, many of them suggesting commentary on the use or misuse of technology. Many of the objects were constructed from unrelated miscellaneous parts, and some were kinetic. The "Friendly Grey Computer" by Edward Kienholz was constructed of a rocking chair, dolls legs, metal cabinet, lights, switches, panels, and a telephone receiver. It had little if any computing capability, but a visitor could select a question from a stack of index cards, speak it into the telephone handset, and the "computer" would respond with a yes (flashing red light) or no (flashing blue light).
---
From "The Machine as seen at the end of the Machine Age", Hulten …" His [RH-Kienholz] directions for operating The Friendly Grey Computer advise us:
Flashing yellow bulb indicates positive answer. Flashing blue bulb indicates negative answer. Green jewel button doesn't light so it will not indicate anything. Computers sometimes get fatigued and have nervous breakdowns, hence the chair for it to rest in. If you know your computer well, you can tell when it's tired and sort of blue and in a funky mood. If such a condition seems imminent, turn rocker switch on for ten or twenty minutes. Your computer will love it and work all the harder for you. Remember that if you treat your computer well it will treat you well.
Kienholz kindly programmed the computer to give more "yes" than than "no" answers. A question random-found on a card: "Will I ever get a boyfriend?"
---
"The Friendly Grey Computer – Star Gauge Model 54 by Edward Kienholz is not reminiscent of anyone in particular but demonstrates some human qualities that we all recognize. It will treat you well, if you treat it well." – Jasia Reichardt in Robots: fact, fiction, and prediction. 1978
---
Tags: "The friendly grey computer, 1965, American, Edward Kienholz, Robots in Art