1964 – Painting Machine(s) – "Larry Flint" (American)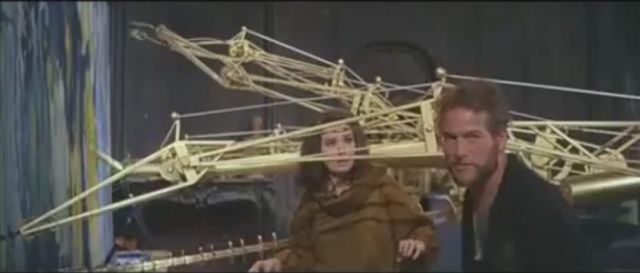 In the movie "What A Way To Go!", "Larry Flint" creates painting machines to produce his abstract art.
http://www.youtube.com/watch?v=rps9NZPesh4#t=2696s
Plot
This lavishly produced, big-budget comedy (it cost $20 million in 1964 dollars) stars Shirley MacLaine as Louisa, a widow who is worth $200 million dollars. However, she's convinced that her fortune is cursed, and she wants to give all her money to the IRS. As she explains her sad tale to her psychiatrist, Dr. Stephanson (Robert Cummings), it seems that when Louisa was young she had the choice of marrying rich playboy Leonard Crawley (Dean Martin) or poor but decent Edgar Hopper (Dick Van Dyke). She chose Edgar, but soon he became obsessed with providing a fine home and fortune for her; he got rich but worked himself to death in the process. Despondent, Louisa flies to Paris, where she strikes up a romance with expatriate artist Larry Flint (Paul Newman). When Larry invents a machine that creates paintings based on sounds, he becomes wealthy and famous — and dies. Louisa returns to America, where she figures to break her streak by marrying Rod (Robert Mitchum), a business tycoon who already has lots of money. He resolves to take life easier and becomes a farmer, only to die in a strange accident with a bull. Louisa is drowning her sorrows one night at a sleazy night spot when she falls for second rate entertainer Jerry (Gene Kelly). They marry, and a now-wealthy Jerry develops a relaxed, carefree quality to his act that makes him a huge star, which leads to his being crushed by a mob of his biggest fans. What a Way to Go! boasted a screenplay by Betty Comdon and Adolph Green that featured many amusing film parodies ~ Mark Deming.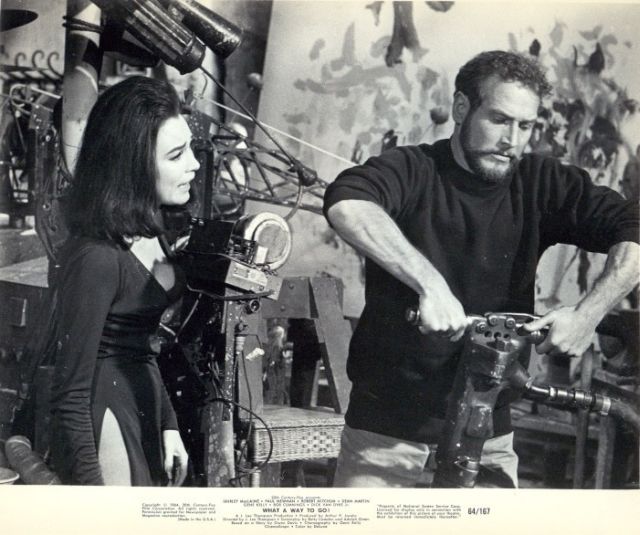 The manual use of a jack hammer to make loud, random noises before "Larry" discovered automation using a record player, thanks to "Louisa's" idea.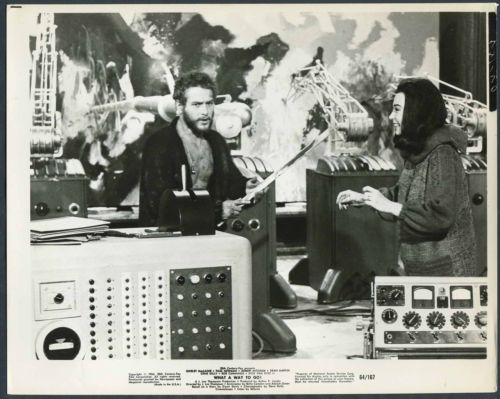 The more painting machines there were, the bigger the mural that could be painted, the more money one could make.

Sadly, there are no credits in the above film clip to find out who made the painting machines.
Paul Newman as "Larry Flint", an ex-patriot artist living in Paris. Shirley MacLaine as "Louisa", looking for the simple life.
"Larry" develops abstract painting machines consisting of a controllable arm with a paint-brush "hand".
He explains to "Louisa", "The sonic vibrations that go in there. And that gets transmitted to this photoelectric cell which gives those dynamic impulses to the brushes and the arms. And it's a fusion of a mechanised world and a human soul."
"Larry" uses a siren, horn, alarm bell, bongo, sledge hammer and a pneumatic jack hammer amongst other things as random sound sources for his abstract art. "Louisa" hates the loud noise and suggests playing classical music on a record player instead. The music, in turn, is picked-up by the "sonic palette" and "Larry" is over the moon in excitement over the wonderful results produced. However, "Louisa" says she prefers the real "Larry" produced art, and not the automated "Mendelssohn" inspired pieces.
As "Larry" gets more successful, you see multiple painting machines, mainly painting a mural together on a single, long canvas. The final scene shows the eight painting machines, now painted a gold colour and having an extended arm, plus two newer painting arms, which now have a longer boom arm, and a spine-like end-effector holding a brush, rather like an elephant's trunk. Ten machines in all. These wrap around "Larry" during the final crescendo, then all the other painting machines encircle "Larry" holding him down, then simultaneously blow themselves up along with "Larry". So much for auto-destructive art!
In reality, the painting machines are props, manned by a person inside each base. This is evident when the bases move around by themselves, and the shape of them allows the hidden person to see what they are doing. The arm itself is fully articulated, and controlled by the person within the base. The credits may conform this but I have not seen the credits.
Clearly a parody of the Swiss-French Kinetic Artist Jean Tinguely, who had made a name for himself making "Meta-matic" abstract drawing machines.
There is also a scene whereby we hear gunshots, only to find "Polly" shooting at paint balloons on a canvas creating a type of destructive art piece. Again clearly a parody to the late Niki de Saint Phalle who was an artist friend, later wife to Jean Tinguely who were both living in Paris at the time. Niki's early paintings of this period (1961) included her "Shooting Paintings."
---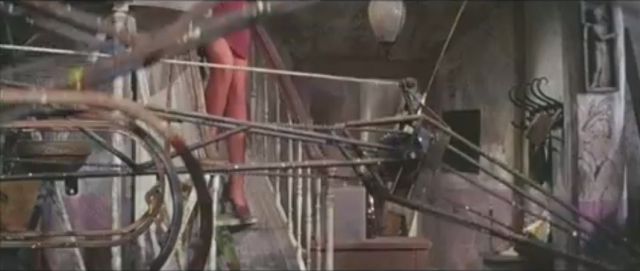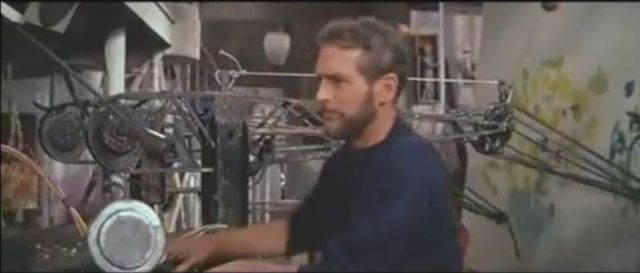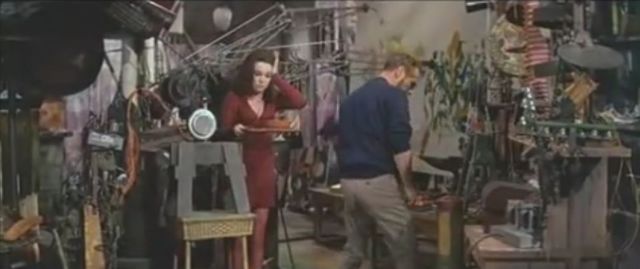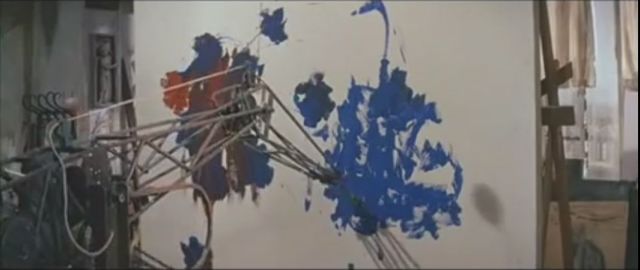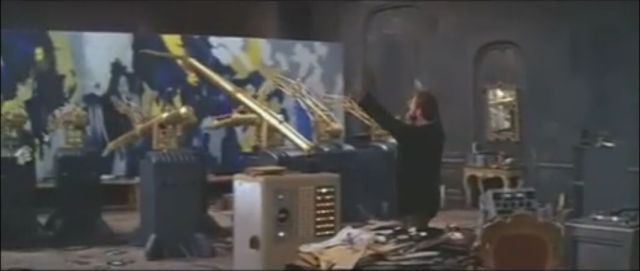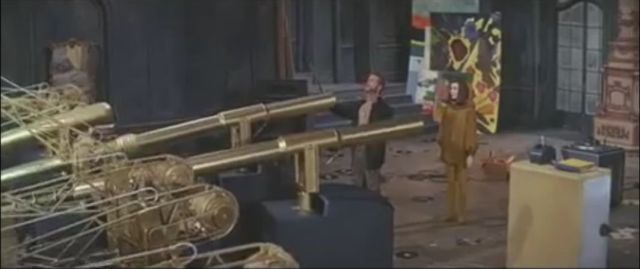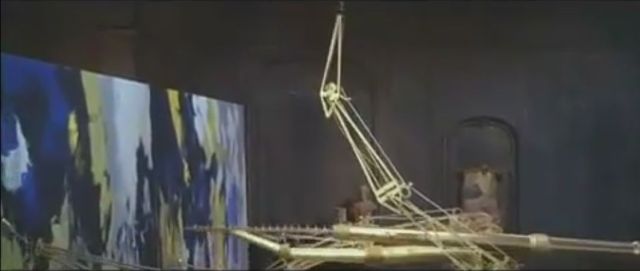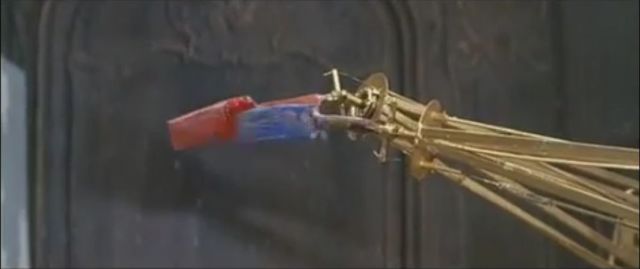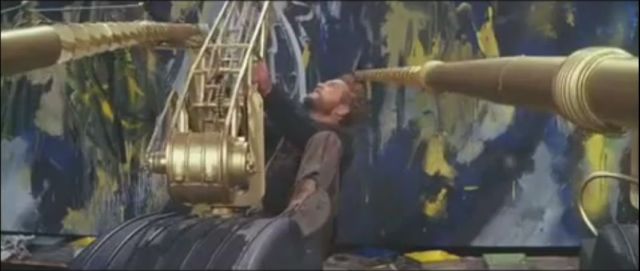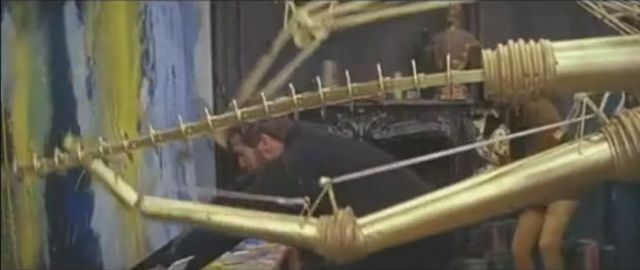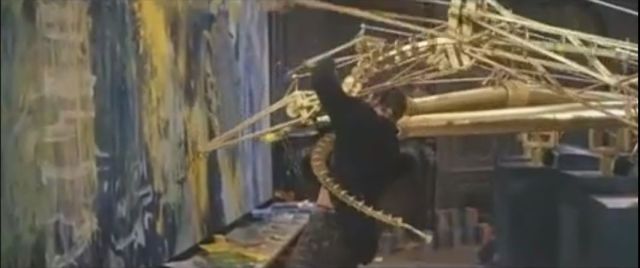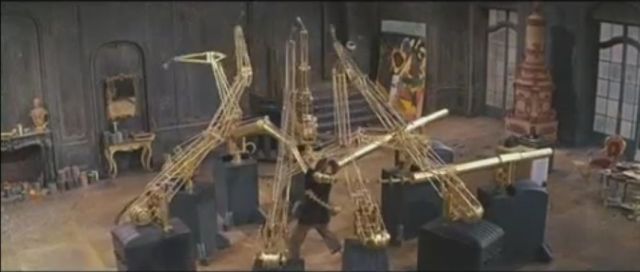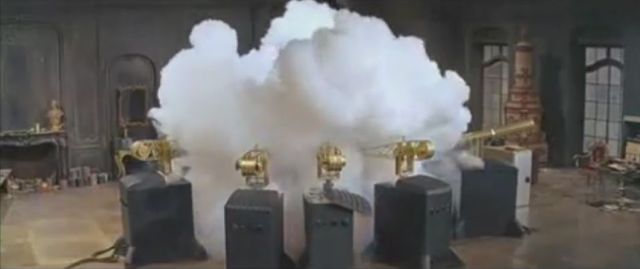 ---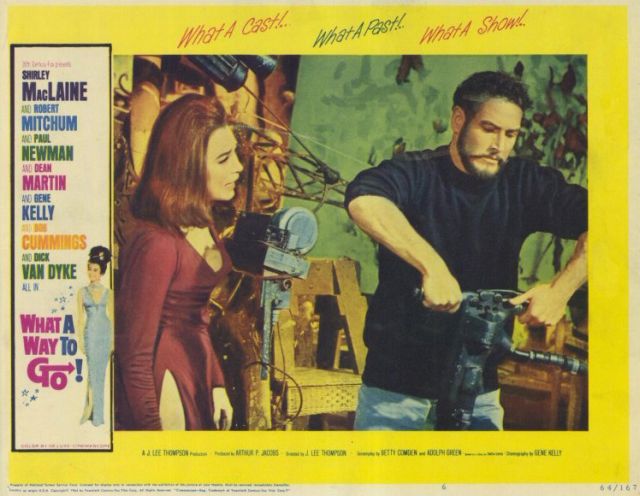 Note: 2012. I first saw this movie on TV in black and white. I must have been about 12 years old at the time. The painting machines certainly inspired me. It's taken me over 40 years, thanks to the internet, to locate this film. Wonderful to see again after all this time.
---
Tags: 1964, Jean Tinguely, Larry Flint, Niki de Saint Phalle, Painting Machine, Painting Robot, Paul Newman, Robot artist, Shirley MacLaine, What A Way To Go!