1895 – Mechanical Toy Artist – Caroline Spilsbury Pocock (British)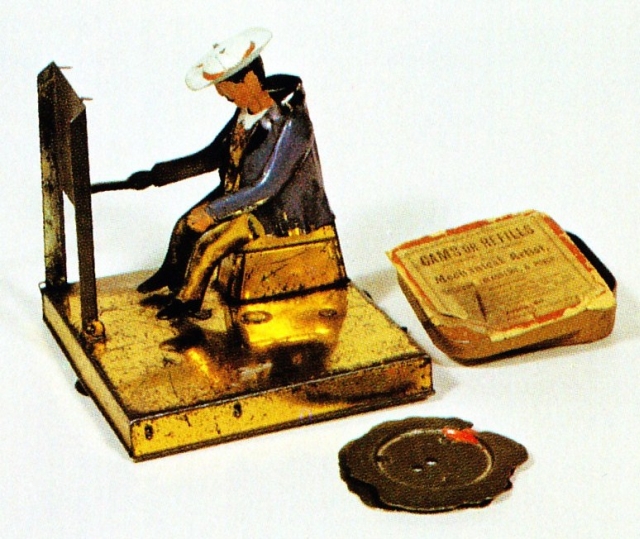 [Source: A Century of Toys From The London Toy & Model Museum, 1982, Exhibition Catalogue]
Blurb from Youtube:
A very rare and clever toy produced in Germany approximately 1885 until about 1905. The little hand-cranked tin artist draws with a graphite stick onto paper via 'programmed' double-cams (x and y axis).
I read about it in a book about magic/illusions, printed approximately 1899, when I was in 2nd grade and became obsessed with finding it. [RH 2011 – book identified as "Magic: Stage Illusions, Special Effects and Trick Photography by Albert A. Hopkins published by Scientific American originally in 1898. See actual article below]
Some texts say it was an expensive wealthy person's toy, and other texts mention it as a give-away to favorite clients of the firm Phillip Vielmetter Mechanische Werkstatten of Berlin, Germany. This ultra-rare original box was repaired by Randy's Toy Shop.
I suspect the 5 cams are from various production dates.
They are labeled (in German): HAHN, KAKADU, GLADSTONE, HARLEKIN, AFFE. There are several more cams that I do not have, such as Napolean, Balzaax, Queen Victoria, and still others.
There are signs of hand-painting touch-ups over the rear base of the neck and the right arm made during the original production process over 100 years ago. You will find these features on every Vielmetter ever made.
Unfortunately the sharp metal pegs on the easel look like they have been repaired, replaced, or re-inforced. The bottom easel pegs look re-inforced and the top right peg is untouched. The easel legs/frames look oddly scratched (horizontal lines) but this is another misunderstood trait found in every one of these toys that I have seen. These horizontal lines were likely caused by the tooling that formed/bent the sheet metal into the easel shape.
There are other rare versions of this toy, and when I get my books & notes from storage I might make a serious video on this topic.
-Hans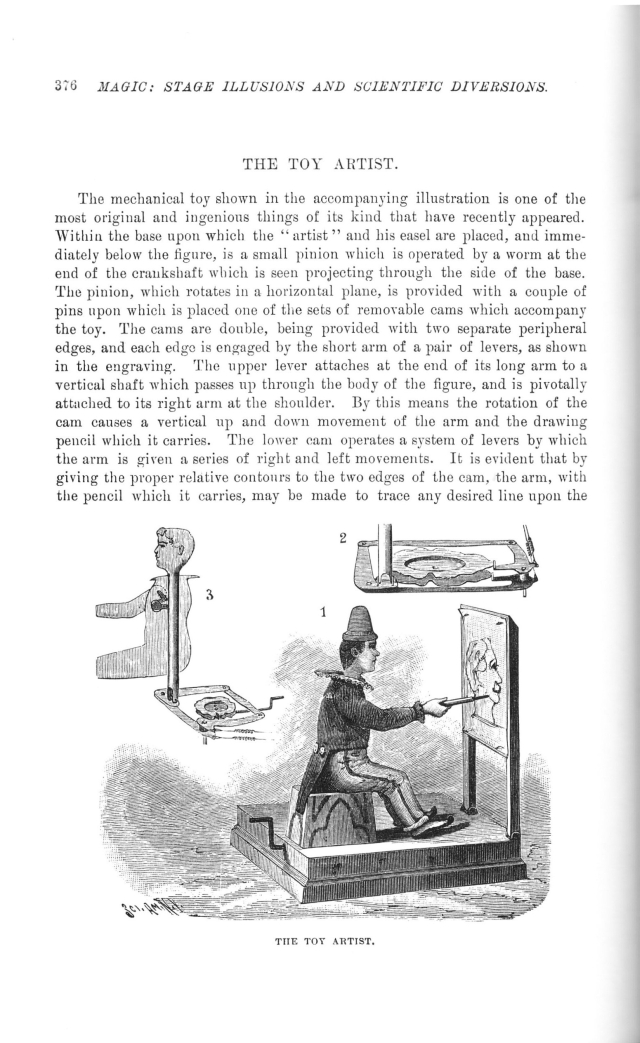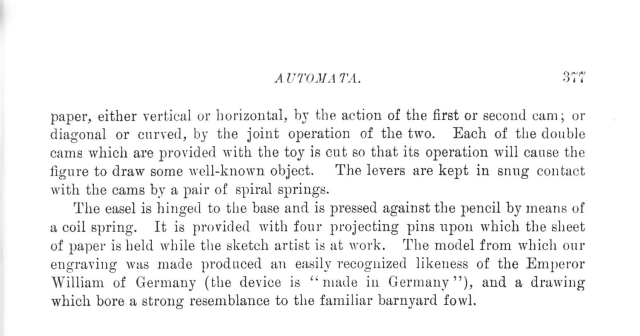 The original Scientific American article was dated December 26, 1896 p296 and was of the German-manufactured version.
---
I wouldn't be surprised if the Toy Artist was inspired by John Nevil Maskelyne's "Zoe" drawing automaton of 1877 (see here). It was very successful and mainly produced portraits of well known people of the time, similar to this toy.
Here is a drawing from Pocock's English patent: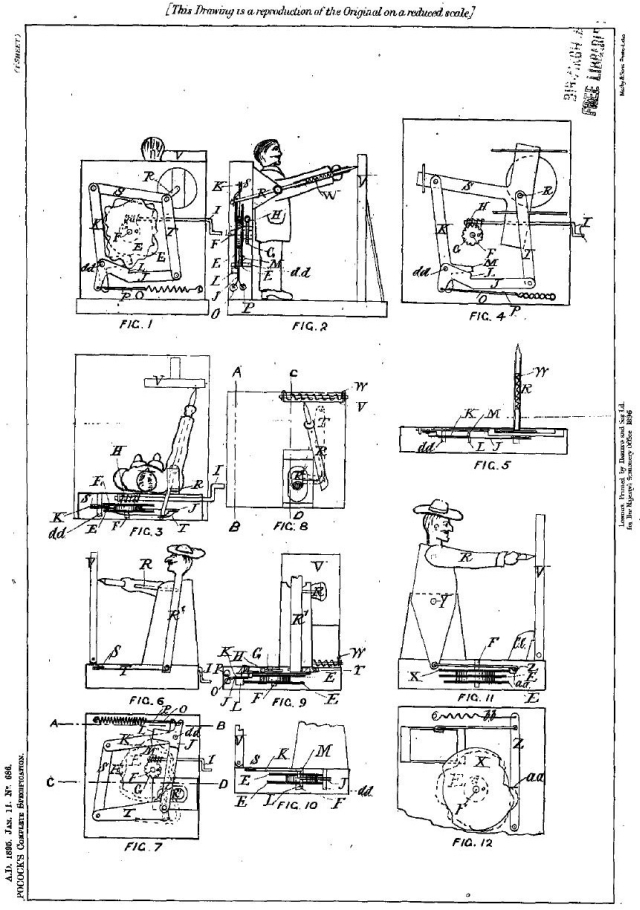 ---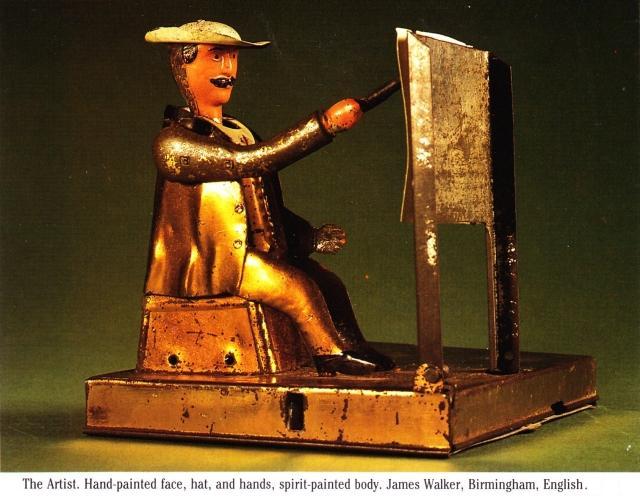 [Source: Mechanical Toys – How Old Toys Work, Athelstan & Kathleen Spilhaus, 1989]
---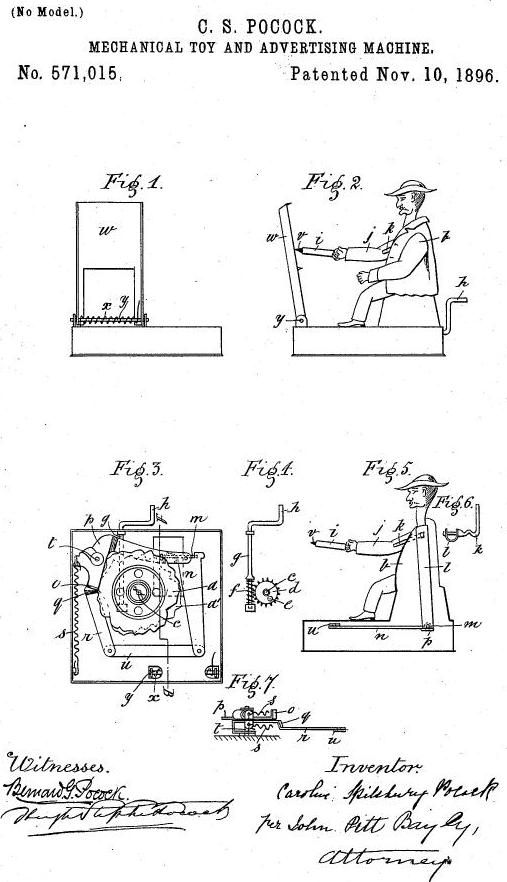 Inventor: CAROLINE SPILSBURY POCOCK
Patent number: 571015 See full American patent here.
Filing date: Mar 30, 1896
Issue date: Nov 10, 1896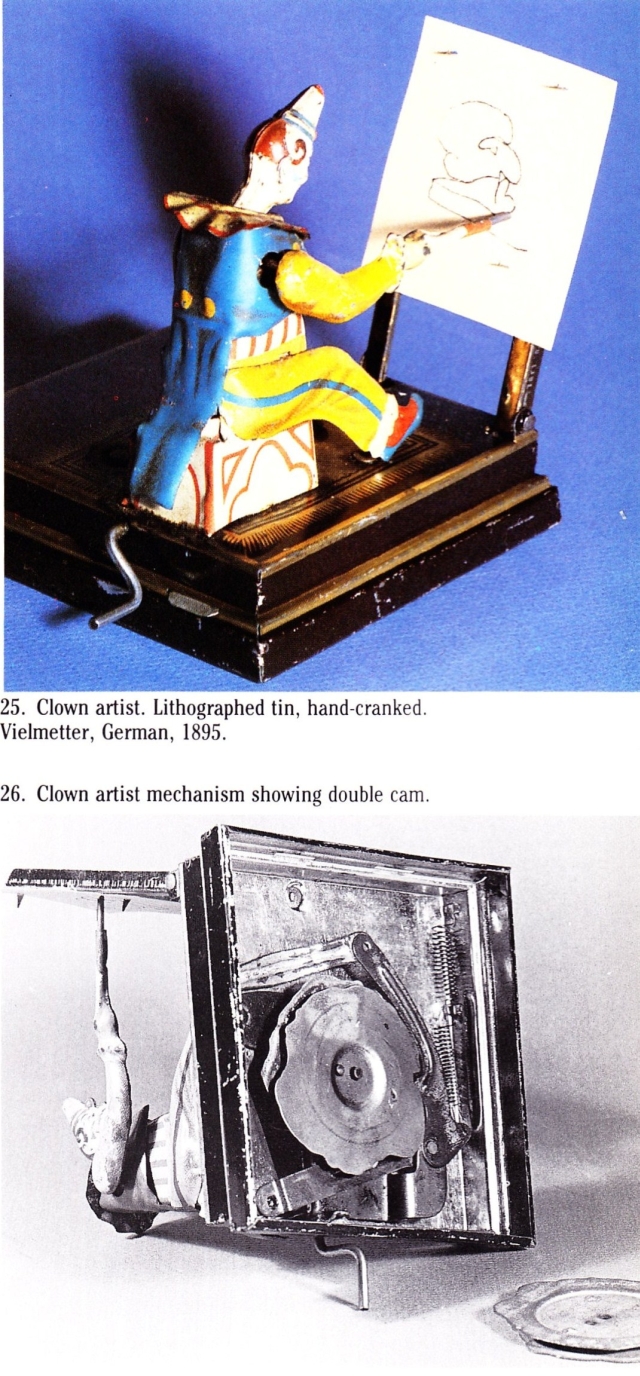 [Source: Mechanical Toys – How Old Toys Work , Athelstan & Kathleen Spilhaus, 1989]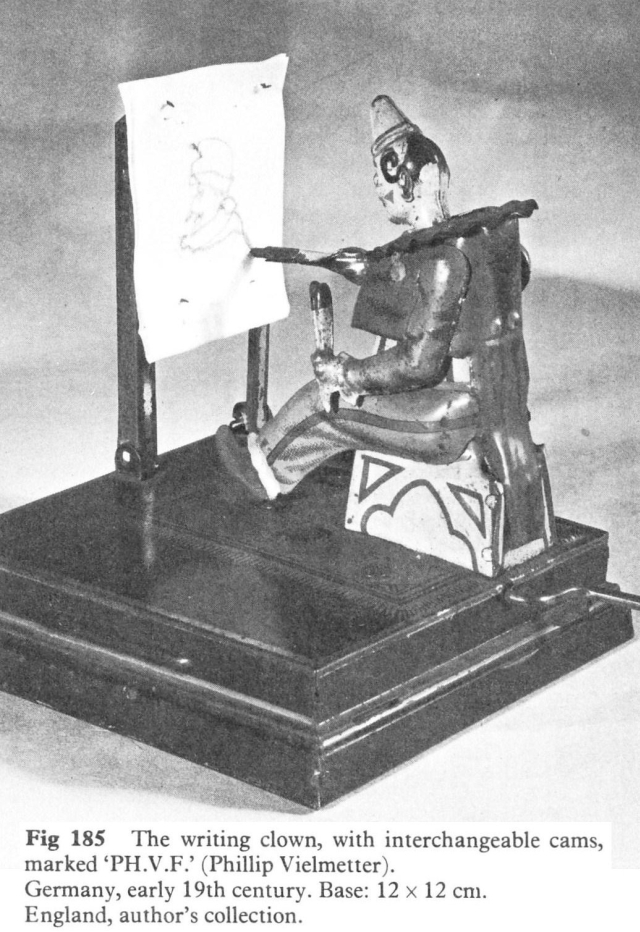 [Source: Automata & Mechanical Toys, Mary Hillier, 1976]
---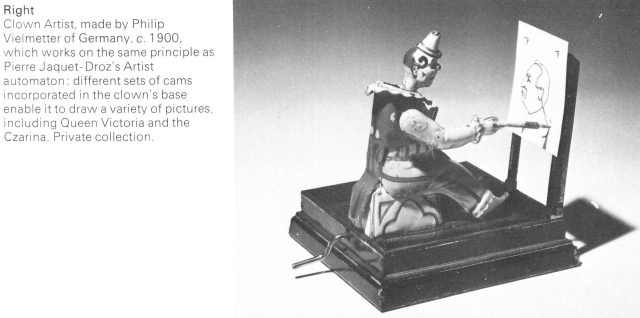 [Source: Mechanical Toys – Charles Bartholomew, 1979]
---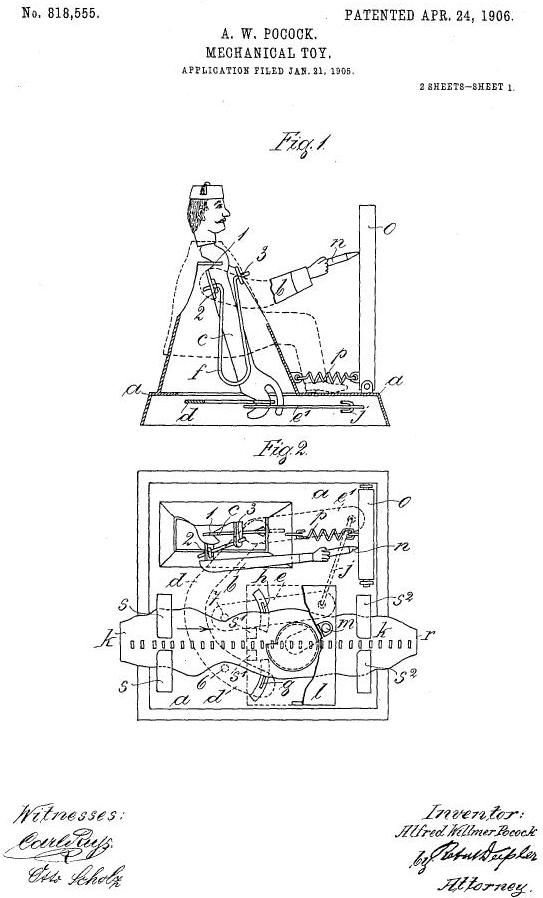 Inventor: ALFRED WILLMER POCOCK
Patent number: 818555 See full American patent here.
Filing date: Jan 21, 1905
Issue date: Apr 24, 1906
---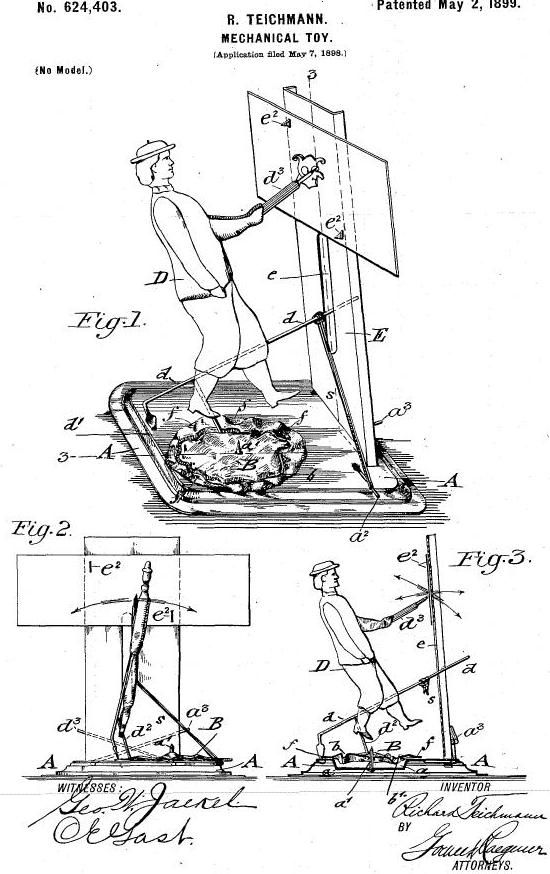 Inventor: RICHARD TEICHMANN
Patent number: 624403 – see here for full American patent.
Filing date: May 7, 1898
Issue date: May 2, 1899
---
Build one yourself – based on Mr Pocock's design (US818555-above) – see pdf here.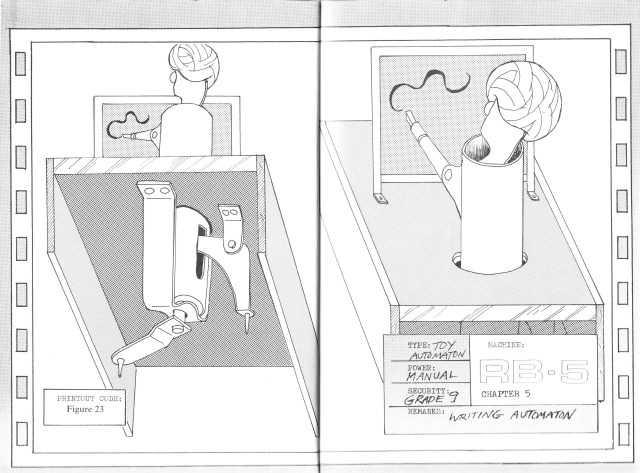 ---
Tags: 1895, 1896, British, Caroline Spilsbury Pocock, drawing automaton, James Walker