1979 – Fubar D. Robot a.k.a. "Foobie" – (American)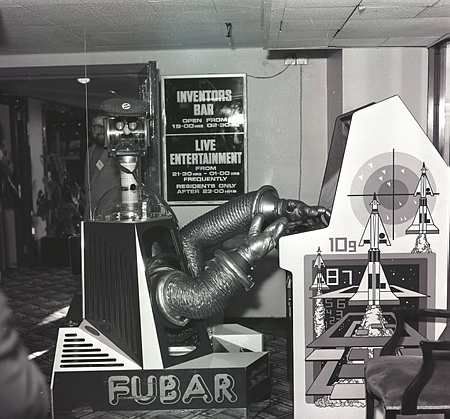 Fubar D. Robot – Futuristic Uranium Bio Atomic Robot.
I don't know who built Fubar. He's still in active use. As at 2010, he's 31 years old!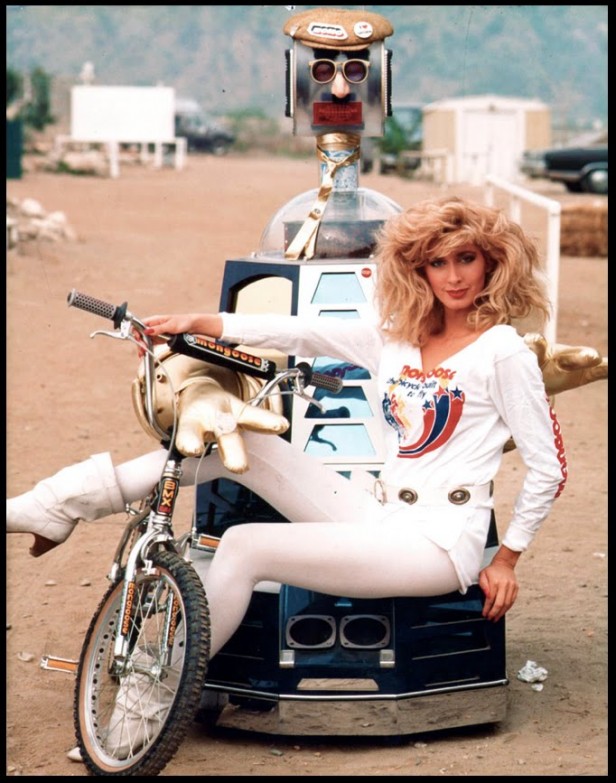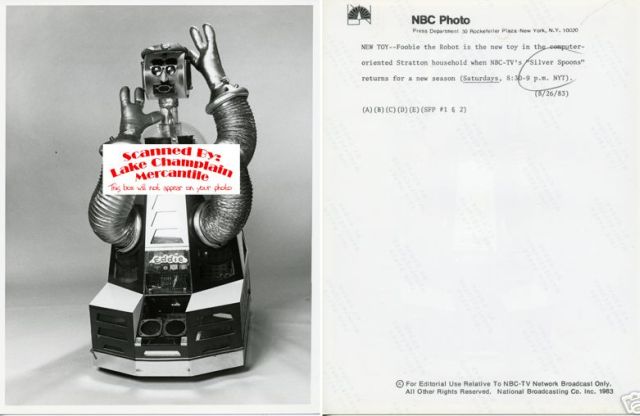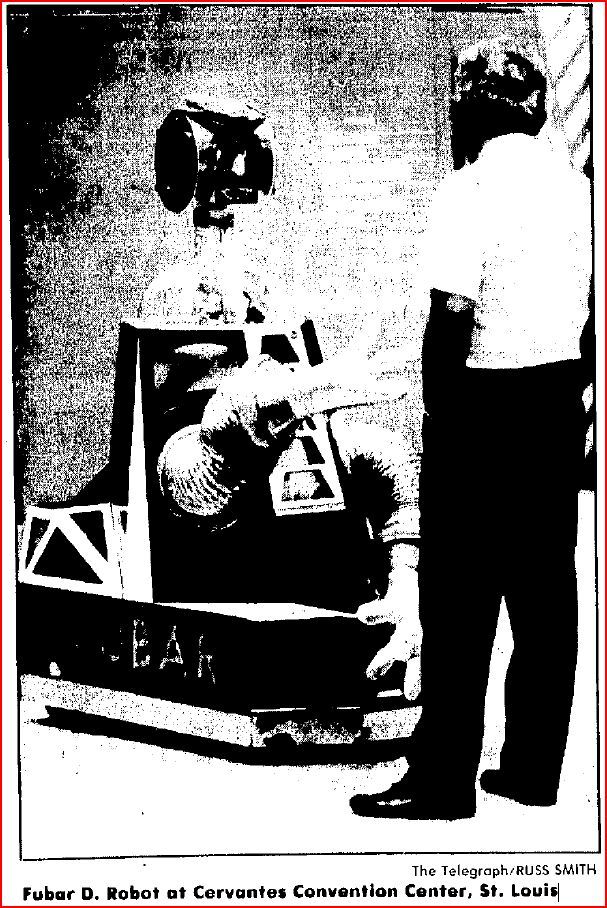 Fubar full of humor, puns, glitz
By LORIE McCREA
For The Alton Telegraph 2 Sept 1986.
Fubar looks like a cross between Groucho Marx and a futurislic vacuum cleaner, which isn't really surprising because he claims his father was a 14-speed blender and his mother a well-known washing machine.
Who is Fubar?
Fubar D. Robot is a Futuristic Uranium Bio Atomic Robot with a sense of humor, sprinkled with puns, and a glib tongue … uh, transistor.
"Just call me Fubie," said the 5-foot-tall "charmer in armor" as he zipped among the booths during Tipton's sixth annual Consumer Electronics Show & Sale at the Cervantes Convention Center.
One of the first earthlings Fubie encountered at the show was 9-year-old Reginald Bond of St. Louis. "Give me three," Fubie said, holding up a golden robot arm with three fingers on the hand. Reginald cheerfully slapped it. In return Fubie gave him a three "uranium unit" — accepted currency on all planets of the universe except Earth — which rolled from his mechanical stomach. "He's fun," Reginald said as Fubie took off again.
Many visitors gave startled second glances as the metal and plexiglass pyramid-shaped machine wearing a shiny blue necktie, an "Ivy League" cap and thick black glasses passed by them.
Fubie sneaked up behind and startled Whirlpool sales manager Jerry Rohwedder, as he stood next to a washer. "'This reminds me of my mother. She was a washing machine," Fubie told him. Rohwedder was impressed with Fubie.
"He's amazing," he said. "I haven't talked to many machines that could talk back. What a sense of humor! Maybe we could use him as a salesman. There's got to be a little guy sitting in there, right?"
Fubie is not telling. But from the speakers on the side of his head, he will tell you that he arrived on Earth from the planet Cragzot in February, 1979, Fubie has made several guest appearances on NBC's Silver Spoons, Good Morning America and The Mery Griffin Show. He is a member of the American Federation of Television and Radio Artists — the first robot to be given membership.
In 1980 and 1984 he ran for the presidency under the TGIF — Thank Goodness It's Fubar — ticket, claiming to be the "ultimate political machine." He lost to another actor, though.
Pubic, a romantic with a heart of pure uranium, is trying to get over his first love, Edna, who he claims was turned into a vacuum cleaner, three toasters and a pair of lawn chairs.
The "Clark Gable of the software set" rolls up to a blonde saleswoman at one of the appliance booths and asks her out for dinner — spaghetti and ball bearings, his favorite.
She turns him down, but he talks her into placing a kiss on his LED lips. Fubie's head spins around, he whistles and revs his engine. He tries to persuade her to go out with him again and then gives her a bumper sticker that says, "I've had a close encounter with Fubar D. Robot."
Still looking for love, Fubar plays some Beach Boys music and heads back to his dressing room to recharge before his next appearance.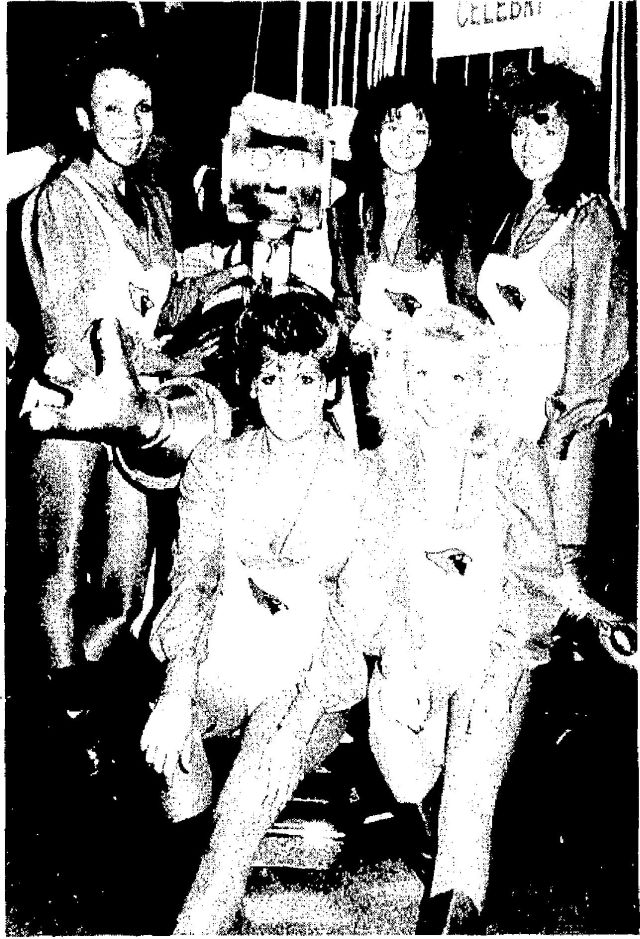 For The Telegraph/RICH VOORHEES
SOME OF THE BIG RED LINE members pose with Fubar D. Robot, who was a big hit at the sixth annual Tipton's electronics show over the weekend at the Cervantes Convention Center in St. Louis.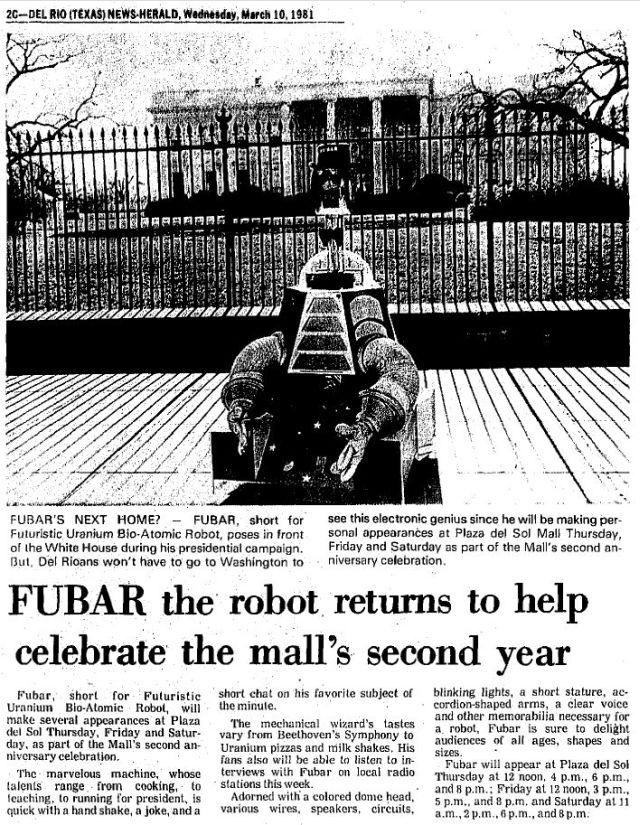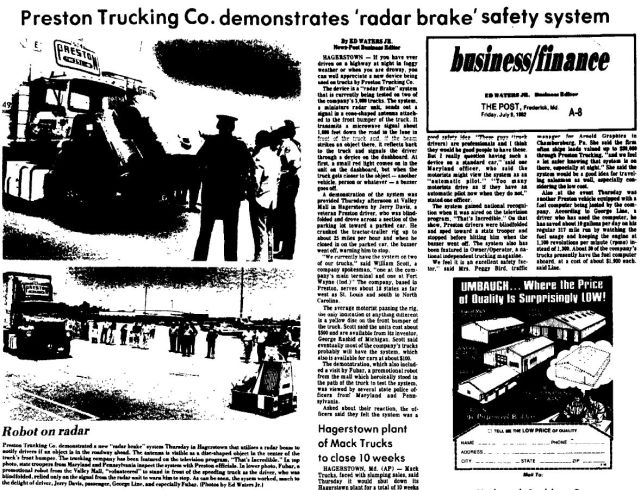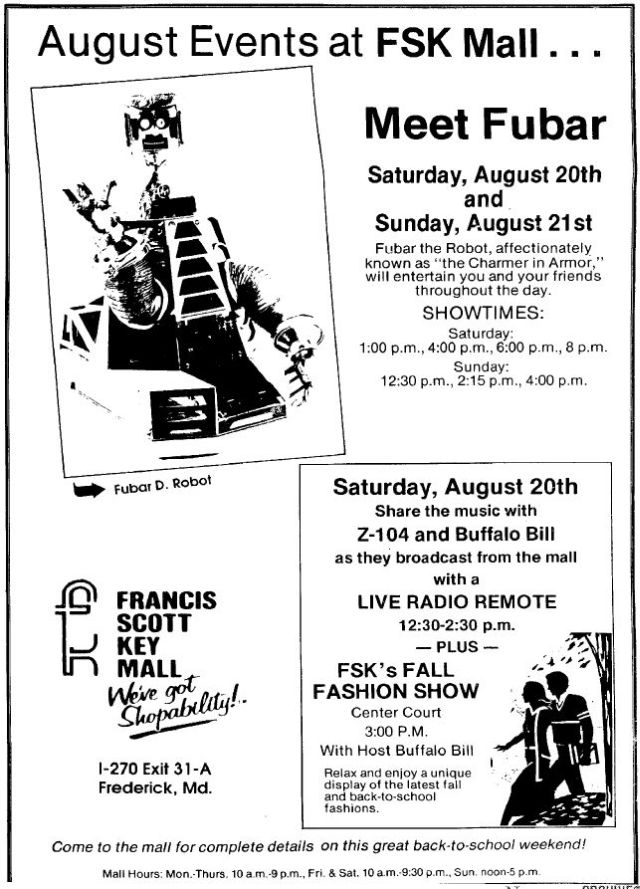 ---
Due to Foobie's success, I've since learnt that he's got quite a few siblings that look like him. These go by the name of "Caring Coach", "Punchy", "Gizmo", "Professor Green", etc.
Some of these are below.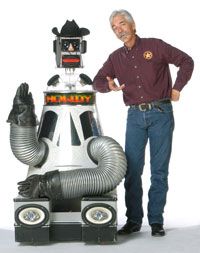 A Fubar sibling posing as "Rusty".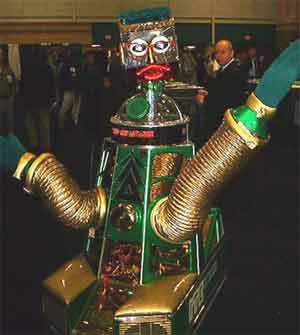 Another sibling at ITC2000.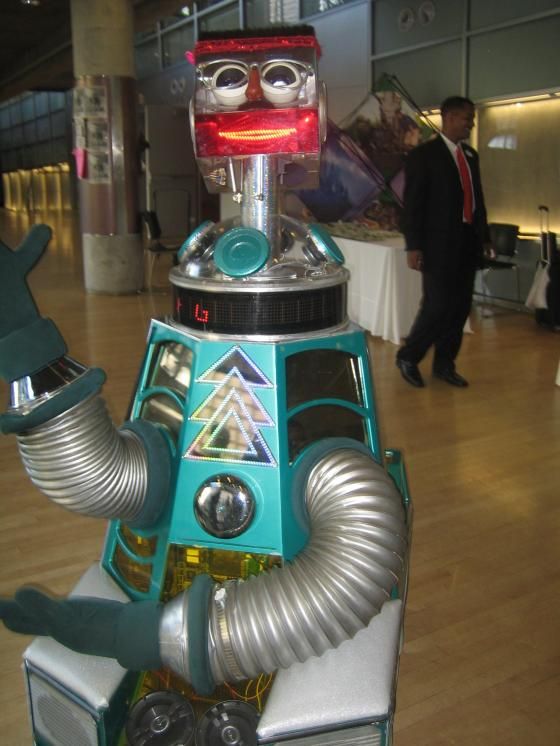 A look-alike at Columbia Uni, 2007.
---
Tags: 1979, FUBAR, Humanoid, Pseudo Automaton, Robot