1995 – KSI Tentacle Manipulator – Immega and Antonelli (American)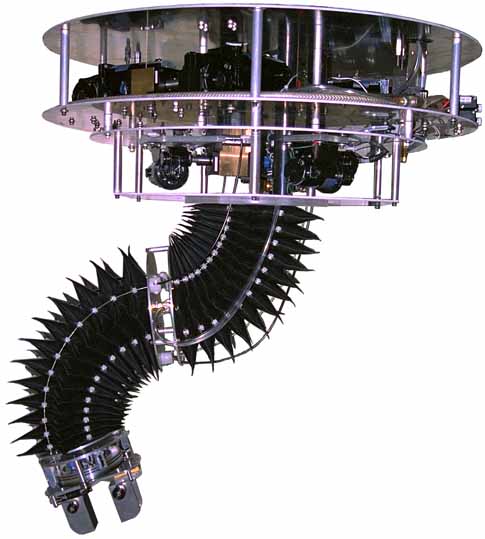 Kinetic Sciences Inc. (1995) developed a tentacular robot, powered by a hybrid system of pneumatic bellows and electric motors. It can extend, contract and bend in 6 dof by using tendons threaded through cable guides.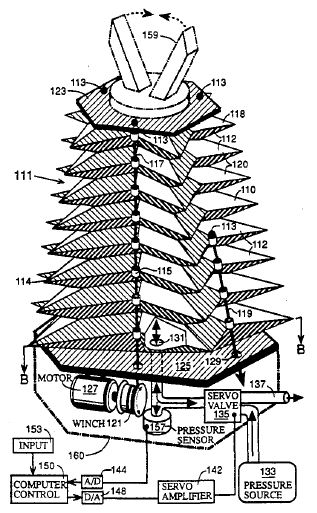 Tentacle-like manipulators with adjustable tension lines by Guy Immega
Patent number: 5317952
Filing date: Dec 14, 1992
Issue date: Jun 7, 1994
A tentacle-like manipulator has a resiliently longitudinally extensible, laterally bendable elongate member, e.g. an inflatable bellows or a helical compression spring-like member, with an end effector mounting on one end thereof. Tendon-like tension members extend along said elongate member and are spaced apart from one another around said elongate member, one end of each of said tension members being to said elongate member at said one end thereof. Guides spaced apart along and secured to said elongate member and slidably engage said tension members for guiding said tension members relative to said elongate member. Further tension members extend along only a portion of the length of the elongate member and are secured to the elongate member at a location intermediate the ends of the elongate member. Winches are used to wind and unwind the tension members to correspondingly control the length and the bending of the elongate member.
See full patent details here.
Kinetic Sciences Inc. – Immega and Antonelli
See my related Immega Pneumatic Bellows article here.
---
See other Pneumatic, Fluidic, and Inflatable robots here.
---
Tags: 1995, American, Antonelli, Guy Immega, KSI Tentacle Manipulator, pneumatic manipulator, Pneumatic Robot