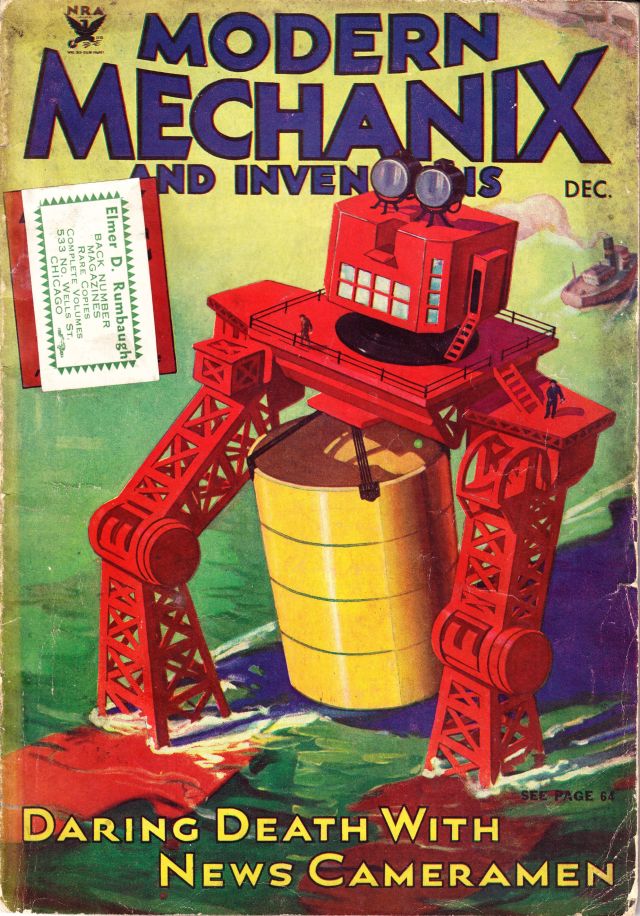 During 1933, engineer's were determining how the Golden Gate Bridge[1] was to be built.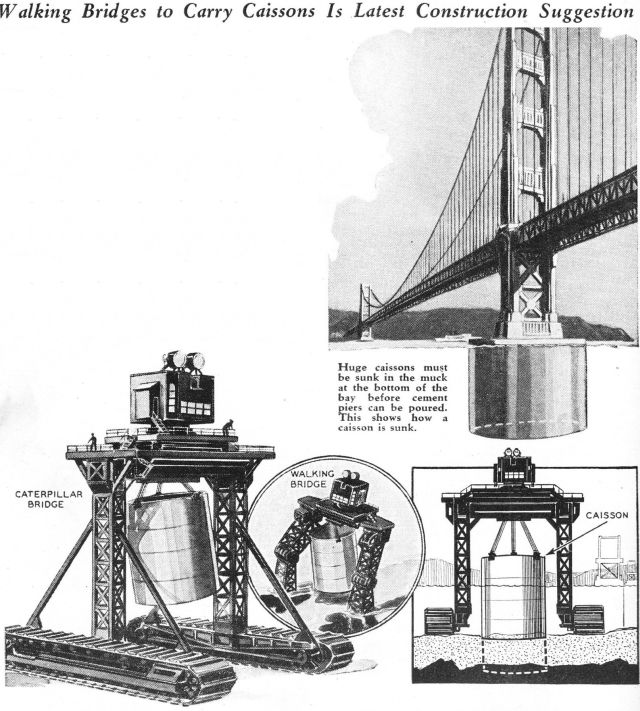 Source: Modern Mechanix and Inventions, Dec 1933.

One engineer's suggestion for the solution of the problem of sinking caissons[2] is depicted here in this picture of a "walking bridge." Definite placement of caissons has always been an engineering bugaboo when they are floated over a spot and sunk. Especially is this true in harbors where there are side rips, or in rivers where strong currents are found. While the walking version may be impracticable, a caterpillar footed bridge is certainly plausible and has many merrits from a constructional standpoint.

…….

The size of the caissons which must be built and sunk to enable piers to be built has called forth one of the most novel engineering proposals of recent years - still another bridge, a "Walking Bridge" if you please - which will walk to the location with the caisson and there accurately sink it upon the exact spot required.

Caissons are an essential impedimenta to bridge building of this type, and they are hard to handle in tide rips or rivers which have currents. M. Clemients, French engineer of Paris, has proposed a mobile structure which could pick up the caisson and either by walking with it, or on caterpillar treads, move to the spot desired to muck the caisson in.
[1] The Golden Gate Bridge is a suspension bridge spanning the Golden Gate strait, the mile-wide, three-mile-long channel between San Francisco Bay and the Pacific Ocean.
[2] caisson from wiki http://en.wikipedia.org/wiki/Caisson_(engineering). In geotechnical engineering, a caisson (/ˈkeɪsən/ or /ˈkeɪsɒn/) is a watertight retaining structure used, for example, to work on the foundations of a bridge pier, for the construction of a concrete dam, or for the repair of ships. These are constructed such that the water can be pumped out, keeping the working environment dry. When piers are to be built using an open caisson and it is not practical to reach suitable soil, friction pilings may be driven to form a suitable sub-foundation. These piles are connected by a foundation pad upon which the column pier is erected.