1934 – "Ross Robot Mechanical Man" – Miss Sophie Ross (English/French)
WOULD YOU BELIEVE IT? NO. 14
Your browser does not support iframes.
One of the funniest video clips I've ever seen (1m 42sec into preview).
1630.24 | WOULD YOU BELIEVE IT? NO. 14 (1:47:33:00 – 1:50:25:00) 05/07/1934
French fake
Titles read: "Would you believe it? Queer things the World over. No. 14."
At unidentified location (could be Streatham, London) we see various shots of the 'Ross Robot Mechanical Man' – it is actually a real man in make-up and a shiny suit (like an old-fashioned soldier) plus hat and shoes. The 'inventor', Miss Sophie Ross, walks around a residential / suburban area with her robot and seems to be controlling him from his back. The man looks quite spooky – he manages to keep a deadpan expression throughout, but has a bit of trouble getting into a car in a suitably robot fashion. A small crowd of people watch and try to keep out of the robot's way. Notes on file state this 'Eighth wonder of the world' was appearing at Mecca Dance Halls at the time.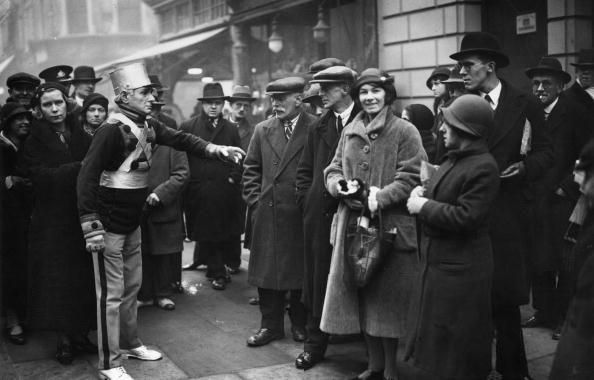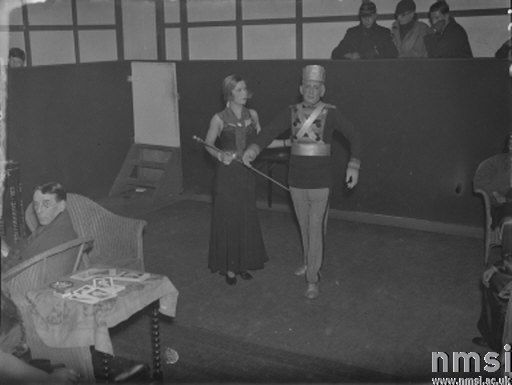 A photograph of a 'mechanical man', taken by George Woodbine for the Daily Herald newspaper on 4 January 1934. This performer at the circus held at Olympia is pretending to be a robot.
---
Tags: 'Ross Robot Mechanical Man', 1934, Fake, Pseudo Automaton, Sophie Ross