1925 – Radiana – Professor J. Popjie (Dutch/British)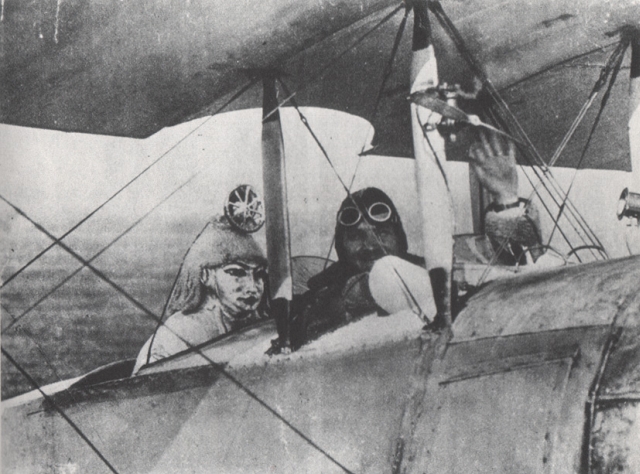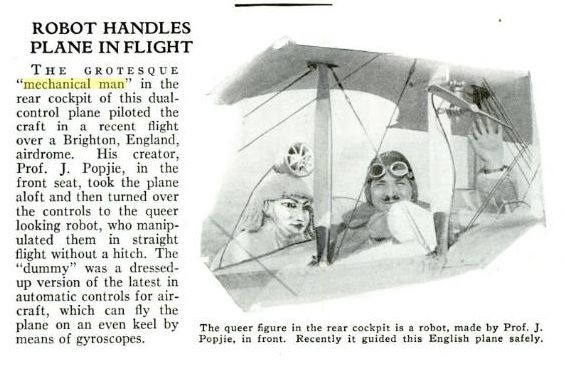 Source: Popular Science Feb, 1931.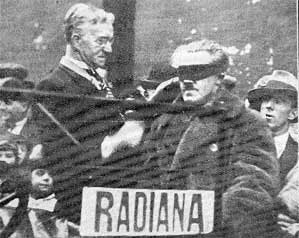 'Popjie' being blindfolded prior to "Radiana" driving the car in Rochdale .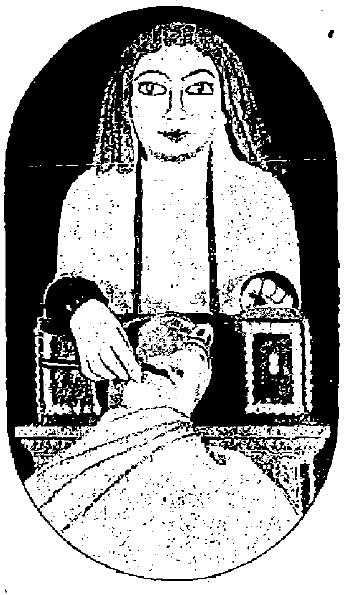 l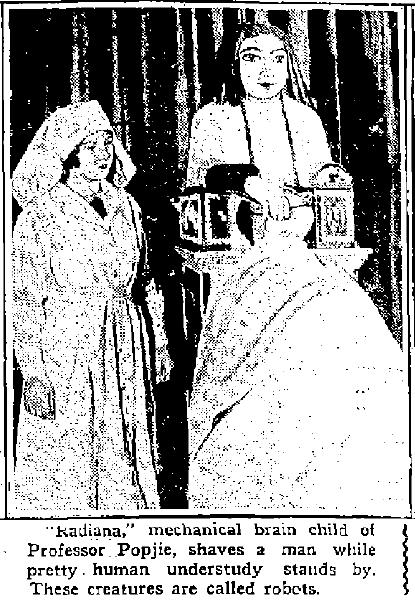 The wording attributes "Radiana" to Popjie, however the person in the images below and in video clip below appears to show a different performer. Is it the same person?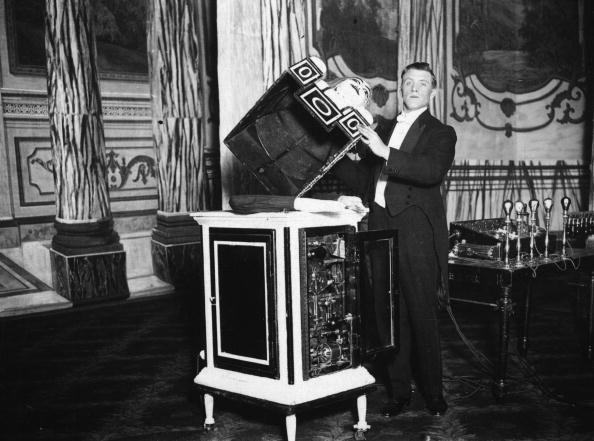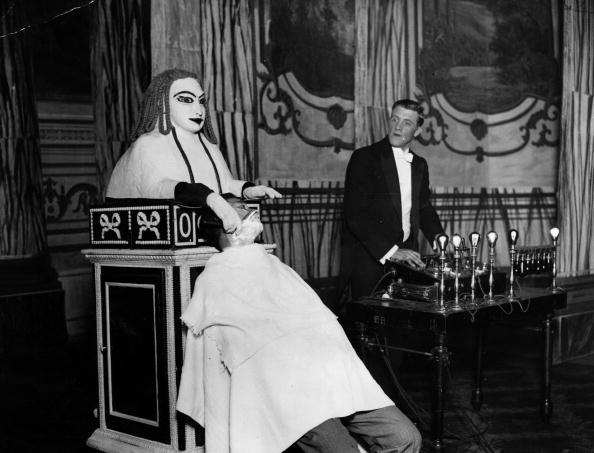 VIDEO CLIP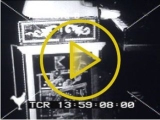 Gaumont Pathe Archives have a 1927 video of this version of "Radiana". You have to be registered (free) and logged in to see the preview. Search for "PJ 1927 17 8" including the quotes. Set mode to English unless you can read French.
---
The Hippodrome, Southampton
Programme for week commencing Mon, 30th Mar c1930s
Prof. John Popjie presents his non-stop novelty speed show 'Fun & Thrills' with all star company introducing: The Great Radiana, the most sensational electrical novelty touring, presented by Professor John Popjie, the famous Dutch Savant. 'See this Scientific Marvel do Conjuring Feats. Make a cake. Shave a man from the audience; extract teeth at the Professor's will, etc.'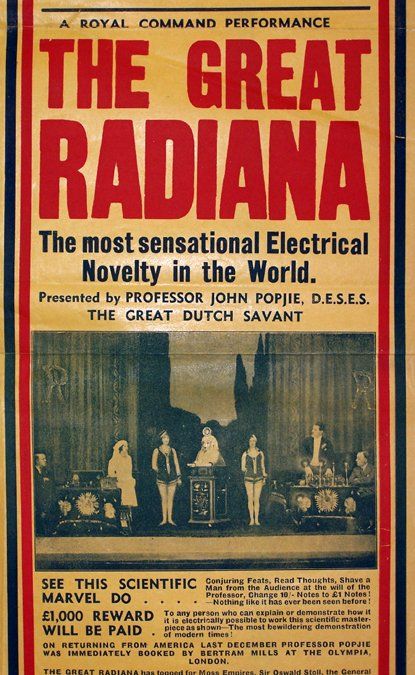 [Playbill] The Great Radiana. Leicester, Wilsons Printers, ca. 1930. 10 x 30" two-color playbill on yellow-orange stock, advertising "The most sensational Electrical Novelty in the World. Presented by Professor John Popjie, D.E.S.E.S. The Great Dutch Savant." Among Radiana's repertoire are conjuring feats, thought reading, etc. Radiana appears to be an incarnation of the Golem illusion, as performed by McDonald Birch and others.
---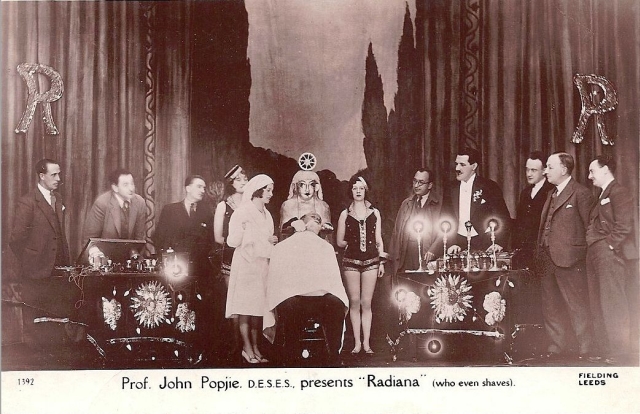 Radiana – Popjie – 1927 by Jimmy Anderson: [Source here ]
'It would appear that my wife's Great-Aunt Kathleen – something of a 'trouper' – worked for one "Professor Popjie" who toured the world with his amazing "robot" Radiana.
'This supposed automaton would perform feats such as shaving willing audience members, apparently under Popjie's control.'
'According to Great-Aunt Kathleen's son, the top picture was taken around 1927 when Kath was 21. 'She was small enough to fit inside the sphinx and manipulate the head, hands and legs. She worked for Popjie for 3 years. He proposed marriage to her – which was not accepted…''
---
* * * * * * * * * * * * * * * * * *
* Magic New Zealand
* * * * * * * * * * * * * * * * * *
Issue Number: #523
Date: Sunday 19th August 2007
Editor: Alan Watson
www.magicianz.com
——————————————–
13. British Ring Convention
——————————————–
Message from Bob Hayden
PRO to the British Ring
Three interesting speakers will be delivering three interesting talks, on three interesting subjects, when Eddie Dawes introduces another session of the History of Mystery in the Arts Centre Studio on Saturday afternoon.
The speakers are Roger Woods, Andrew Sherratt and Vanessa Toulmin, whose subjects will be Josephine Langley, the Lady Ventriloquist, the life of Dutch-born John Popjie and early Edwardian Variety and Magical Films.
…
John Popjie was a colourful showman who became a naturalised British citizen and in the 1920s toured the halls with a pseudo automaton he called Radiana, based upon the Golem illusion. Later he presented an animal act as Prince Mercado with Lemo the lioness, in both cases being assisted by his Glaswegian wife Helen.
---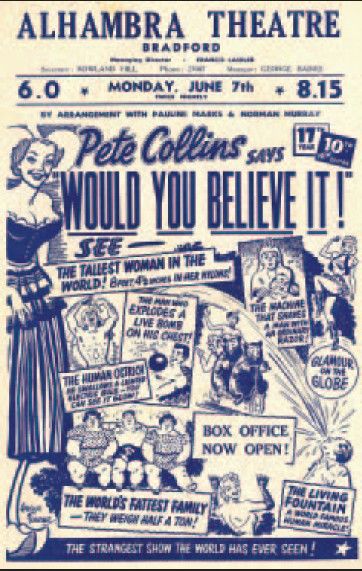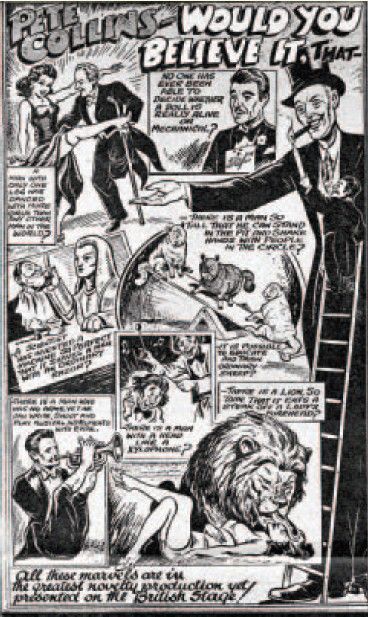 52 KING POLE No. 169 • September 2008
The beginnings of Pete Collins' shows Collins was born the son of a seaside Pierrot show operator and he was a performer in it by the time he was eight, and sold picture postcards of the troupe for 2 pence each. It was the annual visit to his town of Bostock and Wombwell's Circus and Menagerie that introduced Pete Collins to his first sideshow, with a Fat Lady, Tatooed Man, Indiarubber Man and other attractions of the time. His father later founded the Fred Collins theatrical company and variety agency, and Pete forged a career "You'll Never Believe It" Don Stacey recalls bizarre acts on TV and in circus in the 80s and in Pete Collins' exotic stage shows of the 40s and 50s Above: Pete Collins (centre) with fire eater Sammy Wilde and his wife Princess Kari-Kari. All illustrations: Don Stacey collection.
With what became billed as "The Strangest Show the World Has Ever Seen". His telegraphic address became "Incredible, London", and those two words summed up his link with some of the strangest people and acts the world has known. A chance meeting in a barber's shop with a French robotic performer led him into forming a show with strange acts, beginning with Lofty and Sepetoni, the 23 inches high midget, Madame Fifi the educated pig, Radiana, an electrical machine which performed conjuring tricks, Elroy the armless artist, and Rene Mazie, the Mechanical Man from his barber's shop encounter, Lemo the tame lioness trained by Prince Mercado, and he added artistes like Professor Cheer, the Man with the Xylophone Skull. He gave the title "Would You Believe It" to the revue, and it was a success from the beginning, in an era when music hall and variety was extremely popular throughout Britain.
Fifi the pig developed a hankering for greasepaint sticks and was eventually banished to a pen rather than her trainer's dressing room. A theatre manager's son was attacked by Lemo the lioness when the boy ventured into her dressing room, and endured 16 stitches in his scalp as a result of his injuries. After the 2nd World War, Pete Collins came into his own with the show "You'll Never Believe It" and possibly some readers will have early memories of seeing it on tour. His shows date back to the 1930s but his postwar shows carried titles like the above, as well as "Would You Believe It!", "Jungle Fantasy", "A Date with Danger" and "Hold Your Breath!"
The earliest programme for "Would You Believe It!" in my own collection is for December 27, 1948 for the Empire Theatre, Kilburn, when Collins presented Fredel ("Is he Man or is it a Wax Dummy?"); Elroy the armless artiste; Crotchet, the Mad Musician; Stuthard, "the Incredible Canadian"; Happy Hepcats Pat Shires and Norma Tylee; the Man with the Xylophone Skull; the Bespalys with their Unbreakable Doll; Lofty and Pippi, "the famous midget from Olympia, London"; impressionist George Meaton; and Mushie, the forest-bred lion which ate a steak from Ellen's forehead twice nightly. Mushie was presented by Jack Harvey.
In May 1949, the show was at the Metropolitan Theatre, Edgware Road, London, and then at the Palace variety theatre in Blackpool, where, in addition to Elroy, and Mushie the lion, attractions included Al Carthy and his Mechanical Man (this being the famous French performer Mac Ronay); comic Bob Andrews; Atlas (a Belgian giant whose real name was Fernand Bachelard) with midget Pippi; who combined for a "Battle of the Giants"; strong lady Joan Rhodes; Pelletier and Partner, with "the world's only dog dancing partner"; the Billy Rose performer Bobby 'Tables' Davis; John Vree and Co., a Dutch porter with a box from which emerged a contortionistic doll.
In its 17th year of touring, Collins presented in "Would You Believe It!", its 10th all new edition, Katja, the tallest woman in the world (eight feet four and a half inches in her nylons, and weighing 33 stone) and The World's Fattest Family (weighing in at half a ton); along with the Rolling Lacys' globe rolling act; Joe Stuthard, Canadian comic; Radiana, the 'machine that shaves a man with an ordinary razor'; Nemec and Violet's frog contortion phantasy; musical comics Devine and King; Hans Vogelbein's comedy brown bears; and a Fakir Show that included "The Living Fountain" (a man who could drink 30 glasses of water and spout plain and fancy fountains); "The Human Ostrich", who swallowed a lighted neon tube containing 10,000 volts; and "The Painless Wonder", who allowed flaming arrows to be shot at him and exploded a bomb on his chest! Darly's dogs act replaced theVogelbein bears at the Palace Theatre, Blackpool in September, 1954.
---
I know nothing about the below image, other than this "Turk" works by the same principle as "Radiana" i.e. hidden person but actual person's hands substituted during the performance.
*Update Jan 2011 – Image is of Chantal Chaude de Silans, European Female Chess Champion, who was defeated by the faux automaton in 1953.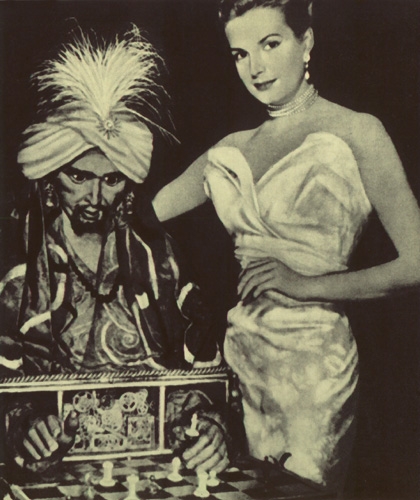 ---
See other early Humanoid Robots here.
---
Tags: 1925, British, Dutch, Fake, John Popjie, Prince Mercato, Professor J. Popjie, Pseudo Automaton, Radiana