1956 – GE Yes-Man Teleoperator – Ralph Mosher (American)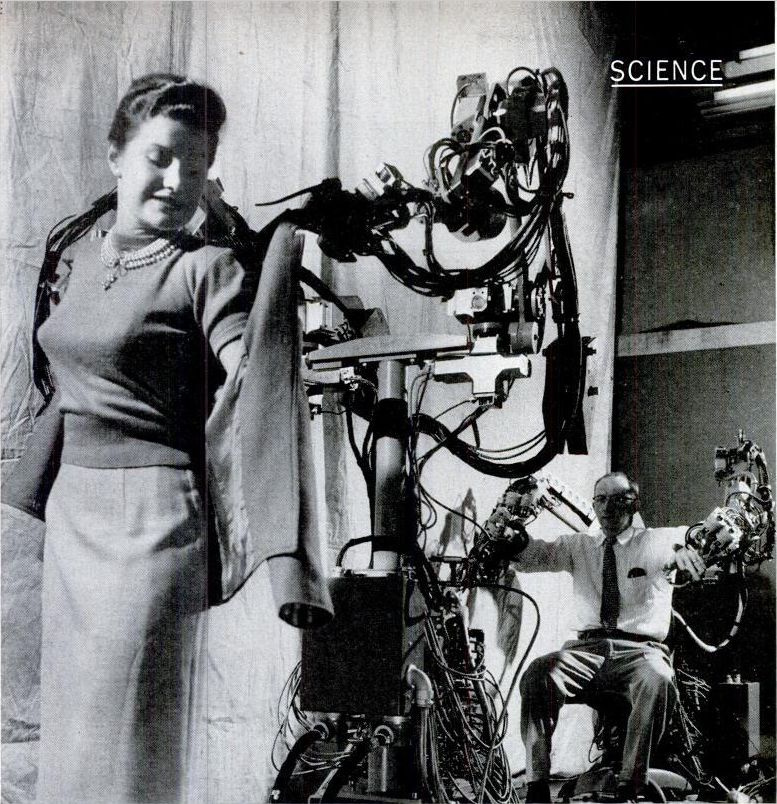 Life Magazine 28 May 1956 p 125.
The disembodied device graciously helping the girl with her coat (above) is one of the most dexterous robots yet designed. Its arms have elbows that bend, wrists that swivel and three-clawed hands. Still being perfected by G.E., it is an electro-mechanical slave called the Yes Man which does the bidding of a human master who acts out the desired motions in pantomine. Attached in the master's hands are a pair of arms matching the robots. When the man moves his fingers, electric signals activate hydraulic pistons which move the Yes Man's claws the same way. Through a feedback system, the operator can feel what the robot is doing. Yes Man has a serious purpose. By watching it through TV, a technician sitting some distance away could safely guide the Yes Man through intricate tasks in an atomic laboratory.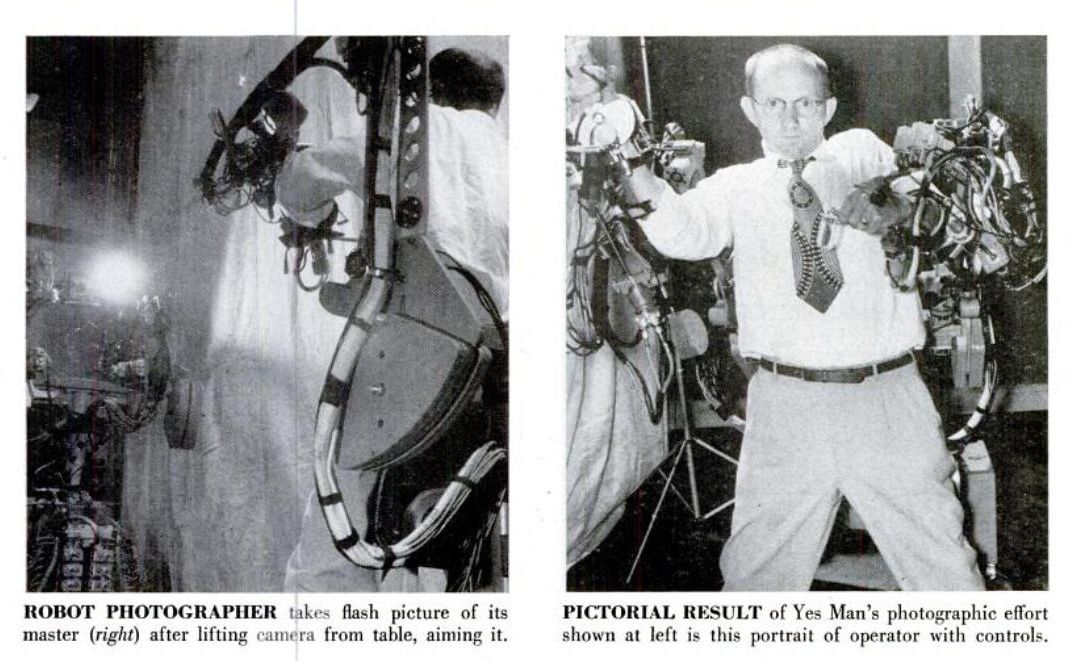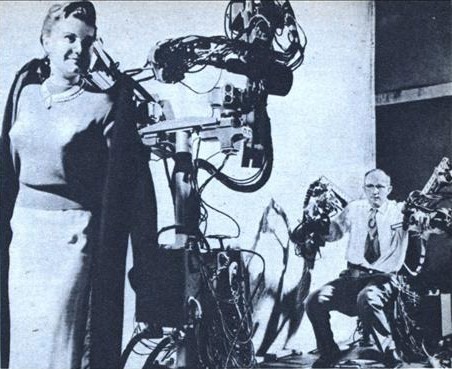 The above article from "The Herald Journal", 24 May 1956.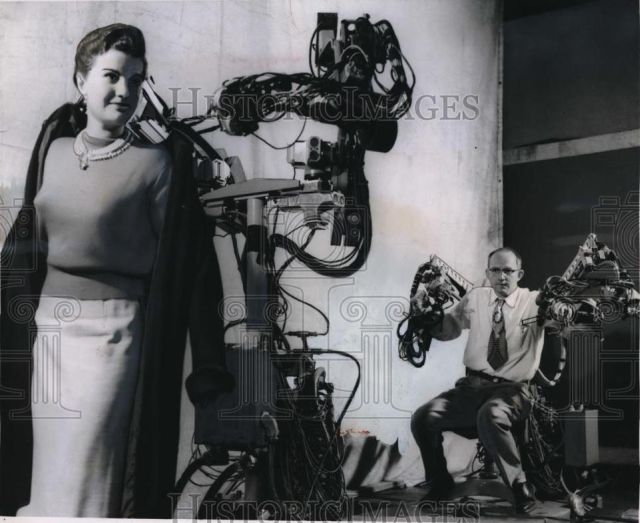 News Bureau (NAB)
GENERAL ELECTRIC COMPANY
Schenectady 5, N. Y.
FOR RELEASE AFTER 7 P.M., EDT, WEDNESDAY, MAY 23, 1956
CHIVALRY BY REMOTE CONTROL
SCHENECTADY, N. Y. — "Yes-Man," the most dexterous mechanical slave ever developed, helps pretty Ruth Feldheim into her coat during a demonstration at General Electric's General Engineering Laboratory. As Ralph Mosher, a G. E. engineer operating the "master," goes through the motions of helping Ruth into her coat, some distance away, the "slave" does the real job deftly and politely. The master-slave manipulator, designed to perform mechanical tasks in hazardous radioactive areas, is the strongest and most dexterous yet developed. It was built in the engineering laboratory for G. E.'s Aircraft Nuclear Propulsion Department under an Air Force contract.
The above GE press photo says that Ralph Mosher is responsible for this machine. See below for other, similar machines by GE and Ralph Mosher.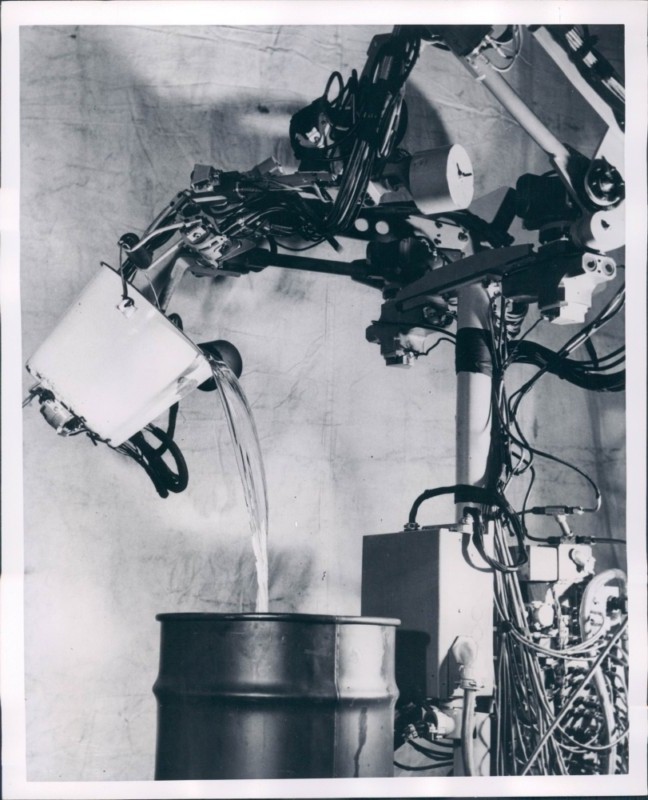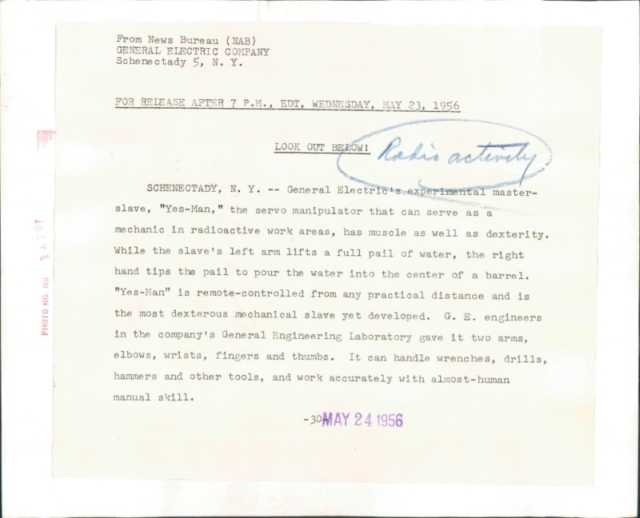 I have very little information on this teleoperator. From what I have found, only the Goertz manipulators were earlier with force-feedback.
---
See other GE CAMS here:
---
See other early Teleoperators, Exoskeletons and Industrial Robots here.
---
Tags: 1956, American, Exoskeleton, G.E. Yes-Man, GE Yes Man, Man Amplifier, Ralph Mosher, Ruth Feldheim, Teleoperator, Yes Man