1959 – Webb Radio-controlled Electric Lawnmower – Vic Rigby (British)
ROBOT GARDENING
Selected Originals – ROYALTY SEE FLOWER SHOW
1583.19 | Selected Originals – ROYALTY SEE FLOWER SHOW (1:41:04:00 – 1:45:47:00) 28/05/1959
Robot lawn mower
Selected originals (offcuts, selected scenes, out-takes, rushes) for story "Royalty See Flower Show" 59/43.
Various shots Queen Elizabeth II, Duke of Edinburgh (Prince Philip) and Princess Margaret. Various shots Princess Margaret looking at remote control lawn mower. Various shots Queen and Duke arriving at show, they are greeted by a couple, the Queen pecks them on the cheek as if they were old friends. Various shots Queen and Duke looking at robot lawnmower in action. Otherwise, rest of shots similar to newsreel story.
---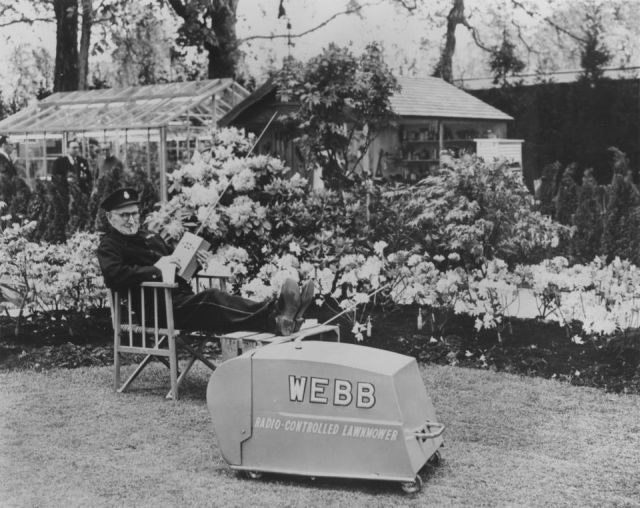 Pensioner Alfred Ellery controlling the Webb Radio-Controlled Lawnmower at the 1959 Chelsea Flower Show.
He Waited 76 Years For This: A Radio-controlled lawn mower was demonstrated at the high point show of the British gardening year, London's fashionable Chelsea Flower Show. Photo Shows 78-year-old Chelsea Pensioners Alfred Ellery, feet up, puffing a cigarette makes a gardeners dream come true. The lawn mower, speed two miles an hour, travels where he wishes at the touch of a Switch. Note: Chelsea Pensioners, a familiar London sight in their red coats, live at the Chelsea Hospital, founded in 1682 by Charles II so that old Soldiers could end their days in comfort and peace.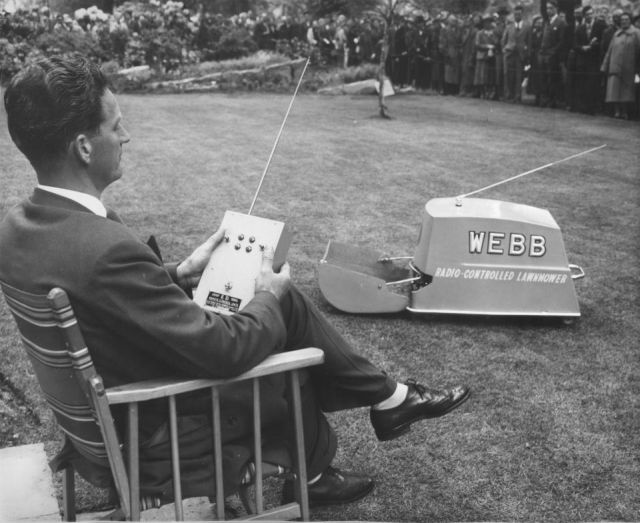 RADIO-CONTROLLED LAWN MOWER ON SHOW AT THE CHELSEA FLOWER SHOW. [26 May 1959]
The first radio-controlled lawn mower will be shown to the public for the first time at tomorrow's opening of the Chelsea Flower Show.

The mower travels at nearly 2 m.p.h., has a 14-inch cutting width and makes 60 clips to the yard. It has independent "four-point" suspension to ride undulations in the lawn. Its 1/3 h.p. 24-volt battery operated motor is remotely controlled by two switches on the user's radio transmitter, The effective range of radio control is up to a mile.
ABOVE PHOTO SHOWS:- The Webb Radio-controlled electric lawnmower, pictured at today's private view of the Chelsea Flower Show.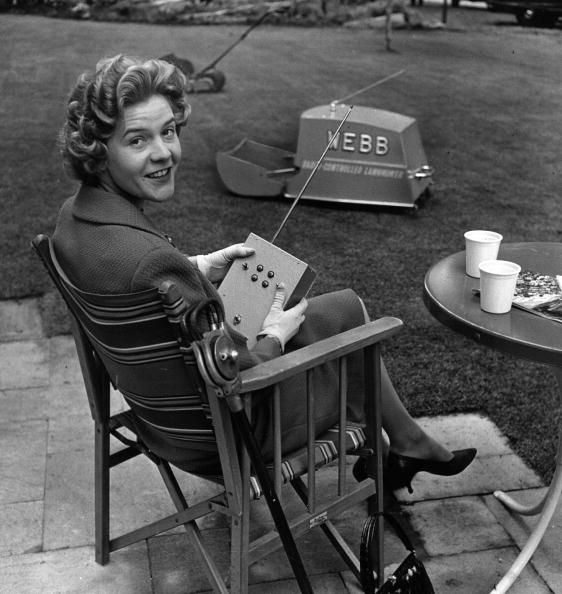 Pamela Webber controlling the Webb Radio-controlled electric lawnmower at the Chelsea Flower Show, 1959.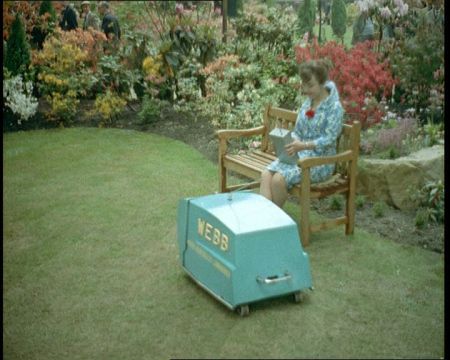 ---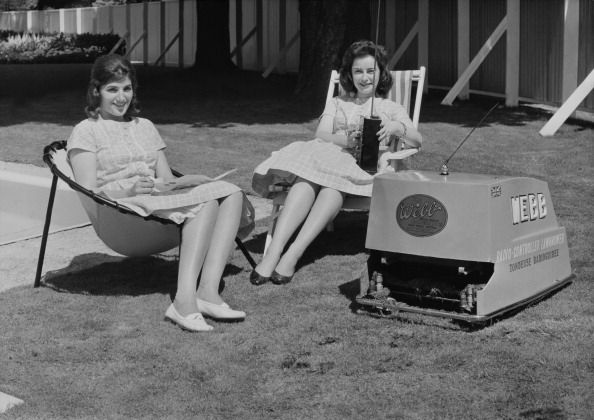 Webb lawnmower [tondeuse radiocommandé] at the Miracle Garden Exhibition in Paris, 1960.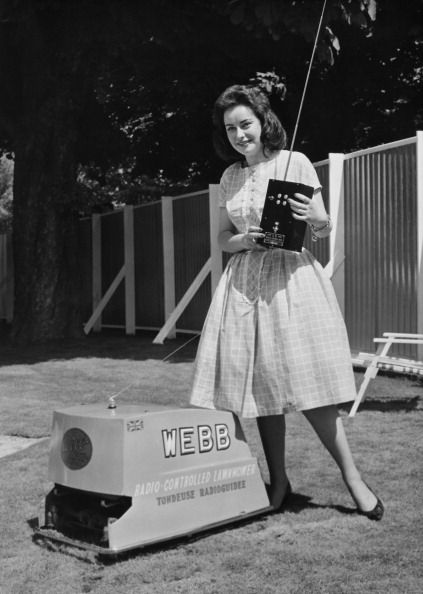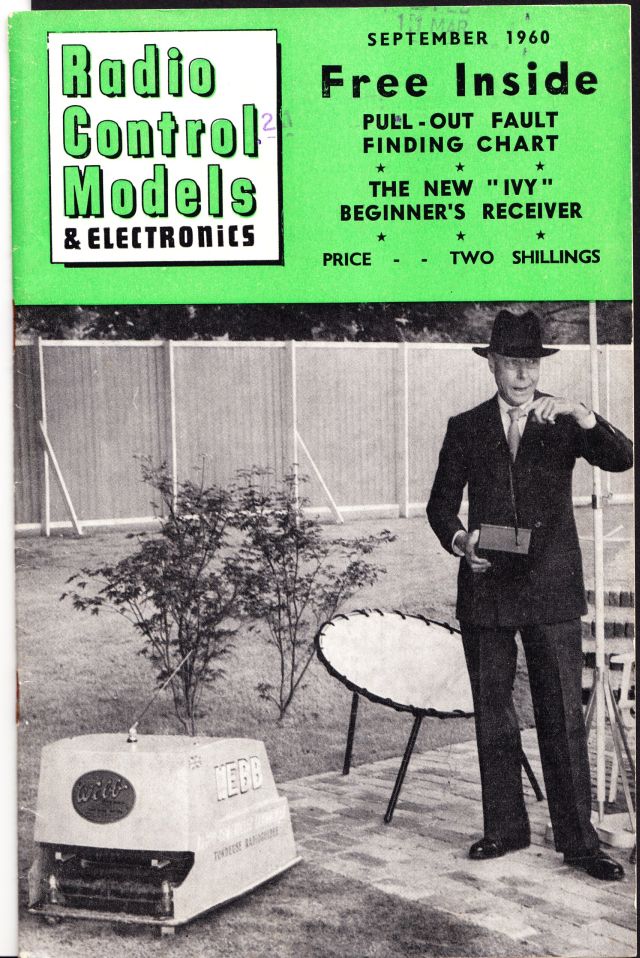 H.R.H. The Duke of Windsor at the Miracle Garden Exhibition in Paris, 1960.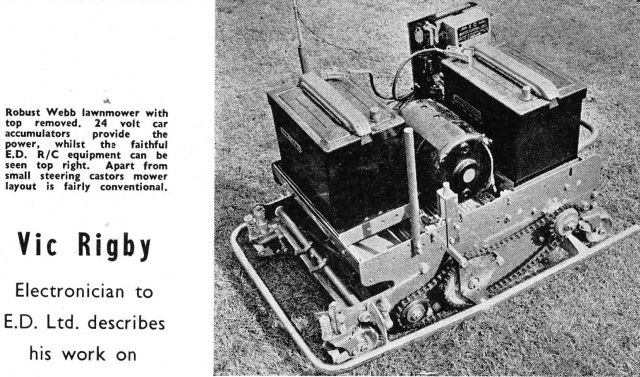 Vic Rigby was the electronician working for E.D. Ltd who developed the R/C and electrical equipment.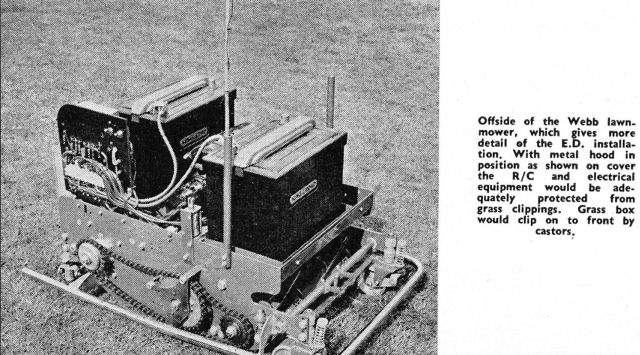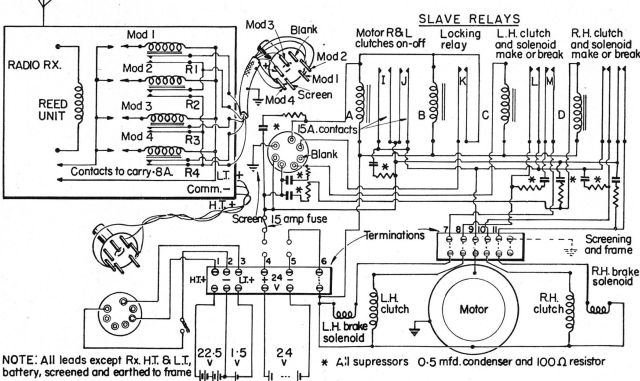 See full pdf here of the Radio Control Models & Electronics, Sept 1960 article.
---
See other early remote-controlled and robotic lawn mowers here.
---
Tags: 1959, British, Radio-controlled Lawnmower, Remote Control Lawnmower, Robot Lawnmower, tondeuse radiocommandé, Vic Rigby, Webb Radio-controlled Electric Lawn Mower