1950 – Radio-controlled Lawnmower – Jim Walker (American)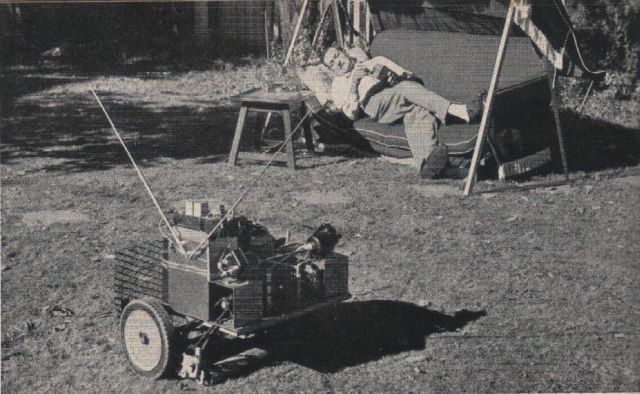 Source: Popular Science, Mar 1950
Mows Lawn by Radio—Pretty Soft!
WHILE his robot lawn mower chugs around the lawn, Jim Walker, of Portland, Ore., takes it easy in his glider, sipping a cool drink and operating the radio controls.
Walker, a radio ham, long-time builder of radio-controlled model planes, and president of a model-airplane company, developed the robot mower after ninety days of tinkering. He plans to build and sell similar rigs for license-free frequencies.
The mower is a standard job, driven by a one-cylinder gas engine. Separate clutches operated by solenoids control the power to each driving wheel. Normally the mower runs straight ahead, but either wheel may be declutched by radio to steer the robot or turn it around. If you punch one button, it pivots around the disconnected wheel; if you punch both, the mower stops. The engine and cutting reel run at a constant speed. A main clutch is adjusted to slip if the mower jams on an obstruction, and a triggering bar in front shorts out the spark plug if the mower bumps anything.
The radio consists of- two -small transmitters and receivers, although a single-channel rig with audio discrimination may be used. The transmitters are simple one-tube affairs, powered by hearing-aid and flashlight batteries. Walker says he gets accurate control over a quarter of a mile away.
---
RADIO-CONTROLLED LAWN MOWER

Video clip from British Pathe.
---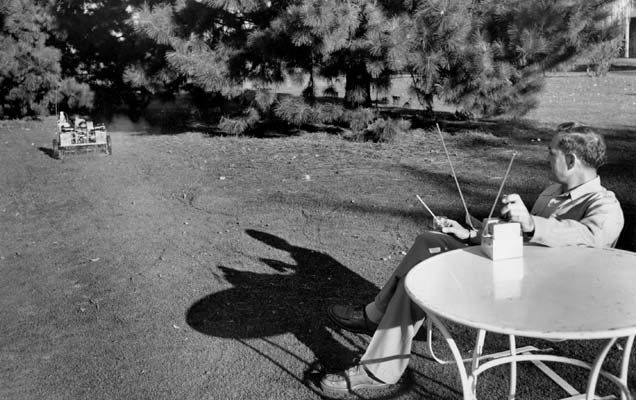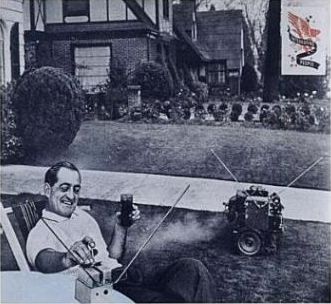 Source: American Magazine, 1950, p104.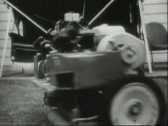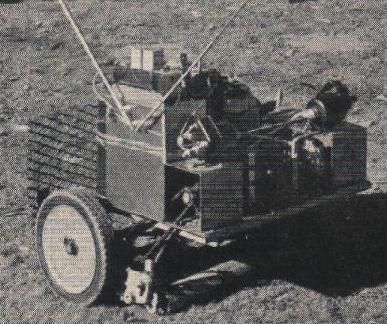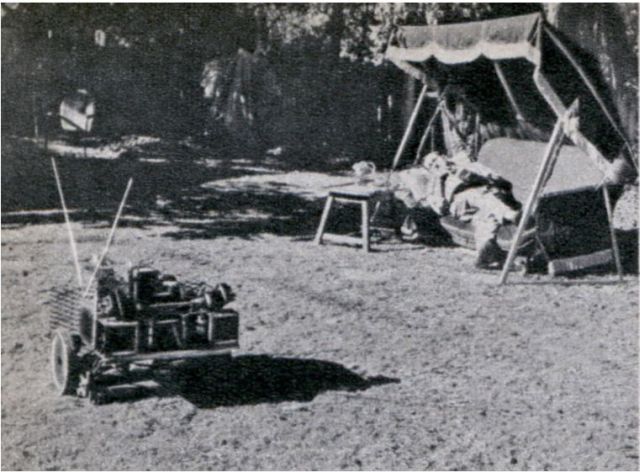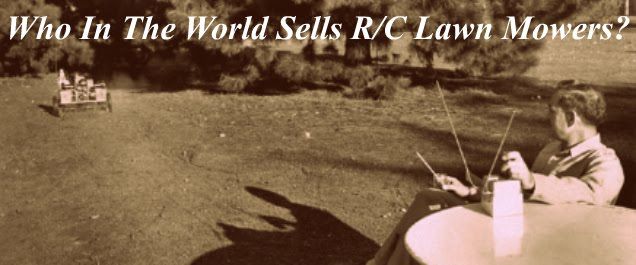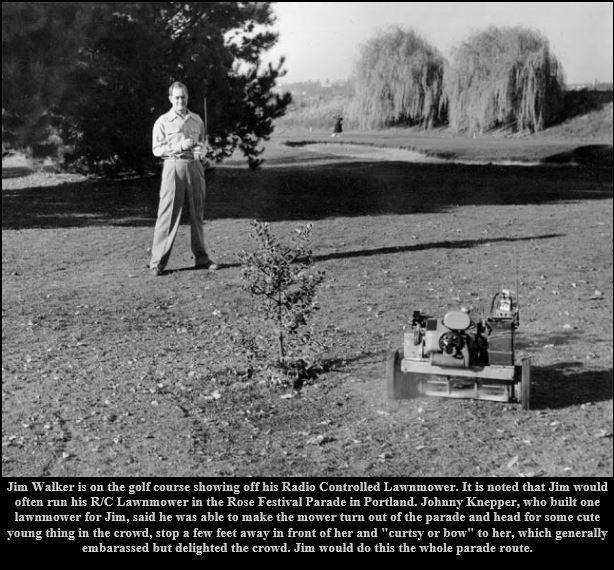 Above: Chuck Hein photo.
Some pictures and text from americanjuniorclassics.com. There is also a downloadable video clip there.
He was in demand at sportsman shows. By now he really had an act. The star attraction was his radio-control lawnmower. This thing had gotten national publicity in popular-science type magazines — with Jim in a ham-mock, sipping a glass, while buddy mower ran up and down the lawn. Millions laughed. The mower, inciden-tally, was rendered reeless later, a practical concession after he had followed horses in a Seattle parade. (Jim was fond of telling about the guy standing on a theater marque who laughed so hard he fell off and broke a leg.)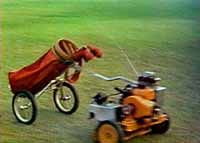 The Jim Walker Radio Controled Lawnmower on the golf course – R/C lawnmower Before a crowded house at the Sportsman's Pier in Chicago, Jim made his grand entrance, followed by the docile mower. A control switch was hidden in his belt buckle. Off to the side of the tanbark ring stood the three orange-colored Fireballs. Bowing and gesturing, Jim strode toward center-circle. Unknowingly, he hit the control switch. The jealous mower took off on its own, sneaked up on the defenseless Fireballs and spewed forth a cloud of orange dust. It brought down the house. The crowd kept roaring, "Encore, encore." (from July 1971 article in American Aircraft Modeler magazine.)
Jim Walker and his U-Control A-J Fireball doing the Sabre Dance – A special control line stunt that was unique to Jim WalkerJim played a U-Reely handle like Al Hirt tootles a trumpet. A virtuoso. For his Sabre Dance his two-speed ignition Fireball, with a pin on its tail, would go into an abrupt climb, hover motionless, then back down slowly to burst a balloon on the ground. A quick recovery climb and the Fireball circled in level flight while Jim took the applause.
Or he would run out from a side-line crowd at the Nats — this happened in Minneapolis, if memory serves, when Jim had been banned as a distraction to the crowd who ate up his antics — a Fireball, engine running, right at his finger tips. As he went, he'd pay out lines to steal the show. If the wind was light, he'd let out 200 feet of lines. The sight of a Fireball almost free-flighting around a 400-foot circle is something no one could forget. Jim, incidentally, kept his radio frequency secret because we all loved to louse up his mower act with clandestine handheld transmitters. With the mower marching around him like a crack drill team, passing between his feet, and stuff, it was no time for such monkey-shines! Poor Jim never knew what happened but he'd stare us through and through!
---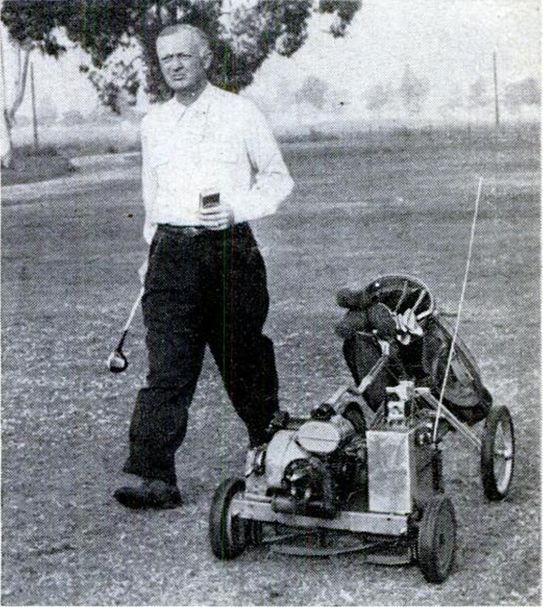 Source: Popular Mechanics, June 1951.
Robot Caddy
It is still thought advisable to have the golfer swing the clubs, although an ingenious Oregonian has simplified life on the links with a radio-controlled caddy cart and lawn mower. Jim Walker of Portland attached a conventional cart to a power lawn mower and added remote control and radio equipment to lessen human effort.
---
Note: I've seen dates of Jim's r-c lawn mower suggesting that it was built in 1948, but I have not seen any proof of this. All articles to date are dated 1950 at the earliest.
---
See other early remote-controlled and robotic lawn mowers here.
---
Tags: 1950, American, Jim Walker, Radio-controlled caddy, Radio-controlled Lawnmower, robot lawn mower, Robot Lawnmower, Service robot